Eternal Journey
Always A Chance for Change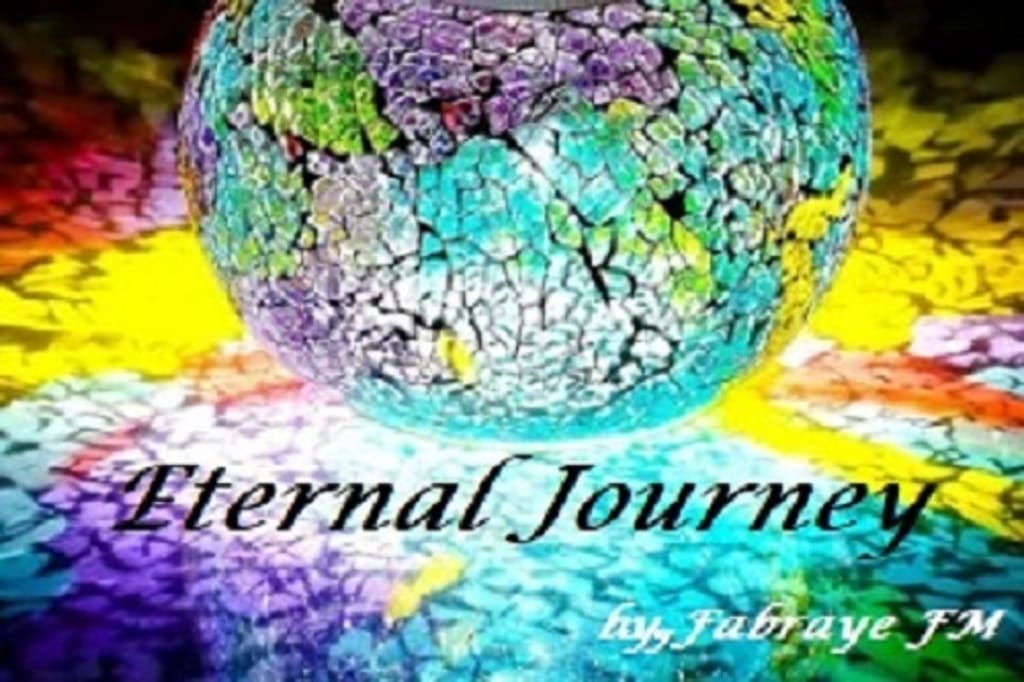 I am not my job
Or the income it creates
Just Life in Motion
I am more than mom
And family meals I make
More a source of love
More than a father
Who protects his progeny
Through all, I am here
Clearly life is milled
With its ups and downs
Its ebbs and flows
Excitements and debilitating woes
Over time reflection is key
As we see…
Zero to Nineteen
I adapted to cultural family norms
With chameleon-like resilience
Mostly void of personal decision
Where others set the tone
I existed mainly as unseen
Twenty to Thirty
Now I'm old enough to have a voice
Make some noise and self-express,
I entered the Rat Race
Advocated for social change
And like my peers, married, had children
And racked up debt in a hurry
Thirty to Forty
Realization – I'd been hoodwinked
The corporate ladder was a ticket to hell
I was degreed but financially illiterate
Trying to save my way to wealth
A single parent dabbling in entrepreneurship
Mostly living paycheck to paycheck
But still young enough to live energetically
Forty to Fifty
Life's not all I expected it to be
My reality is a bit off from fulfilling
Getting back on track is illusive
But, stuck in the blah of normalcy
Is not the role I auditioned for
Enjoyment is the tune I'd prefer to score
I can write a new story
In the light of a new reality
Fifty to Sixty
Three self-defined decades have passed
Like the last call for alcohol
It's now or never for change of choices
Deteriorate or Re-Originate
From Mind, Body, Soul to
Income and lifestyle
I opted to Create Something New
From forgotten passions
I blossomed past fears to where nothing could stop me
Sixty to Seventy
More than Half-way in –
From those who had stagnated I'd hear –
Where did the Time go
Is my retirement savings enough
Will inflation screw me, or
Social Security let me down
But from those who dared to dream
And act, Assets are abundant
The future is bright
with Peace of Mind a certainty
Seventy Plus
Some way, somehow
Through all the years, still here
A testament to human resilience
Through tough times and those thrived
No, not all a bed of roses
I've loved and let go
I've cried, and longed for
But laughed a whole hell of a lot
And amassed more wealth than ever imagined
I've lived past many mistakes
Forgave and been forgiven errors without much fuss
Clearly life is milled
With its ups and downs
Its ebbs and flows
Excitements and woes
With Time I have Grown in Gratitude
To Understand
Energy is Constant
Death is an Illusion
Life is a brief Reflection
In the Cosmic Mirror of Eternity
So, Regardless of the Decade
Or the Challenges that rear their head
The Best Solution for a Life Well-Lived
Is to Enjoy the Journey
Before, During and After the Party
__________
A Poem by Fabraye FM
About the Creator
Writing has always been my favorite form of Creative Expression. I am so excited to now embrace and share My Passion with others of like-spirit. I hope you enjoy my works as much I am enjoying creating them. Peace & Blessings!
Reader insights
Be the first to share your insights about this piece.
Add your insights