Dogs are my comfort
For the love of dog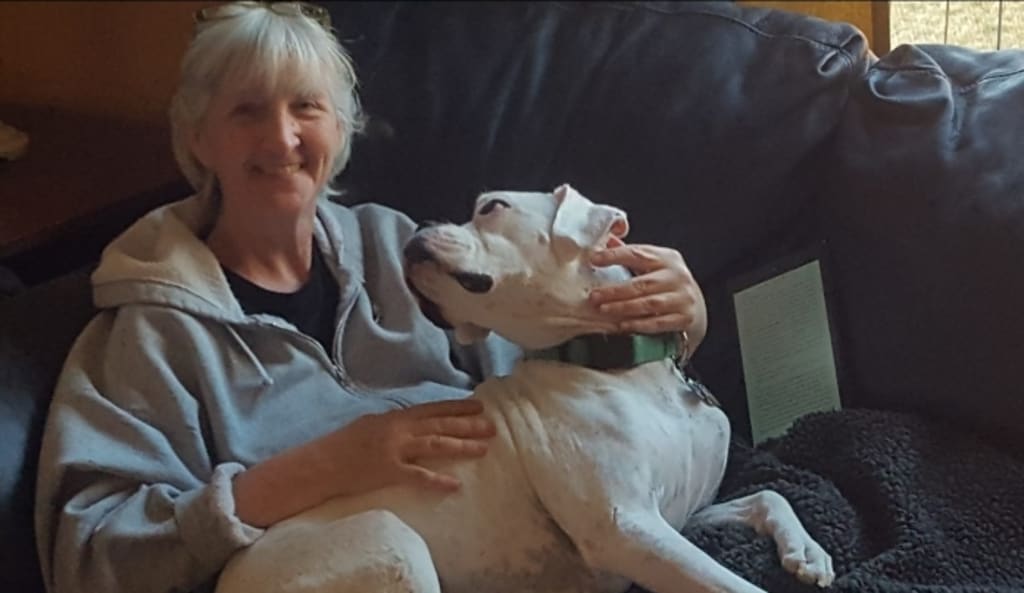 Wanda and Stanley the Boxer
I revel in the grit of exfoliating sheets,
Insanely happy on my sliver of the bed,
Lulled by the snore of five dogs.
Butt to butt with Nanny, back to back with Miryam,
Rosa and Yoji near my head and Bruno is undercover, warming my feet.
In the morning he'll be jammed between Squirm and me,
Rosa having moved down by my legs.
Dog slobber is good for your skin, I tell myself.
Dog hair is like diamonds,
You can spot another dog lover
and usually tell the breed.
My errand list includes buy dog treats
From the pet store or Three Dog Bakery.
Sometimes I get creative and make homemade;
My shopping list has rice flour and powdered peanutbutter for their
cookies and pupcakes.
These dogs light up my life and thrill me to no end,
Much better than reality TV.
They wrestle, vocalize and bark like on The View, but funnier.
I sing them each their song:
Rosa-Roo I love you; Mirm the Squirm you're so fine; Bruno-Mars little
man; Yugi-Ogi-Oh is a Mighty Mouse ; Stanley Manley is Mama's Nanny
and
Mama loves you so!
I love my dogs more than most people.
About the Creator
Writer, Certified Professional Dog Trainer, Pet Portrait Artist, Devoted Dog Mom, Gardener, Singer, Amateur Archeologist, Every-Woman. I was an Airforce Brat who threw up over half of Europe. Traveling is my jam.
Reader insights
Be the first to share your insights about this piece.
Add your insights