Chankiri'
The loneliest Tree in Cambodia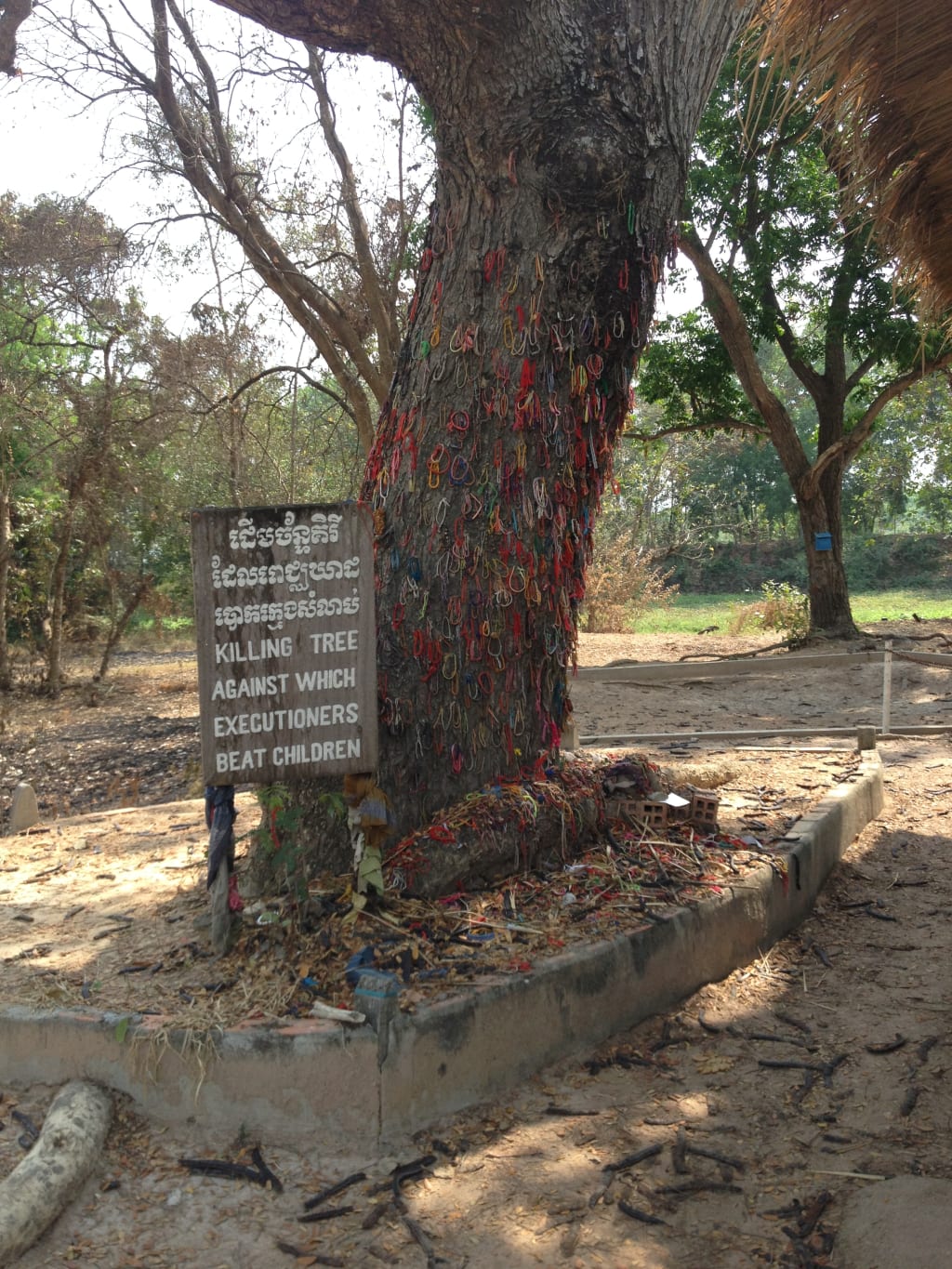 Just seventeen miles outside of Phnom Penh, a tree stands at the center of the former orchard in the village of Choeung Ek, one of 260 execution camps used by the Khmer Rouge during the Pol Pot regime's four years of terror.
I am a tree that birds do not land
children do not climb
no families come to play or sing
only sadness fills their eyes
The people come to see this place
they look at me and cry
I hear them talk bad of me
I hear all that they say
I hear them say cut /// me down
I watch them walk away
Once upon a time, my home was good before the demons came
I wish you knew my home was good
where rice grew tall
where birds sang-their-early-morning-songs
Then Pol Pot came
he told the people time had stopped
no family smile,
no happy home,
soft hands became a lethal crime
During the day they dug the graves
at night they counted what they'd done
at night was when the trucks arrived
with people weak and torn
headlights shined
eyes were covered, hands bound
the horror had just begun
A man called Dutch stood alone inside the barred-wired gate
he stood with lists in hand
he checked off every name for made-up crimes for nothing, the people had done
Don't get close; it's where the evil is done
Where the days were long then turned to night
Where the stars lit up the night timw sky
as hell-hound hands began their nighttime chores
they chop \\\ with axe and cut with blade
until their job was done
Each night was filled with people's unanswered prayers
Each rotten smell
I watched as the demons took a mother's child and held tiny feet too tight
as they smashed against my trunk
The blood ran red and stained my bark
then tossed each one away
Then one day, the killing stopped
no one told me why
graves were covered
tools were dropped
assassins ran away ----
They tried to wash their blood-stained hands
They justified each killing blow as good for what they served
Still horrific memories fill their nighttime sleep
These hell-hound helpers swore lies were told
<no bad things here were ever done>
but why so many bones were
N
e
a
t
l
y stacked graying in the sun
As for me, I'll be okay,
the monks had come to pray
they built a tall stupa stacked with 10,000 skulls for all to see the things that evil was done
As for me, I'll be okay
around my trunk, they tied the strings of red, blue, and yellow gray
they made a wooden sign
with my name painted white
'Chankiri' the killing tree ... forgive what they have done.
Reader insights
Be the first to share your insights about this piece.
Add your insights