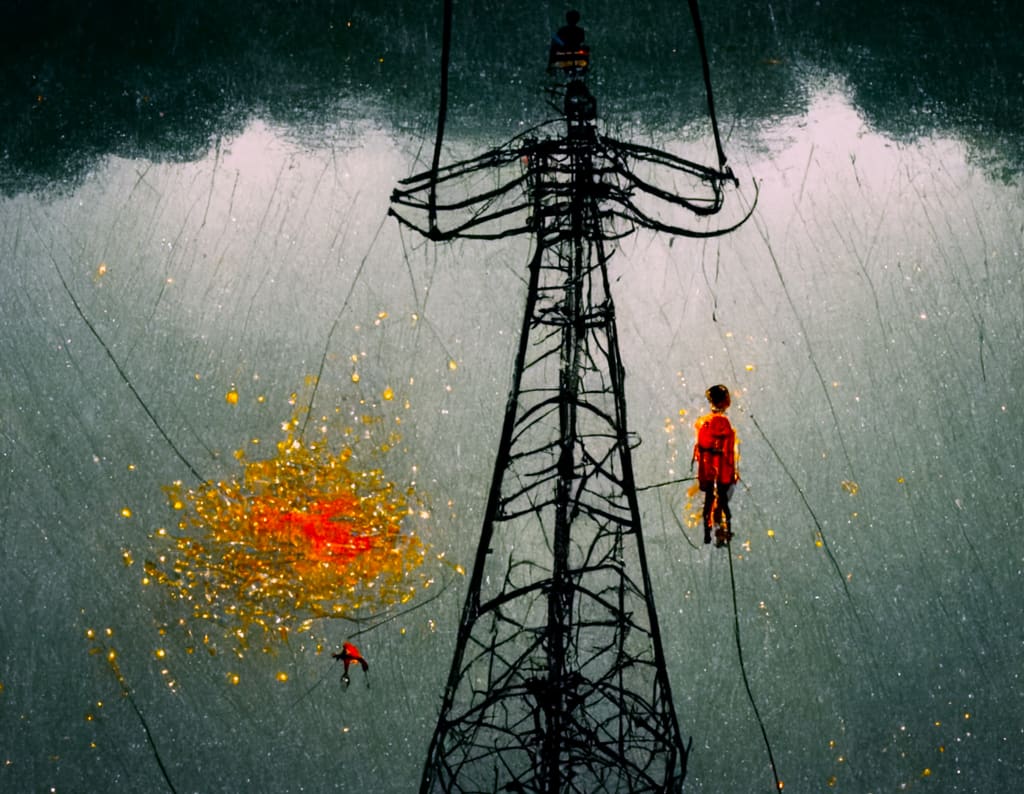 I know how to jump down stairs
It's easy!
You can jump down seventeen at once
If you just have the right state of mind.
And then instead of landing,
Once you've got the hang of it
You'll fly across the Quad
In full view of all the girls you've ever loved.
They'll clap and sing
As you see skyscrapers from above
And cross the clouds,
now grey and black.
And it's hard to slow down
when cables are slung across the sky
And you might hit the cables
because the sky is thick with them.
No wonder you can't fly,
when you know you'll die.
And after a thousand nights of this dream
I am in a tunnel like the inside of a Christmas tree
And the city of Kyiv climbs the tunnel walls.
Festivities and secrets hang
from the mile high gardens above the train.
I ride in and out of the mountains,
and the city stays with me.
Pulling me once again into the air
And this time I guide myself
Down, down,
electric cables below me now, toy train sized,
like the bus cables in San Francisco
criss-crossing Steiner street from my old window.
But here in this Ukraine,
I guide myself between the wires and
My feet touch the earth.
The cracked sidewalk of a mystery city
A bar, smoky, or filled with soft movie smoke.
"Go ahead and take the reins,"
says Sebastian, "you can finish this little commercial for me.
This is your show."
About the Creator
Filmmaker, writer, drummer. Guinness World Record holder for air-drumming.
Poems published in Tablet Magazine: arigoldfilms.com/poems
Watch my movies on Amazon or at AriGoldFilms.com.
Follow on IG, Twitter: @AriGold
Drum podcast: HotSticks.fm
Reader insights
Be the first to share your insights about this piece.
Add your insights