Bridge
Poem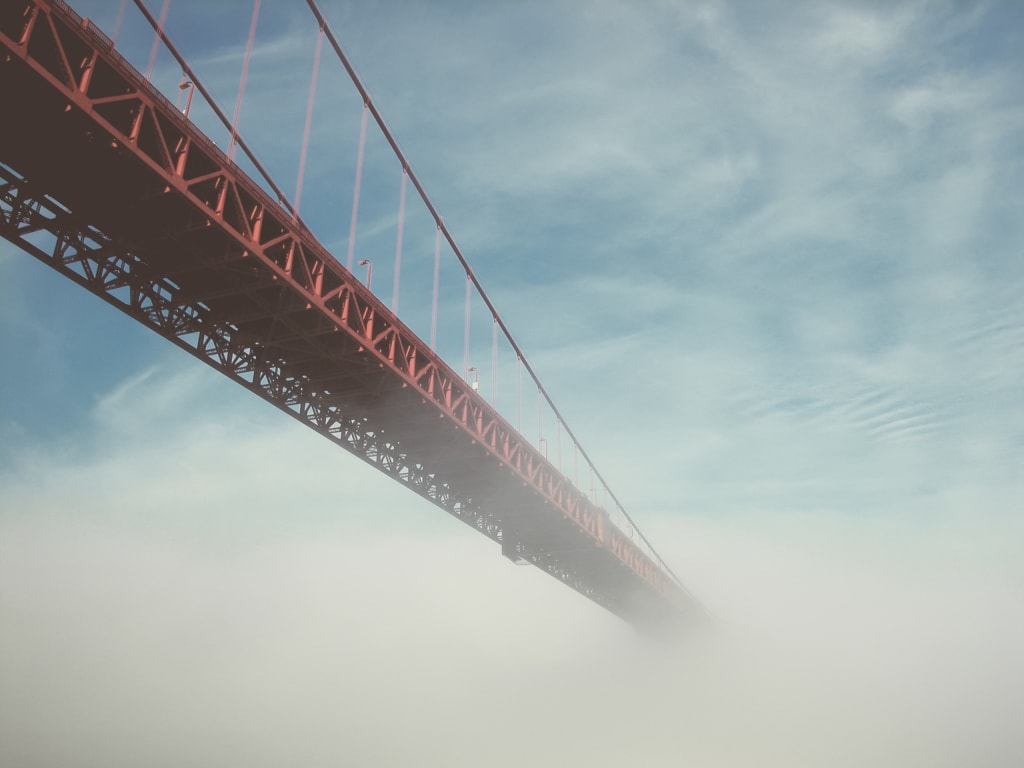 nothing makes sense
the wind carries the moon in a golden white dance
the rocking voices
echo your name
regret burdens my heart, crucifies it in wonder
how will I bury this memory
when I come home
and there's a circular object hanging around the door
I thought about your last breaths choking
against it
as your light slipped away
fuck you
this is bullshit
and I don't even know you
or the others who slip away
every day
who turn themselves in
life is fleeting,
humble eyes
why did you rush it
your six children's lives
who carry on without a father
life meets us,
thousand lives
who plummet into the earth's eternal waters
who poison their lungs
who jump off the bridge
or window
of their despair
and plummet to and from their angst they think is freedom
I'll have you know
a half empty bottle of alcohol
is what they found
I'll have you know
that's what's been found in my room
time and time and time
again and again
and now
the furious creature stirs its crimson and smoky liquids
stirring in our organs our bodies and bones
not freeing us
desecrating us
surrogating us to another mother
who adores us in pain
who dreams of one day howling with our lives
in her throat
and from her mouth comes out
eternal bliss of the babes she sucked out dry
who never could see why they belonged
for you, I thought you would stay
you saved us, the many who felt this way
and now in death, I see why
every day was a practice of rising above her tricks
I've parted ways with her gall
this isn't my first time
the difference is now
I'll think of the half empty bottle
in your room
nearby where your body hang
and where my foreign tears to you fall
but the empty liquor bottles now sit in my recycling bin
ready to make something new out
of the mouth of this babe
who will not be sucked dry
who will remember
and be angry
and refuse its pain
it makes it worse
in moments we, the prey, are fun
over time it mixes up emotions
is that what happened to you?
what happened?
if I could meet you in a distant purgatory nightmare
where connection was available, perhaps a bridge
I would want to know
but your families, all of you, should always know first
their wonder is more than this
they say you are all free
but where are you?
are you anywhere at all?
are you ghosts saving us from committing the same?
are you the wind that swifts the locks of hair off my neck
when I walk under the stormy moonlight
and hear your words that hold my hope as strong
as laughter