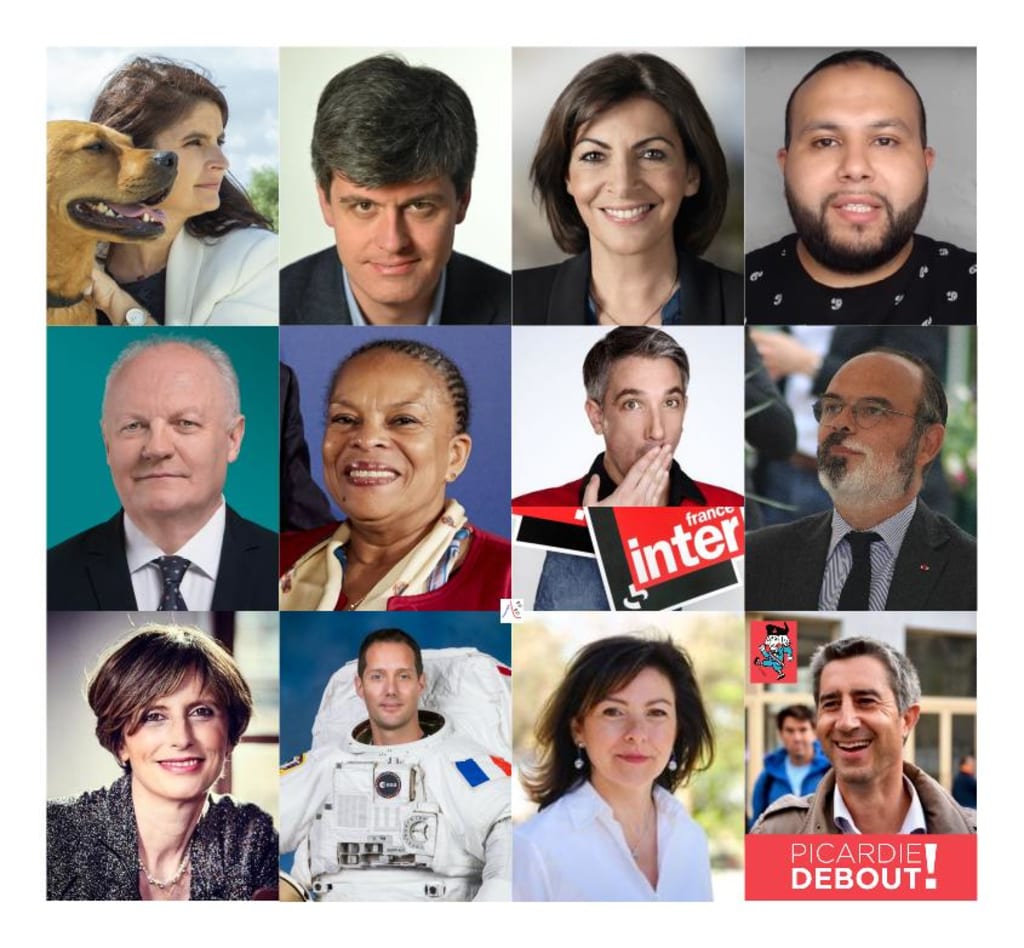 Some of the Candidates, declared or supported by mayors & consor
Hot spots cost a lot - so many guys in the line
Each wants in one shot to get atop, shine
And others only play the game for fun ;
Thus hordes of nuts run - each critic its pun ;)
~~~
Both, be yourself and a fresh yogurt pot,
Earn by the sweat of your brow - your own slot
~~~
Find your strengths toward the public pockets
Or into pockets of your public - blue
Reaches contenders out of nowhere - sets
Encroach mail boxes - whatever's wrong, true
~~~
Choices of electors were made and then
Old morons can not stay along the crowd,
Leaving some debts, frustrations when allowed ;
Dismounted - their journey restored Macron.
~~~~~~~~
On the front picture, from left to right then top to bottom : Hélène Thouy (139 endorsements from representatives), Gaspard Koening (107 endorsements), Anne Hidalgo (Mayor of the World 2016-2020 (C40) as the one of Paris, qualified for the 1st round, 1.74% of exprissed votes), Anasse Kazib (160 endorsements), François Asselineau (293 endorsements), Christiane Taubira (former Minister of Justice, 274 endorsements), Guillaume Meurice (caricaturist, radio funny-host, 6 endorsements), Edouard Philippe (former Prime Minister, 1 endorsement), Emmanuelle Ménard (deputy, Robert's wife, 1 endorsement), Thomas Pesquet (astronaut, 1 endorsement), Carole Delga (President of Region Occitanie, 1 endorsement), François Ruffin (neighbor and best "friend" of first worldwide fortune Bernard Arnaud, 1 endorsement).

Original photographs are issued from Wikimedia, Facebook or Twitter front-pages of the candidates, if not some institutions they represent. Personal mountage.
Former works over this topic :
--> Part 1 : https://vocal.media/poets/time-of-choices-2022-elections-for-french-presidency-1-3
--> Part 2 : https://vocal.media/poets/the-debate-2022-elections-for-french-presidency-2-3
About the Creator
You may read meaningful half-short poetry on my Vocal space, and+.
Feel welcome to discover more of my universe (all writings differ from here) : patreon.com/francis_l
Here authors support each another - Please help Vocal by tipping :)
Reader insights
Be the first to share your insights about this piece.
Add your insights