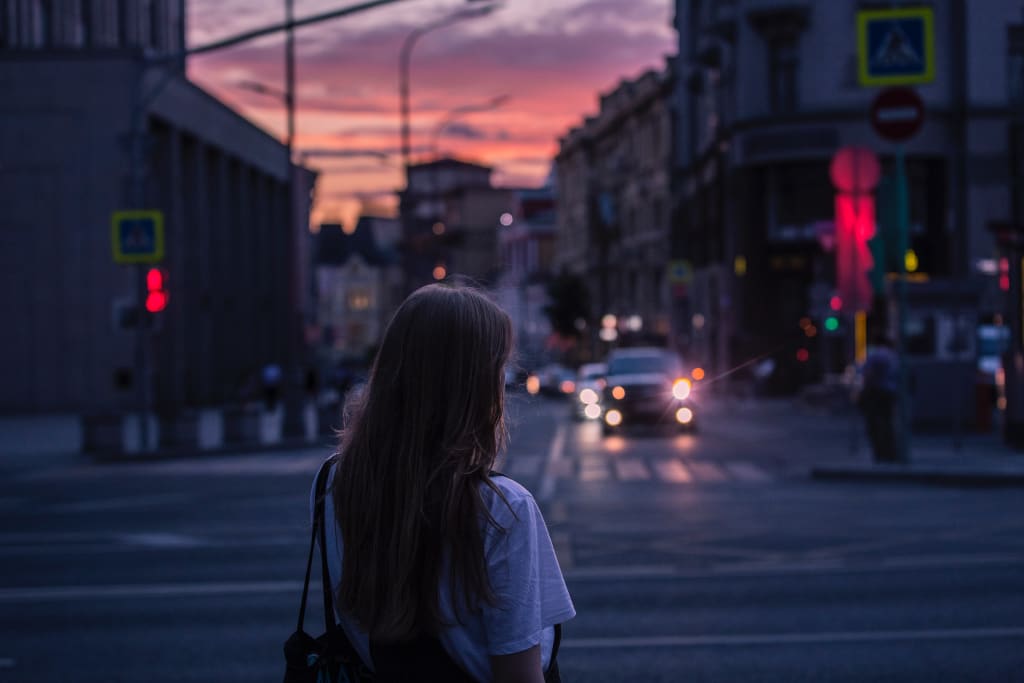 *Aleksandr Popov- unsplash*
For many years now I've been haunted by a memory that's left a shadow on my soul. A memory that always ends in regret.
I can recall everything so clearly, and even after all this time, I still can't decide if that's a blessing or a curse.
The setting was unremarkable, yet you, have been unforgettable.
There wasn't anything spectacular about that day.
There wasn't even an actual conversation between us.
The only words exchanged were through our eyes.
Your arrival was so abrupt and unexpected, I'd have missed you had I not looked up in time.
It was almost cliché.
My pulse spiked as our eyes collided and you froze mid-step like you suddenly had a change in direction.
Do you relive the moment our gazes locked and the seconds that passed when we didn't look away?
Because I do.
I was completely spellbound.
Your irises were a medium brown, the color of umber.
There were faint lines around the corners of your eyes, and I remember wondering how it must have felt to be so happy that the evidence of it could be forever etched into someone's features.
Yet despite those lines, there was no smile on your face that day. No overjoyed gleam in your mesmerizing eyes.
Instead, the expression you returned to me was devastation.
No one's ever looked at me like that before, with pained desire, like I was something unobtainable.
Meanwhile, I regarded you with unrestrained melancholy, because you seemed too good to be true, and I didn't want to hope.
As we stared at each other, I thought of all the ways you'd make me laugh, leaving lines on my skin to match yours. All the conversations we'd have on pillows, and stolen kisses beneath the stars.
I thought of what your voice might sound like if you were to say my name in the same pained desire you looked at me with…
What did you think of in those moments when we couldn't tear our eyes away?
Were you aching like I was? Was your heart beating rapidly in tune with mine? Did you also feel like time had suddenly stopped while the air around us held its breath?
I saw questions burning in your expression, too, as though you were awaiting my decision.
I can be yours, my wistful look had promised.
Then come to me, your umber eyes had beckoned.
But I didn't go to you, and you didn't move toward me.
I could blame it on the setting. That the place of our timing wasn't quite right.
Except that would've just been an excuse when in truth, I was actually just scared.
Reality then caught up to us, and our chance passed.
You broke our gaze first. Disappointment was sharp on your features.
I continued to stare a little longer, ashamed that I wasn't brave enough to fulfill my promise, and I could feel an important part of my life slipping.
For an agonizing second, I inwardly begged you with urgency to look at me again, vowing to myself that if you did, then I'd find the courage to cross the space between us.
Except you didn't look at me. You turned and walked the other way.
So I counted your steps to forever remember the number it took for you to leave me.
Eleven.
And then you were gone.
For years I've wondered what would've happened if I hadn't been scared, or what would've happened if you had just looked my way again.
I've spent countless sleepless nights reliving this memory, picturing the many different outcomes that'd have transpired had one of us been initiative and brave.
I've imagined how we'd have told the story about the way we met, and how you'd tease me for being shy.
You'd have laughed, and I'd have watched in adoration as I became one of the reasons for the lines by your umber eyes that showed the evidence of your happiness.
Only I'll never get to experience those lamented fantasies…
All because neither of us moved forward.
All because an opportunity was missed.
About the Creator
I never believed the sky is the limit, therefore my passions are expansive. My interest in writing stemmed from poetry but my heart lead me to Sci-Fi Fantasy. Consequently, my stories are plot-driven with splashes of evocative elements.
Reader insights
Outstanding
Excellent work. Looking forward to reading more!
Top insight
Heartfelt and relatable

The story invoked strong personal emotions
Add your insights