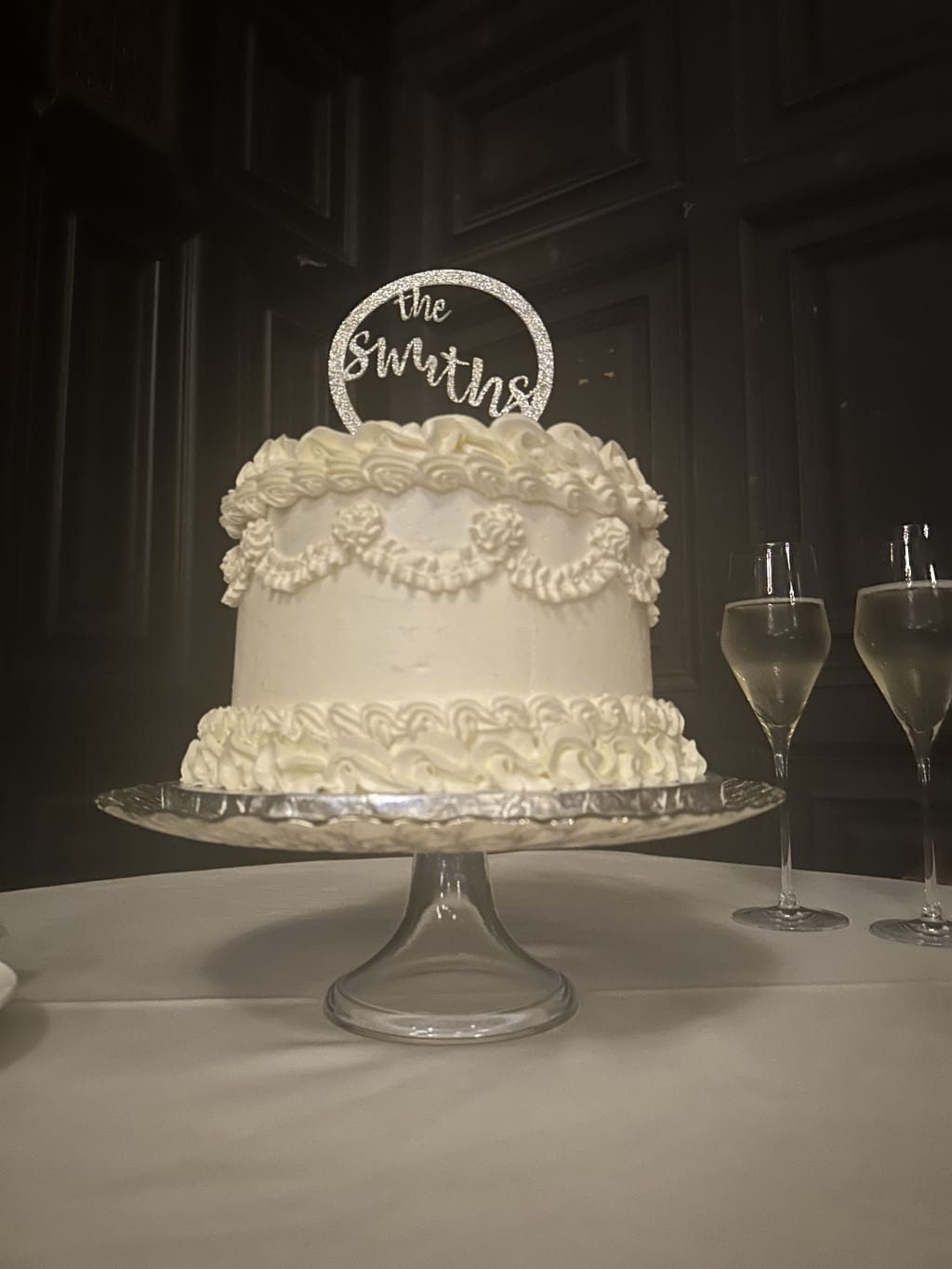 the cake in question
The shirt I pull on after still smells like me
fresh after a shower, the magnolia oil I slathered on my limbs
this morning in pumps of two or three or four:
numbers which meant something when I counted them.
//
Like the steps up and down to our apartment.
I count them as I go, one two three four one two three four,
trusting in the toe fall,
hoping for the heel connect.
//
The wedding cake I made today, in this shirt, had swiss buttercream.
Which you may not know means I prepared: I
wiped the bowls and beaters and paddles with vinegar.
I collected egg whites, pure, which tolerate no fat. I
whisked and whisked and whisked with sugar over fire,
then beat and beat and beat in butter.
Four layers of cake and three layers of filling -
I pretend the shell of icing makes four, which makes it even,
which makes it right.
//
I stood outside the chapel, with cigar smoke curling around my hair,
which was also curled, heatless, around silk rods I carried through the night,
which held me through the beating and the whipping and the sleeping,
all of which the curls held. And the icing held.
//
And I held him, in the cab home,
and I almost cried at the beauty of it all:
I made a cake, and two people got married,
and I drank until my shoes fell off, and all of it was ok.
//
One two three four one two three four:
It's all ok. It's all even. It all held.
About the Creator
Pastry chef by day, insomniac writer by night.
Catch me here for spooky stories, crushable poems, and overall weird thoughts.
Or, let me catch you on my website!
Reader insights
Outstanding
Excellent work. Looking forward to reading more!
Add your insights