A Word of Advice
Sonnets Written in Iambic Pentameter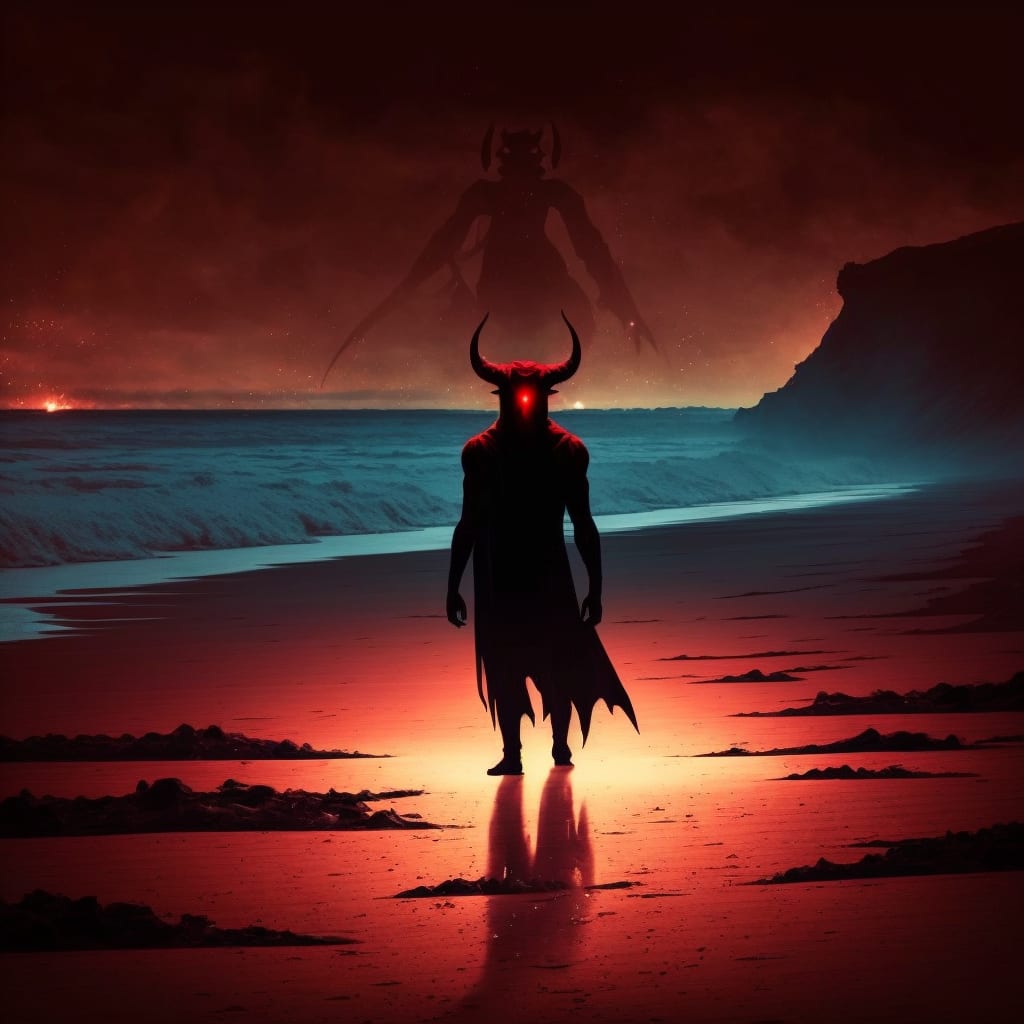 Midjourney AI + Kenny Penn
When I was just a teenage boy I dreamt,
About a world of demons, men, and ghosts.
A realm where fearful monsters walk intent,
On stealing lonely souls from coast-to-coast.
I walk along a stretch of soft wet sand,
Observing salty water foam and crash.
The scent of fish hangs thick like tuna brands,
While gulls call out for scrumptious looking trash.
When sudden cloudy mists surround my form,
Fog wet and dense, petite-sized water drops.
Too late for fog, I glance about for storms,
But cloud nor lightning gathered over top.
Yet danger lingers trailing me unseen,
A devil stalks its prey, watching, obscene.
In mind's eye watching it approach my back,
I shout, "Look out!" at me, oblivious.
My self, un-hearing, walks before attack,
No warning gets through though I shout and cuss.
Red demon hunts, eyes yellow, teeth sharp-fanged,
It raises pointed claws tipped wicked gleams.
Rust colored stains and ragged dried flesh hangs,
From grinning lips, tell storied victims screams.
I watch myself from distant place unknown,
As fiend draws close, mouth heavy drooling lust.
The beast will eat, flesh rendered down to bone,
Its prey reduced to naught but ash and dust.
From fog concealed red devil springs at last,
Abhorrent laughter he strikes hard-and-fast.
My lips peel back in half-formed desperate scream,
Too late by far, for wretched beast has pounced.
Colliding hard against my chest it seemed,
This life was over, dismal death announced.
Back strikes brown sand, my breath departs pained lungs,
As Satan straddles me, he smiles with glee.
"Oh, child of God," he says with pink forked tongue,
"Thou hast encroached domain where thou should flee."
"Now thou shall pay with blood and flesh and soul,
You'll watch as I rend thee with teeth and claw.
Prepare thyself, thy tortured death the toll,
To sate my lust, on thy bones shall I gnaw."
His words thus spoken fill my heart with dread,
I'll die forlorn with many things unsaid.
It's strange what passes through a fearful mind,
When fated death comes knocking at your door.
I've heard that some accept their fates resigned,
While some watch lives flash by in parts before.
But I held only one regretful thought,
I'll never get to give expressed remorse.
Last night in anger what said while we fought,
Words bitter, tainted vinegar and coarse.
Couldn't help but blame his absent wit on you,
The mother he abandoned just like me.
I wished in pitiful wet tears anew,
That you'd hear heartache felt, my sorrow freed.
Then devil raised his claw, green venom tipped,
His triumph close, wide eyes gleam, mercy stripped.
Abrupt voice shouts a challenge to red fiend,
He pauses strike, expressing sudden fear.
Unconscious snarls as hate and spite convened,
On darkened face made foul by rage severe.
Who is this savior, keeping me alive,
Who causes such alarm in frightful beast?
When challenge comes again relief arrives,
I know this voice, an angel now deceased.
Unbidden, "Grandma!" slips from joyous mouth,
But she's unlike the woman passed on yore.
Instead of drooping skin that sags due south,
She's younger, stronger, like a charging boar.
White light surrounds a warrior armed with sword,
Who stands in strength, her passionate youth restored.
"This boy is mine!" The devil desperate whines,
"He trespassed lands yet held in my domain.
Get thee hence, thou agent of the divine,
Thy place is here not, thou unwanted bane!"
Each word spoken thus, caused angel to swell,
In righteous rage, her anger grew immense.
"Release my grandson, beast! Go back to hell,
Your evil hide I'll take as recompense.
This man, though warped, protected child of God,
A precious child beloved not yours to take!
Dear Lord, deliver justice to this fraud,
Let sword and steel, give demon bellyache!"
She surges forward sword, God's devotee,
With last vengeance sworn, devil turns and flees.
I rise from ground, eyes brimmed with tears unshed,
To gaze in awe at ghost from years long passed.
My grandma smiles serene her arms outspread,
I cry earnest sobs, feeling safe at last.
Through snot choked tears against glad grandma's chest,
Her warm touch soothes as she strokes yellow hair.
"Hush now, child, hateful fiend has been addressed,
Soon I must leave you to your own affairs.
Remember dreams of sadness and regret,
Dwell not on beasts but think on past mistakes.
Unspoken words can cripple like bad debt,
Apologies can heal what actions break.
I pondered wisdom's words grown dim she spoke,
At last all fades to darkness I awoke.
About the Creator
Hello and thank you for reading. I enjoy writing in various genres, but my favorites are horror/thriller and epic fantasies.
If you like my stories, please heart and subscribe, and consider looking me up on Wattpad and Ockelwog.io
Reader insights
Outstanding
Excellent work. Looking forward to reading more!
Top insights
Compelling and original writing

Creative use of language & vocab

Easy to read and follow

Well-structured & engaging content

Excellent storytelling

Original narrative & well developed characters
Eye opening

Niche topic & fresh perspectives

Heartfelt and relatable

The story invoked strong personal emotions

Masterful proofreading

Zero grammar & spelling mistakes

On-point and relevant

Writing reflected the title & theme
Add your insights