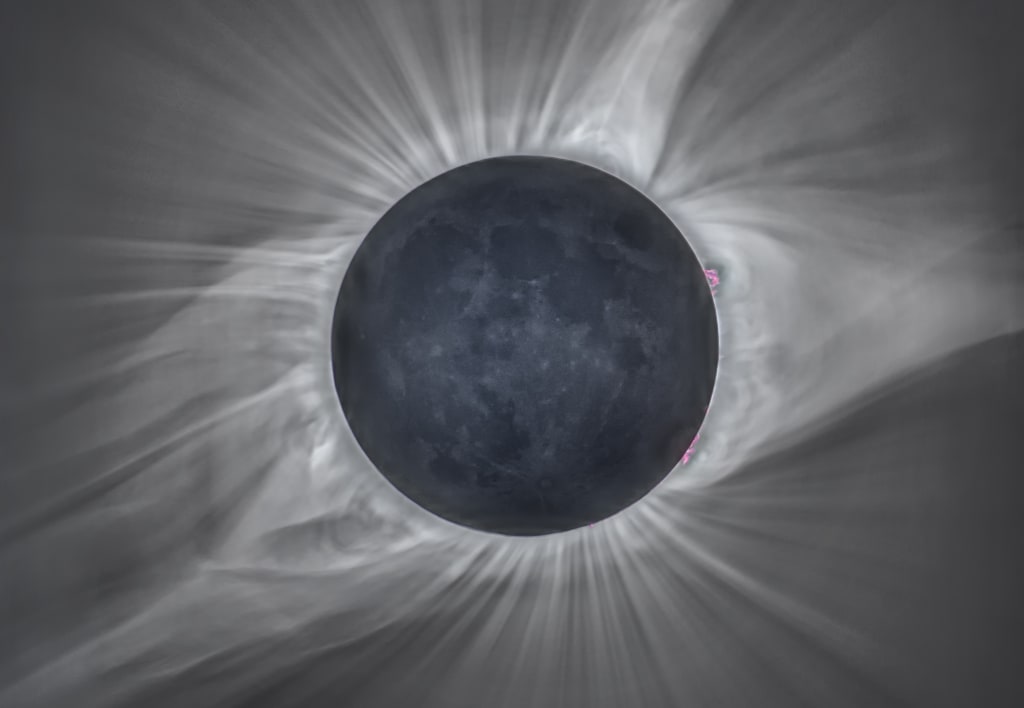 Image taken by Michael S. Adler. Obtained from <a href="Wikipedia">https://en.wikipedia.org/wiki/File:Total_Solar_Eclipse_8-21-17.jpg#globalusage</a>.
The world is wrong.
Colors are no longer saturated properly
The greens of trees and grass muted as if
The evening is upon us
But the angles of light come from above
And the shadows are wrong.
The sky is no longer sunny blue
But ominous slate
The color of fossil shale
Of hateful gunmetal
Of the stone over my father's grave.
Crescents dance across the ground
And car hoods and the coop's roof
But the sun is still there -
It's still there but the light is dimming
Dimming.
Anxiety and excitement screams forward
As the insects of evening begin their songs
My chickens looking for their roosts
The dogs jittery at our feet
The birds above making their evening calls.
Shrouding our eyes
We look up at the sky
Finally able to see the horror
The grandeur
As cicadas scream and wind moans.
Apep is consuming the sun.
The last sliver is gone
And we rip the veils from our eyes
Our gasps ringing
Anxiety leaving
Only awe.
In the sky is a celestial flower
Painted in wisps of pastel blues
And purples
Against the deep navy
Of the summer sky.
The crown of heaven flared
Around the dark disk
Of Luna and hidden Sol
Their embrace above
The most beautiful thing I've ever seen.
For two long moments
My children screamed and ran
In the sudden dark
As we laughed and delighted
Under the navy sky and fiery horizon.
A ray of light has never been so ominous before.
As a new flower bloomed
We veiled our eyes again
Aware that the embrace was ending
And to stare at the beloved sun's return
Would destroy our eyes if we didn't.
With one last longing glance
I watched the Moon
Kiss her lover goodbye
As gravity pulled her away
Back into her unending dance.
Digital means could not
Capture the colors of totality
Could not immortalize
The crown of heaven
In anything but black and white.
But my eyes have seen, and they will not forget.
nature poetry
I've been spinning story yarns in my head since I was a kid, and I've been a semi-serious writer since the age of fourteen. Professionally I'm a teacher, mother of six, and hobbyist poultry keeper.