A Pleasing Study in Pain
Willa Carroll's work strikes a nerve.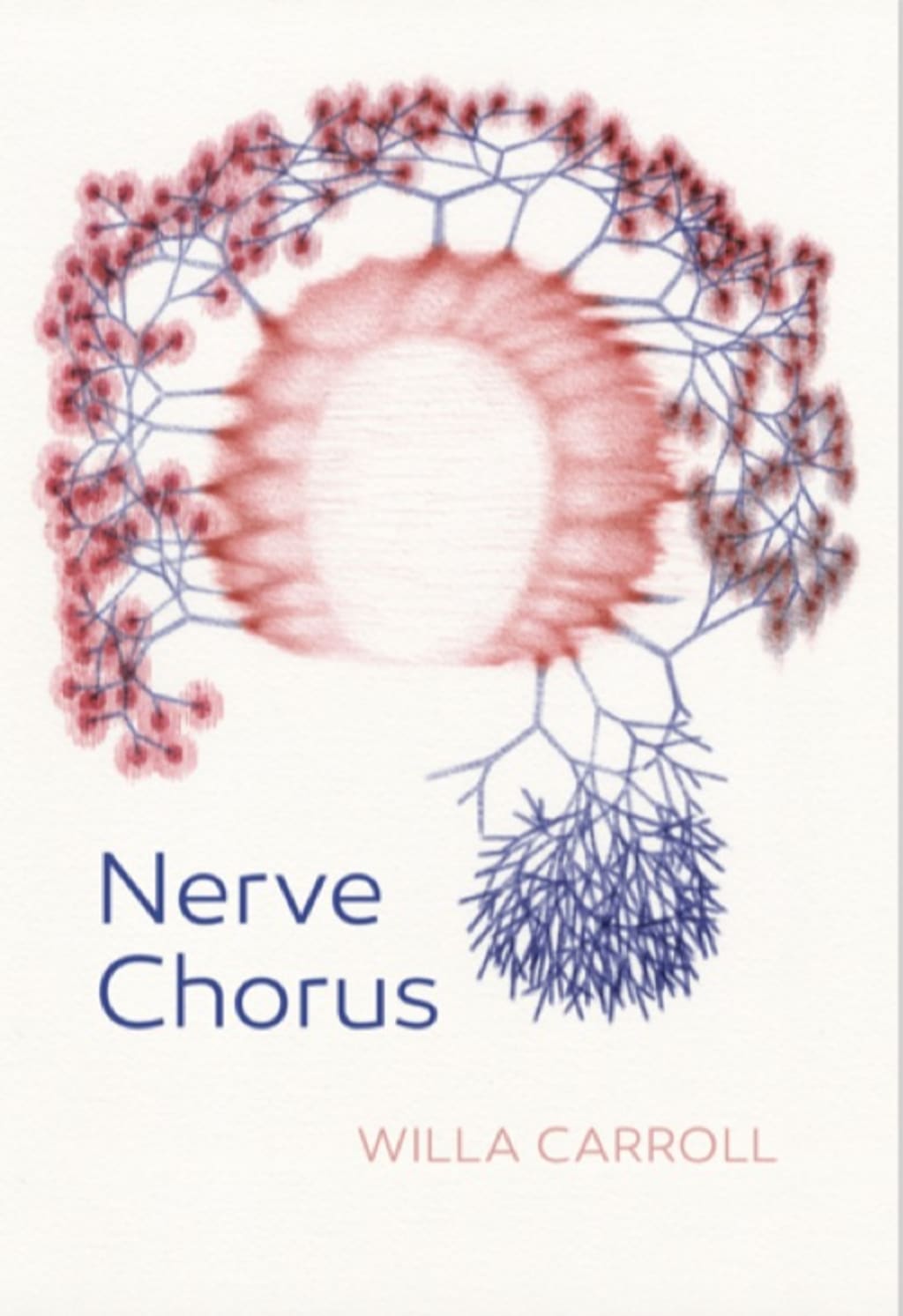 White hot searing pain exploding through every cell, shrieks echoing in each and every molecule throughout a body in utter havoc—that's the intense sensation the cover (artfully designed by Chris Arabadjis) of Willa Carroll's 2018 poetry book,Nerve Chorus, thrusts upon the beholder. Carroll's collection of poems zeros in on the unadulterated pain of simply existing. The pieces within this work each explore and subsequently flush out the wide array of physical agonies which make themselves available to human beings struggling to survive in this realm as well as the emotional traumas humans so often face. She doesn't shirk from tenuous situations. She instead tackles these painful emotional occurrences by chronicling the suicide of an uncle and the decay of a parent. The work as a whole is a deliberate translation of pain, a truly wonderful subject to investigate, even to wallow in. For as Carroll states in "EmergencyRoom," "Pain is perfect. Total. One-pointed. No maybes."
One of the main narratives readers follow in this collection is the ravaging destruction of mesothelioma upon the body of Carroll's father. Carroll presents the heart wrenching arc of diagnosis to near death beautifully. In her powerful piece "Patrimonium," she creates an intricate portrait of the man.
My father is a boob man.

My father sports a headband.

My father's Personal reads: vegetarian seeks younger wife...

He's the winged monkeys of Oz.

He's a carpenter, born on Christmas, 1945.

He's a pile of sawdust, a pomegranate peddler in hell, a ticket stub.
Her precise words are her magnificent paint she strokes this man's visage onto the page. She illuminates his foibles and his more admirable attributes before violently striking a bitter knife through the canvas, shredding the tranquility of our thoughts, "He is not my problem after this poem."
She wrecks further havoc upon her readers' heart strings in "Lamentation Street." In this text her father, it seems, is in the firm hold of the disease at this stage. There is a special kind of pain for a child, no matter what their age, to watch their perceived image of their parent disintegrate. Carroll's tone is almost banal yet the effect is anything but. She begins, "See my father on all fours / in the dirt like a dog..." and then continues with, "See him panting on the lawn, / lungs weedy with tumors. / Little mongrel, tethered all / evening to the porch's sagging / proscenium..."
It is said that misery loves company. Is there anything sweeter than howling amidst the bittersweet clouds of misfortune? There is something tantalizing about embracing the pain which visits us all on this mortal plane. Realizing that at times there is nothing to be done but scream until the anguish subsides is in itself some kind of release. Carroll notes that even those things which are beautiful and light are not exempt. All must suffer the consequences of this plane's apathetic nature; this is seen in the piece "Mammal Vs. Reptile." Her readers feast upon the devastating lines, "Isadora Duncan, radical & barefoot / mother of modern dance, / strangled by her long silk scarf / caught in the wheel of an old Bugatti." For as Carroll states, "All the warm human milk in this world won't balm your need."
Carroll's work is award winning, and it is no surprise. Reading through the work, there is no question of Carroll's skill as a poet in this collection. Granted, this near masochist poetry book may not be everyone's cup of tea but her ability as a writer will hold any reader's attention as soon as they take in the opening piece, "No Final Curtain." In Nerve Chorus, there are no uncertain terms. Though just to be sure, she does warn the readers in the poem of what is to come beyond the first page. "Your jumps are numbered," she says to them. One must hope though, that Carroll's poetry books are not numbered.
book reviews

Laura DiNovis Berry
Welcome! I provide free book reviews for modern poets! At the end of the year, 10% of all earnings and donations will be given to a non profit organization. This year you will all be helping Lambda Literary! Thank you!
Twitter: @poetryberry

See all posts by Laura DiNovis Berry →