Transform Your iOS Device into a Professional Light Meter with the Lumu Power Light
The Lumu Power Light is the gadget you never knew you needed in your iPhone photography kit.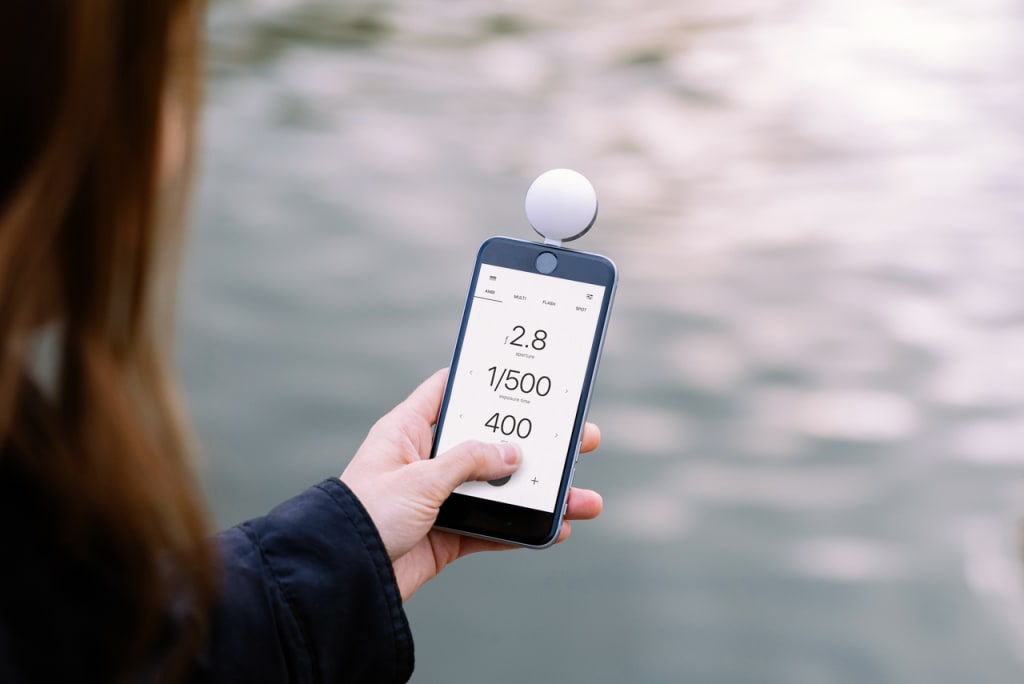 If there's one thing that we are definitely witnessing in the photography world, it's the boom of iPhone photography.
There are more lenses for your smartphone photography out there than any time before. There are iPhone printers that allow you to print physical copies of your favorite shots, too. Online tips for taking photos with your iPhone X are a dime a dozen.
Now, there are even more ways to use your iPhone to take amazing shots—even if the camera you're using isn't attached to your phone! The Lumu Power Light is the latest invention to turn your iPhone into professional photography equipment.
Here's the scoop on this awesome new gadget, and why professional photographers are loving it.
If you're new to photography, it's important to understand how important lighting is.
Good lighting is everything in photography. The difference between emotions, a model's appearance, and even the way that a product appears boils down to light.
If you've ever seen bad photo, or a product image that just looked dingy, it's due to lighting. The problem with lighting is that what we see in front of us doesn't always translate into photography.
Due to the way that the human eye sees light, it's very easy to get an overexposed or underexposed shot when you don't have a direct read on the lighting around you.
That's why photographers need to have a light reader if they want to ensure that they are taking the shots they really want to take.
Light meters are a photographer's best friend, primarily because lighting makes all the difference when it comes to how a shot comes up. A light meter helps you determine what camera setting you should have for your shoot, and also help you determine whether you need more lighting.
Having a traditional light meter can cost a bit—and depending on the brand, the reader can be iffy in terms of readings. Most light readers cannot pick up color readings, nor can they pick up flash readings.
To get a great shot, you'll need as much information about the shots as possible. This gadget will help you kick your photography up a notch, all while being lightweight, easy to carry, and workable with any iPhone you can have.
This small USB plug-in device doesn't look like much. It's barely an inch in diameter, and is super lightweight. Though it's smaller than just about any light reader you'll find on the market, it's incredibly powerful and has been specially designed for "plug and play" functionality.
Rather than deal with the complexities of a standard light meter, this meter allows you to navigate a wide array of different readings all through a simple iOS app.
Lumu is a history-maker.
Among photographers, the idea of using an iPhone as a light reader would have been laughable only a handful of years ago. Heavy, bulky gear was just a given if you wanted to be a professional photographer.
Cutting down the amount of gear is crucial if you want to make the shoot work well for all parties. Lumu allows you to get more functionality out of the gear you'd already be lugging around, all with a much smaller add-on.
You'll love it because it has more functionality than ever.
The Lumu Power Light is the second generation of Lumu light readers. The first was developed by Lumu Labs in 2013 as the result of a highly successful Kickstarter project. The original version just was able to read light levels.
When Lumu created the Power Light version, they were able to add even more functionality to their already-popular light meter. This time around, you get ambient lighting, ND filter reads, color temperature, and more. It's basically a guide to all things light-oriented.
As you could tell from the first video, light reading meters are very difficult for beginners to read and understand. The Lumu Power Light works to fix that issue with easy navigation and easier use.
The app itself has multiple settings that users can seamlessly scroll through, including the temperature of the colors around your shot, which is really important when you want to get that feeling just right. Too "cold" or "hot" of a temperature can totally ruin the feeling you're going for in your photo.
Of course, lighting isn't just important for photography, and the folks at Lumu realize that. Videographers can use the app to help them measure shots as well!
Using the Lumu literally so easy. It attaches into the USB port in your iPhone, and automatically connects to the app. When you want to get a light reading, just point the meter towards the area that you want to examine.
From there, you get to scroll through different readings and determine if you need a little more flash or a higher ISO.
It has six different functions available for you to use.
The Lumu Power Light isn't really just an ambient light meter. It also offers video light reading, white balance, temperature color, photo flash reads, and can be used as a spot light reader as well.
Simply put, Lumu offers all the data you need to know about a photo before you take that shot.
Did we mention it also has Filter Mode assistance?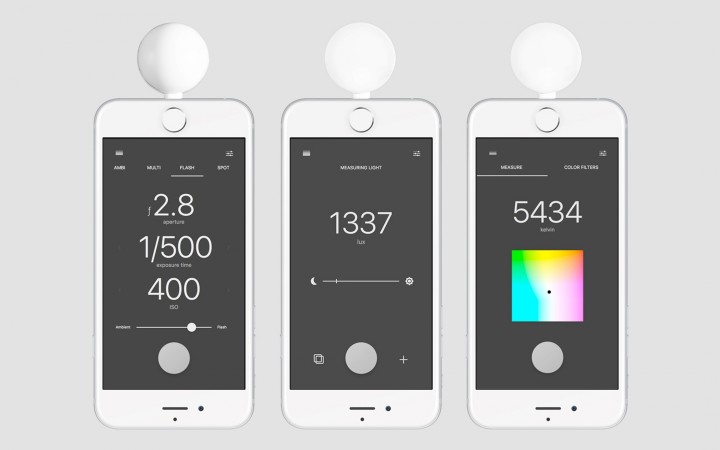 We all have been introduced to camera filters thanks to Instagram, but did you know that lighting can also help you figure out which filter will be the most flattering? The Lumu Power Light comes with a Filter Mode that allows you to help figure out how to choose the best filter for your photo.
The way Filter Mode works is that it helps you figure out how to add a filter that makes the lights in your photo match if there are multiple light sources in the shot. This gives a more even appearance to everything in your photo.
For the professional photographer who loves accurate shots, the Lumu Power Light is a must.
The Power Light isn't just a spot metering device, nor is it just a typical light meter. It's the most advanced light meter attachment for iPhones and iOS devices—not to mention a secret weapon against bad photo lighting. If you want great shots, you'll get a Lumu.
product review