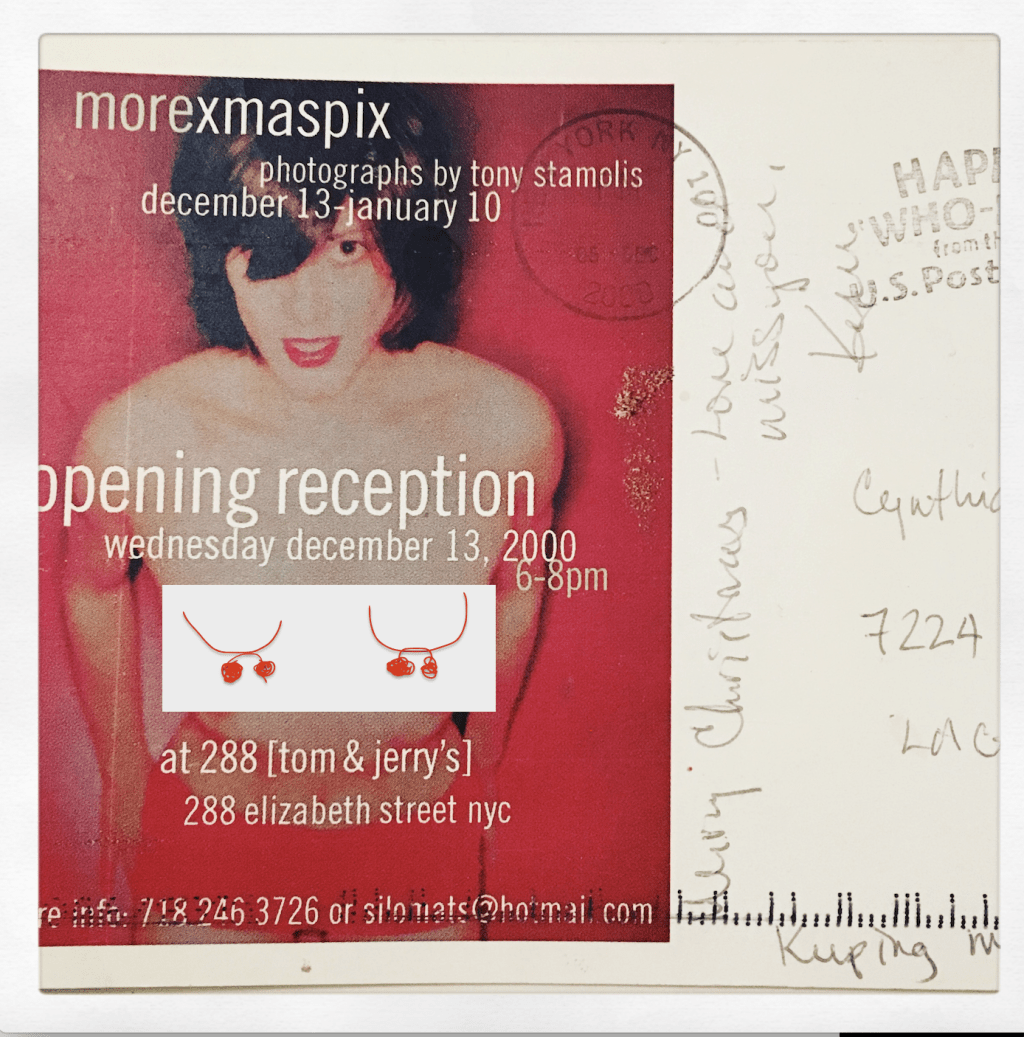 Revised edition of original Christmas postcard by Tony Stamolis
This Christmas postcard from 2000 is the product for when your sister is seven months pregnant, and you are a muse for your photographer friend, Tony Stamolis. Tony booked a holiday show in NOHO at a beloved hole in the wall bar, Tom & Jerry's. Though he had a smorgasbord of photos for his exhibit, he needed some with holiday spirit. My sister and I, as models, offered all kinds of perks for his creative eye. She had the perfect gift in her belly and I came with bells and whistles. I wish I had that photo of my sister with the big red bow on her belly to add to this story. If you will, picture on a blood-red wall backdrop, a profile of a taught, perfectly shaped basketball sized stomach decorated by a red sticky tape bow. That photo made the cut for the exhibit, as did this photo of me taken 20 years ago. Tony liked it so much, he turned it into the invite mailer, and I used it as a Christmas card that year.
This photo is the other side of the reception invite. Tony and I share a similar sense of humor. We collaborated on quite a few shoots - sometimes I would model, and sometimes I would be a stylist. Bound Santa below was taken out in Redhook in an abandoned building. We also did a shoot in a friend's apartment out there. I recall something about an Asian theme. Unfortunately, I don't have any photos from that session.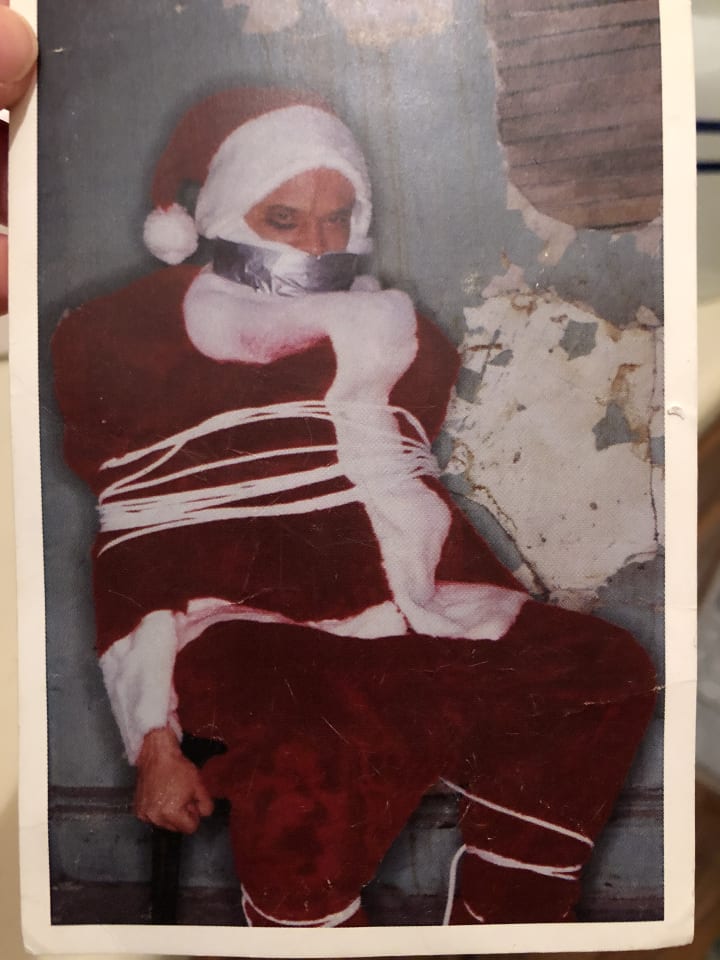 This particular postcard was sent to a friend who lives in LA. She has kept it all these years on her refrigerator amidst other holiday photo cards - none as original as mine. Back in the day, she was a photographer by trade. We would get together and organize shoots for our portfolios, both honing our crafts and have a blast at the same time. Probably one of the most notable photoshoots she and I did was of John Taylor from Duran Duran. He hired her for a casual personal shoot at his house up in Hollywood hills. So, she hired me to do his hair and make-up. I worked a lot those days on film sets and have always had an interest in fashion, so I was pretty good at being a photographer's assistant on a low to no budget. My compensation for that shoot was some tank tops from his wife's new clothing line, Juicy Couture.
I've been mailing holiday cards for three decades. I miss a year every now and then, but for the most part, I sit my ass down, pull up the holiday card list, and send out Christmas cheer. As much as I am the black sheep of the family, I can assure you the holiday card featured here made it to friends only. My family had a hard enough time with my personal choices back in the day, and I didn't want to add tinsel to the fire.
For me, the tradition of sending holiday cards allows me to take some time to think about the people in my life and send well wishes. I like traditions, and I want to take what I like out of certain practices and make it my own. I don't participate in gift exchanges, that doesn't mean I poo-poo those who do. Bruce Lee said it best when it comes to making sense of experiencing and what is right for you, "Absorb what is useful, reject what is useless, add what is essentially your own."