Desert Dreams
My photographs from Death Valley, California; where desolation is a destination for creativity.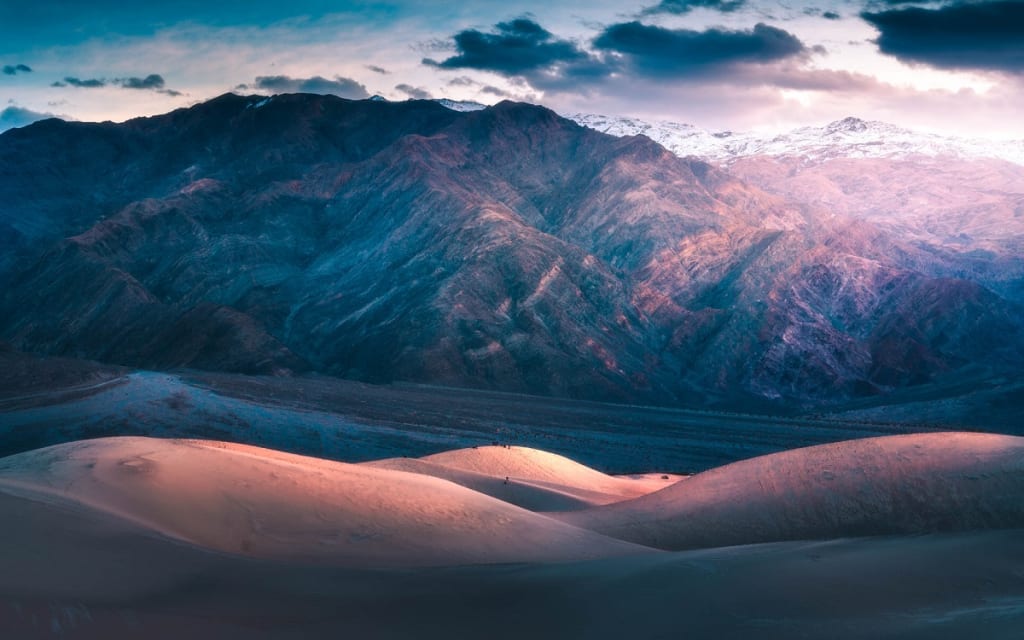 The Mesquite Flat Sand Dunes at blue hour.
When people tend to think of a beautiful landscape, often what comes to mind are the picturesque snow-capped mountains of the Canadian Rockies or perhaps a beautiful tropical beach in the Caribbean on a warm sunny day. They may also think of a colorful forest in the peak of Autumn or maybe wide-open rolling hills at sunset. But what if I told you that most landscape photographers would rather head out to the desert instead? Would you believe me?
Many people think of the desert as a lifeless, hot, and boring place. There's hardly any foliage, not much life to be seen, and seemingly little variety; or so you may think. The desert is no vacation destination for the average tourist. Yet, landscape photographers just can't get enough of that desolate landscape. Why?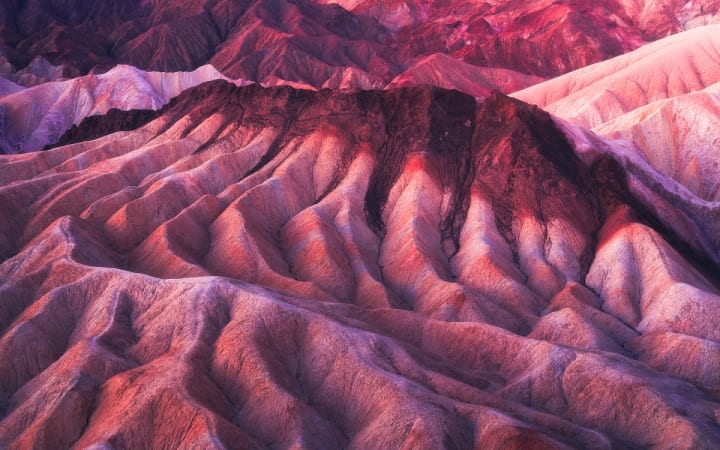 It's because of the ethereal landscape that is just waiting to be discovered in the desert. There's no other place in North America where you can truly feel like you're on another planet like Death Valley National Park. This massive park is a prime example of just how much variety deserts have to offer. From always-changing sand dunes to the rugged textures of soils that have deteriorated from the waters of time; there is just so much to see. And because of that incredible variety, the compositional possibilities for a landscape photographer are endless.
Just have a look at the image above. I captured this image during my first visit to the dunes back in January of this year. I had seen so many pictures and videos from this unreal place but I had never had the chance to visit it until now. When I arrived, I hiked about an hour from the parking lot to make it over to the dunes and begin looking for compositions. The possibilities were endless, it got to a point where I started to become overwhelmed as to where I should even point my camera. The skies were beginning to light up above me and I had no idea what I was even capturing. It was like a maze of images right before my eyes, with each new composition better than the other. But what was I to do?
The best decision that came to mind was to climb up the tallest dune I could see and then start shooting from there. I struggled with whether I should get out my wide-angle 16-35mm lens or perhaps my 70-200mm telephoto lens, but I ended up deciding on the telephoto. It allowed me to get that compression and focus more attention on the gorgeous dunes that surrounded me. After many clicks of the shutter and many failed attempts at finding a good composition, I managed to get a couple frames that I was happy with by the time that sunset finally faded away.
It was a slightly stressful evening if I'm being honest, mainly because I was at one of the most amazing places I had ever been in my life without any idea of what to shoot. But it ended off very peaceably. Once I was happy with what I got, I packed away my gear and just enjoyed the landscape with my own two eyes for a few moments; something that I just do not do enough of. I didn't want to leave, but it was getting dark and I needed to go find a place to set up camp.
The next morning, I ventured back in the park to visit Zabriskie Point and later, Artist's Palette. I had no idea that this morning shoot would be even better than the evening shoot I enjoyed before. Those locations I visited that morning offered even more proof to me of just how beautiful the desert can really be.
Take the image above that I captured with a telephoto lens at Artist's Palette. I, of course, enhanced the RAW file so as to bring out and emphasize these colors even more than what may be seen in-person. But I promise you, these colors are not added. You literally feel as if you are walking in a landscape of chalk here, it is nothing short of amazing. Who would have thought that a mixture of minerals could create such ethereal colors? I sure didn't until I experienced it firsthand at this beautiful spot.
Long story short, you may have never imagined the desert to be a 'travel destination'. Normally, you would probably rather go to the mountains or the ocean, right? Well maybe this article can change your mind a little on that desolate landscape. Next time you're planning a road trip through the States, add Death Valley to your list. You won't regret it. Unless of course, you go in the Summer time... You may melt. Literally.
Thanks for reading.
Follow me on Instagram: @calibreus
Check out my website: www.calibreus.co
Learn how to edit like I do: www.store.calibreus.ca