Best Medium Format Film Scanners
Want to transfer your photos from film to the computer? Check out these awesome medium format film scanners to help you get the job done.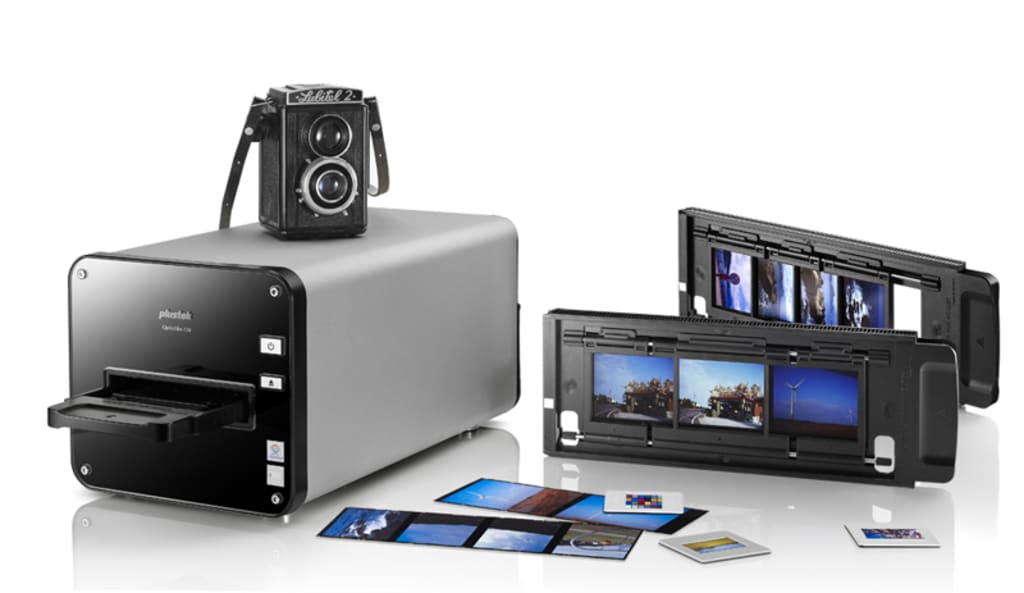 For those of us who have film cameras, since they're not digital with a viewfinder, it's difficult to find ways to transfer our photos onto the computer. It's not like any digital camera where we can take out the memory card and insert it into our computer. Since film cameras use film to take photos, we have to find a way to transfer the film into the computer. And that's what film scanners are created for!
Film scanners are specifically designed to take your film, scan them, and transfer the images into your computer. With this magic machine, all of your photos from your film camera can be brought right into your computer. This way, not only can you edit your best photos, but you can also display and post them all throughout your social media! If you want the best film scanner that's right for your film, these are the greatest medium format film scanners you can get your hands on now.
The Braun film scanner is a fantastic scanner that can transfer literally all of your film right into your computer in no time. While it scans 35mm to 6x12 film, the optical resolution is 3200 dpi and the color depth is 48-bit. You can now digitize your 35mm camera slides and negatives to 6x12cm shots!
While this film scanner features a three-line CCD sensor that works with an optical resolution of 3200 dpi as well as the color depth of 48-bit to create intensely detailed images, it also has a scanning area of 1.0 x 1.4" to 2.2 x 5.5" for versatility. Plus, the scan speed is around 200 seconds at 3200 dpi with 24-bit settings. There's also a Magic Touch feature built into the scanner where it utilizes an infrared LED for automatic dust and scratch removal.
The PF120 Pro Multi-Format Film Scanner is definitely one of the best medium format film scanners ever. This awesome scanner features a three-line CCD sensor that has the capability of 3200 dpi optical resolution with a 48-bit color depth. This scanner can transfer your negative and positive film right into your computer. This way, you can visually see and edit all of your photos from your computer.
In a medium format, this scanner can support a wide variety of film! From 35mm to 35mm mounted slides, and 120mm, all of your diverse types of film can easily be scanned with the Pacific Image scanner. Now you don't have to waste time printing out your photos, but transport them into your computer. And this scanner comes with holders for the more popular film sizes that always guarantee your scans come out accurate every time and in ideal condition.
While Canon creates amazing photography cameras, it's no surprise that their film scanner is among the best medium format film scanners on the market now. This scanner features 12-line color CCD sensor that doesn't just scans documents and photos, but 35mm negatives and slides, plus medium format films, too! It can capture film and negatives at a high 9600 dpi optical and photos and documents at 4800 dpi optical. You can now swiftly digitize your slides and negatives instantly so they can be viewed, edited, and shared anywhere from your computer.
With the 48-bit internal color depth, this offers accurate color rendition. The Canon scanner also includes film holders and guides that ensure you that you're getting precise scans at every use and getting rid of the guesswork of film scanning. In addition, the FARE Level three retouching is created to remove dust and scratches and even restores color to faded photos. There's also a built-in gutter shadow correction.
Epson is a really popular photography brand and their film scanners are also loved by so many film camera users. Their Perfection V550 Photo Film and Document Scanner is certainly among the medium format film scanners you should get right now. Featuring a 6400 dpi sensor, This scanner can be used for documents and photos, as well as 35mm negatives, slides, and medium format film. You can now bring all of your photos right into your computer in the simplest way possible with this scanner. The scanner also automatically separates multiple frames into separate files, and you can upload any photo you scan into your social media by using the bundled Epson Easy Photo Scan software.
And when you're scanning a document, you can also convert the image into editable text by using the incorporated OCR (optical character recognition) software. You can also program the scanner's four one-touch buttons to automate specific scans for a much smoother workflow. Now all of your photos will come out crystal clear and precise to your liking.
If you have a bunch of film piling up in your drawer that you didn't print out yet, or even touch, you can now transfer all of those photos right into your computer. When you scan your film, you're basically preserving your photos and you can also share photos with family and friends. This is why the ClearClick is one of the best medium format film scanners you need to bring all of your film into digital images. In fact, you don't even need a computer for this scanner to work, just the scanner itself!
Within just minutes, you can scan all of your photos, film, slides, and negatives. Unlike most scanners, this scanner actually scans from above, and this allows you to scan each photo without removing it from its mount or photo album. You can also load a photo into the scanner's photo tray and scan it that way. There are so many ways you can scan your film, but in the end, your photos come out in fine detail and to perfection.
The Epson Perfection V600 Photo Scanner offers amazing quality scans not just for photos, but also film, slides, and everyday documents. You can now scan all of your prints, negatives, and slides quickly and efficiently. With the 6400 x 9600 dpi resolution, this top-quality scanner promises precise film scanning for sharp, detailed, and vivid reproduces up to 17" x 22". And this scanner features the Digital Ice that's perfect for both film and prints.
From one-touch color restoration and ArcSoft PhotoStudio, the Epson scanner offers a photo restoration solution, too. It also has low power consumption for intense efficiency and no warm-up time for scanning preparation. You'll always get high-quality images, meeting the photo as well as film reproduction needs of photographers.
Lastly from the all-time greatest medium format film scanners you can buy now is the OpticFilm 120 Film Scanner by Plustek. This scanner can transfer all of your 35mm negatives, mounted slides, and your 120mm medium format film right into the digital files. This way, you can edit your best photos and post any of your photos on your social media. It can also perform quickly without an automatic batch scanning feature and use a high resolution 5300 dpi sensor with 48-bit color depth to grab sharpness and details from your films.
Its newly redesigned film holders guarantee ideal positioning while scanning as well as the images won't be skewed or misaligned. In addition, the Plustek scanner has a built-in infrared channel that offers dust and scratch removal without cumbersome post processing.
About the Creator
Penny Newton: Dreams of honeymooning on the moon. Owns about 20 galaxy dresses and wishes to be probed by aliens one day.
Reader insights
Be the first to share your insights about this piece.
Add your insights