Best Erotic Photographers to Follow on Instagram
Love a little sexiness on your feed? Check out these erotic photographers to follow on Instagram for some artsy nudity.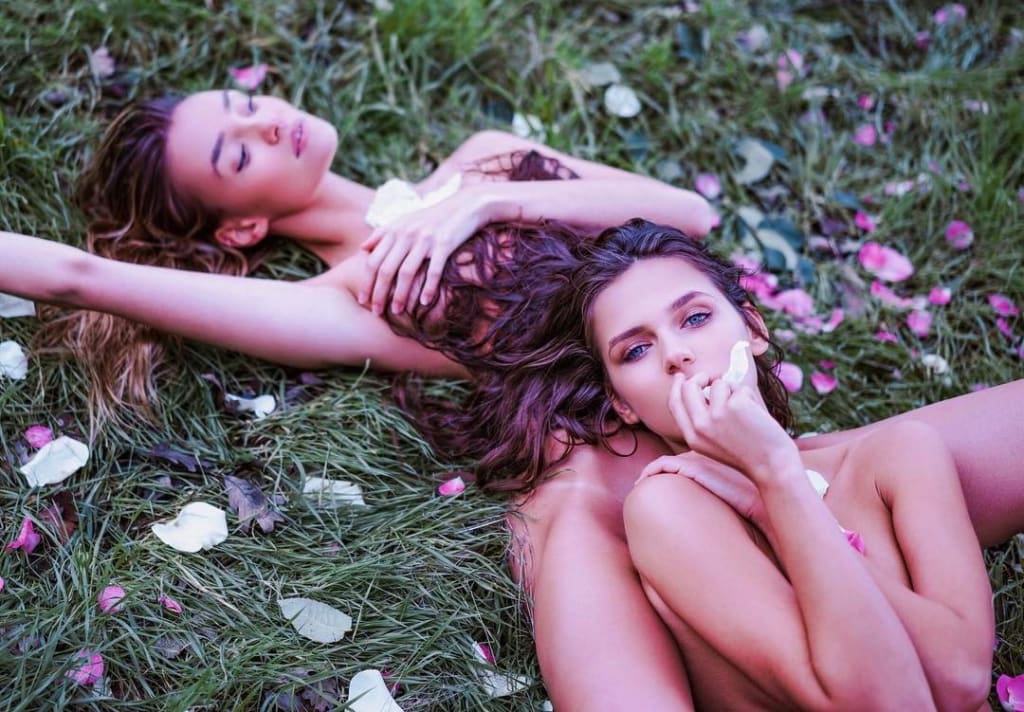 Zorana Kuzmanovic & Melissa Cuc by Kesler Tran
Sex sells, and to a point, that basically explains what drives a large part of the creative world. In no place is this more common than in the world of photography. Erotic photography remains one of the most in-demand forms of portraiture in the world.
It's easy to see why; everyone loves a tastefully done nude once in a while. Finding well-shot nudes, though, is what tends to be the hard part. If you're one of the many who wants to have quality erotic art on their feed, we totally get it.
We took a look at some of the best erotic photographers on Instagram to follow. If you're looking for something artistic, thought-provoking, and sexy, you'll love these talented photographers.
NYC-based Richard Kern has shot some of the hottest models in the city, and his work has quickly become regarded as some of the best in the genre. It's raw, gritty, and capable of capturing that perfect moment that's both intimate and casual at the same time.
If you love the sexy-yet-comforting look of seeing your significant other in their undies making waffles, you'll understand what makes Kern one of the best erotic photographers to follow on Instagram—not to mention one of the better portrait photographers, too.
Los Angeles's own Kesler Tran loves to bring the glitz, glamour, and sultry look of California beach bodies to the forefront. Erotic in the high fashion, breathtaking sense of the word, his photography is all about celebrating toned bodies in all their glory.
It wouldn't be a stretch to see Tran's work in a magazine like Vogue due to his fashion influences. Tasteful as can be, Kesler Tran makes his work turn sex into a statement worthy of a high fashion runway.
Some photographers just seem to be made for Instagram, and Jason Lee Perry definitely ranks among them. His work has the crisp colors, elegant filters, and strikingly pretty models that we all love to see on our feeds.
Going on his Instagram account is like taking an A-list tour through every beautiful location in the world and mingling with the sexy individuals who are there. Is it any surprise that he has over 176,000 followers, considering how addictively beautiful his shots are?
The artist only known as Cawfee has more talent in his pinky finger than most of us will have in our entire bodies after a lifetime of training. The "scientist with a camera," as he's lovingly known, is famous for shooting some of the hottest models in the country.
What really stands out about Cawfee's work is how he is able to bring out the best facial expressions in his models. If you love Victoria's Secret-style shoots, you're going to love looking at Cawfee's work while you sip coffee in the morning.
Cameron Hammond's work makes him one of the best erotic photographers on Instagram to blend beautiful beaches with smoking hot models. The end result is a series of bodyscapes, portraits, and erotic moments all places within an idyllic beach world.
Exotic locations filled with placid beaches, beautiful nearly-naked bodies, and spa-like venues make his work eye candy on a global scale. Fans of sex on the beach will find Hammond's work irresistible.
Henrik Purienne isn't just one of the best erotic photographers to follow on Instagram; he's also the man behind Mirage magazine. Using his creative prowess and his eye for aesthetic, it's easy to see how Purienne has become Instagram-famous.
His main account is known for having highly artistic views of sexy people, along with shots that offer thought-provoking takes on what it means to be erotic in society. In a word, his work is absolutely beautiful.
Who doesn't love seeing beautiful people in swimwear? Cameron Mackie is the photographer from down under who fuses swimsuit fashion shots with some of the hottest faces that you will ever see. Mackie's work has become so popular, swimsuit companies now hire him to shoot their promotional work.
Stylish, sassy, and erotic in its own unique way, Mackie's work remains some of the hottest on Instagram for more reasons than we can count.
Brook Olimpieri is one of the top erotic photographers on Instagram and also happens to have the bragging right of being the head of Filthy Mouth Creative Agency. Her take on erotic photography offers a little bit of pinup, some retro flair, and a lot of modern mood-setting.
Few photographers will bring retro clothing and daring attitudes into their erotic photography like she will. If you're looking for seriously creative shots worthy of a Dolls Kill-like site, you're going to love Brooke's work.
While many of the most popular erotic photographers keep things relatively commercial, Prinz is a bit different. Justin Prinz's claim to fame is his willingness to experiment with lighting as a way to add mood, emotion, and depth to his artwork.
His series are known for involving stark contrasts, black-and-white imagery, or his trademark "double exposure" look as a way to show extra emotion in every shot he takes.
Everyone out there has had a crush on the girl next door at least once in their lives. The "girl next door" trope has that classic je ne sais quoi that makes her irresistible, sexy, and yet at the same time, comforting in her own unique way.
Danny Scott Lane is one of the few photographers who manages to capture that "girl next door" beauty. Innocence and sexiness are juxtaposed in most of his shots, and that's what makes his work both steamy and high art in its finest form.
Brydie Mack is a true bohemian in every sense of the word. Deeply artistic, thoughtful, and aesthetic in nature, Brydie is a person of the arts in a way not many people can say they are. When the actress isn't showing her acting skill in The Wolf Cub Chronicles, she's shooting some of the best erotic photography out there.
Mack's photography composition and exotic locations belie her wanderlust-filled heart. Each shot is a journey into her mind, and it's a beautiful one to gaze at.
If you thought that all the best photographers to follow on Instagram shy away from analog prints, you're wrong. Jonathan Leder is one skillful artist who is totally A-okay with using some of the best Polaroid films to help add another layer of sentiment in his shots.
Retro as can be in a good way, Leder's work runs the gamut from excellent car shots to eye-grabbing portraits of beautiful women in bikinis. Even if you're not a fan of erotic photography, following him is a life decision you won't regret.
Emanuel Ferrari walks a fine line between high fashion and erotic photography, which in turn makes his photos strikingly similar to Terry Richardson's work. That being said, he's quickly gaining a lot of clout in both communities on Instagram thanks to his near half-million fans.
A couple of leafs through his portfolio will tell you everything about what makes him one of the most popular erotic photographers on Instagram. His work is golden and doesn't even require nudity to channel the erotic in humanity.
Most erotic photography focuses in on the standard "beach beauty" or classic fashion model looks that make people a bit hot under the collar—and that's cool. Angie Lopez takes a different spin on the erotic because of her choice in both model and lighting.
The thing you will notice about Angie's work is that all the models seems unusually bright-eyed, soft, and innocent in their poses. We never knew erotica could look so pure, but then again, her ability to bring that side of sex out is what makes her an artistic genius.
Lana Prins works both in front of, and behind the camera—and it's safe to say that definitely helped her unique skill in creating fascinating photos. Macro photography, close-ups, and unique composition techniques are what make her work exceptional.
Many of her erotic shots are "teaser" shots, often making viewers feel like blowing on the screen would make naughty bits suddenly get exposed. Needless to say, she's had issues posting her work in the past, but fans don't seem to care. She's just awesome like that!
Aimee Oh's work doesn't dance around the erotic—in fact, her shots flaunt it. The Berlin-based artist is known for using gel lighting setups to add extra emotion, depth, and of course, color to her shots.
Her work has been published by Musee Magazine and is known for having a vaporwave-esque feeling to it. Though erotic, it remains tasteful and is designed to make you think about intimacy in the digital age. What's not to love?
Erik Tranberg is a unique blend between old school erotica and new-school aesthetics. The old school elements of high emotion, classic poses, and black and white shots make his work look art gallery-ready. Newer school elements, such as newer outfits, slender models, and the occasional carefree candid shot are what make his work human.
If you're looking for classic erotica that involves beautiful bodies and every little curve being featured perfectly, you'll want to follow Tranberg's Instagram ASAP.
Melissa Cartagena takes the kinds of photos that look like they were grabbed out of a Beyoncé Knowles music video—and that's a great thing. Warm colors, curvaceous but slender models, and high emotion can be found in just about every photo she takes.
She takes models who have an innate intensity about them, and brings it out using her camera. As a result of the sultry positions, great lighting, and breathtaking models, she's one of the best erotic photographers to follow on Instagram.
Graphic designer, photographer, and creative powerhouse Diego Triplab has mastered the look that most modern erotic photographers wish they could. His work features tasteful nudes, Brooklyn hipster-esque fashion, and once in a while, poignant looks at the modern fashion scene.
Eccentric as can be, Triplab's work remains a telling portrait of the carefree and artsy lives of his subjects... all while dialing up the seductive vibes to 11. His fashion work and art nude work must be seen to be believed.
Sophia Sinclair's work is hard to define, but easy to point out from a crowd. A little flair of fashion, a lot of top quality models, and a serious effort to show a little story in each shot are what make her so easy to spot from a crowd.
Her erotic photography is definitely great, but then again, so is her lifestyle work. Versatility is something that really seemed to give her an edge over other Instagram photographers.
Traditional erotic photography is very difficult to do well, and to a point, many might believe that it's impossible to do at all. Sal Moriarty proves that is can be done—and very well, too.
Moriarty's work is heavily influenced by retro clothing and "the look" girls give when they're flirting with someone. His photography gives you the feeling that you really are seeing a special side to the models, which is what makes his work such a great choice.
Do you know that warm, fuzzy afterglow that you get after a wild night with a lover? Jan Kwan sure as hell does, and that's what he sets out to capture in his photography.
What makes him one of the best erotic photographers to follow on Instagram is the warmth of the photos. There's a distinct "pillow talk" vibe that makes his shots incredibly intimate, even when the models aren't topless.
James Beddoes has made a solid name for himself as one of Britain's most popular fashion and editorial photographers. Though he's most well-known for his excellent fashion work, he also happens to be an amazing erotic photographer.
Great shoot concepts and sexy concepts are what he's known for. He also happens to shoot on 35mm film from time to time, and frankly, that's just impressive.
Rachel Lazatin doesn't shoot erotic shots for erotica's sake; she does it to make a statement. Yes, the photos are definitely hot, but there's more to these photos than meets the eye.
She's known for working with a number of other photographers on this list for series published on Another Filthy Magazine. Her thought-provoking pieces are excellent inspiration for anyone who wants a little bit of sexy-retro erotic art.
Erotic photographers typically go for the "natural" look when they style models for a shoot—but not Xenia. Xenia Lau's work is a perfect blend between high fashion makeup and erotic photography.
The end result is an exotic, erotic, and downright striking photography style that can't be missed. You'll love her, and then want to know how her models got those looks.
Asher Moss's photography is definitely a one-of-a-kind experience. Though it's definitely sexy, Moss's work often incorporates dreamlike, surreal, and high fashion elements in an unpredictable way that will keep viewers guessing from shot to shot.
Some shots are scary. Others are retro. Others just feel like you're sitting in a basement looking at models goofing off. No matter what Asher's shooting, it looks superb.
One thing that's difficult to find in erotic photography is BDSM that's added in a subtle manner—and that's precisely what makes Melodi Meadows one of the best erotic photographers to follow on Instagram.
Her Instagram is one that has striking poses and setups that clearly insinuate BDSM, minus the obviousness of whips, chains, and leather in every shot. The end result is something that would make anyone weak in the knees.
Cara Friedman's world is one that has a lot of sensuality mixed with whimsy, and it comes through full-force in her photography. Her Instagram account offers a wide range of portraits, ranging from the truly vanilla to closeups of fishnet stockings in heels.
Slightly kinky, but at the same time, classically retro, you're going to love the way she captures the raw beauty of sexuality in her shots.
If there was ever a photographer we could say truly mastered capturing a woman's curves in the best way possible, it's Luke Craft. He always knows how to compose a shot that shows off the beauty of the feminine figure perfectly.
Mix that with his excellent lighting and perfect taste in makeup, and it's easy to see why he's one of the top erotic photographers.
Internationally-renowned Paulius Stefanovicius has long been a favorite in the swimsuit fashion community. This epic photographer does his best work on the sandy shores of far-away lands, with models that would turn anyone's head.
Tropical vibes and beautiful bodyscapes are what make him a favorite on Instagram, too. Take a look at his portfolio, and you'll understand why he's considered to be one of the amazing erotic photographers.
Gediminas Zilinskas is one of Europe's hottest fashion and beauty photographers, and has become regarded as one of the biggest breakthrough photographers in Lithuania. It's easy to see why; his command of lighting and action would make any artist turn green with envy.
When it comes to his erotic shots, it's hard to ignore the way Zilinskas manages to highlight the muscle tone in his models. Strength is beautiful, and he definitely knows that to be true.
Though it's clear that Denis Bliznuk tends to focus on erotic photography, it's also clear that he likes to add a little more emotion and love into each shot than most others. His subjects are often captured in seductive poses, but also shown at their most vulnerable.
A tender kiss between models here, a little giggle there, some dramatic lighting... His work has that perfect balance that makes every single shot look phenomenal.
Gioacchino Dell Erba doesn't shoot erotica. He shoots fine art. But, that fine art is highly erotic. The lighting, compositions, and concepts he uses are strikingly unique—but at the same time, bring out the feminine nature that is in every woman.
If you're a fan of glamorous women making a serious statement in photography while they model, Dell Erba's work will definitely resonate with you.
Some erotic photographers just go a slight hint of erotic vibes in their shots. Not Dmitry! Follow his account and you'll find full nudes, stark lighting, and incredibly provocative poses galore.
Dmitry's work is all about seduction and the female form. If you're a fan of sexy stuff, you'll adore his Instagram account.
Have you ever gone to a party filled with extremely attractive people just lounging around in half their clothes? If so, you probably have gotten a glimpse of the kind of inspiration that powers Jack "El Jacker" to shoot erotic photography.
Casual and pointedly cool is what Jack's work is. Oh, and it's also incredibly hot too. Is it any wonder why he's one of the more popular erotic photographers to follow on Instagram these days?
Dmitry Borisov has over 40,000 followers who have fallen in love with his erotic artwork—and we're willing to bet many more will follow. A single glance at his Instagram account will tell you why that is.
Erotic nudes are Borisov's specialty, and boy, does he know how to kick seduction up a notch. Expect to see beautiful bodies, "come hither" looks, and new ways to see the beauty in sensuality.
Ben Tsui's become one of the hottest erotic photographers to follow on Instagram thanks to his deep interest in posing. Sometimes, his work zeroes in on the emotion and beauty of a naked body. Other times, he uses bold poses to help further fashion concepts.
No matter what he's doing, he does great work.
Did you ever notice how certain gestures are just naturally seductive? Casamia Michel is a fan of closeups that tell a story, and that's what makes him so inventive.
His work is known for unique angles and elegant lighting that just highlights sexuality in the best way possible.
BØZ is one of the newest photographers on Instagram, and while he may be new compared to other names on here, it's easy to see where he's getting followers. Great lighting, beautiful nude figure work, and striking contrasts between humanity and nature are what make him great.
If you're a fan of sensual nudity or just seeing beautiful people, then you need to follow this LA-based photographer on Instagram.
Chris Smith rises above most of the erotic photographers to follow on Instagram, and it's easy to see why. He brings all the elements of eroticism to life in his work.
Beautiful women in beautiful poses, with perfectly captured scenes of nature are what he does best. Is it any surprise that he's such a popular photographer on Instagram?
Love these lists?
Check out our lists of the Best NSFW Instagram Accounts to Follow, Best Celebrity Photographers on Instagram, and Best Abstract Photographers to Follow on Instagram.