10 Best Photography Books for Beginners
The best photography books for beginners provide excellent information on everything: Techniques, composition and design, and some will even help you build your business and brand.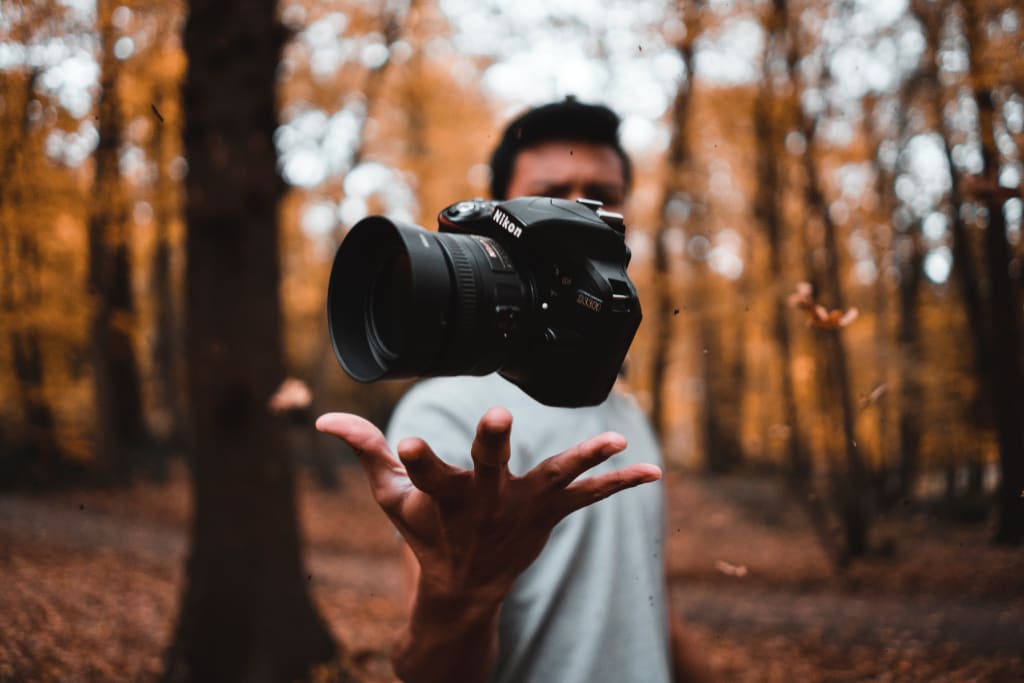 Within the pages of the best photography books for beginners, one can find tips and secrets on everything from shutter speed to depth of field, written by some of the best professional photographers. Each practical guide offers step by step instructions to help beginners hone in on their craft and improve their skills as a photographer. Today's digital cameras may seem simple compared to the old days of film, but they are actually quite complex tools. The right books make it (a little) easier to master—don't worry, there are amateur photography mistakes everyone makes.
In Understanding Exposure, Bryan Peterson gives an easy guide for how to understand exposure, and how shutter speed and aperture are related. This is one of the best photography books for beginners simply because Peterson avoids unnecessary use of difficult jargon. He breaks concepts down and creates a complete digital photography overview with hundreds of images for clarification.
Chris Gatcum explains DSLR photography for beginners in the easiest way possible. In The Beginner's Photography Guide, he introduces the most essential techniques, including categories such as color, composition, framing, lighting, and more. If you have a digital camera that is a DSLR then this manual will provide everything you need to know and so much more; it is one of the most easy to read books out there.
In this multi-volume set of photography books for beginners by Scott Kelby, novices will learn the basics from exactly what to push on a digital camera to how to shoot the best pictures. Kelby is known as the man who changed the dark room forever. His knowledge is very valuable, whether you're a beginner or an expert. However, beginner photographers should especially make note of his techniques and tips.
Tony Northrup's DSLR Book is the number one best seller in photography books for beginners. This book not only teaches beginners the basic techniques of using a digital DSLR camera, but it also teaches how to shoot specific shots from landscapes to cityscapes to flowers, animals, sunsets, travel photography, and beyond. Northrup gives so much valuable knowledge in this book that you'd be losing money by not buying it. There's even a section in the book for advanced photographers to utilize and gain further knowledge from as well.
In The Photographer's Eye, Michael Freeman focuses specifically on the composition and design needed in creating excellent digital photos. While many books cover the logistics of the camera settings and techniques, this book takes a broader approach and looks at how to compose a photo from seeing the potential in a picture to taking into account the many different graphic elements.
Film Is Not Dead is a great photography book for beginners who are not focused solely on digital photography. Jonathon Canlas takes the time to teach about film photography, a completely different craft. It takes a lot more work and knowledge, but this classic form of photography can be beautiful and artistic, and it should be learned by those who are serious about their trade.
Demetrius Fordham writes What They Didn't Teach You In Photo School as a way to give you the extra information that a beginning photographer needs, but might not get elsewhere. In this book, he not only talks about the art of taking photos, but also about how to truly be a photographer. This includes building your brand and business, so you can ultimately survive in this profession. This is so important, and many schools will not teach you this information. Thankfully, Fordham picks up the slack.
Extraordinary Everyday Photography will teach novices how to find their vision. Learning how to work the equipment is one thing, but becoming the artist behind the camera is an entirely different skill. Brenda Tharp and Jed Manwaring work together to create a very unique text that includes beautiful images rivaling National Geographic, and they teach very valuable information for beginning photographers and artists.
In Complete Digital Photography, Ben Long helps beginner photographers through the process of taking digital photos, from shooting and editing to processing and printing. While digital photography is easier than film photography once was, there is still much to learn and many things to know in case dilemmas do occur. Long makes sure beginners are fully covered in all aspects, that way they can succeed to become experts and artists. This is one of the best photography books for beginners because it includes exercises and tutorials throughout for readers to practice their skills while they use the book as a tool.
BetterPhoto Basics by Jim Miotke, founder of one of the best resources to learn photography on the internet, is an excellent resource for beginner photographers who are looking to improve their skills in all capacities. Miotke covers everything: Indoor, lighting, outdoor lighting, creative techniques, controlling exposure, and beyond—you name it, it's in this book.
With so many photography books for beginners on the market, no matter which book you choose, each book provides a wide set of skills and tips for young photographers to use as they begin their careers and try to perfect their craft.