Want to Protect Right Whales? Don't Eat Lobster.
Because of the plight of the North Atlantic Right Whale, experts are now advising consumers to avoid eating lobster.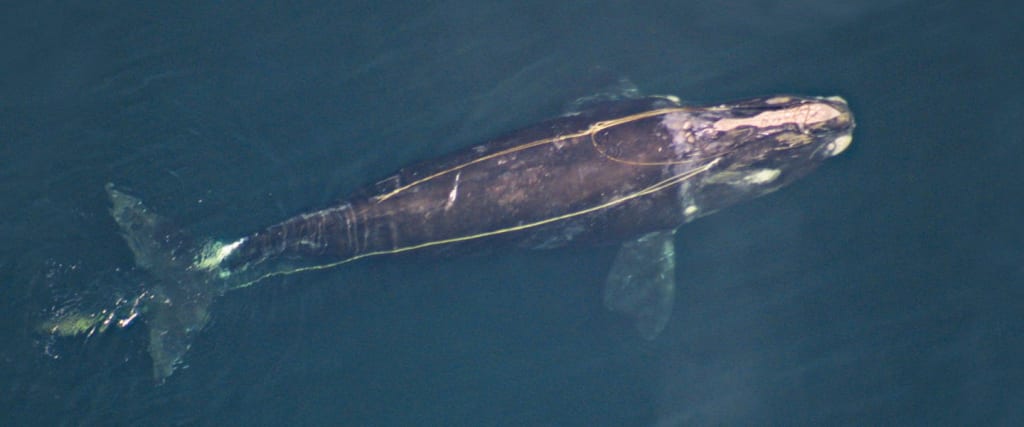 An entangled right whale off the New England Coast in 2017. Photo by Anderson Cabot Center.
Historically, right whales became endangered after years of exploitation by the whaling industry. However, thanks to laws such as the Marine Mammal Protection Act and the Endangered Species Act, whales are no longer threatened by whaling in United States Waters. While some species have recovered to pre-whaling numbers, some, like the North Atlantic right whale, have yet to make a full recovery. A recent threat has jeopardized their survival: the lobster industry.
What's Going On With the Lobster Industry and Why It's Hurting Right Whales?
Recently, Seafood Watch, a guide for sustainable seafood consumption issued by Monterey Bay Aquarium, has downgraded the American lobster of the North Atlantic to "avoid", its lowest rating. The lobsters are usually caught by the pot and gillnet fisheries in areas that are recognized by the federal government as "critical habitats" for the endangered mammals, putting them, along with other animal species such as sea turtles, seals, dolphins, and sharks, at risk of either dying or suffering from a permanent injury because of entanglement.
This new assessment reflects how there are no efforts at management to reduce the risk of entanglement to ensure the species would recover. Currently, the lobster fishery is worth $500 million a year.
How do the traps work?
Lobsters will walk into a large, rectangular-shaped trap by grabbing onto a bait bag and eating it. After that, they'll fall down onto the floor into an inner component called a "parlor" where they eventually get trapped. However, a majority of the animals escape through the trap's entrance.
How do whales get entangled?
As they swim through the ocean, whales will converge with various types of fishing gear such as lines, nets, and traps. They're placed in various locations across the ocean and may span across a mile, reaching the bottom of the seafloor. As a result, the traps and other fishing gear end up picking up various marine animals that come into their paths.
They can get wrapped around or even hooked to any part of the gear, which can then lead to death. It's estimated that around 308,000 cetaceans die from entanglement-related injuries each year.
But what does it have to do with lobsters?
While lobsters are not part of the right whale's diet, living in the Gulf of Maine and in the North Atlantic, they do share a common habitat with them. Yet, the pots used to trap the lobsters are a principal cause of entanglement-related injuries to these endangered mammals. As a result, bycatch management has been declared to be ineffective within their habitat. This is because current management measures are not designed to reduce entanglement risks and promote the population's recovery.
Currently, lobster populations across New England are not showing any signs of being over-fished.
What are the statistics regarding right whales getting entangled?
Researchers have estimated that there are fewer than 368 North Atlantic right whales left on Earth with only 75 breeding females or cows. Its also been estimated that about 50 animals have either died or sustained serious injuries related to either entanglements or vessel strikes. Between 2017 and 2022, about 54 whales have been documented to have either died or suffered serious injuries related to these threats, which is a third of all deaths.
About 80 percent of all right whales have suffered from injuries relating to entanglement.
What's currently being done to address the issue of fatal entanglements?
To preserve the livelihood of New England's iconic lobster fishing communities, zoologists have offered the concept of ropeless fishing. They allow the fishermen to retrieve traps from the bottom of the ocean without using the vertical lines that endanger marine wildlife. To retrieve the traps, the fishermen first send acoustic signals from their transducers on boats to release mechanisms that are attacted to the traps. These mechanisms could be pop-up lids attached to lines, buoys, lift bags, or spools. Then, the signals will trigger releases that allow the ropeless system to ride to the surface of the water.
In the long run, this method can offer an alternative to the traditional methods of lobster fishing. However, at the moment, the current solution is to close down areas to fishing the moment right whales are sighted. Yet, these closures have proven to come at a cost to the fishermen who cannot relocate their traps.
Should I give up seafood?
Unless you have an allergy that would prevent you from eating seafood, my answer is no. While you might not be able to purchase American lobster until a resolution can be established to ensure the survival of right whales, you can still enjoy your favorite seafood dishes. You can check out Monterey Bay Aquarium's Seafood Watch website to learn about how to differentiate between substainiable and non-substainiable seafood choices.
After all, whatever you purchase at your grocery store's seafood section has an impact on our oceans and on our communities.
About the Creator
Zoo and Aquarium Professional, Educator, Cosplayer, Writer and B.A. in Psychology whose got a lot to share when it comes to animals, zoos, aquariums, conservation, and more.
Instagram: @jennacostadeedy
Reader insights
Be the first to share your insights about this piece.
Add your insights