'So, You Own an Ex-Racehorse?'
And the Things I Am Tired of Hearing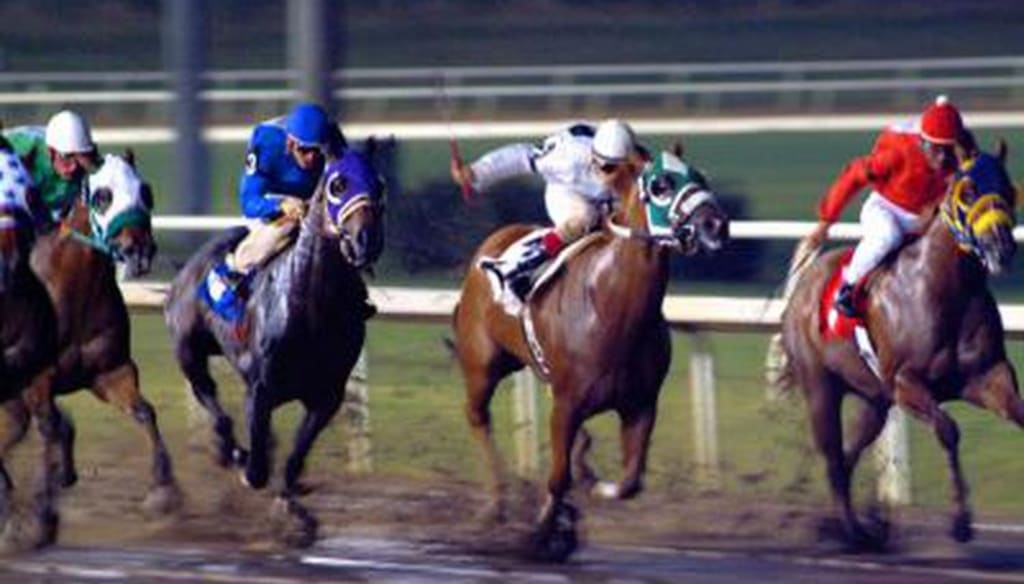 Image taken from: https://animals.mom.me/10-racehorses-ever-3608.html
When owning an ex-racehorse, you put up with a lot—and it's not all to do with the horse. A lot of the time, it comes from people that cannot understand why anyone would decide to buy an ex-racer and retrain it for other disciplines such as dressage, showjumping or even as a happy hacker. Although, they never say this outright, it can be heard in the subtext of the questions they ask you.
1. "He must have bad feet—all thoroughbreds have bad feet."
That is a horsey stereotype as any breed of horse can have poor hoof condition. The most common factor of bad hooves is a lack of biotin. Horses' hooves are made from the same protein as human hair and nails, and, just like our hair and nails, a healthy diet leads to healthy hooves. A lot of supplements that you can buy for horses contain biotin and even major horse feeds tailor it into their feeds. However, some breeds may require more biotin to maintain healthier and stronger hooves.
My own ex-racer did have horrible feet (according to our farrier, he had seen worse, but for us, they looked bad). He got vertical cracks easily and his shoes were liable to come without much effort. However, we started adding a biotin supplement to his feeding and, over six months—the amount of time it takes for a hoof to grow from top to bottom—we noticed a difference. His hooves had less cracks and his shoes stayed on until the farrier came to redo them every six weeks.
Basically, thoroughbreds don't have to have bad feet—they just need a good diet.
2. "He must be a lot to handle."
He really isn't. Considering that he is now a retired racehorse and has been since age three, I think that should give you all the information you need.
In other words, my horse was not really into the whole racing thing. His best result was 8 out of 13, and he steadily got worse over his eight other races. He was never last but still, he obviously was not interested. This being said, he has his moments where things can get a little too exciting.
Horses are like humans—they can be hyperactive like toddlers their whole lives or they can be the horse equivalent of a couch potato. So, just because I have a sensible thoroughbred, does not necessarily mean that they will all be so easy going.
3. "I bet novices couldn't ride him."

You would be wrong. Super wrong.
For instance, the picture below is of a ten year old riding him, and if she had not been digging her heels in she would have been perfectly fine. All her constant leg contact led to was Drake continuing to canter when was asking him to stop.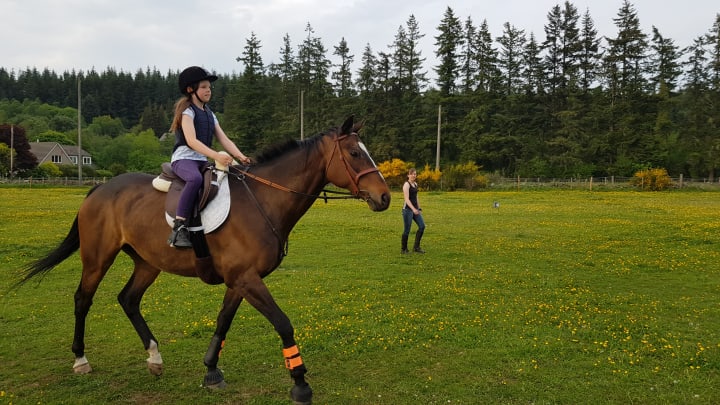 And while this kid had been riding for two years when this was taken, I've had complete beginners on him and he doesn't bat an eyelid. He knows what his job is and he enjoys doing it. Drake will look after anyone that gets on his back. With me, I'm obviously a special case as he knows I will put up with his crazy moments and that I will let him get it out of his system. Anyone else, and he does what he is told (with a little bit of unwillingness due to a cheeky personality).
4. Something I say now: "He had gastric ulcers."
I've owned this horse for coming up six years now and it was only two years ago that it was suggested by a vet that he may have gastric ulcers.
All the signs were there:
sensitive stomach i.e. girthing or grooming his belly was an issue,
struggle to maintain condition at any point during the year,
poor performance,
poor coat.
There are other signs, but these were the ones he exhibited. He would try to bite me as I did his girth up, he pretty much flat out refused spread jumps of any spread as this would mean stretching his tummy area (ow, pain), and I absolutely struggled to get him to maintain a healthy condition over the winter months with little improvement made over the summer.
Once we got them sorted, he became a different horse. Not overnight, of course, but gradually as he began to realise that it did not hurt anymore. This year he has really come on. We regularly jump 70cm show jumping courses, I did two cross-country clinics where we jumped around 80cm (which scared the s*** of me and I was the one riding) and, possibly the only downside, he has a few more crazy moments now than he did before. Drake is also a very happy horse—before, if he came up to you, it was a toss-up between his sweet side and the vampire side. Now, he loves a good cuddle and a scratch behind the ears.
So, what should you, the reader, take from all this? Well, my aim for this piece was to show a different side to ex-racehorses. In addition, they are a very versatile bred and are very clever (my own one is quite quick to learn new movements).
However, my main reason is due to the fact that in the UK alone, 5,000 racehorses are slaughtered after they are retired. These are animals that were bred to run and cost thousands to get there and then that investment was basically thrown out the window. I imagine more than half the time, the horses may be not even five years old yet, an age which in normal circumstances would be maybe a year after they have been backed to ride. So, even if owning one isn't for you, please donate to one of the organisations below which specialise in retraining racehorses to have the possibility of a second career.
The Racehorse Sanctuary and Rehoming Centre (UK)
For any Americans, Canadians, etc. that have read this, please have a search on the web. You might be able to find something which I can't, being that I am in Scotland.
Thanks for reading!
I'll leave you with a photo of Drake and I jumping 90cm last year.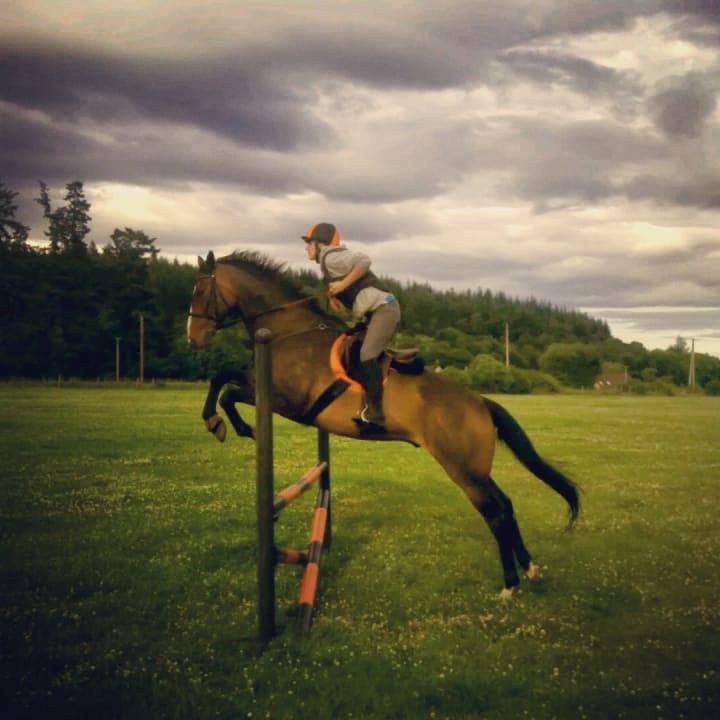 horse
About the author
Undergraduate in History and just finished a Masters in Strategic Studies and Management, trying to get into the work of work which isn't paid at living wage by the hour.
Reader insights
Be the first to share your insights about this piece.
Add your insights