Pandemic Puppy
Kiwi's first hike.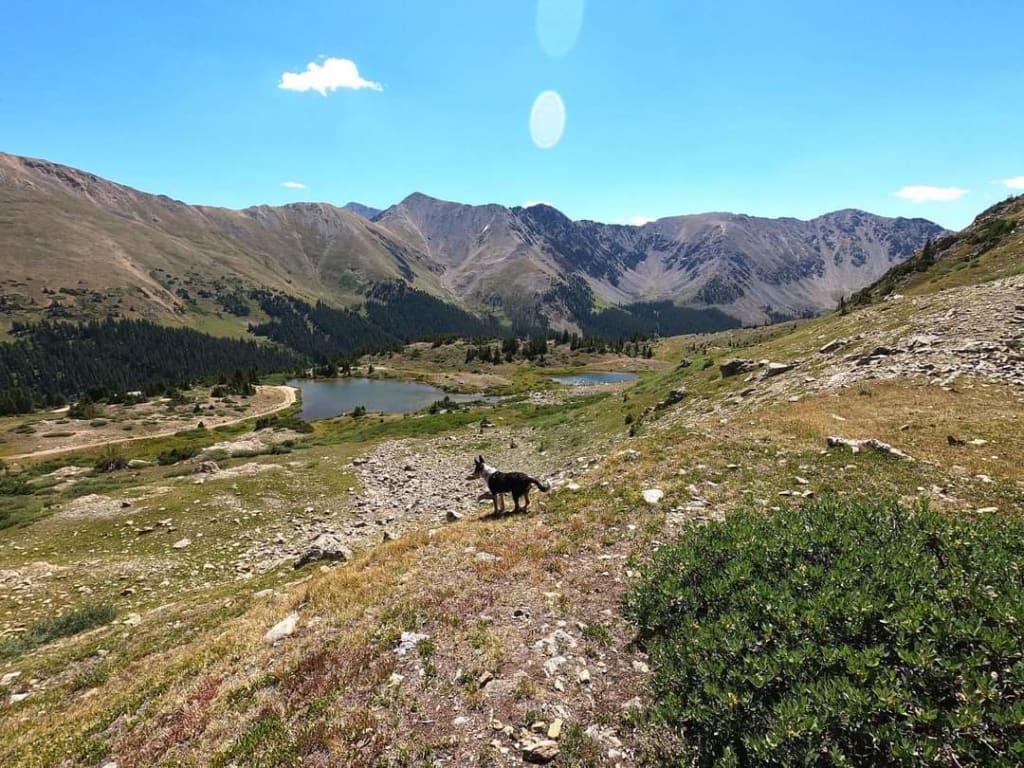 I can hardly believe these pictures, even though I was behind the camera. Kiwi was not even a year old, a psychotic ball of energy with no attention span. Even though she has always been an amazing trail dog, this moment in itself was something that made my heart skip a beat.
I opened the door and scooped a 20 pound puppy out of the car. The sky was a brilliant light blue, and the sun greeted us like an old friend with its warmth. The snow had fully melted, leaving summer in full swing. I think I was more excited than my dog, the empty parking lot leading to the trail head and the sound of gravel crunching underneath my sneakers was peaceful in itself. I was ready to feel free.
As we approached the gate that separated us from the world I kissed her little forehead and plopped her on the ground so she could start sniffing around. Excited as always, she bolted up the visible rocky trail remaining within my vision. At the top of the first little hill was a small alpine pond. Freezing, but fun for pup to splash around in. Especially the thin stream that crossed our path. Down and up again, she remained close but curious of the world around us. Stopping to sniff the flowers along the trail, and check out the occasional interesting boulder.
Now, I'm not an intense hiker, I like to find spots, if that makes sense at all. Even though the oxygen saturation is significantly less above the tree-line, I think we both breathed easier here. For myself, I could feel the expectations of society slide off my shoulders the longer we stayed up hill and out of cell tower range. For her, I think she felt my freedom on top of her own excitement for a wide open space. As we climbed and searched for a spot to sip water and snack, I remembered my Go-Pro. I thought to myself, "I should capture this!", and pulled it out of my little green canvas shoulder sling.
I turned on the pocket sized technology, and thankfully right on time. We wandered up the hill a little more and the space opened up to a breathtaking view of the rest of the mountain top. Two more little alpine ponds connected by small path crossing streams and a rainbow of wildflowers took our breath away. And then I looked down again, to see my sweet pup taking in the same view. No more sniffing or running, no more bunny hops or climbing. She, a 5-month-old border collie and cattle dog mix puppy, had come to a complete stop.
I couldn't believe my eyes. I called her over, and she began to walk back towards me, stopping one more time to look behind her. She came over, wiggled her little body, and kissed my shin to make sure I was okay. I knelt down and assured her I was fine with a little pat between her radar ears. Jokingly I asked, "isn't it pretty?" and she sat down at my feet to take in the view from where I was standing.
My life had been utterly ripped away from my white knuckled fingers at the beginning of the year. I had been in the process of slowly stitching it back together again after bringing her home. Growing with a puppy in a semi-apocalyptic wasteland definitely came with growing pains. However, in this moment, feeling the weight of her entire body leaning on my leg, I felt whole again.
The collective awe completely melted away the pandemic, and in these fleeting moments, we are free.
dog
About the author
Reader insights
Be the first to share your insights about this piece.
Add your insights