Omar's Diary to May 11, 2019
Downing Street has not responded.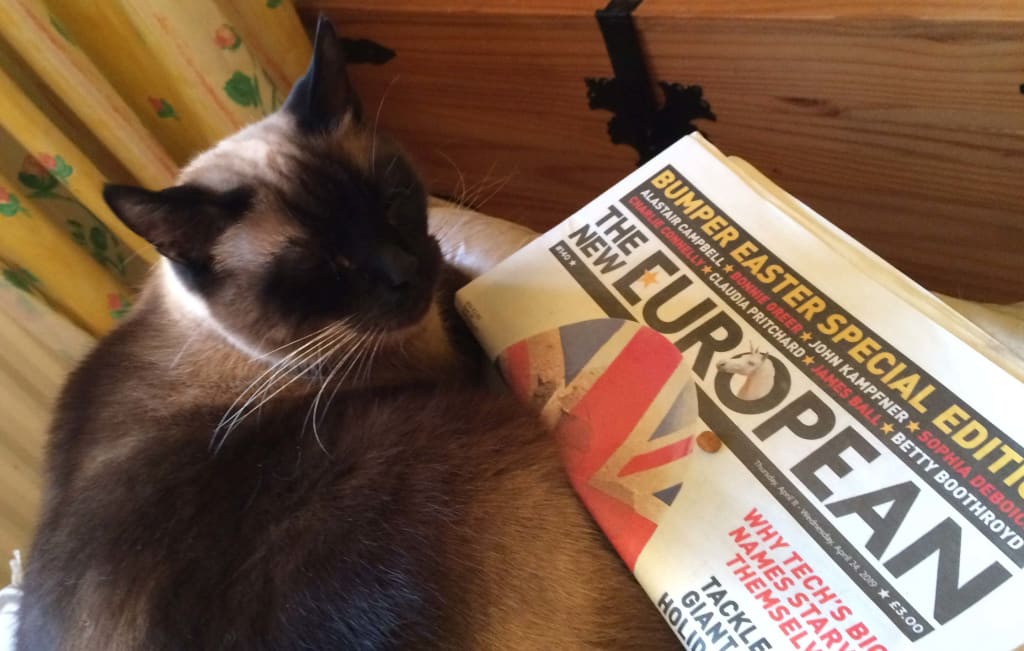 To date I am most disappointed with 10 Downing Street.
At the beginning of April, I wrote a personal letter to the Prime Minister expressing two of my current concerns. My main concern is with this process called BREXIT, which seems to be sucking the threads of decency, politeness, and tolerance from the now polarized world of servants living here in Britain.
I asked her if the Government could offer some reassurance that if Britain does leave the EU with or without a deal, that the supply chains for foods and medicines would be safe, despite the calamitous headlines appearing in some media outlets.
I wasn't just asking on behalf of felines, but also on behalf of my own servants, and their equines.
The other, and possibly greater concern, I mentioned to her was about 'Larry' who is known as 'The Downing Street Cat'. There seems to be a lot of activity at Downing Street these days with servants coming and going through Larry's front door, and traffic sweeping in and out of the street immediately in front of his home. There were rumors circulating in some echelons of the higher feline society that Larry has had his bags packed, and is ready to leave at a moment's notice if things get too much for him.
In my letter I told the Prime Minister that my own servants and I would be prepared to offer Larry a quiet retirement home here in the Hampshire countryside at Omar Towers. There are paddocks, and woods for him to explore, rather than Horse Guards Parade Ground. I am sure he would adapt very quickly here, even though we do not have an armed policeman at our front door, which he might miss. I could even sponsor him for membership of the nearby club 'Tinies,' where I am sure he would be most welcome.
I made it very clear that we would not be able to offer the same accommodations to servants in the Government who also have their bags packed in readiness for their own impromptu departures; voluntary or otherwise.
There was false hope of a response when an envelope arrived made out of the same high quality paper as Downing Street has used in previous correspondence with my Servants. It was not from Downing Street, but instead came from a member of my fan club who lives in Aberdeen. This letter was most appreciated as it had been prepared on an Olivetti typewriter rather than a computer. This made it all the more charming with its irregular typefaces, unjustified layout, and puncture marks from the punctuation symbols.
As this fan has proven he can write a decent letter I have, with his permission of course, forwarded his details to the Prime Minister in case she needs any help with her correspondence, which must be stacking up on her desk.
The real highlight of the past week happened on Thursday.
Unbeknownst to me, my servants sent one of my pictures with a few biographical notes to a newspaper that has a section where they publish pictures of felines and canines reading the paper. To my great surprise, and my servants', my picture, and the notes were published on May ninth for all estimated 25,000 readers of the paper to enjoy.
One doesn't like to boast about these types of events, but of the three pictures published, and the accompanying text I had 46 words compared to some 40 words collectively for the other two pictures. The full text accompanying my picture is below.

'This is Tonkinese feline Omar; who lives on the edge of the New Forest with servant Alan Russell. Omar is very concerned about the welfare of Larry the Downing Street cat, as he must be rather upset at all of the comings and goings at Number 10.'
While it lasts, I will enjoy this moment of fame, however fleeting, and fickle it may be.