My Two Babies
How I Almost Lost Them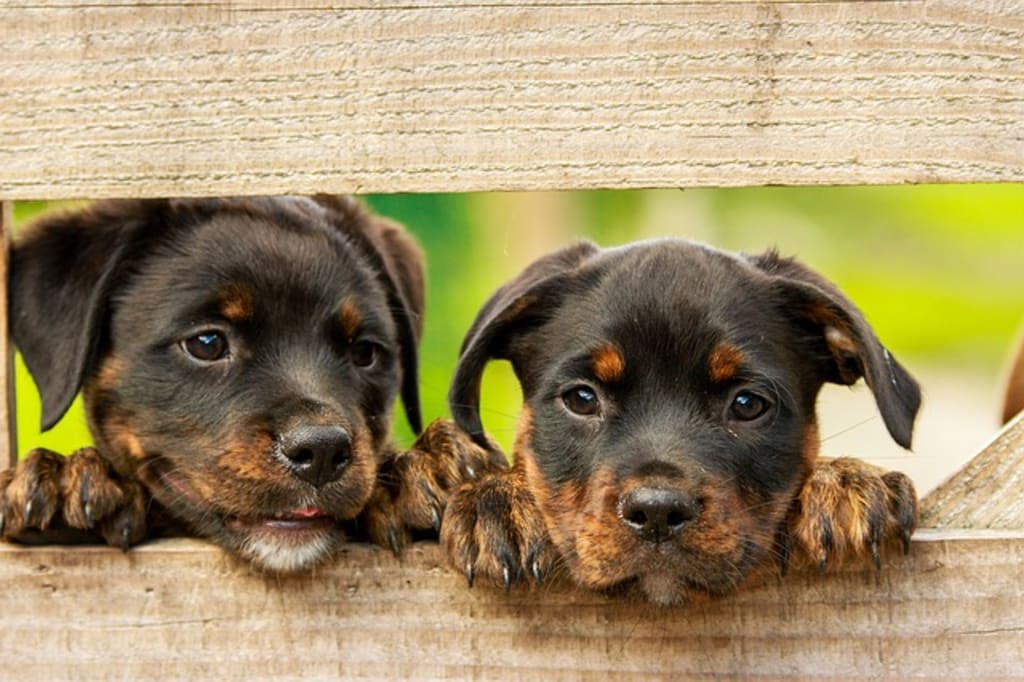 Back in 2011, I came across an ad giving away puppies and it excited me because I had just gotten a place of my own and I was finally single again which I had not been in such a long time. I figured getting a puppy would give me someone to keep me company when I wasn't working.
Once I called them, they still had some left, so I took a ride to go get one, but when I got there, they had three beautiful black girls just as playful as anything. I figured at that moment that I needed two puppies because they needed someone to play with while I was working, so I took two of them home and hated the fact that I had to leave the third one left there alone.
Back home I went with two solid black puppies both girls and playful as they can be. I named them and then when we got home, they ran around the house sniffing everything and when it came to feeding them, they were voracious eaters. When I needed to sleep, they crawled up in the bed with me, snuggled up and went to sleep. They were so perfect for me.
Each morning they would wake me up telling me they had to go out to potty and at first, they were paper trained, but it almost came naturally to them to want to go outside. They seemed very smart for their age which when I picked them up, they were only four weeks old.
I would take them outside every few hours to get them used to the yard and they would just play. I would sit and just watch them while hanging out in my backyard. They were so cute how they would romp around, but one of them was a bully to the other.
They were my companions when I felt lonely and always seem to know when I wasn't feeling good because they would cuddle up next to me and love on me trying to make me feel better. I love them so much for that and it comes in handy when my mental illness kicks in.
It was just me and them against the world and they became my children who I would teach English to. I would talk to them like they were human children and they now understand what I am saying when talking to them. One of them has become my spoiled brat while the other is my pretty princess.
When they were about fourteen weeks old, one of them began getting sick and stopped eating. I couldn't figure out what was wrong with her and watched her slowly go downhill. She had diarrhea and vomiting and losing a lot of weight. I knew in my mind at one point that she was going to die if I didn't get her to a vet.
I called my ex-husband and had him run us to the vet and we found out that she had the parvo virus. I gave up every penny I had for them to give her the first treatment until I could get her to the vet for outpatient treatment. While she spent a few days in the hospital, her sister was driving me crazy because she didn't understand why her sister wasn't there.
The day before I was to pick up my baby from the hospital, her sister began getting sick, so as I picked up one, the other was going in the hospital. It was a puppy exchange. I missed both of them so much while they were in the hospital. The first one had it so bad that it messed up her intestines and she came home with stomach pills. Once I brought both home, it was a happy time. I had both of my girls back again.
I could never see my life without them and they have been my protectors ever since. They didn't care too much for any men that came to visit me, except my husband. When I began dating my husband, the girls were two years old and there was an instant connection between him and my spoiled brat who was the dominant dog in the house.
She just loved him and it is their thing when she has to wake him up in the morning. She slides her body up to him and begins licking his face to wake him up and then he begins playing with her. It is pleasant to watch them play together.
Today, the girls are seven years old and still the same. Their personalities haven't changed much and one still likes to wake daddy up. To my husband, they are just dogs, but to me, they are my children. Now we have nine dogs total ranging in sizes and ages.
All of them have been taught English, so they all understand when we talk to them. When I feel bad, my husband calls them to me and they all huddle around me trying to make me feel better which they do. I love them so much and I am glad they are in my life.
dog
About the author
I'm a forty-eight-year-old woman who became a published author back in 2016. I write fiction and nonfiction in many different genre. I love to write and tell stories to the world and hope that everyone enjoys them.
Reader insights
Be the first to share your insights about this piece.
Add your insights