They Could Be Gone
In An Instant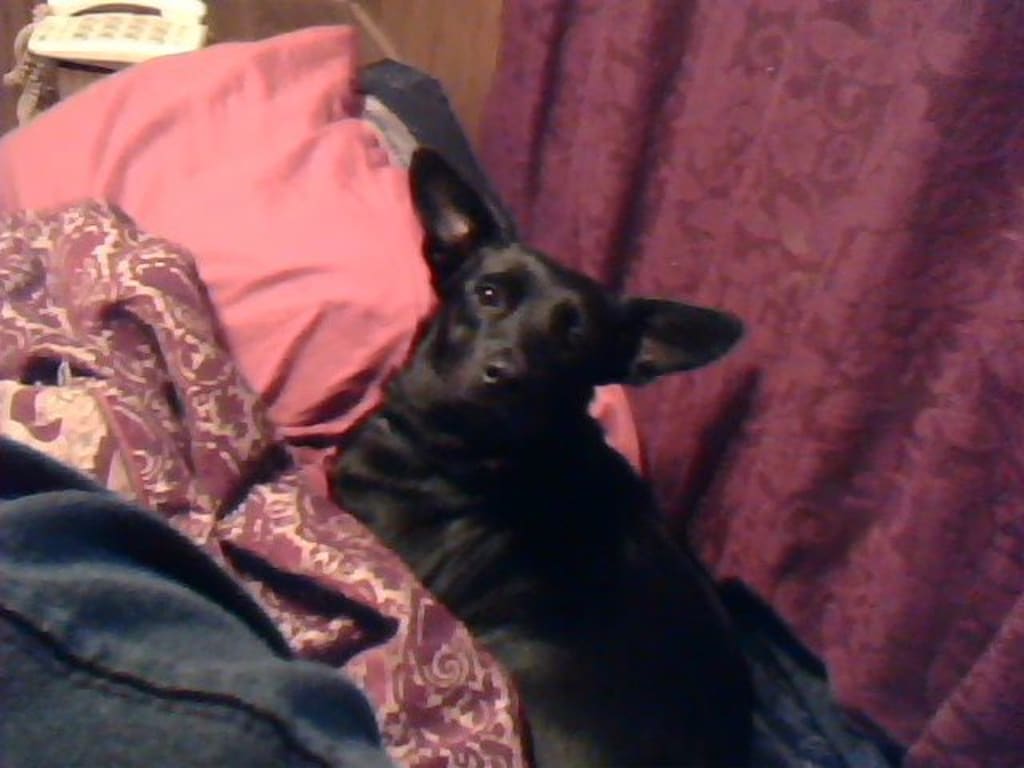 Kayla and Marra were approximately four weeks old when I got them. It was just them and me against the world. Kayla, seen in this picture, was the bully of the two and always picking on her sister Marra. Kayla was my obnoxious one and Marra was the lovable teddy bear.
They are Labrador and Chow Chow and the most loyal dogs I have ever had. Since I had no children of my own, they became my kids and that is how I treated them.
I spoke to them as if they were human children and even enjoyed the holidays with them. Whenever I put up the Christmas tree, they both know what that means, presents and treats.
They were my girls and I worked from home, so I was always there with them. We all slept in the bed together and watched television together. It would have fooled a lot of people seeing that my dogs were pretty smart for being just dogs.
They were born in the beginning of 2011 and will be turning eight years old in January. I dread the day they die, because it will kill me. I have lost a lot of animals and I am so thankful they are still with me. Kayla is the dominant one and she lets any other dogs that I bring into the house know this.
Well, I used to give my dogs their shots on my own and never had any problems. They were old enough to have them and after I gave them their shorts, I was in for a surprise that about drove me to the mental hospital.
I know Marra was getting sick one day and I watched her closely. She started to deteriorate quickly and then when she refused food and began having really bad diarrhea, I knew she would die if I did not do something.
It had gotten to the point where she wouldn't even get up and it was at that moment, I knew she would not make it through the night. I grabbed my ex-husband and since it was after hours at the vet, I had to take her to Chattanooga to the animal hospital.
By the time we got her there, it was about two in the morning and she wasn't doing too good. I began crying because I couldn't lose her. The vet gave me the option of allowing them to give her one treatment to hold her over until I could get her to the vet where I lived. I had less than two-hundred dollars on me and it took everything I had to keep her alive.
I let them treat her and then brought her home. Later that day, I talked to my boss and told her that I wouldn't be able to work because I had a dying dog. When she asked me what the problem was and I told her, she sent me the money and told me to get my dog to the hospital.
I picked up the money she had advanced me off my check and ran Marra to the hospital where they admitted her for treatment. They kept her for about three days and when they called me to come get her, Kayla was getting sick.
It was a dog switch with me picking up one and dropping off the other. It horrified me to see my girls get sick enough to die, but I had to be strong for them. We only had each other and couldn't bear to be without each other.
I took Marra home and she had stomach pills to help finish her recovery because she had gotten Parvo so bad that it messed her stomach up. A few days later, I was picking up Kayla who was much better.
I finally had both of my girls' home and we were a family again, but it was a slow recovery for them. The vet even told me had I not brought them in when I did, they would have both been dead within days.
To all of you with pets, cherish every moment you have with them and love them because they could be gone in an instance.
health
About the author
I'm a forty-eight-year-old woman who became a published author back in 2016. I write fiction and nonfiction in many different genre. I love to write and tell stories to the world and hope that everyone enjoys them.
Reader insights
Be the first to share your insights about this piece.
Add your insights