Must Have Cat Toys
Your cat certainly deserves toys to help entertain them, so spoil your little one with some must have cat toys today.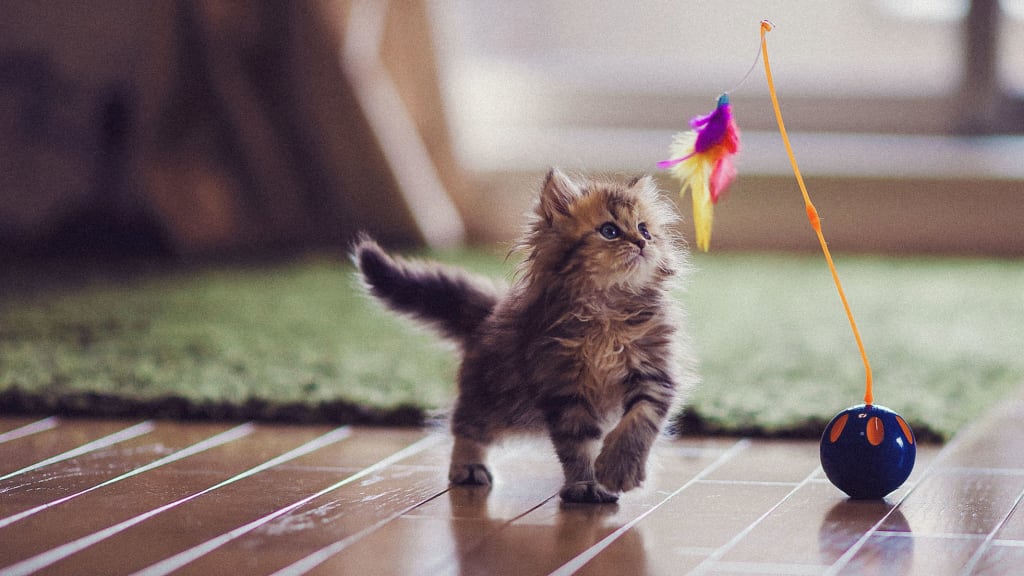 Most people either like cats or they don't -- there is usually no neutral feeling on felines. So, if you prefer dogs over cats, then this list isn't something you need to worry about. For the rest of us who love cats, this is something you might want to pay attention to in order to better satisfy your cat's entertainment needs.
If your cat is too high energy or behaving badly, it might just need more engaging stimulation. You've got to tire that mischievous cat out, and some of the must have cat toys on the market can do just that. This is especially important if your cat doesn't spend any time outside where there is stimulation to last the cat a lifetime — these felines need to get exercise somehow.
Toys are also very important for those lazy, fat cats. They need to spend some time not napping and lapping at their food bowls. We've got all the cats covered here, so with out further delay, check out some of the best cat toys money can buy.
This sturdy wooden box encourages your curious cat to explore and use all of its animal instincts. The owner hides toys inside for the cat to find, engaging its mind and body, keeping it physically and mentally sharp. You can add catnip to bring out your cats predatory instincts, and its ease of use makes it one of the must have cat toys.
This is one of the must have cat toys if you have multiple cats, as it easily engages three cats at once. The Tower of Tracks features three levels, each with different colored balls. This is enough to keep even the most curious cats engaged for days on end.
This one is a fun and interactive toy for even the smallest of kittens. Multiple cats can get in the fun, and other toys can be brought into the mix for increased play. Also, your cat's fur won't stick all over the inside, so even if they shed you won't have to waste time scraping it all out. Hurry up and pick up one of the most convenient and must have cat toys.
Freak your cat out a little bit with the PetSafe Pounce Toy. Using a wireless mouse, move the toy around the house and watch your cat chase it around. This fun toy activates your little feline's inner big cat, and it will spend hours pouncing on the PetSafe like it was a field mouse. The Pounce Toy has multiple speeds and moves in a variety of ways, keeping your cat guessing — it's a great teaser.
Everybody knows cats and rats are mortal enemies, so make your pet feel powerful with these remote-controlled rats. The mice definitely look real, and watch your cat attack them as they move back and forth. You do all the controlling through a wireless controller that runs on AAA batteries (not included). Clearly one of the most realistic and must have cat toys of the year.
Spoil your cat with its very own cat mansion -- complete with multiple scratching posts. It's incredibly easy to assemble, but that doesn't mean it's cheap — it comes with heavy duty ABS joints that last. The scratching posts are quite durable, and load them up with catnip for increased feline fun.
These must have cat toys won't break the bank, as they will run you just over $5. These soft and colorful balls are completely non-toxic, so don't worry if your curious kitten can't stop chewing on them. The bright colors help stimulate your cat -- helping even the laziest of them get active and get them to run around. They bounce quite high, but they come in packs of up to 48, so don't worry if your cat loses a few.
The reason this one is on the list of must have cat toys is kind of in the title: The Ultimate Cat Toy Collection. That sort of says it all. The variety of cat toys in this box set makes it a sure bet you'll get incredible value. Give any of these items a try, these work well with cats of all ages.
This toy is a great teaser for the more playful cats out there, and one of must have cat toys for any over-active cat. The Cat Charmer Wand also gets the pet owner more involved, as you have to dangle the thing above your cat's head. It's one of the best workouts your cat can get, and to make it more appealing, this polycarbonate wand is made right here in the U.S.
The Bergan Turbo Scratcher Cat Toy is the number one selling cat scratch pad on the market, and no doubt one of the must have cat toys. It comes in a variety of colors, and the pad is shockingly durable yet easily replaceable -- giving it a huge life expectancy. You'll be sure to get your money's worth with this scratch pad, and you can soak it in catnip for extra fun.
These humorous cat cigars are 100 percent organic, so you know your cat isn't smoking any preservatives. These cigars from YEOWWW! use only the finest catnip leaves. This treat is probably for the more lazy cats out there -- making it one of the must have cat toys for leisure inclined felines.
Star Wars Mice Cat Toys is one among other must have cat toys for fans of any version of the classic films. Get your cat involved on your fandom while they mess around with these Star Wars themed mice. However, they are also loaded with catnip, so the fun isn't just limited to you.
Reader insights
Be the first to share your insights about this piece.
Add your insights