I Borrowed my Housemates' Pets this Halloween for a Photoshoot
… And dressed them in the cutest critter costumes ever to exist on this earth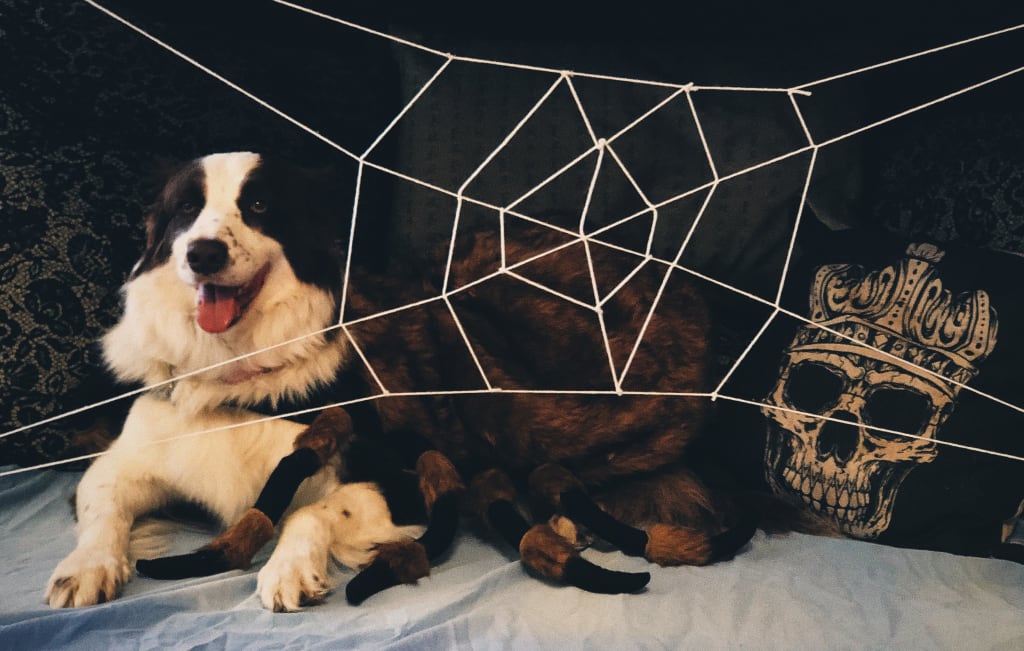 Bonnie, the Border Collie, dressed as the Spider Queen 🕷️👑
The only thing better than Halloween and pets is pets dressed for Halloween. Not convinced? Well, there's a good reason why Americans spend an estimated $350 million each year on Halloween costumes for their pets.
There really isn't anything better than sharing some spooky seasonal festivities with your furry (or scaly, or feathered) friends, and these statistics show that I'm clearly not alone here. Of course, getting photo evidence of this is always the tricky part...
Vocal has had a number of exciting pet-themed challenges over the past few months, and I've loved reading the entries for every one of them. You may (or may not) have read my earlier publication about Jedd the Dog, a Border Collie owned by one of my housemates whom I've grown to love and adore over the years. Unfortunately, Jedd has since embarked on an interstate holiday for a few months with his owner and was not available to participate in this year's Halloween festivities.
Luckily, Jedd's younger sister, Bonnie, is currently living with us, and to add to the excitement, we've recently introduced some gorgeous Guinea pigs (Wilbur and Theo) to the family as well. If you count the three fish we have in the tank on the kitchen bench (don't worry, they're friends not food), there are now more pets in the house than people, and I wouldn't have it any other way. Jedd has had his time to shine in my previously mentioned post, and so this Halloween was a chance for the underdogs (and under-rodents) to spend some time in the spotlight.
But of course, we couldn't JUST have costumes. No, we needed to have an entire Halloween set-up for this year's photos. So, what did we use? Well, unfortunately one of the Guinea pigs (Theo) wasn't keen to participate, which he made abundantly clear with several squeaks, constant squirming and a tactically projected stream of urine (well played, Theo). So our models this year were Bonnie the Border Collie and the politest of the two Guinea pigs, Wilbur. In the end, we ended up making do with:
Some white yarn (to make the spider's web)
A curtain (for the backdrop)
A dining room table (for structural support)
Several gothic pillows that one of my housemates conveniently had on hand
A dog-friendly spider outfit from Kmart
An old sock (to wrap Wilbur in to keep him comfortable)
Some dog treats and vegetable scraps to bribe the models into participating
Some bangin' Halloween beats from my Spook-tacular Tunes playlist. Song #4, Evil Spider was the perfect song for our theme.
After throwing all of these together and spending a shameful amount of time trying to get everything into position, we ended up with a pretty spooky setup. Brace yourself for a short bone-chilling story while we explore the results of this photoshoot!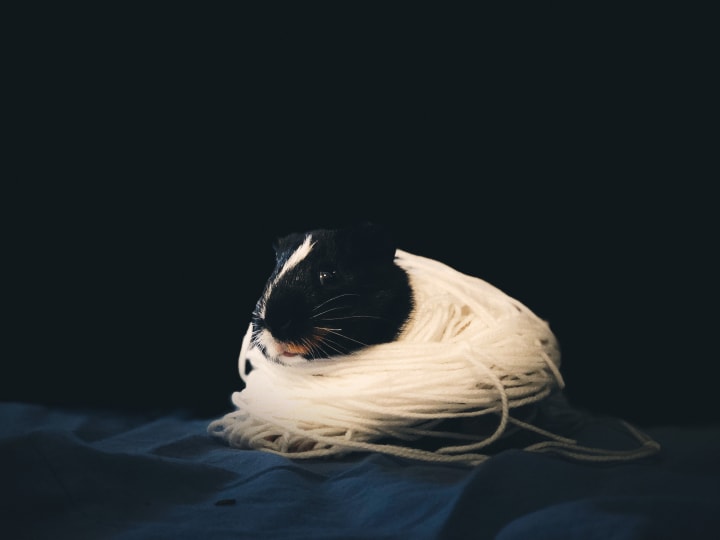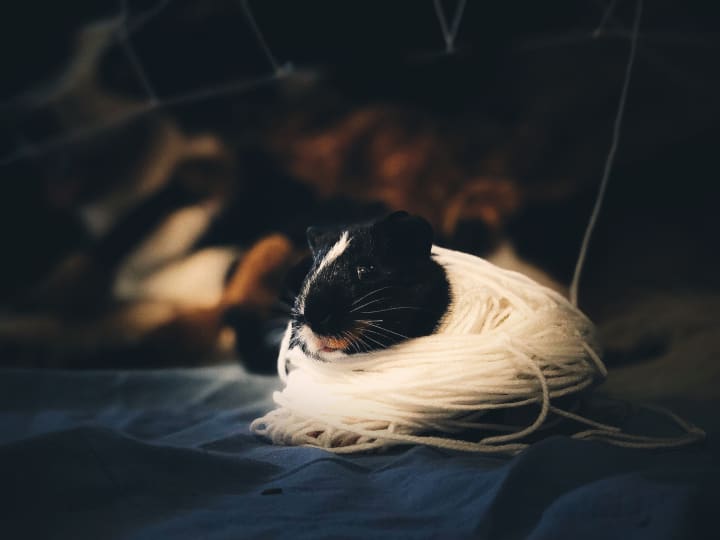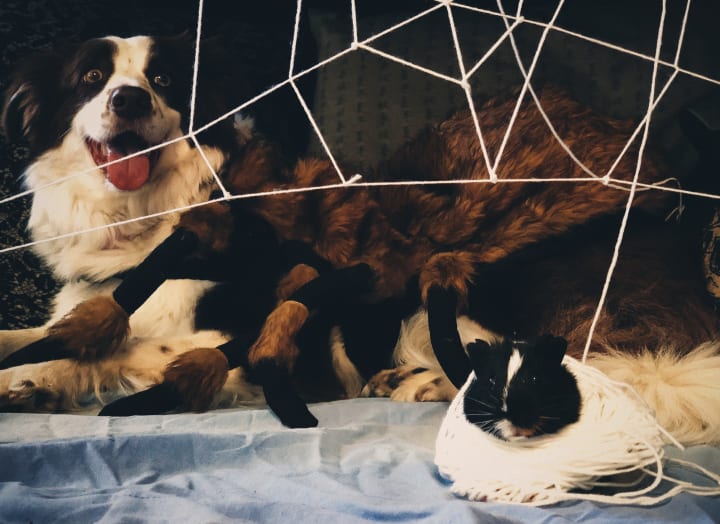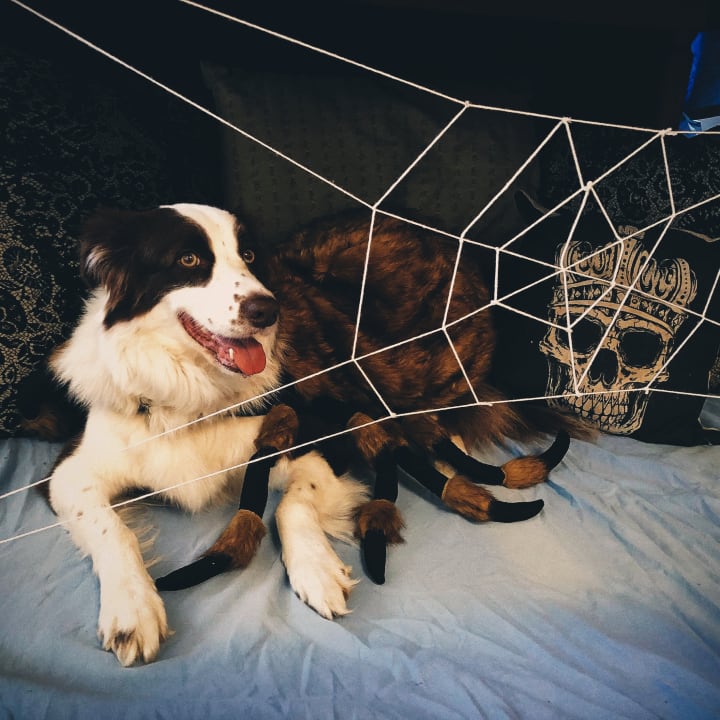 Disclaimer: No animals were harmed in the taking of these photos, except perhaps Bonnie's dignity.
Ok, but can you blame the Spider Queen for what she did? Wilbur is so cute I could EAT him up myself. I hope you enjoyed seeing this spooky pet setup as much as I enjoyed making it. I can confirm that the models have been thoroughly reimbursed for their time with some premium pats, appraisal and (of course) delicious treats.
Finally, I didn't take these photos for them not to be shared. Bonnie and Wilbur deserve some recognition for their efforts after all. So I sent them around to all my friends and family and, of course, Jedd and his owner so they could see what they'd missed out on (I think they may have been a bit jealous).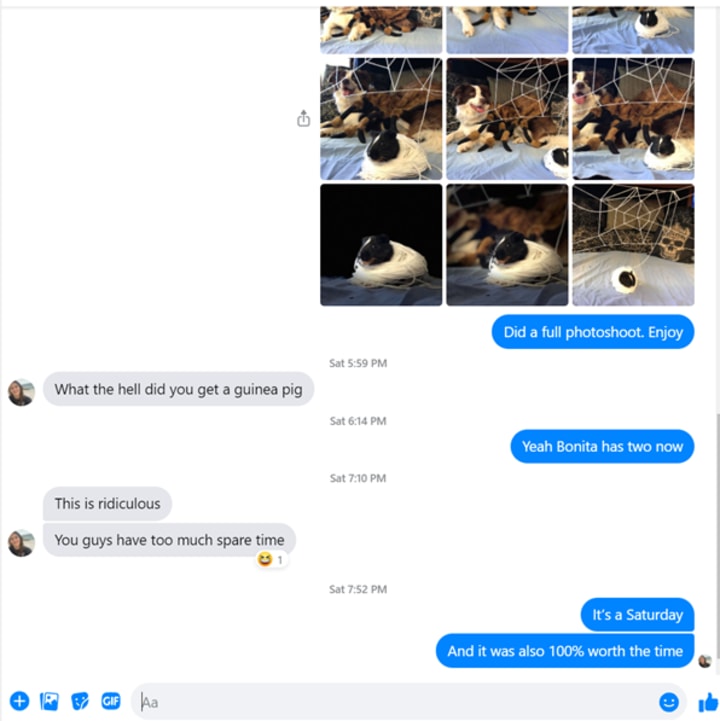 Happy Spook-tober everyone! 🎃💀😈🐹🐕