How To Choose the Right Leash for Your Cat
We got mine for free.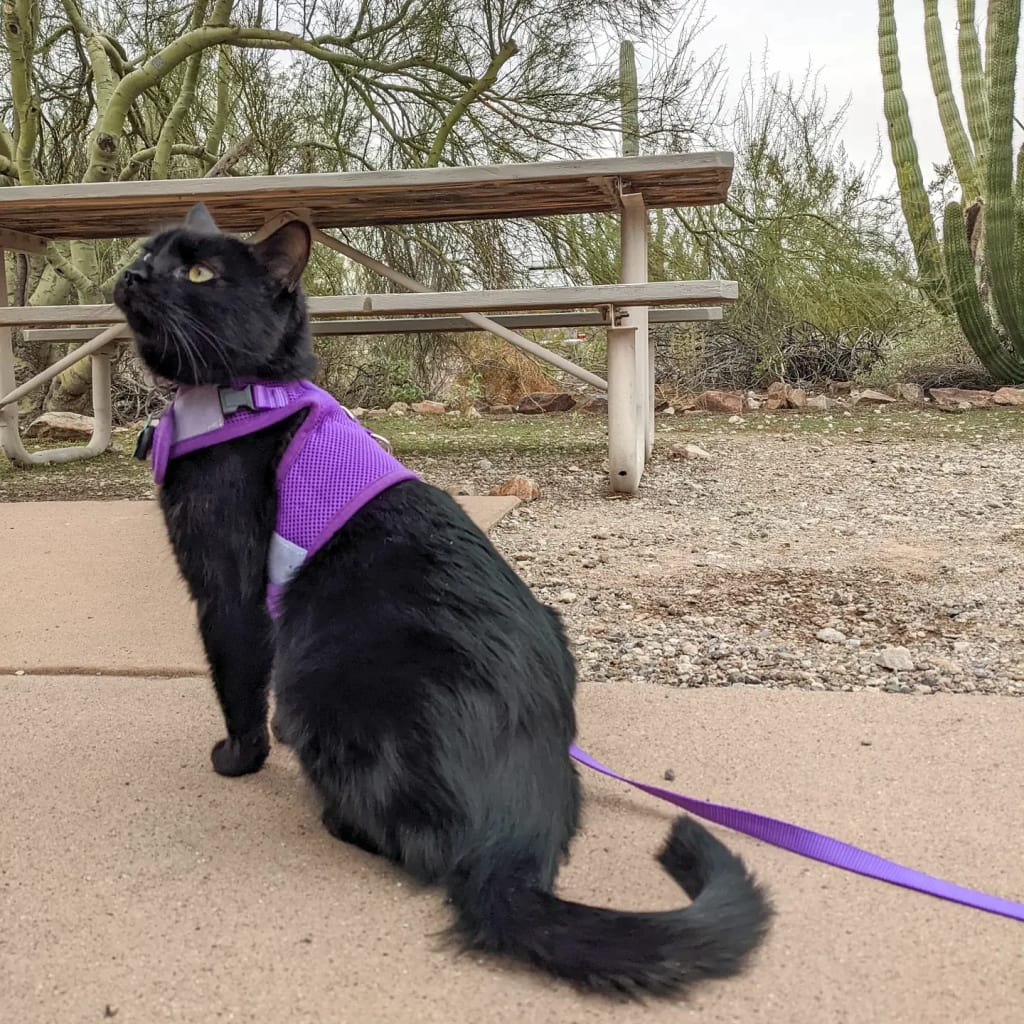 My missus started my training with leashes and harnesses the day she brought me home. But, I was so skittish and feral that she put this off to focus on taming me. That took three weeks and then another few months for me to get comfortable with other humans.
Of course, when she resumed my leash training, she had no success. As soon as she put the harness on, I would flatten down on the ground like a pancake and not move. She tried multiple leashes and harnesses but the effect was always the same.
Eventually, she gave up for a few years and accepted that she could never get me to walk on a leash. Then, we hit the road full-time and she realized that that's not the only reason to put a leash or harness on your feline friend.
We Discovered the One That Worked by Accident
While living in Lake Mead, we met a lady who was fascinated by the fact that Missus was traveling with a kitty. When Missus told her she would eventually love to take me camping, the lady asked if I had a harness. Missus replied that she had left them all at home because I hated them.
The lady offered two extra ones she had that we could try. After trying both harnesses, Missus realized that the one I now have looked like the more comfortable one. Prior to this, I had never worn a padded harness. It made all the difference!
Here's What You Should Look For in a Leash and Harness
There are a lot of great leashes on the market. The one I have was actually created for small dogs, but it works great for me. It might take some trial and error to find the right one for your cat, so choose a retailer that allows you to return the ones that do not work. Or, start off like we did: with the free options!
Here are some important things to consider when looking for your leash.
1. Design
There are a lot of cheaper harnesses made from just straps. Some cats wear these without an issue, but they are nowhere near as comfortable as the one I have. Padded harnesses are even more important for semi-feral and skittish kitties. If we panic and you have to grab the leash, it will feel a lot safer and more comfortable than straps.
2. Strength
No matter how tame your cat might seem, you never know what might scare Mister Whiskers into taking off. After all, even dogs do this all the time. Ensure you get a strong leash and harness that can withstand a wayward or panicky cat in emergency situations.
3. Color
When choosing a harness, consider visibility. Because I have velvety black fur, Missus chooses leashes, harnesses, and collars that contrast. You might notice, for instance, that my collar is white. Some homeowners go the extra mile by choosing reflective harnesses. This improves visibility at night.
4. Size
When buying a collar, it's important to know your cat's measurements. Some manufacturers will determine different sizes by the weight of your cat. Others might go by more specific measurements, such as the measurements of the neck and around the tummy and back.
Do you prefer a specific leash or harness recommendation? You can find my leash and the rest of my adventure cat here! Next time, I'll share some tips on how to introduce your kitties to RVing—and the pros and cons of different methods. Ultimately, you need to know your cat well enough to decide what works best!
cat
About the author
I adventure full-time with my missus in her FJ Cruiser. Airbnbs, tents, RV living—we do it all. Come find out how to adventure with your kitty, or just see what I've been up to on the road. Meow!
I love pledges and tips for tuna and catnip!
Reader insights
Be the first to share your insights about this piece.
Add your insights