Help Wanted: Seeking Kitty Girl Friday for Light Office Duties, to Fill Family Furball Role
Live-in, full-time position offers bright, cheery home, generous play breaks, on-demand belly rubs, yummy treats, and unlimited cuddles and love from fawning forever family.
The purrfect candidate responds
Two adorable green eyes peered out at me from a Craigslist ad – over whiskers that extended well beyond her little furry face. She had one paw delicately curled underneath her – and she looked small enough to fit in the palm of my hand.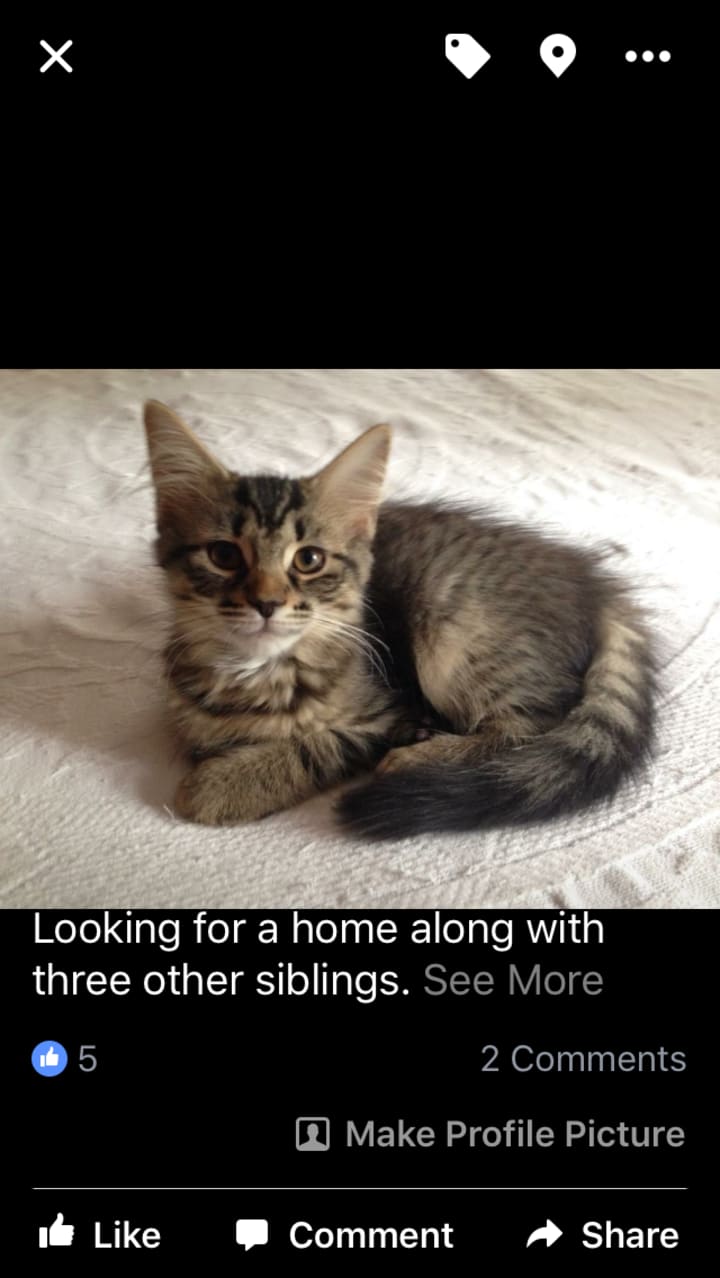 Sharp pangs quickly overpowered my thumping heart. Then these warm, gooey feelings pulsed through my veins akin to Willy Wonka's flowing chocolate river in his magical chocolate factory.
I wanted her! SO BAD! How could anyone resist her wispy little ears and that sweet fluffy tail, and she was so miniature- and then reason crammed an annoyingly large foot in the swinging door of my smitten heart:
Wanting the precious kitten was one thing and being ready to care for her was entirely something else.
Reality Check
For one thing, my son hadn't been tested for animal allergies and he had already spent kindergarten through fourth grade constantly stuffed up.
He'd been pleading with me for a while to get a pet. He asked for a dog, but I'm a single mom with physical challenges – and a dog was too much too handle.
I grew up with cats with my parents that we all dearly loved. But I'd never had one of my own. For my son and I, I knew caring for a cat would be easier than walking and cleaning up after a dog.
I also knew I caught the tiny kitty's post by sheer accident. I had just started to consider welcoming a cat into our two-person family. I wasn't seriously looking that day.
And yet. There she was -radiating such strong beams of cuteness at me that I just couldn't take it!
Plus, she looked like a baby version of my parents' longtime cat, Muffie, who passed away after giving our family 23 years of love and companionship.
I wanted my son to experience that same kind of special bond with a pet. I also wanted him to discover the joy in loving and caring for someone else.
My spirit plummeted – knowing that right then, I couldn't give any of us the happily ever after all three of us wanted.
It took every ounce of resolve I had to click away from the post and leave my computer.
Yearning, Testing, and Learning
The next several days passed by in a blur of school, soccer, deadlines, and housework. At night, though, when I finally settled down, I tossed, turned, and yearned for that little cat in a way I never had before.
I imagined her frolicking around some other nameless, faceless family's living room, chasing a toy mouse, munching on some kitty treats, living her best life - all without me - and it slayed me.
If we couldn't share a happily ever after with her, I prayed for her to find a loving family that could. Then I decided I could at least start to prepare for an eventual fur baby to join us. My son and I both got allergy tests – and thankfully, neither one of us had allergies to cats or dogs.
A couple of days later, I took my son to visit my friend Kim's two cats, Jasper and Sophie. I wanted to watch them all interact - and also test his nose in a real-world kitty haven scenario. He was 11 and I felt like he was old enough to share pet ownership responsibilities with me.
Her cats are spunky and precocious, and we had a lot of fun visiting them.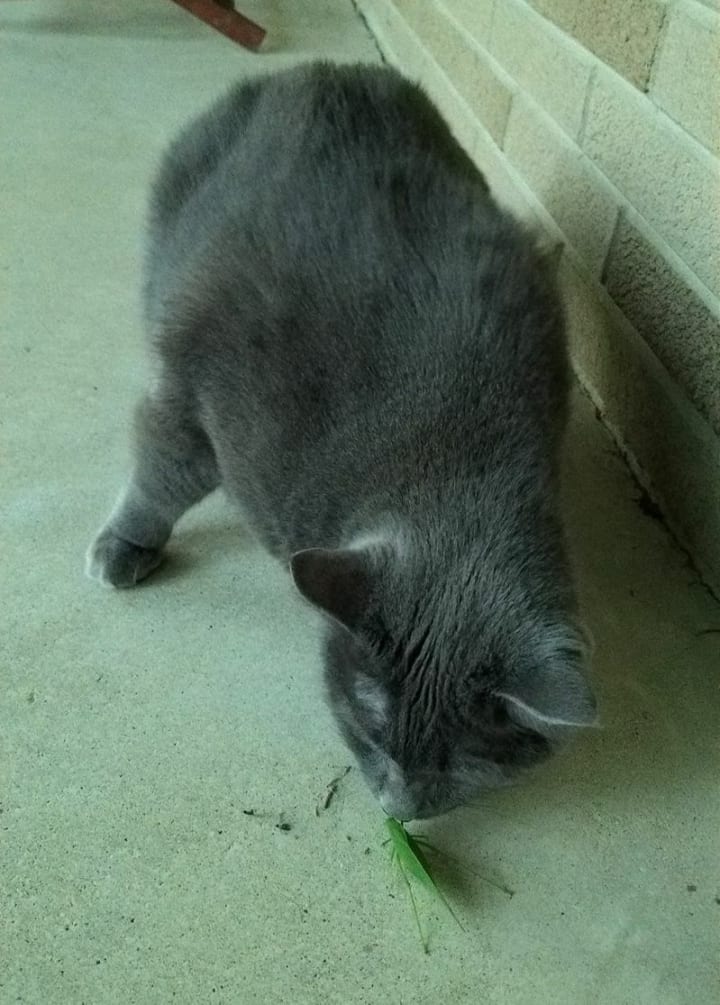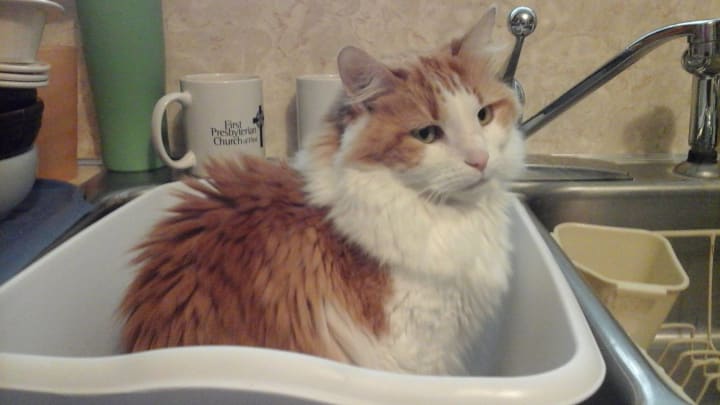 Kim saw the photo of the kitten I pined for, and her heartstrings pulled hard too. But she couldn't take on another cat. She pretty much had also adopted an outdoor cat that she named Fletch, who prowls around and rules her large, country yard. He snuggles on a heating pad in her garage in the winter and enjoys food, water, treats, and love daily.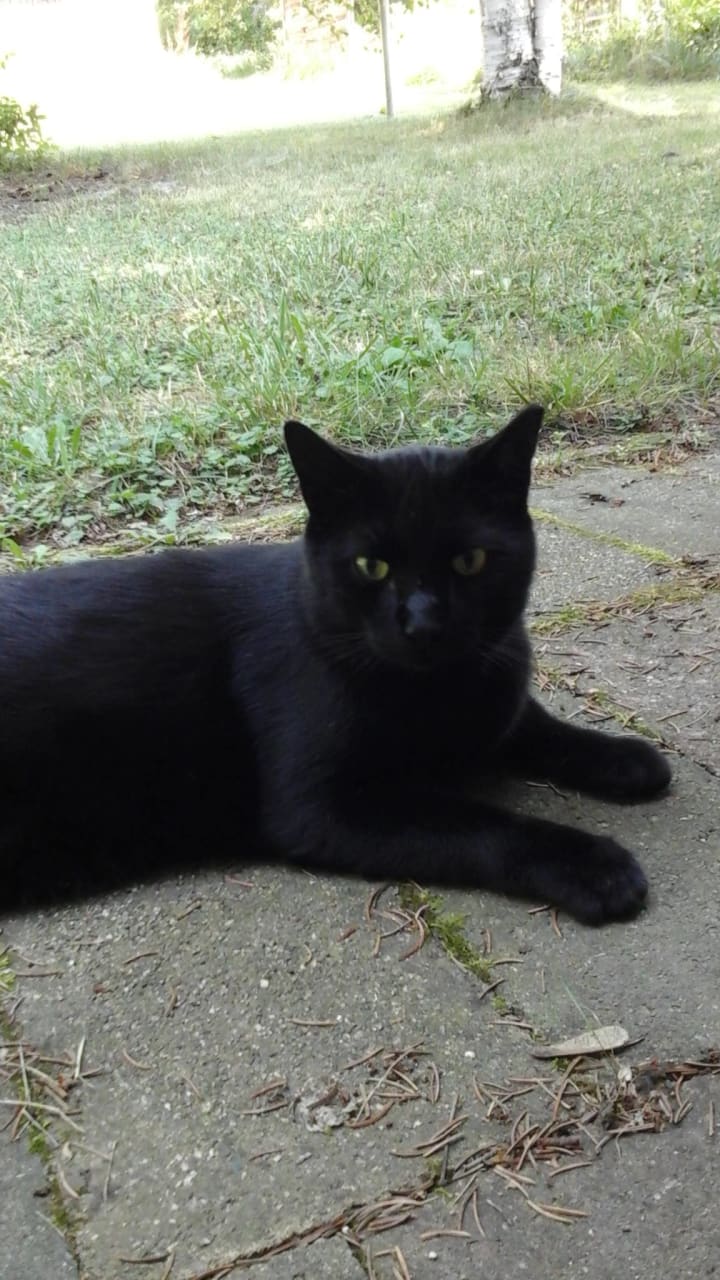 I call Kim the "Cat Whisperer" – as she is wise in all things feline.
That day, I asked her advice. What should I do? Should I see if the kitten still needed a home? How will I ever know when it's the "right time" to get a cat?
My dear childhood friend knows my tender heart well. At that time, she felt strongly that I should consider adopting an older cat, when I'm ready, because they're calmer than kittens, they're litter trained, and are usually already spayed or neutered.
She explained that kittens require a lot of attention – though not as much as a dog. An older cat would be much more practical and easier.
She was right. We enjoyed our afternoon feline fix and went home feeling a little more informed and a little less angst-ridden about missing the opportunity to take the baby kitten home.
Bad Timing in Trying Times
A few months later my friend Kathy's mom passed away. Kathy and I met and became friends when we were three – and her mom was like a second mom to me. Losing her was heartbreaking – but I also hurt so bad that Kathy had to endure this huge loss.
Less than two weeks later, my own mom had trouble breathing and went to ER via ambulance. Things were touch and go for several weeks and I prayed I wouldn't lose my mom too.
Doctors pulled her through many serious cardiac challenges – but she had a long road ahead of her. Weeks soon flowed into months and all thoughts of adding a cat to our family faded against the chaotic landscape of our lives.
Until about two years later …
Some kids were pulling pranks, ringing doorbells at night in our sub and some neighbors posted about the incidents in our community Facebook group.
A notification popped up for a new post, so I checked to see if anyone had identified the kids. Instead of a prank update, I found this: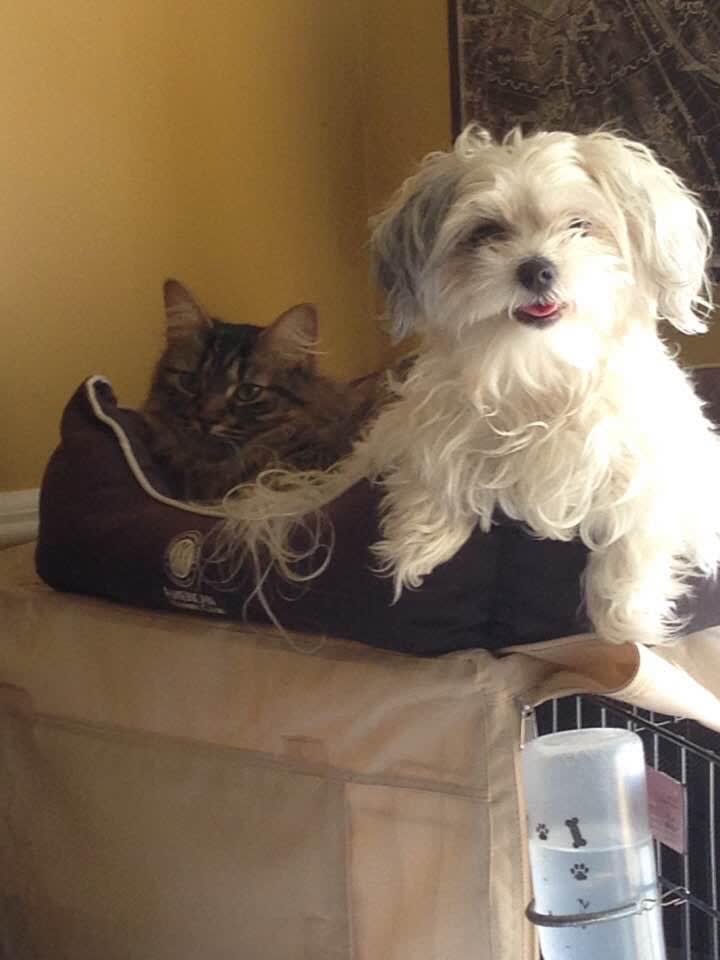 Another cat needed a home! She was a female and older – at least not a tiny baby. She also looked so chill next to the adorable puppy. Was it a sign that I saw this one's picture, unexpectedly, just like before?
Telltale flashes of that unrequited pitter patter for the forsaken kitten returned in a fresh, fierce, fabulous wave. My mom was doing better. My son was even older – an official teen at 13.
All the stars aligned in a single moment and I replied to the post as fast as I could. I only had one burning question, "Do you still have her?"
I squeezed my eyes shut, not knowing if I'd get a quick reply. Yet somehow, I anticipated a fast response. I silently pleaded, "Please, please!"
And then the one-word, life-changing answer came, "Yes!"
Whatever It Takes
Tears welled up in my eyes. She was going to be ours! I could feel it! My son was going to get the sweetest surprise when he got home from school.
The rigors of the past two years melted away and the world was suddenly filled with rainbows, and unicorns, and magic carpets and - I pledged to do whatever it took to love and cherish her always.
We were getting a cat - our very own kitty!
One Call
The neighbor DMed her cell number to me. In one call, she told me the cat was two-years-old and was her mother's. But her mother was moving into a nursing home - and this kitty was one of 13 cats they were trying to find homes for.
Her name was Meeny (as in Eeny, Meeny, Miny, Moe), she had her shots, was spayed, and had an especially sweet disposition. She loved curling up under blankets and belly rubs and got along great with kids and their dog.
She just didn't really care to be picked up a lot.
I was so emotional - and felt silly getting choked up. But I couldn't help it. I never knew how much I needed a kitty myself until that very moment.
We arranged for her to bring the kitty over to my house for a "trial meeting" after my son got home from school. If all went well - I had no doubts at all - then we would gather essentials, and she would come "home" to stay the next day.
I also called Kim immediately. I asked her to be there to meet our new furry family member with us. She guided us when we needed advice, and now everything was coming together. She was thrilled to join us!
Our First Meeting
Watching my son meet his kitty for the first time was priceless. He was so excited and so happy. And he was so loving and gentle with her.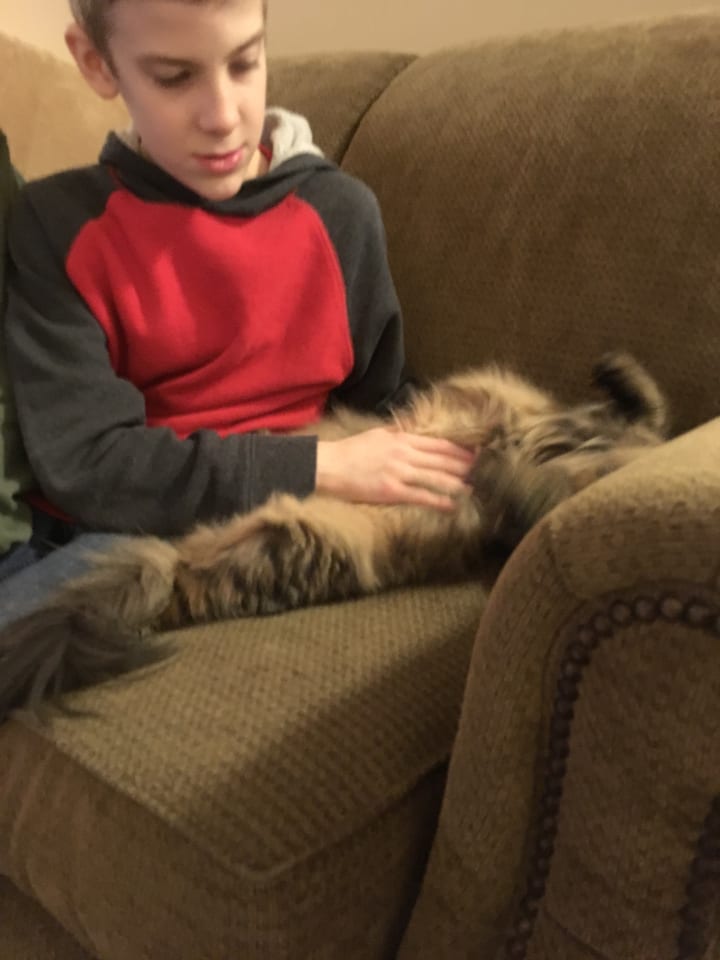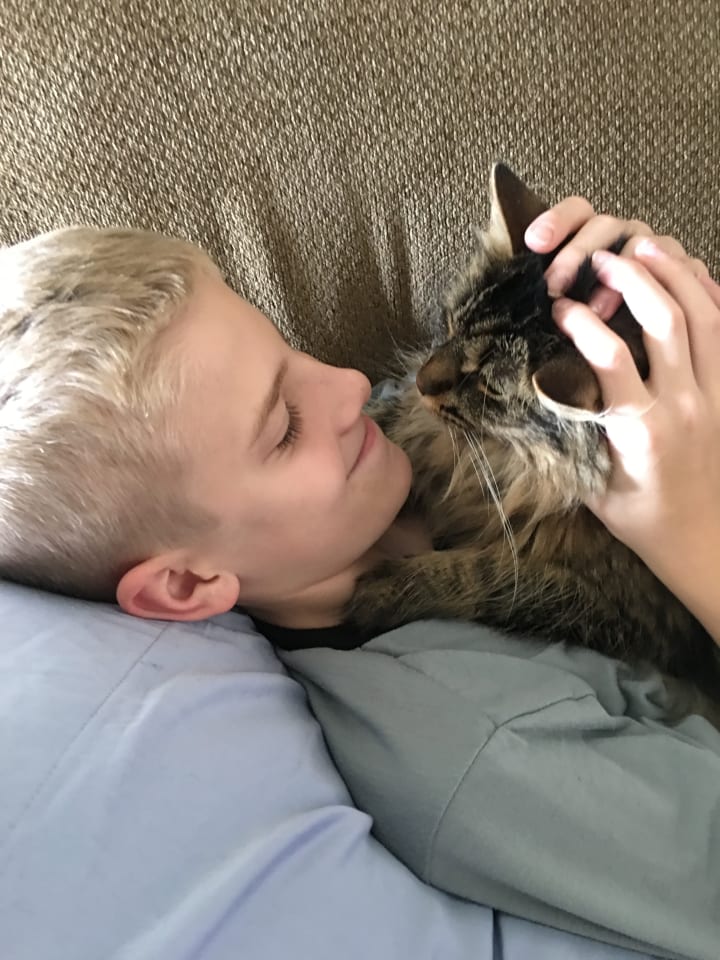 Plus, Grandma couldn't wait to pet our girl!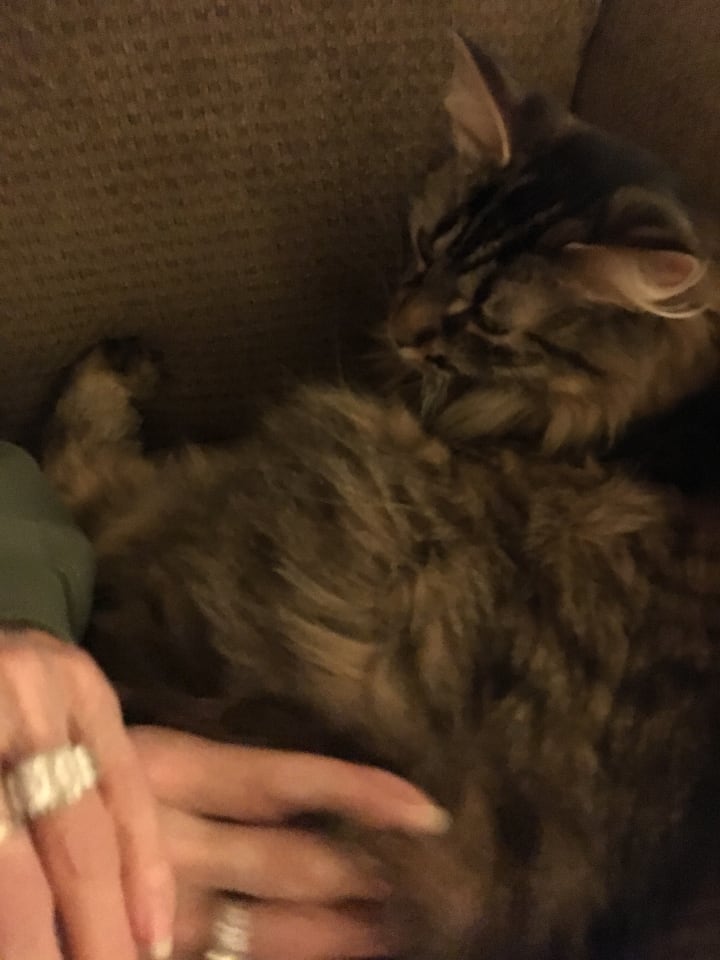 "She doesn't really climb into laps to cuddle," the neighbor said.
But for some reason, she hopped up on the footrest of my recliner and immediately curled up, and tucked her little chin against my shoe!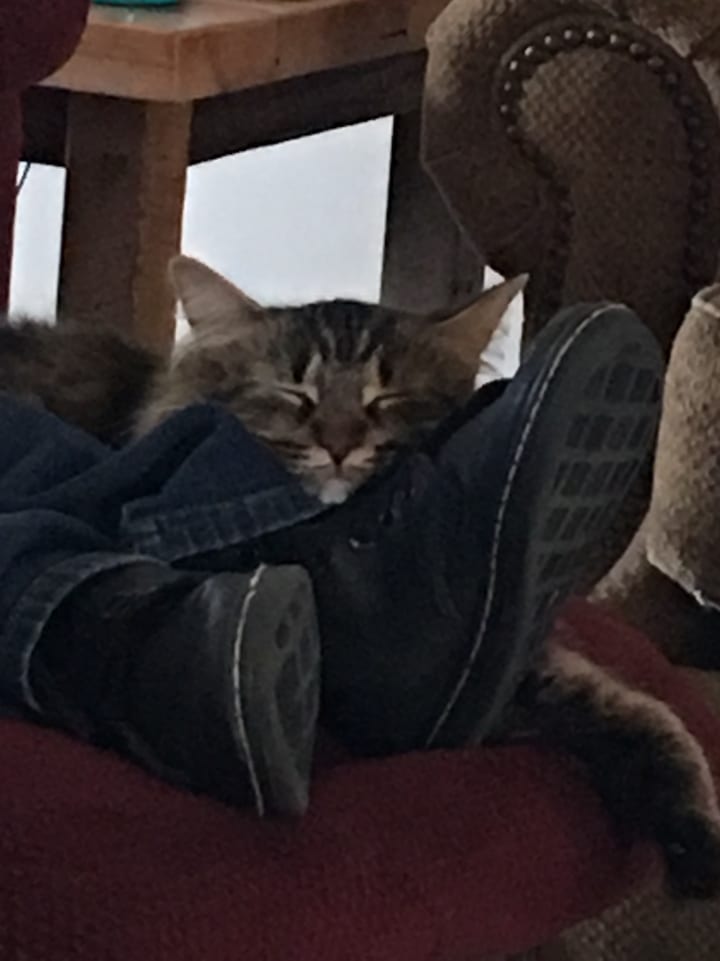 She loved her Mama (me!) and her brother (my son!) and her grandma (my mom) and Aunt Kim, and a whole host of new friends and family members who would spoil her for the rest of her days.
A Kitty of Many Names
My son wanted to change her name and we all agreed "Star" was super sweet - because she was like our lucky star - lighting up our lives. In the first few days, she ducked under the couch, a little shy, it seemed.
But if I sang, "Twinkle, Twinkle, Little Star" softly, she would work her way out and hop herself up on my leg.
Her Uncle (my brother) loves to give pets nicknames. So, he decided she would be "Bat Girl" aka Barbara Gordon. In his mind, she swept into our lives like a superhero to save her new family. No - he DID NOT want to nickname her "Catwoman" - much too obvious - I would've like Selena, though!
He preferred the short version of Barbara - so, to this day, he texts or calls and asks, "Where's Barb?"
Somehow, "Star" never really caught on. I started calling her my sweet little "Kitty Girl" and that one stuck with her.
So, her formal name is now "Kitty Girl Star Barbara" and she answers to "Kitty Girl."
Home Office Assistant Quick Study
Adopting our darling Kitty Girl was the best thing we've ever done. She's a constant source of joy and unconditional love in our lives.
She 's also super smart and when I needed a Home Office Assistant she was a quick study!
As per her irresistible cover letter at the lead of our story, she can perform any number of tasks very well!
She makes and takes calls!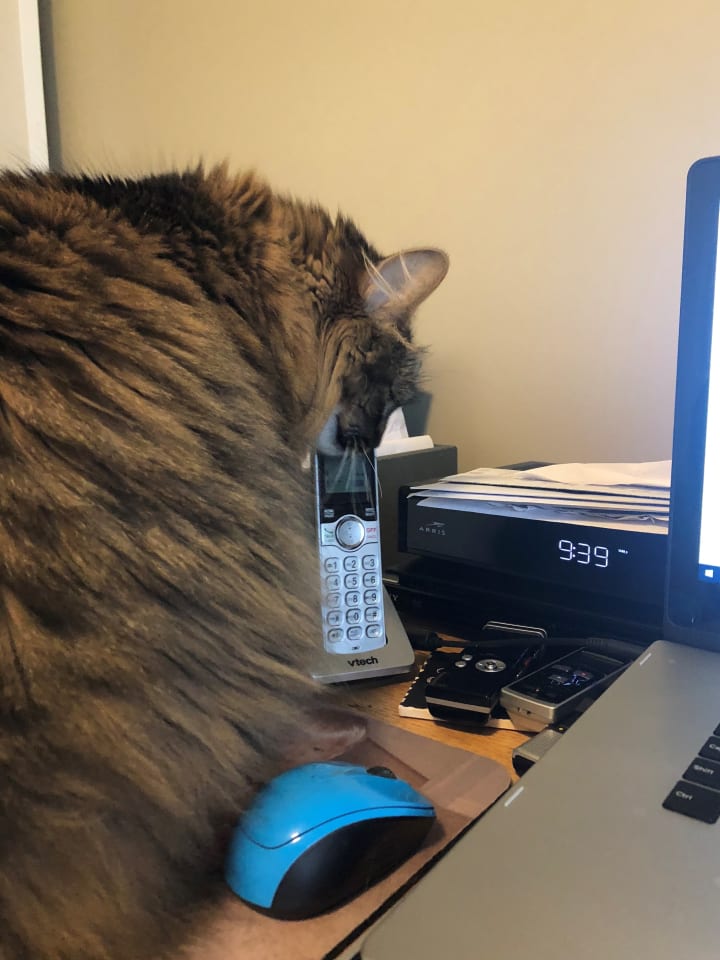 She dives right into inbox work.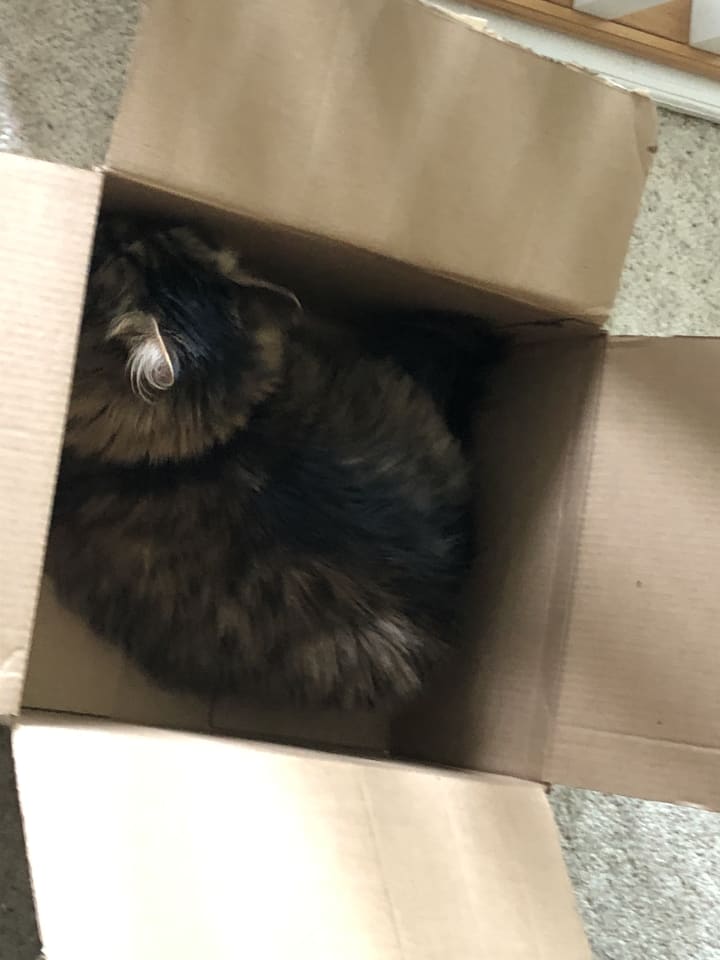 And crushes outbox activities.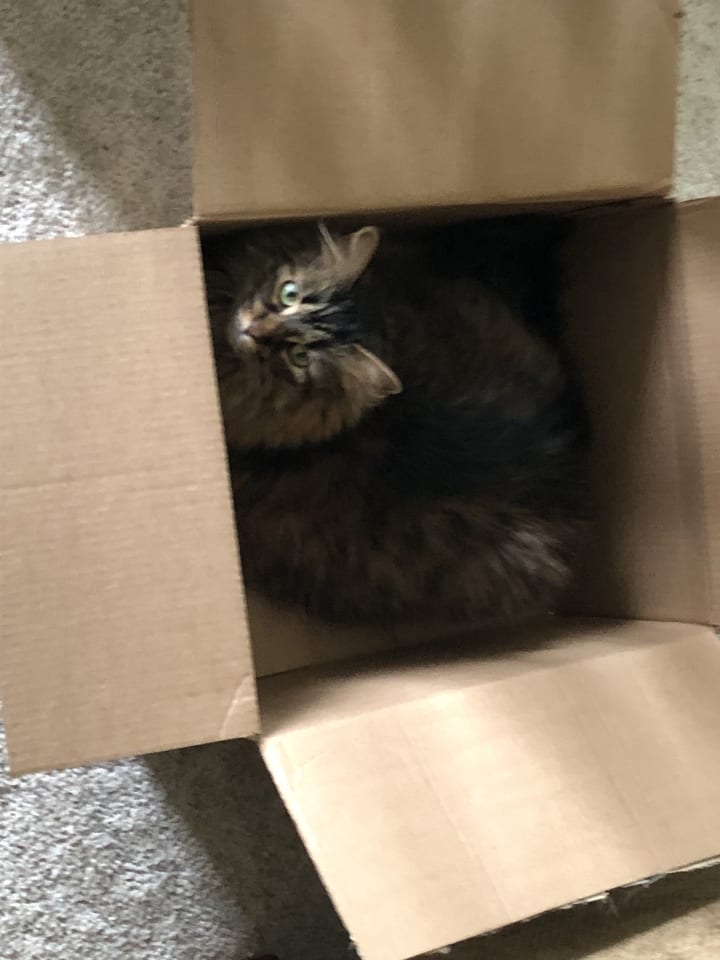 She does boxing and shipping.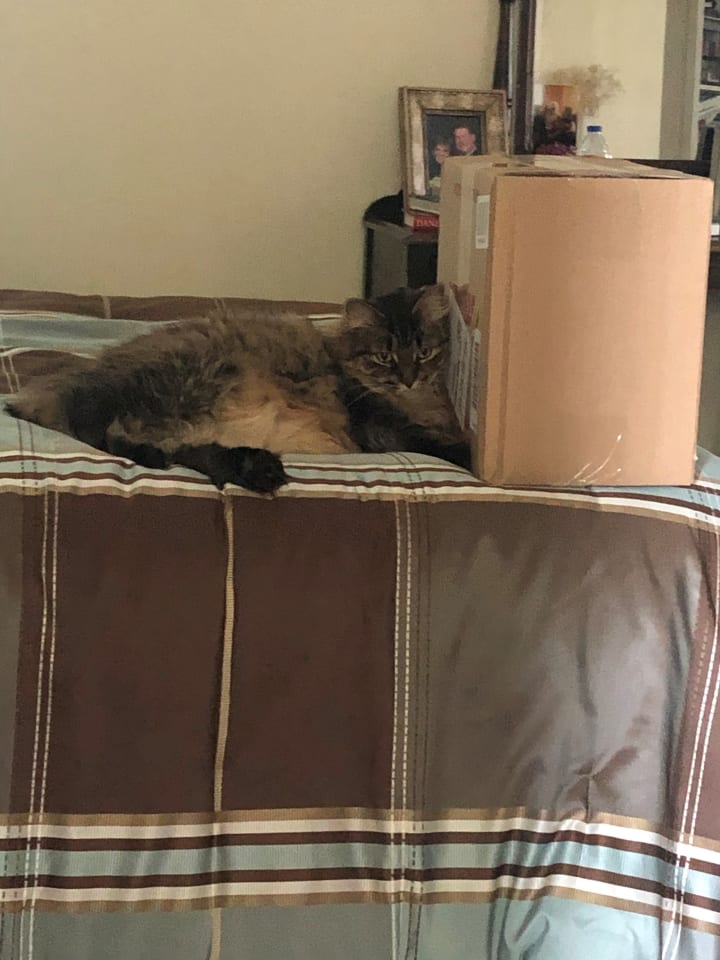 She handles all kinds of print jobs.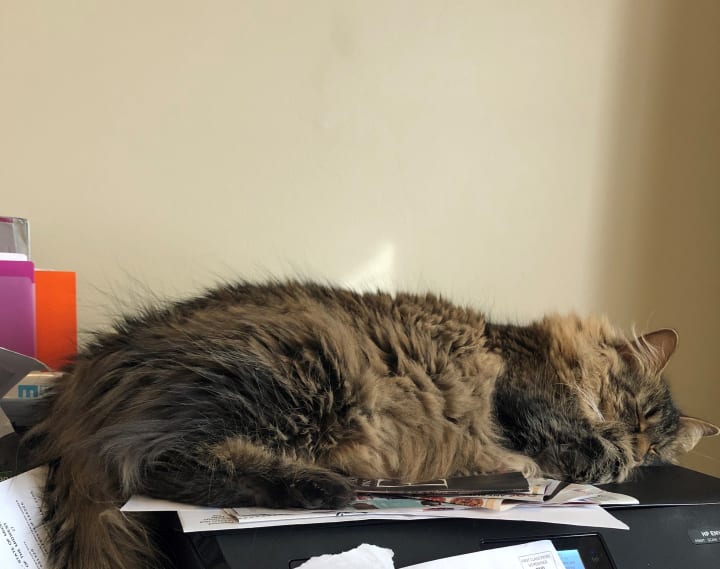 She'll be right there to take notes if she can just grab a pen really fast.
She shelves books with amazing efficiency.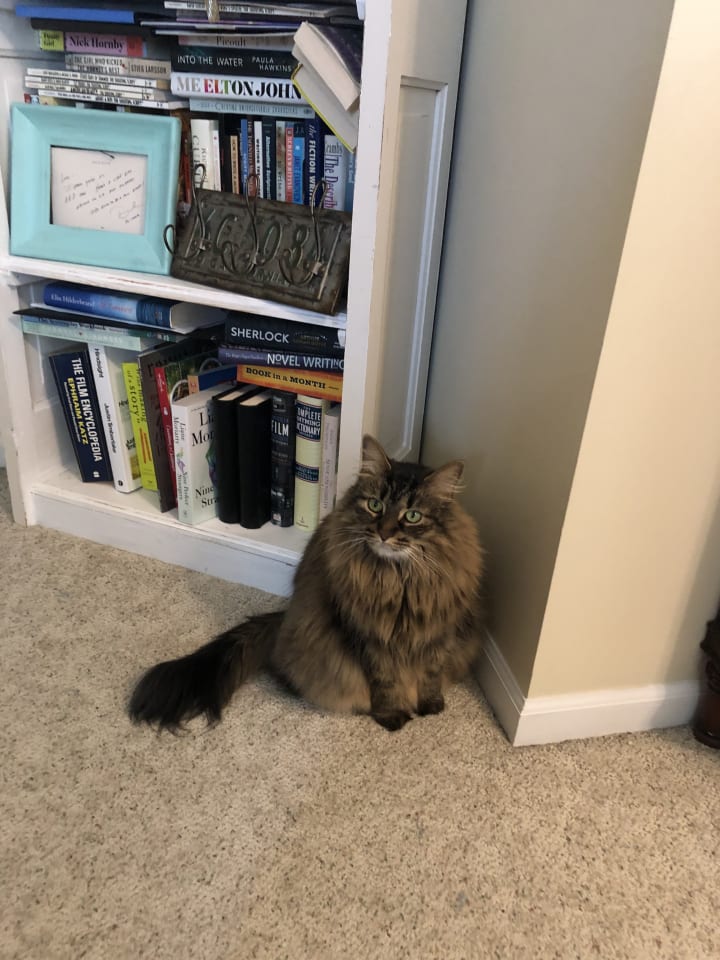 She is always poised and ready to tackle the next task. After a sufficient cat nap, of course!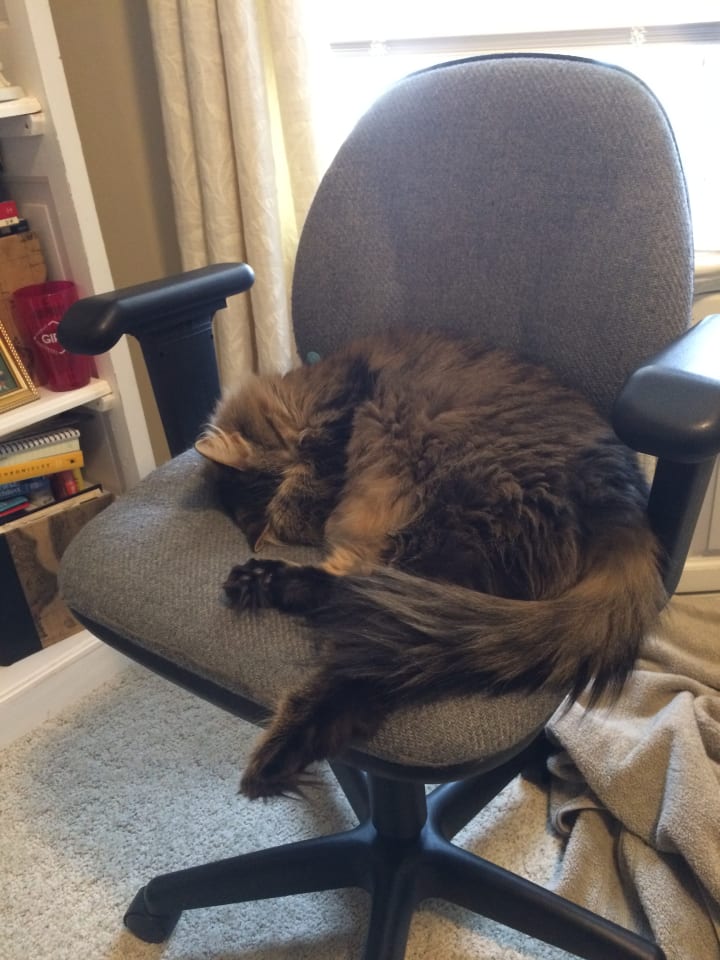 She's considering launching a course on how to build a Gaming Monopoly.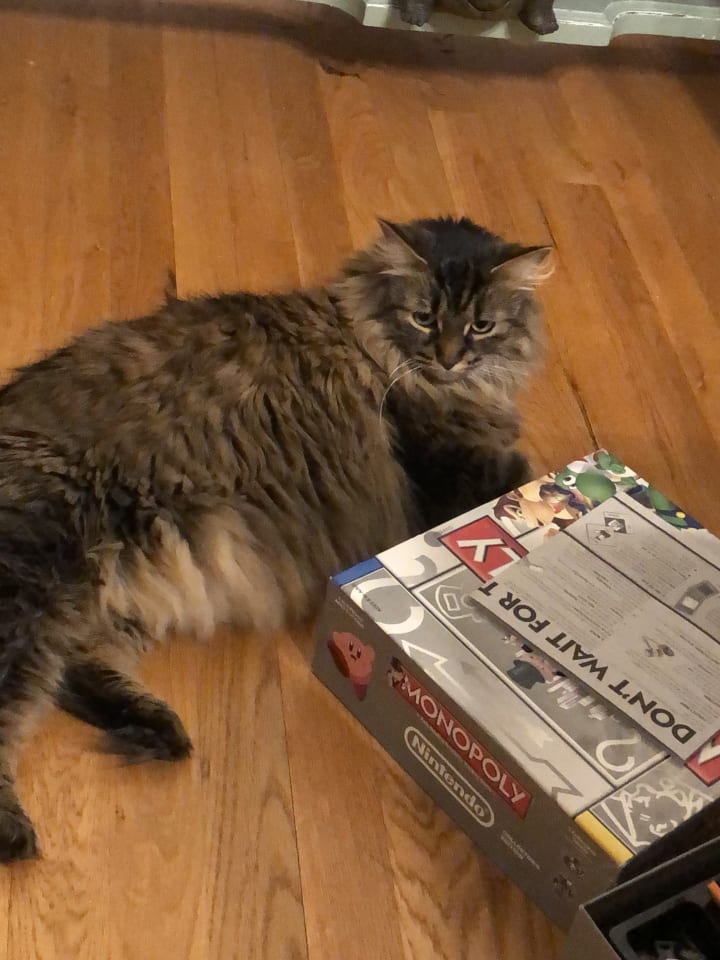 And if you think she's just sitting still, she's actually brainstorming.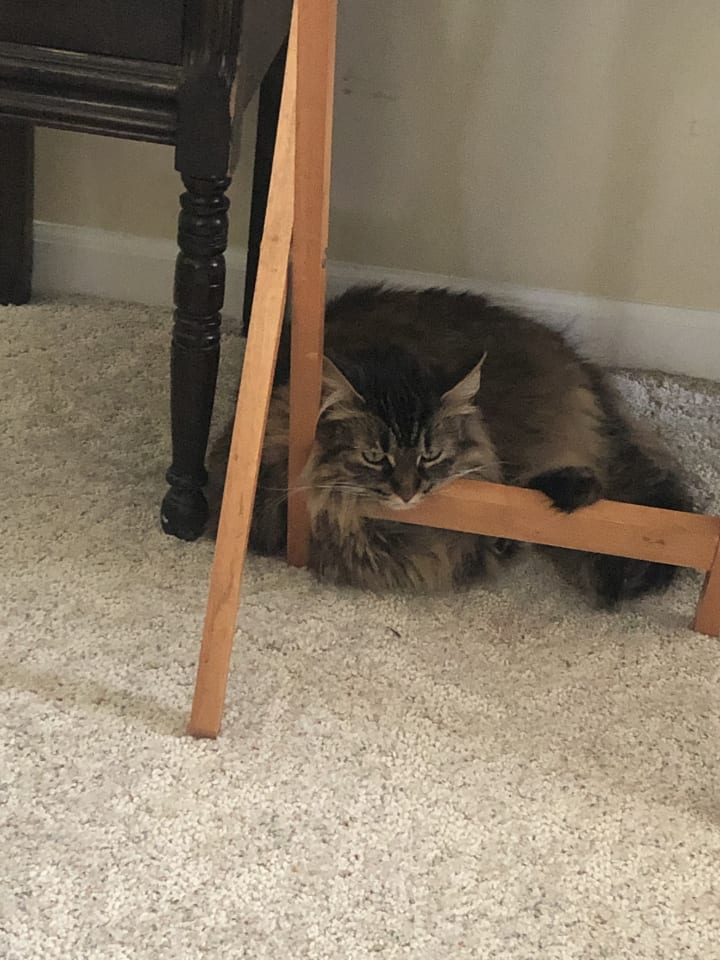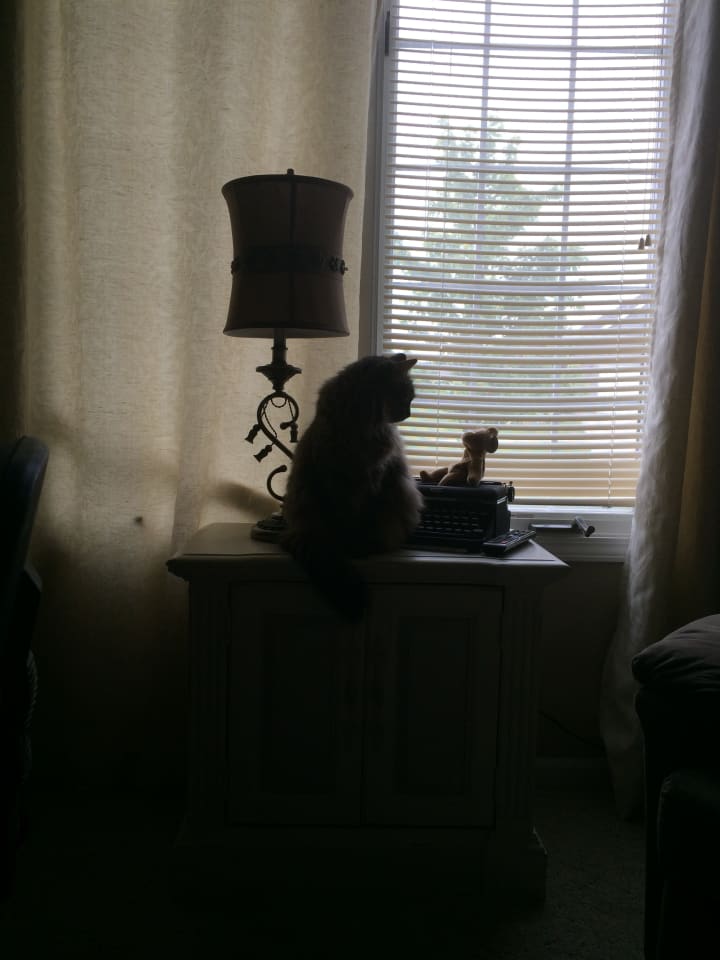 She's also trained in covert, stealth operations and will go to no end to protect corporate assets.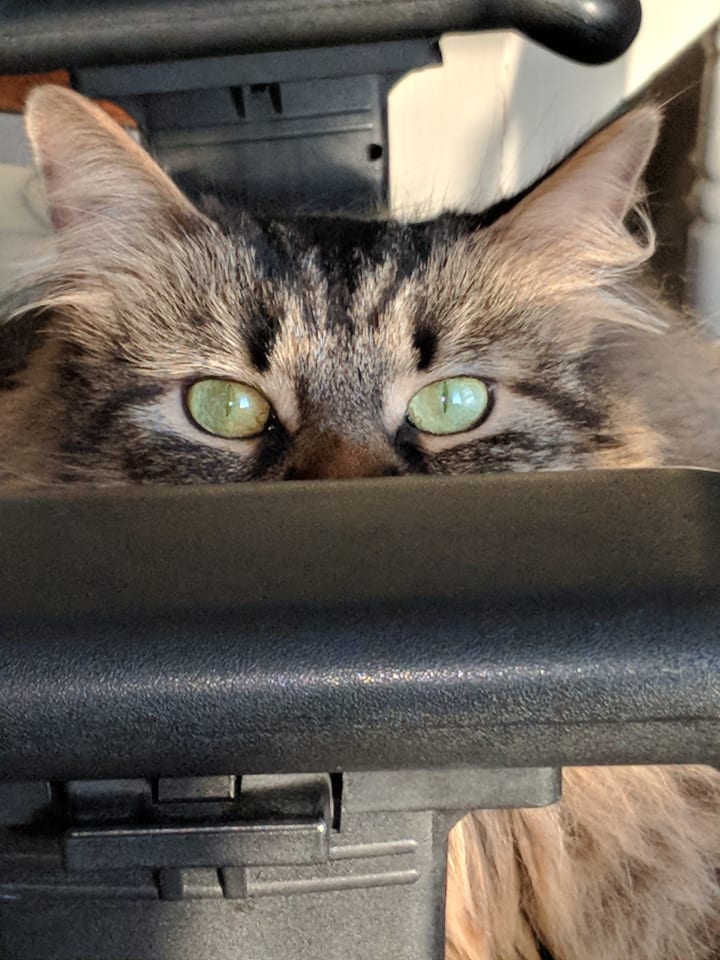 After putting in the hours, she unwinds by catching some rays.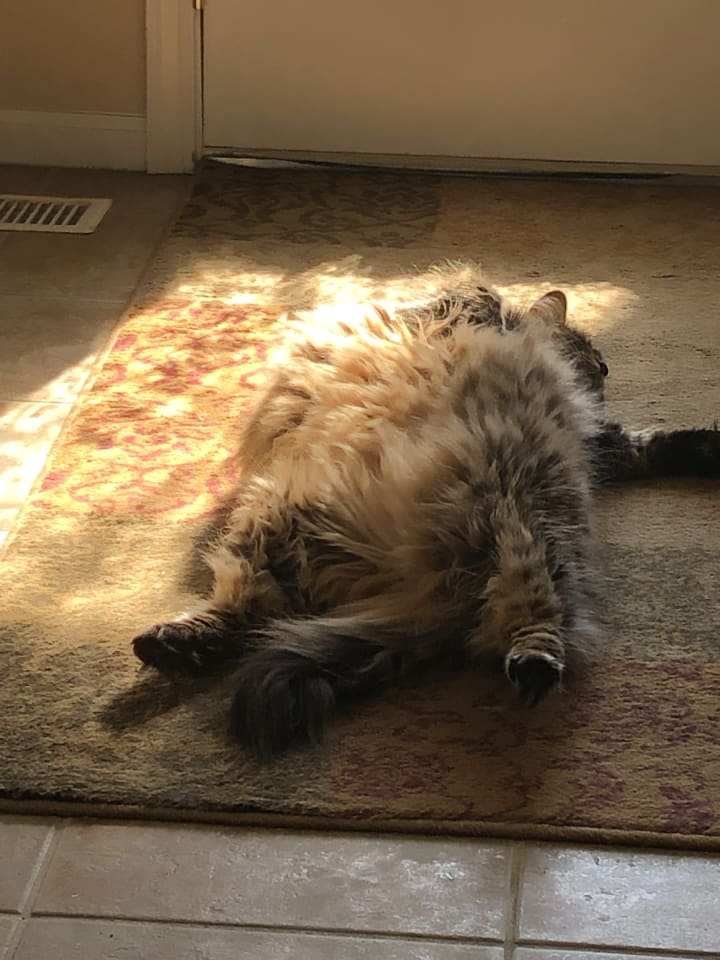 BUT WAIT! THERE'S AN ABSOLUTELY MINDBLOWING
PURELY MAGICAL END TO OUR FOREVER FAMILY STORY
THAT NO ONE WILL EVER BELIEVE!
GET READY FOLKS! MAMA LEFT OUT
A HUGE REVEAL!!
Some Forever Families Are Fated to Find Each Other
Nothing quite like this has ever happened to me before and I am quite sure, never will again. The day that Kitty Girl came to stay at our house forever, the neighbor that gave her to us texted me later that evening. She had digital copies of her vet visits and the dates of her first shots.
She thought I might also like to see what "Meeny" aka Star aka Kitty Girl looked like when she was a baby!
I couldn't wait to see her!! I knew she must have been an adorable kitten.
I waited for my phone to light up - then I looked down - and literally gasped at the picture she sent me: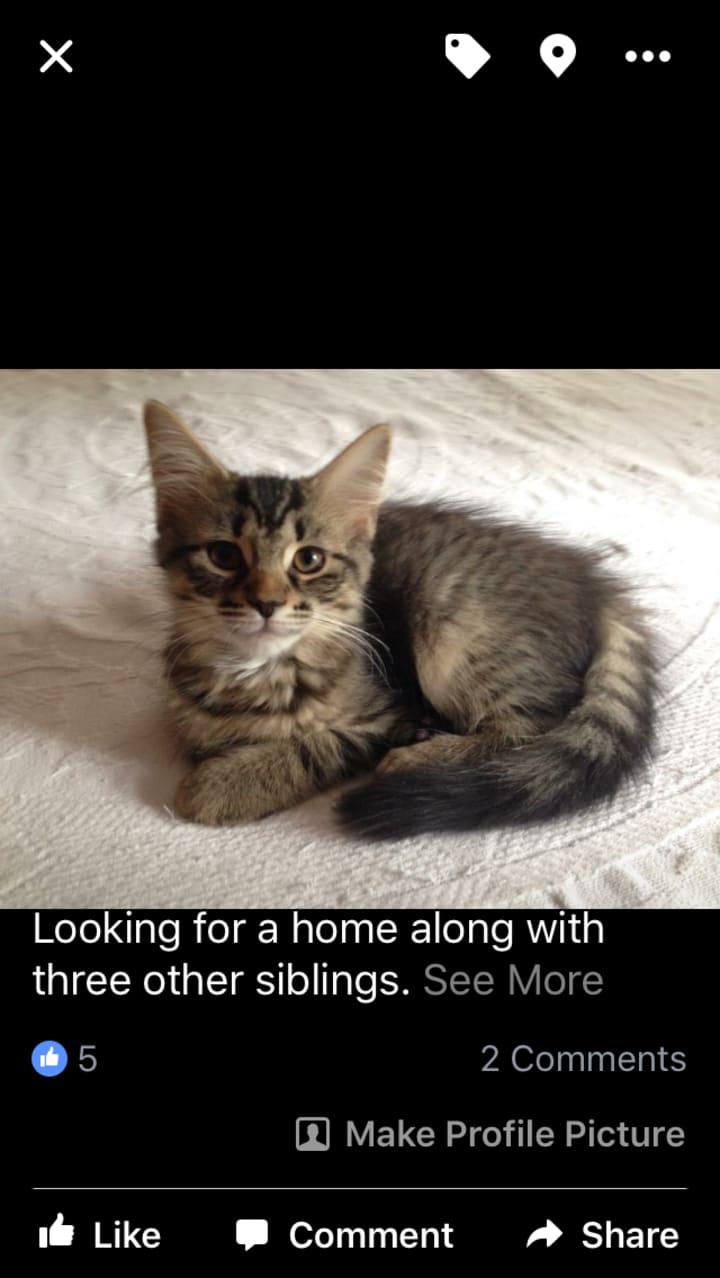 This is the amazing, cry a river, honest truth! I know you might think I'm crazy - because I still shake my head now and then in disbelief!
Kitty Girl was mine - the tiny Craigslist kitty all along! No one else answered that post two years ago. She stayed in her home with her three siblings and 10 other cats until her elderly owner had to move.
She was getting bigger and older, and more mature while I dealt with a series of challenges over the two years since the day I saw her tiny face in that ad.
I never lost her! She was waiting for us to be ready for her! Fate brought us together in a way I'll never be able to rationally explain.
We've loved each other for four years now and none of our lives will ever be the same. She's EmPAWee of the Month, Year, and the next century!
Accolades aside, one look at those green eyes and who am I kidding? The Kitty Girl Friday and Beloved Family Furball position is permanently filled. She had me at "Meow."
Reader insights
Be the first to share your insights about this piece.
Add your insights