Best Winter Dog Gear to Keep Your Pup Warm
Spoil your best friend during the cold months with the best winter gear for your dog.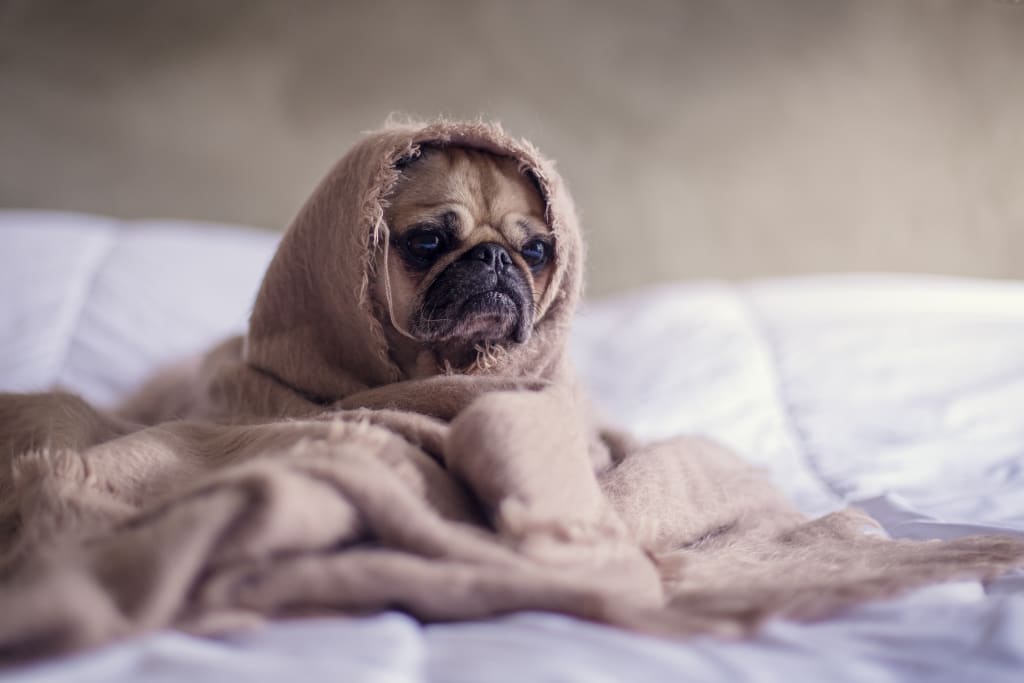 It is important to make sure your best friend is kept warm throughout the wintertime just like you do. Even in the cold weather, it's important for you and your dog to get some exercise outside. Plus, who doesn't need some fresh air on the daily? That is why it's important to accessorize your pooch the best way possible, to ensure they are not uncomfortable or cold.
This list of the best winter gear for your dog will have your pup set for even the worst winters. Plus, maybe you can get yourself a matching sweater for Christmas!
Starting off with a basic staple for winter gear for your dog, this weatherproof pet coat by Midlee is perfect for any kind of dog. This option just happens to be the extra large size.
The fleece interior and softshell exterior provide both warmth and protection from snow and rain. It's also nonrestrictive to the pup's legs, by only covering the chest and back, allowing them to play and run as they please. The vest also has a reflective ribbing for late night runs or walks, since it gets dark at 5 PM, now.
A simple accessory, but a necessity for gross, damp days. This winter gear for your dog is best used in ugly weather due to its waterproof aspect. Unfortunately, not all collars are weatherproof, and getting your pooch a specific collar for those days is essential.
Plus, the Dublin Dog Co has different color options that can match a new leash. And since it's waterproof, this eliminates that gross wet dog smell and bad texture. Bring your dog through the woods, down snow banks, or just around the neighborhood with no stress.
Yes, it is possible for pups to get frostbite, especially on their sensitive little dog paws. These performance shoes will protect your dog from the cold with the rubberized soles, as well as prevents them from hot pavement in the summer, when it gets above 95 degrees.
The soles also do a great job of preventing your pooch from slipping on ice, as well as some extra ankle support from the straps. Be confident in your dog's warmth and safety after easily strapping these on before your daily walks. Dog boots are definitely one of the best options for winter gear for your dog.
This is a great option for pups that are a little too temperamental for pet boots. Apply the dog wax to the bottom of your dog's paws, and get on with your adventures. This wax not only protects against snow and ice, but sand, hot pavement, and salt.
These conditions can often times leave your dog with cracked, hurt paws that can even bleed. That is the last thing you want to subject your dog to, when they are just trying to enjoy themselves in the outdoors. For only $16 per jar, this is a great protection against any winter-caused harm.
Though it might not be the first thing you think of when it comes to winter gear for your dog, a sturdy, travel-friendly bowl is an accessory you're not going to want to forget to pick up.
These bowls are perfect for walks, hikes, and travel time alike. You never want to forget to supply your best friend with water, even when it's cold out. It's easy to forget that just because they are not overheating, doesn't mean this isn't a necessity to pack. Plus, this bowl won't crack in harsh conditions.
Obviously you are affected by the winter weather as much as your dog is on these walks and play time. When a leash is required, you are going to want to switch over to this one.
The best of the winter gear for your dog continues with the PETOJI's ultimate waterproof dog leash. The reason why this leash is perfect for cold weather is it's not affected by cold, wet conditions. No owner wants to hold onto a cracked, freezing, leash. Make your walks enjoyable with this addition to your winter accessories.
A step up from the winter vest, this extreme warmer jacket is guaranteed to keep your pooch warm in any winter conditions. If you plan on staying outside for a decent amount of time, this is no doubt what you're going to want to put your dog in. It has a foil lining material that reflects your pup's own heat, and stimulates blood circulation.
This dog coat is no joke, protecting the neck and chest in a hood, as well as the tummy and part of the legs. It's even adjustable to the size of your pooch! Chances are, you might be jealous of your dog by how warm they're going to be on even the worst winter weather.
Ok, it might look a little bizarre, but this dog sling is perfect for a cold winter night where your pup just wants a warm cuddle! You can even carry your little dog around the house with you, and be able to do basically anything like normal.
It's completely hands-free, and is guaranteed to put your cute pup to sleep. It's the next step next to a dog purse, and we think this is a much better option, especially when it comes to winter gear for your dog.
We had to add a completely adorable option for winter gear for your dog. What pet owner doesn't want to see their dog in a Christmas sweater, just once? You can even buy a matching one, and take adorable Christmas card pictures!
Maybe we're getting ahead of ourselves, but this sweater is guaranteed to keep your best friend extra warm, and super stylish. It's not restricting and is very soft and comfortable. You never know, it might be their new favorite thing.
Last, but certainly not least, this adorable hat for pups is perfect for dog parents who love to take that extra step. Believe it or not, some dogs love to wear hats, especially when they discover how warm they can make them.
Taking your dog on a brisk walk with their little trapper hat will not only be adorable, but you won't have to worry about them shivering or being uncomfortable. Give this stylish winter gear for your dog a shot! Plus, how cute would this look in that Christmas card photo shoot?