Attack of Shadows
My Heroic Dog at the Crossroads of 3am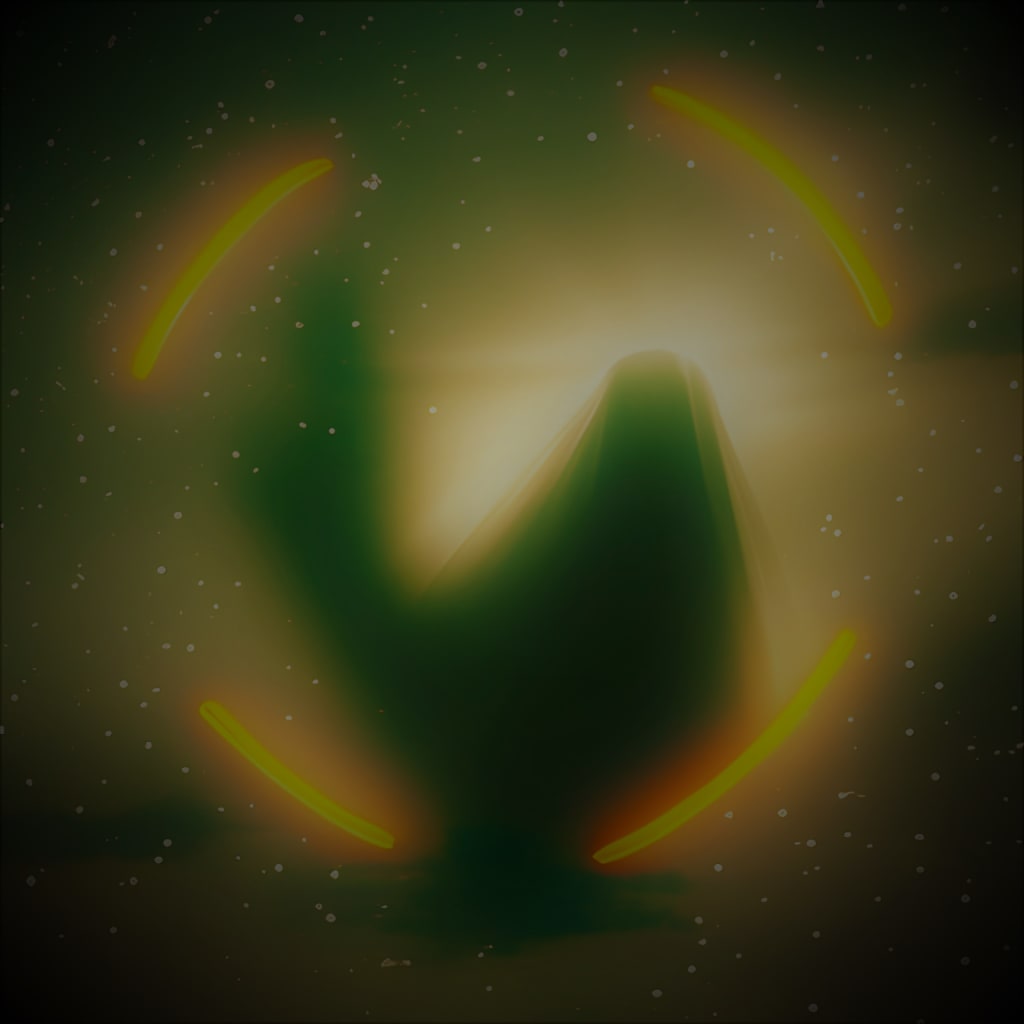 Created with Night Café Creator Studio
I've always had a natural curiosity about paranormal things, but also have been a skeptic when it comes to boogeymen and such. At 3am on March 20th, 2023, that skepticism departed for good. A series of random events in my dog situation stacked the odds in my favor before I found myself in my room, in the middle of the night, wide awake... with a shadow person.
Let me start by saying, that I have a small family of Pomeranian - Chihuahuas. It all started when a veterinarian told me my only dog, a Pomeranian named Molly, at 15-years-old would soon be dead.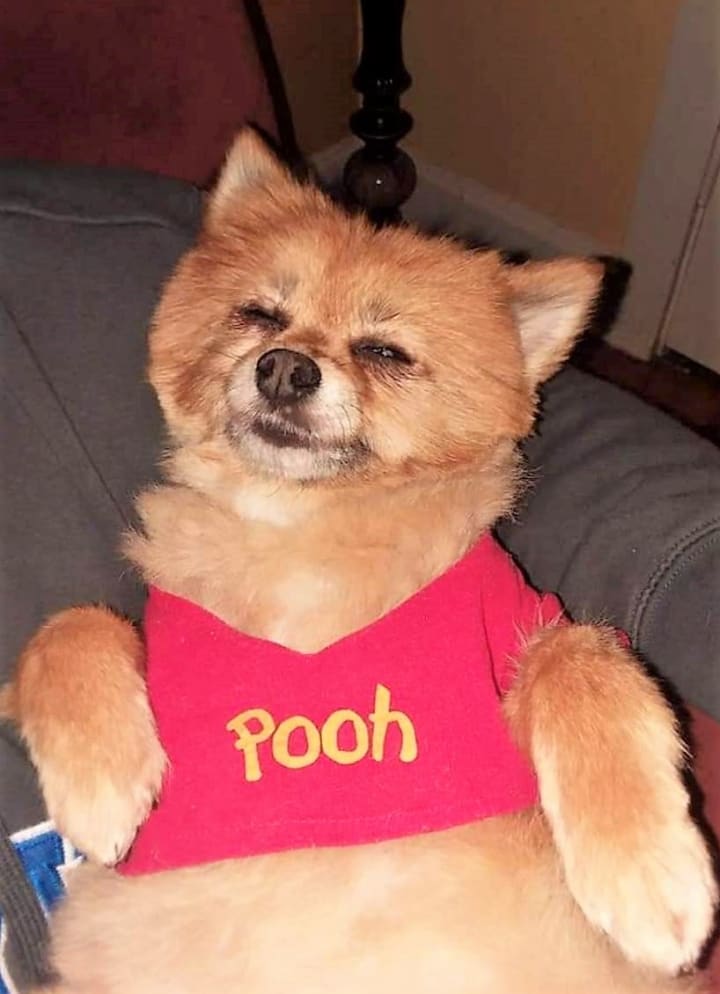 As avid dog lovers, my husband and I occasionally went to pet stores and shelters on Saturday or Sunday just to pet the dogs and cats because they don't get as much love as pets with homes.
A couple of weeks after Molly's diagnosis, many of the shelters were closed and by the time we made it to the adoption weekend, the pets were already gone. So, we decided to go to a pet store. When you think about it, those dogs are in cages all day and unless people with a lot of money come in, they could use love too. This is the place where we met our next fur-baby, Maybelline. (May-May)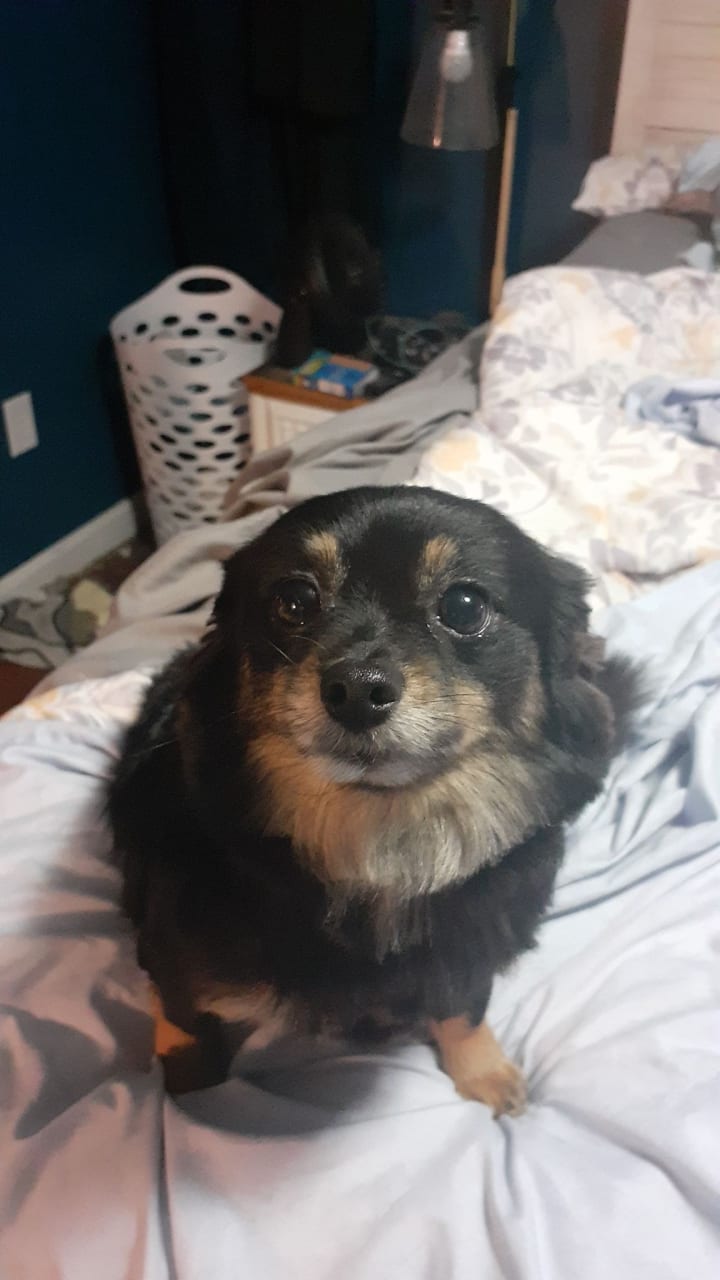 We weren't impressed when we saw her because she was listless and I thought she was sick. I held her in my arms and her head lolled to one side with her tongue hanging out. The story was that she had been there since she was six-weeks-old and she was four-month-old when we saw her. She had been in a cage for months. We didn't have the kind of money it takes to pay for a Pom-Chi with a pedigree, and even if I could, I wasn't sure I wanted to take one on that was probably going to cost me a lot of money in pet care bills. So we gave her back to the clerk.
When we left the store to go eat dinner, I had left my phone and my glasses at home so we swung by the get them. I ran in the front door, darted into the living room for my things and as I arrived, I literally saw that little Pom-chi sitting in front of the Christmas tree next to Molly. I got a double take and there was nothing there. I've never had a premonition before and it scared the crap out of me!
Struck by the vision, it took me a minute to get a grip on myself, before I went back to the car and went on to dinner. As we ate, I related to my husband what happened, and we went back to see her. She was a totally different dog when we returned! We told the clerk how much money we had on our credit card, ($400), and they took it.
Maybelline breathed new life into Molly and they were thick as thieves. Then a thought arrested me; what happens when Molly does die? Maybelline would be all alone! Enter Merlin. A full blooded-solid black, four-month-old Pomeranian.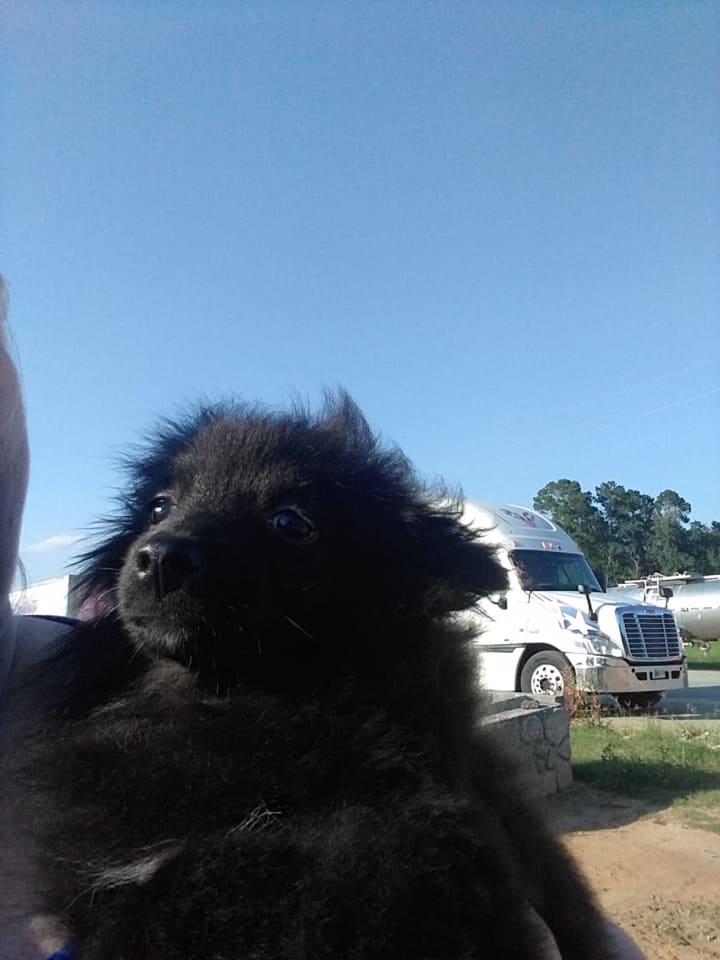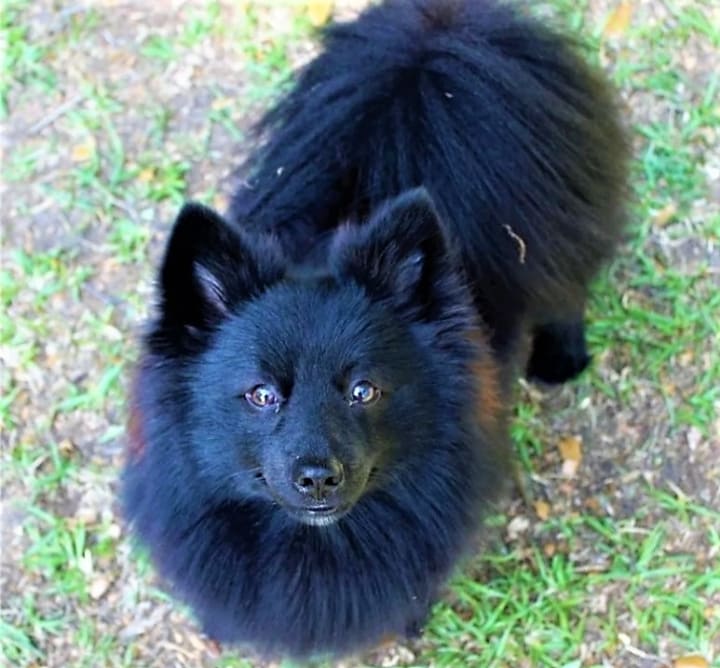 Luckily, Merlin was still at a kennel at four-months-old, because no one wanted him. I saw the ad for him in on a rescue website, and they were willing to take $400. Now... my husband and I are two people who have usually brought in scruffy dogs off the street. There is no way we'd ever pay that much money for a dog. Even though Molly was a full-blooded Pomeranian, she was a rescue we got for free.
She was already 6-years-old when we got her and her tail had been broken so badly it was permanently bent. For us to have a cute little family of pure bred dogs is something neither of us would ever have done deliberately, but our dogs had needed recuing too. No one would take them, and we love them.
If you've never had a Pomeranian or a Pom-Chi, let me just say that they are incredibly bright. They were all almost instantly potty-trained to go outside when they needed to go, and they didn't require kennel training. They're hypo-allergenic dogs, love toys, will dance for treats and are very sociable with other dogs, cats and children.
Having said that, I didn't know that a four-month-old Pomeranian boy and a 6-month-old Pomeranian - Chihuahua girl could make babies. May-May had a litter of six, huge Pom-Chi boys. She was too young and too weak to keep up so the doctor had to put her on antibiotics and steroids to strengthen her so that she could take care of them. It worked!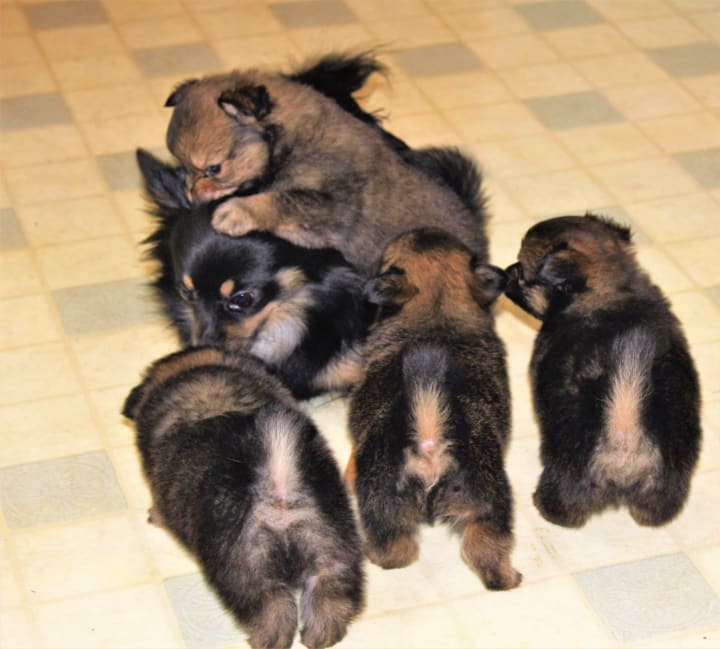 We only planned to keep the runt of the litter and the other pups were easy to find homes for. One of them, though, we had an issue with. Covid happened shortly before they were born and the man who had reserved Chewbacca Han, (Chewy), couldn't come because of the freeze at the airports, and he asked us to keep him for a few weeks. Several months went by, and we just loved him too much to let him go. So, we had 5 dogs, which we can all agree is ridiculous.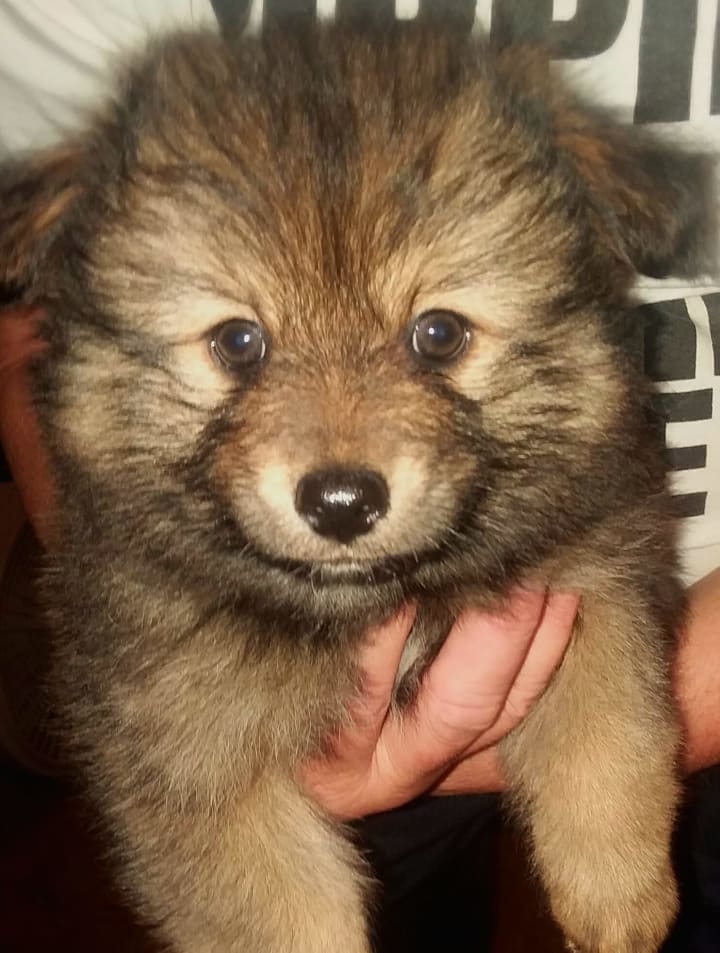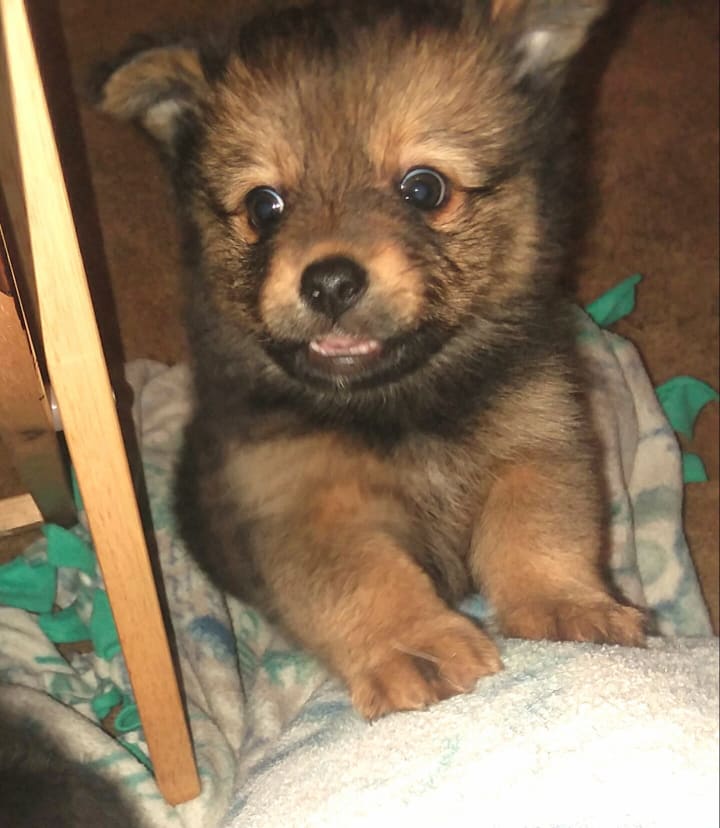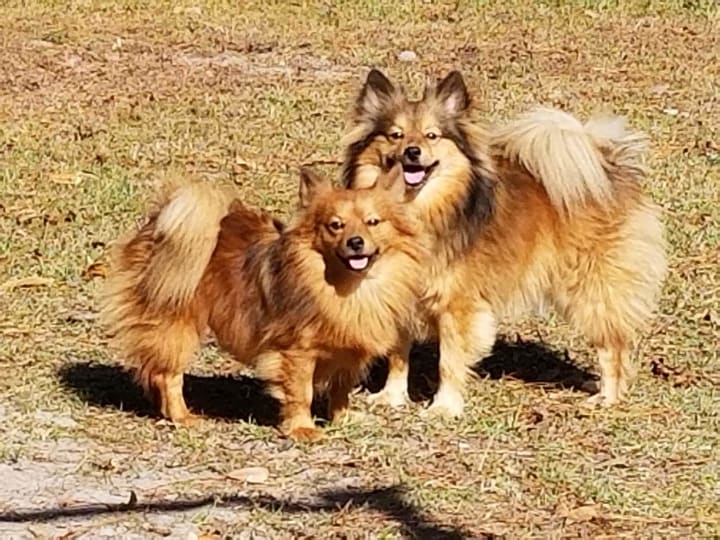 All of the dogs kept their small stature except for Chewy. He continued to grow until he was roughly the size of a small collie. Despite his huge size, he is the sweetest of all the dogs. Always carrying a ball or squeaky toy around in his mouth, curling himself into places he's too big for and climbing into my lap when I'm trying to work, this beautiful boy easily made two or three of the others. In fact, he is now a 48-pound Pom-Chi.
Chewbacca quickly became my dog. The other dogs tended to stay with my husband, but Chewy is always wherever I am. I can't sit in my spot on the couch unless he's in my lap, which takes up most of my body. At night, my husband takes the dogs to the bedroom while I lock up and when I finally get there, Chewy is always in my spot.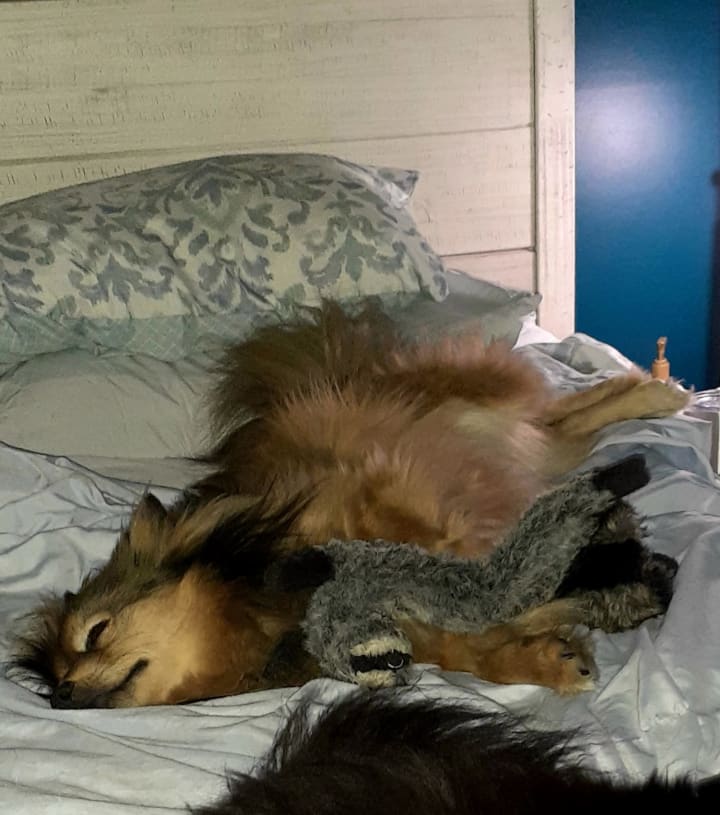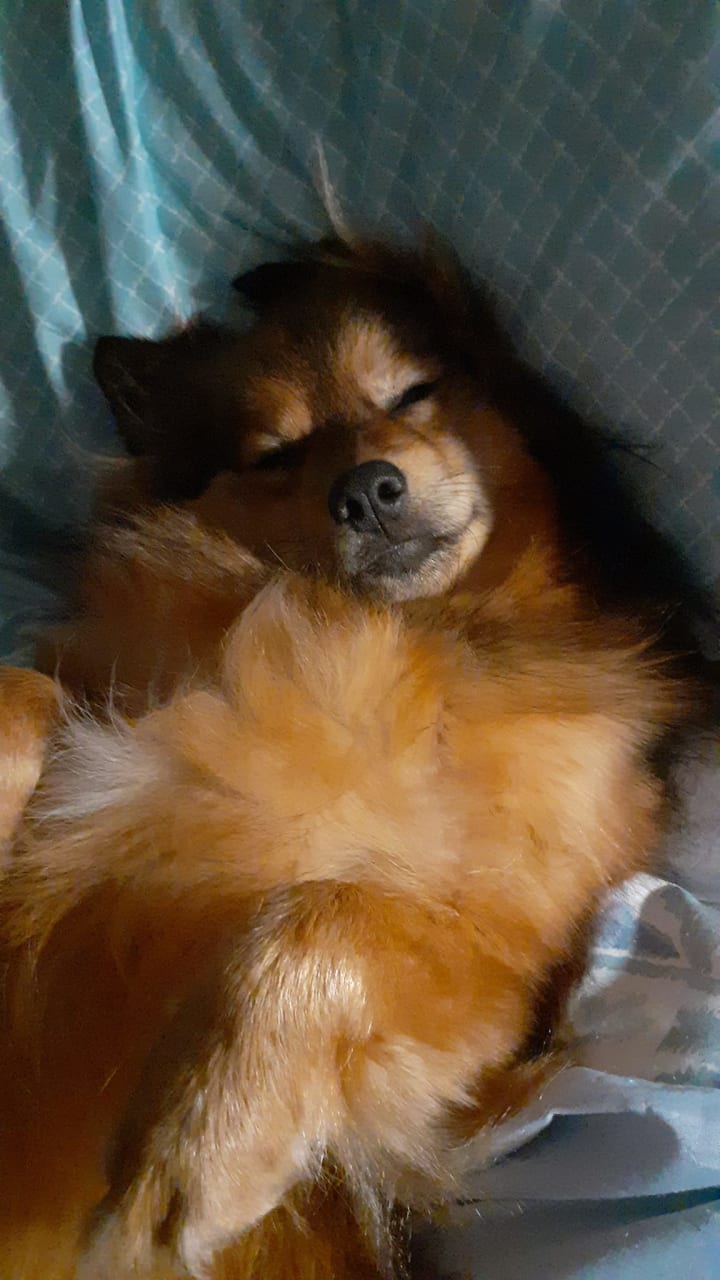 At night, I lie on my right side, with the edge of my bed behind me. Once I get in, Chewy climbs into the bed and curls up behind my knees for the night, with his head on my hip. Occasionally, Merlin gets a little territorial and tries to make Chewy move, but he's not having it and they get into a little growling, but generally speaking, after a while they give up and go back to sleep.
On March 20th, I was sleeping pretty soundly when the growling started. I opened my eyes, glanced at the clock, (3am) and then listened carefully. Ordinarily, I am hearing two dogs growl. This night, I only heard Chewy and the growling was different. It sounded... dangerous. I assumed he was dreaming, so I reached behind me and started petting him to calm him down.
"It's okay bubba." I told him.
The growling intensified, and instantly the hair on my arms stood up as though by static electricity.
"Chewy?" I murmured, rolling over to see him better. "What's the matter buddy?" I grabbed my phone on the night table and pressed the button to light it up so I could see him better.
The sweetest dog in the house was sitting up on his haunches like a grizzly bear, baring his teeth and growling low in his throat like the big bad wolf.
"Chewy?" Fear gripped me and I propped myself up on my elbows.
At that moment, this loud shrieking noise pierced the night and a smoky plume came through the window above my headboard. Shrieking, it raced into the room.
My husband was asleep next to me through most of this. But when the shadow figure flew in, he stirred a bit.
I don't know what this creature was saying because the voice was very shrill and intense and I couldn't recognize the language. I could somehow tell that it was angry with my dog and calling him some nasty name that had to do with pee. Something like "Piss-ant", "piss-face" or "pee-boy". Like I said, I didn't understand the language, I just knew what it meant.
This shadowy thing sailed in so quickly it was difficult to follow its movement. The top part was a man's body, but where his waist would have been, there was a smoky plume. He had no shirt on, was well muscled and bald. He shoved my dog off the bed before I had time to react. My husband, however was out of the bed running to check on the dog in mere seconds and the shadow figure spun to look at me, and began fading. I curled myself into a ball and prayed.
I prayed harder than I have ever prayed in my life. I was oblivious to my husband as he scooped Chewy up and held him. I could still feel the electricity in the room and I wasn't stopping until I knew it was gone. In mere seconds, I could feel the power of that prayer coursing through me and instantly... it was gone.
My husband was sitting on the bench at the foot of the bed checking Chewy to make sure he was okay and then asked me what happened. I related to him what I had seen and he sat quietly listening while I stroked the dog, more to calm myself than him. After a while, we both went back to sleep.
The next day, I took a few minutes to call my local paranormal society. I know that sounds crazy, but I needed someone to tell me if what I saw was real, or if I was maybe needing psychological help. The gentleman I spoke to was very comforting.
He said that most likely this thing had just looked through the wall there trying to figure out where it was, and our dog saw it. He said that 3am was a spiritual time and likely this thing had just stumbled on us.
I asked why the other dogs didn't react and he said not all animals are attuned to the supernatural. He said he didn't think it would be a good idea to come investigate. He said that the "shadow people" aren't usually attached to a home or to people, and if they came out there to investigate, they would hate to wake something up. He wished me well and told me to call if it happened again.
So far... so good.
I think he's right about certain animals. Molly died almost a couple weeks later. (April 1st) When we found her, Chewy was lying next to her with his arm around her, something he had never done before. I know I went through some crazy things and saw something I can't explain, but my dog was there to keep it away, and he was here to be with Molly when she fell asleep for good.
It's amazing to me how much love and kindness there is in the heart of a single dog. Chewy is definitely my dog and I am so grateful that fate chose him for me.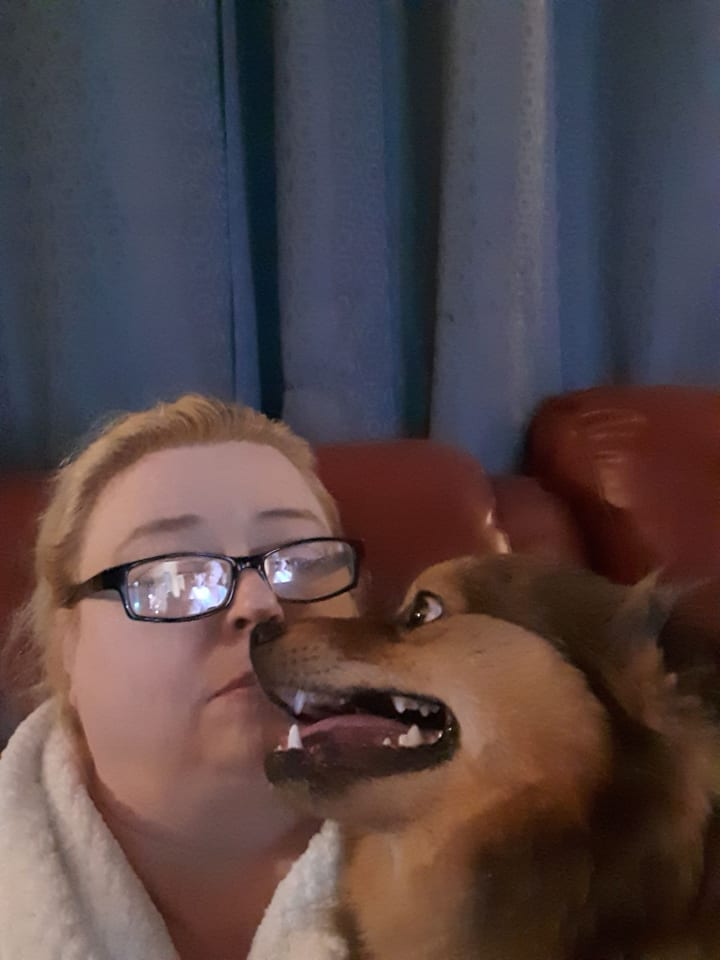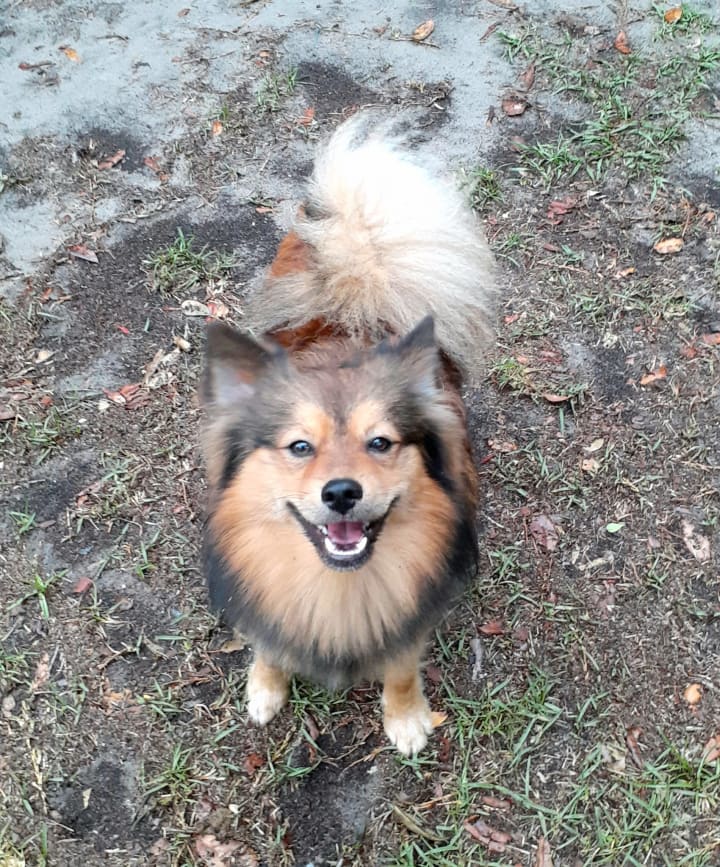 About the Creator
I'm a mild-mannered project accountant by day, a free-spirited writer, artist, singer/songwriter the rest of the time. Let's subscribe to each other! I'm excited to be in a community of writers and I'm looking forward to making friends!
Reader insights
Outstanding
Excellent work. Looking forward to reading more!
Top insights
Compelling and original writing

Creative use of language & vocab

Easy to read and follow

Well-structured & engaging content

Excellent storytelling

Original narrative & well developed characters
Expert insights and opinions

Arguments were carefully researched and presented

Eye opening

Niche topic & fresh perspectives

Heartfelt and relatable

The story invoked strong personal emotions

Masterful proofreading

Zero grammar & spelling mistakes

On-point and relevant

Writing reflected the title & theme
Add your insights