All Hail Apollo the Grand Dog
The Foster Dog Who Melted Our Hearts and Muscled His Way Into Our Family... and My Work Day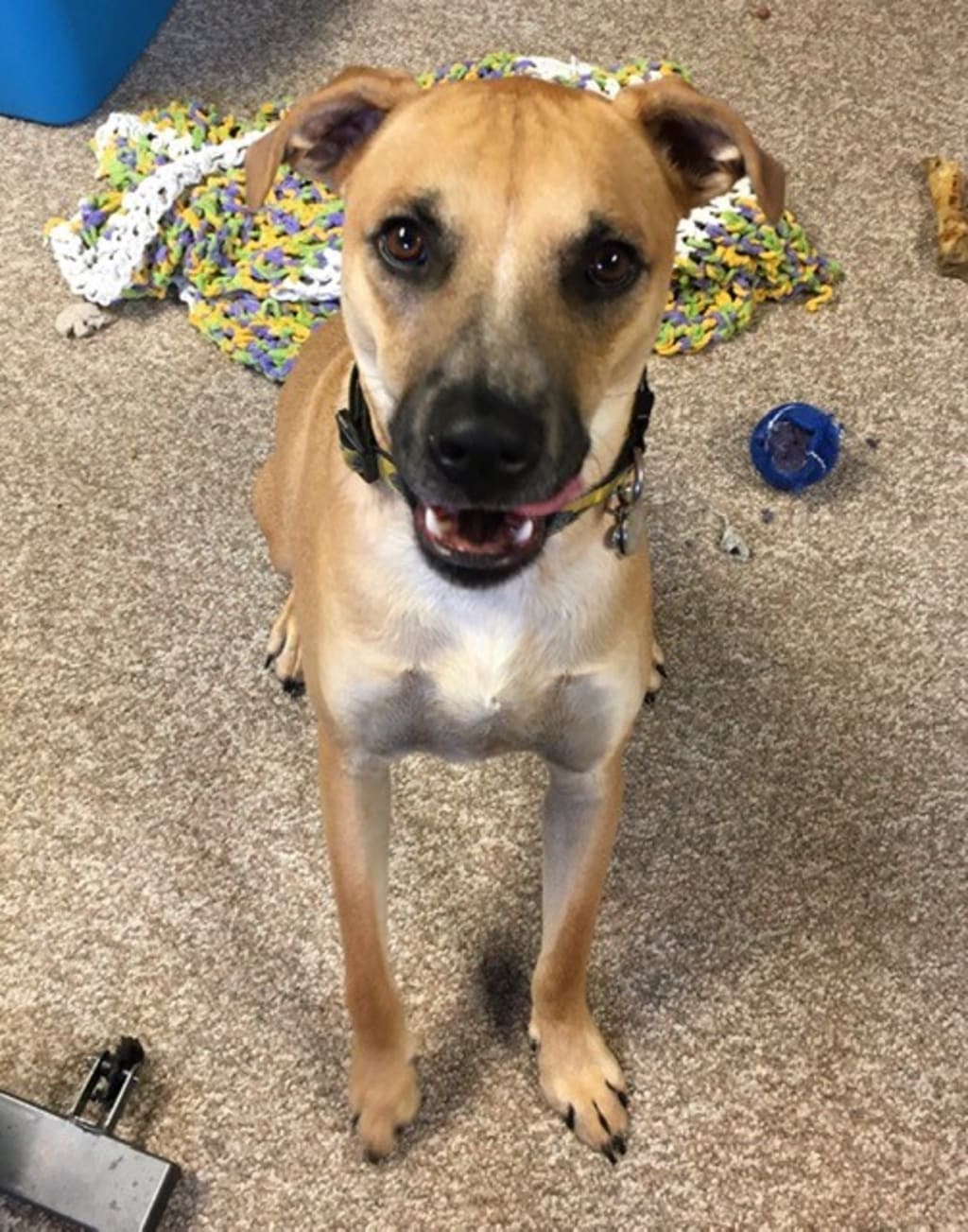 Apollo the Grand Dog
Let me be clear: I did not want another dog, per se.
Well, to be perfectly honest, I was actually receptive to the idea, just not without some reservations. My husband, however, was not on board… and for good reason: we already have a dog, Nikki. She is cute as a button, but geriatric: older, quiet, deaf, often incontinent and well, she is just happy simply to be. Moreover, she is easy – part of the furniture, namely the living room couch. We have our little routine with her and as such, our household enjoys a comfortable rhythm.
Our 18-year old son Kyle had other plans.
He decided to take in a foster dog.
He had done the research, made the calls, taken part in the interviews, submitted to the background checks, and he was ready to "take on the responsibility".
He was warned: "If we allow this to happen and you bring home a dog, it will be YOUR job to take care of it – feeding, walking, training, vet appointments, etc. – the whole nine yards".
"I know," he said as he exhaled, shrugging his shoulders and rolling his eyes. (At this point in our mother-son relationship, it is pretty much his default response to the sound of my voice.)
He bought all the gear – crate, food, toys, dishes, pee pads, blankets, and the works. Meanwhile, a truckload of rescue dogs from Relinquished Souls was making the 3-day journey to Amherst NS from Texas.
On Sunday, July 4, 2021, Kyle met the truck in town to pick up his 15-month old Shepherd mix, Apollo.
I came home from running errands to find them both in the basement, cuddled into one other, Apollo laying in Kyle's lap, Kyle stroking Apollo's back. Kyle was giving this young not-so-little stray some much needed peace, ease and comfort.
We didn't know much about his background - just that he had come from Texas where he'd been taken in off the streets at about the age of 5 months. He was destined for a kill shelter. Other than that, we don't know his story. I'm sure he has one, though. Our job is to make sure it has a happy ending.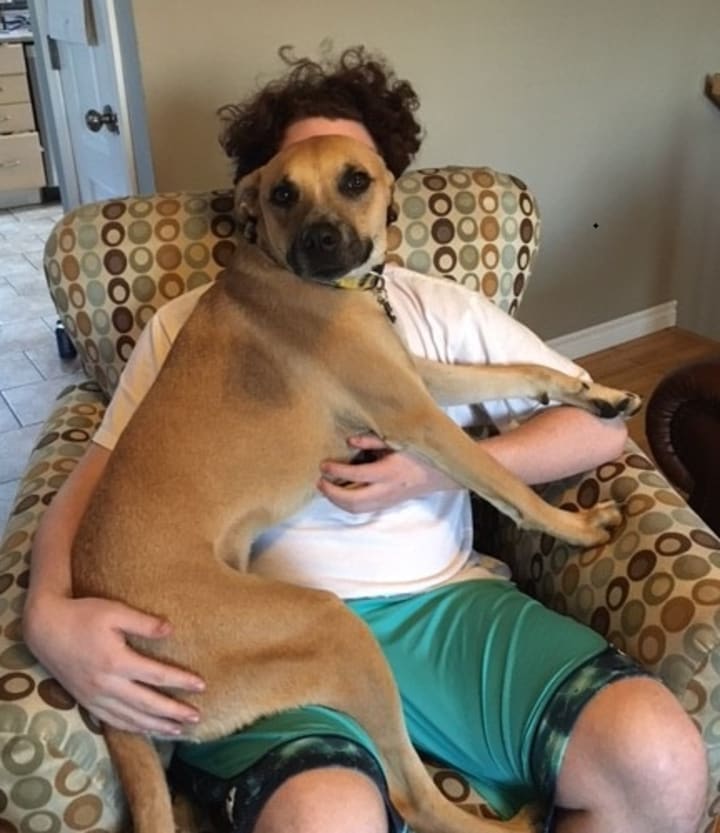 Not surprisingly, I fell in love with his sensitive soul and his great big brown eyes immediately.
Coincidentally, that same week, my oldest son Chris, aged 21, was moving into his own place.
Chris is my chocolate pudding-eyed boy.
In some way, I guess I should have known that Apollo might soon fill a void I had not fully expected. I ought to have known then that he would not be a foster dog for long.
We did our best to keep Nikki and Apollo separated for the first little while, firstly so that Nikki wouldn't get jealous or out of sorts, but also to allow Apollo to make the necessary transition of sharing new space.
Kyle researched the breed and discovered he's more like a black mouthed cur than a shepherd - good with kids over 5, loyal, protective, more fond of women than men, sensitive, energetic, playful, hound-like. He's a pretty good fit in our humble abode.
Since the pandemic hit in March 2020, my workspace has been located in the basement of our home. Kyle works long hours Monday through Thursday and neither of us was comfortable keeping our new houseguest kenneled up for hours upon hours of the day. Therefore, I guess it is safe to say that I became Apollo's first babysitter. Alternatively, did Apollo become my very first personal admin assistant?
In any event, we soon got into a routine of our own.
I would get up not long after Kyle went to work at 6am and I would take both dogs out back. We do not have a fenced in yard but we do have access to a large field behind our home. We made a habit of traipsing across the field - Nikki walking free-range, Apollo being guided on a leash. Then we would come home and I would give each pup breakfast. And by 8am, Nikki would be curled up on the couch in the living room and Apollo and I would assume our posts in the basement – he would occupy himself by playing with a toy, pissing on the floor, chewing a pillow or sock, and I would log onto my lap top to address my work tasks. Every two hours, I would take a quick break to let him out for a pee and grab myself a coffee. Sometimes he would join me on zoom calls – either audibly by barking in the background or by trying to jump up onto my lap. Sometimes he would just lay quietly - and if you have ever had little kids… you question the quiet. You do not trust it. You just know it is not good. Then you smell it. Shit, quite literally, happens.
His presence here "at the office" compels me to step away from my computer and get out of my own head - even if only for a few minutes at a time.
Those first few weeks were exhausting, particularly the first couple of weeks where we all tried (ok, mostly me) to get him "potty-trained". Then, almost like a light switch, it just rather happened organically.
By now, close to 12 weeks have passed since his arrival.
Nikki and Apollo may not be best friends, but they seem to have found a peaceful coexistence.
My husband, who definitely did not want another dog in the house, sometimes finds himself bragging to others about just how smart Apollo is. When he does not know I am watching, I catch him petting him or sneaking him treats.
Kyle adopted him in early August, just shortly after his 19th birthday. He may not be as responsible as he initially promised he would be, but he is taking care of his dog financially and emotionally and trying to show some attention to Nikki so that she does not feel slighted.
I have a physical co-worker each day. He hears me on my calls, pays attention when I talk to myself, and in many ways, has become my confidante. He knows if I am having a good day or a bad day… and he shows affection accordingly.
As it stands right now, Apollo is still my son's dog. Very much so. Kyle buys the food, takes him to the vet, occasionally walks/runs with him, plays with him, and spoils him.
Nevertheless, Apollo is MY sook. That is how it should be with any Nannie, right?
Whether or not I was sure that I wanted another dog is now irrelevant. As much as Apollo needed a new home, perhaps I needed a little friend. I needed someone to care for. I needed to feel needed.
I'm glad he's here. And I think I speak for all of us.
Yes, Nikki too.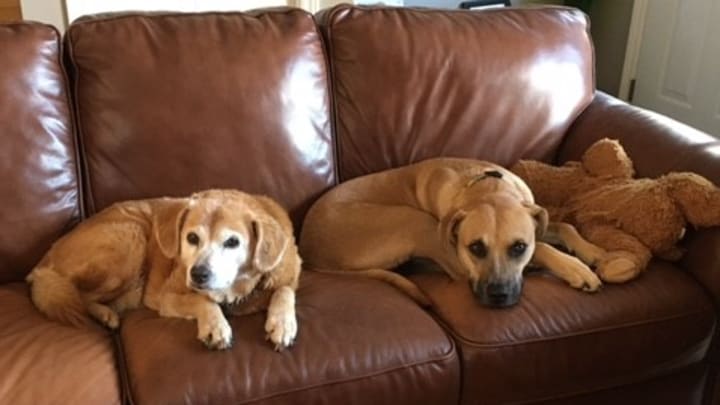 About the Creator
Ms. Carroll is a 40-something year-old veteran public servant and mother of three adult children. She and her partner Hal live in Amherst NS with a sweet, anxiety-ridden rescue dog. Shelley loves running, red wine, and laughter.
She/Her
Reader insights
Be the first to share your insights about this piece.
Add your insights