Nikki the Wonder Dog
A new submission about an old dog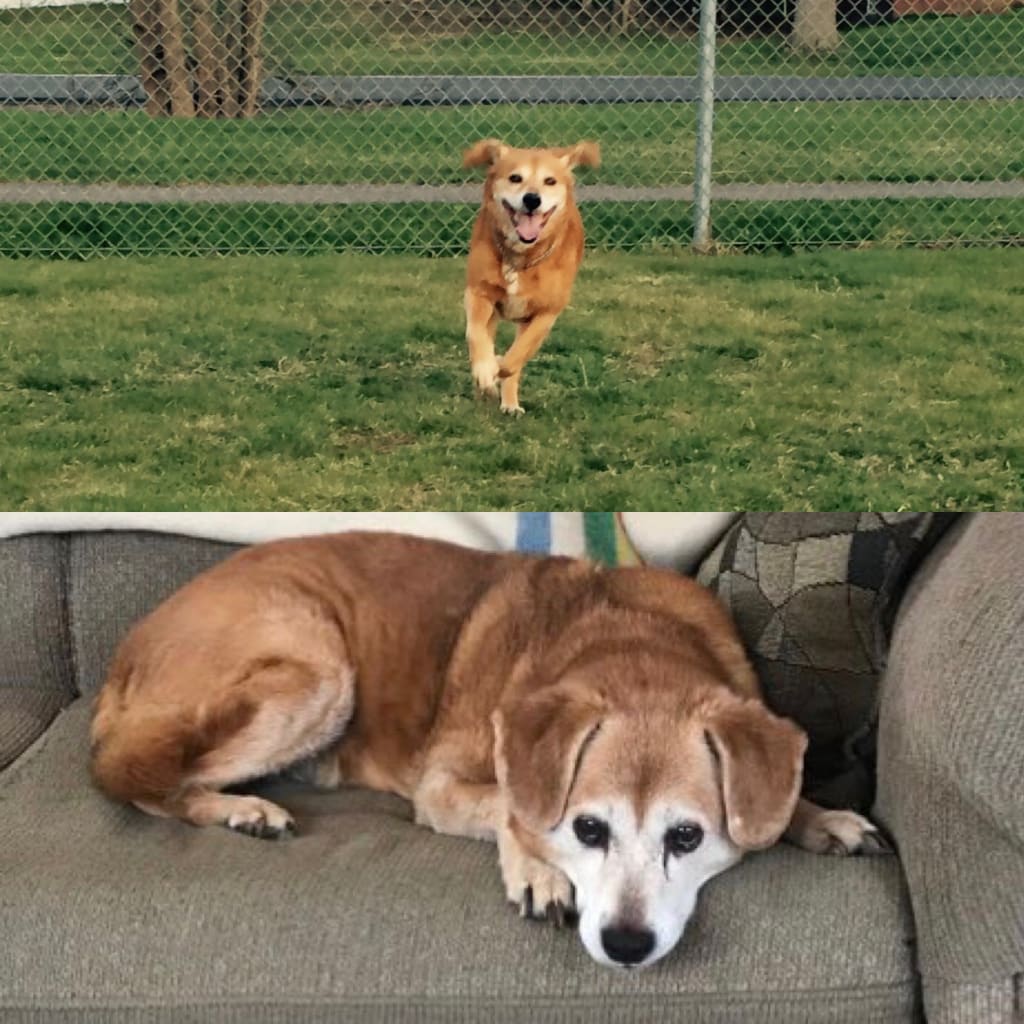 Nikki, then and now
She pooped on the floor again last night.
She can't help it. She's over 15 years old and her body is failing her; it's something that happens to us all as we age, beast or no. I can't get upset with her. She already looks so darn disappointed in herself, like she knows its beyond her control but she still can't help but feel ashamed. I stroke her sweet little furry head and tell her "it's ok, girl… better out than in, eh?".
She spends most of her days and nights laying down and taking it easy. She used to sleep right at my feet on top of the bed clothes. But as she aged, she began to sleep on the floor next to the bed… and then in the living room on the leather couch so she wouldn't have to climb the stairs or jump so high. Now she divides her time between the couch and her living room and basement cushions – wherever she seems to think she'll have some company.
Watching her grow more and more fragile, I have a front row seat to what's to come for me. Although I hope I don't sh*t myself, I know I can expect to slow down. It's happening now, for cryin' out loud. I have to stretch out my back after sitting too long;  it takes my arms and legs awhile to loosen up when I get out of bed each morning; and sometimes when I try to keep from farting when I sneeze, I pop a rib out of place. And I'm in decent shape for a 48 year old.
Nikki the Wonder Dog is in her golden years. She made it to the third period but she's sitting on the bench. She's not in any pain, as far as we can tell. She's content and she's low-maintenance. But like the old gray mare, she ain't what she used to be.
We brought her home in November 2006, then a 14-month old lab-beagle mix in need of re-homing. The kids were only too happy to take in their new ginger-haired pup to keep our crotchety and mischievous black lab-beagle mix company. Her presence soothed Jasper's temperament and she soon became known as "the bad one". Of course, she wasn't bad at all – she just needed a little bit of time to settle in and feel like a member of the family.
An anxious girl from the get-go, she never barked. She'd yelp instead, but sparingly. Those first few days, she'd pee on the floor at the top of the stair case. Eventually, she'd eat her own poop in the back yard and then lick Jasper's ears clean each evening. I'd shake my head at her and wonder "what the hell is wrong with you?" but those hound dog eyes and that sweet little face just tugged at my heart strings.
They still do.
She loved the kids and the kids loved her right back. Sure, they didn't exactly live up to their end of the bargain and feed her and walk her like they said they would, but they enjoyed playing with her and petting her, dressing her up in Halloween costumes, and taking her for drives in the car. She rather enjoyed it too.
She became my dog… the kids got older and developed other interests, my ex-husband and I parted ways and he took Jasper with him. So Nikki became my confidante and house mate. After any outing away from the house, she was and still is always happy to see me come home. There were times she'd be my running partner as it was actually easier to run with her than try to walk her - her hound dog ways can easily distract her and cause her to haul on her leash. But if running, she holds her head up proudly and gladly embraces the fresh air in her face.
When Hal came into the picture, she took to him right away. I was almost a little bit jealous. She curls up with him at night and runs to the door when she hears (feels) his car pull into the driveway. He spoils her with bologna and expensive dog treats. He takes her to get her nails clipped, "like a lady going for a mani-pedi".
I've seen a lot of pet obituaries on social media lately. And it breaks my heart - because I know the day will soon come where we'll have to make the decision as a family. But for now, so long as she is not suffering, we're being selfish with her.
She's missing 27 teeth. She can't hear anymore. Her bladder and bowels often betray her. Her digestive system is finicky, so we make her food for her. Each of her meals is accompanied by a Gabapentin capsule to help manage her arthritis. But each time we grab the leash or put on our sneakers or open the door to the backyard, she comes alive - tail wagging, mild whimpering, heavy panting. She loves the outdoors. Sometimes she still runs, albeit not very far before her hind legs start shaking.
So no, I don't like cleaning up poop - not in the yard and certainly not in the basement. To be honest, I didn't like changing diapers either. True, she's not my child - she's an old dog. But she's family - she's OUR old dog. We're blessed to have her. And we hope we can keep it this way as long as possible.
******
Addendum, 2021-12-26
The Wonder Dog, Nikki -
In her 17th year, with her fur mom and adoptive fur dad by her side, slipped peacefully into heavenly sleep in the late afternoon of Christmas Eve.
Heartbroken and left to mourn her passing are her fur family members Marmalade and Apollo as well as her human siblings Anne-Ashley, Christopher, and Kyle, grandparents Herb and Joyce, and countless friends and fans of The Wonder Dog.
She joins her fur cousins and siblings Sandy, Sassy, Rokee, and Jasper in what we envision as a wide open field beyond the Rainbow Bridge where she might roam and run without pain or suffering.
Her passing came suddenly and rather unexpectedly, but most beautifully and peacefully. Following a crippling spasm at home that left her legs in a state of paralysis, she was taken to the Amherst Vet Clinic where dedicated and compassionate staff, Dr Apt and Jess, assisted her in transitioning into a pain-free and well-deserved rest.
She allowed us to hold her and sing to her and left this life assured of the gifts she has given us.
Her time with us these past few years has been borrowed and we are grateful for the time we have shared. Although devastated and grieving, we are proud of the life she lived with us, the miles travelled, and the memories she leaves behind.
She wasn't "just a pet"; she was a member of the family.
She is and will be terribly missed.
We will forever remember her fondly as a spirited little hound who was gracious to and patient with children and who, in good health, loved to run.
"I have fought the good fight, I have finished the race, I have kept the faith."
2 Timothy 4:7
SC, xo
About the Creator
Ms. Carroll is a 40-something year-old veteran public servant and mother of three adult children. She and her partner Hal live in Amherst NS with a sweet, anxiety-ridden rescue dog. Shelley loves running, red wine, and laughter.
She/Her
Reader insights
Be the first to share your insights about this piece.
Add your insights