A Pet Isn't Just Fun, It's Also a Tool for Family Unity
Pets Bringing the Family Together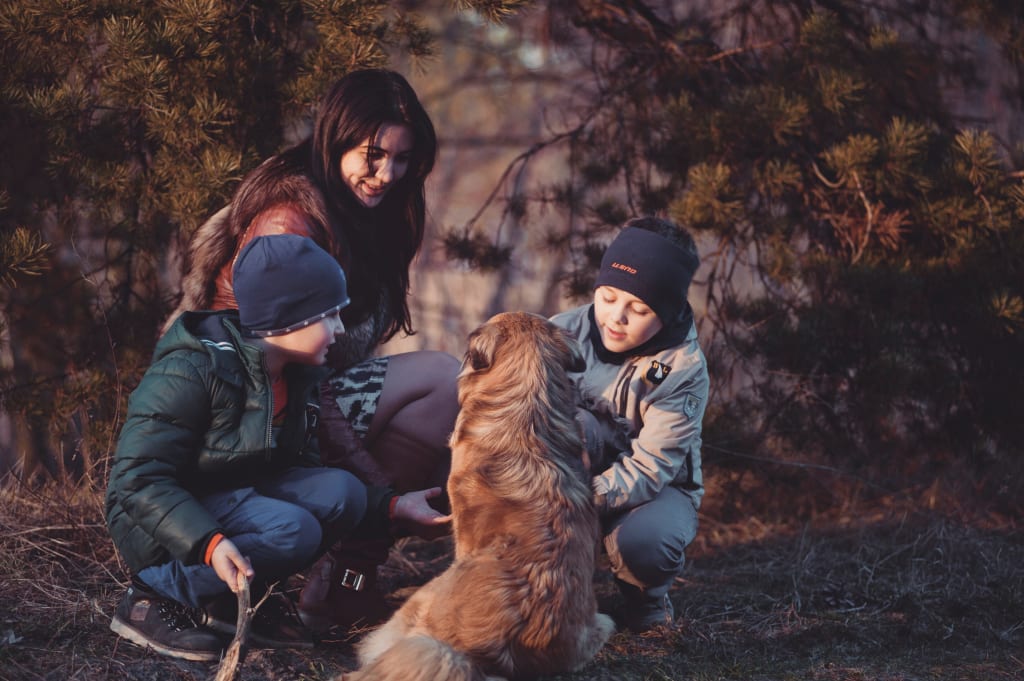 Most families reach a point where one of the kids wants a pet. This situation can be difficult for parents in a number of ways. Parents are often concerned about how responsible their child might be. And it's obviously good to worry about a pet's wellbeing.
A family becomes a dog's pack
A child's first pet is usually seen as a lesson in responsibility. But this might be looking at it the wrong way. It's true that a bond tends to focus on a primary caregiver. But dogs are pack animals. They look to everyone in the household as their family. And it's a good idea for parents to take that as a hint too. Parents should give some thought to what family actually means. A parent's love isn't one-sided. The love parents have for their children is given right back. Likewise, both the love and responsibility for a pet can be shared as well. Basically, it's best for parents to look at pet ownership as a family project.
The pet ownership is a family project the child can be in charge of. And it'll be his responsibility to make sure the pet is happy. But parents and siblings can help too. This isn't taking responsibility away from a child. Instead, it's acting as a teaching aid to show children how important family is. Basically, a child can see that family takes care of each other. But over time, something amazing starts to happen as well. When a family takes care of a pet together, they tend to become closer. A pet can essentially act as a magnet for the family. Who isn't drawn in by a cute dog?
A boy and his puppy
This can be illustrated by considering a child who's noticed Yorkshire terrier puppies for sale. His parents express all the concerns we've gone through already, but they decide on the course of action we laid out. They'll let their child get one of the puppies, but he'll be in charge of it. The rest of the family will help on occasion, but it's up to him to ensure the puppy is well taken care of.
They head off to get some supplies for the dog as well, and this serves as a great opportunity for the boy's parents to teach him about what a growing puppy needs. This also serves as a great opportunity to teach him some lessons about human health and fitness. After all, a growing child and a growing puppy have quite a bit in common.
A child and a puppy both need a lot of exercise and time outdoors. A dog is always well aware of how much fun he'll have outside. But a child sometimes needs a little prompting. A parent's lecture about the importance of exercise will often fall on deaf ears. But when the parents talk about how the puppy wants to play outside, the child will often draw a connection as well. He'll really start to think about how much he likes going outside to play.
Pets never forget how fun it is to play outside
Of course the parents need some exercise as well. And walking can be a great way for the whole family to come together. They don't have to make every walk a family outing. But many families enjoy marking a few days out of the week for the whole family to go on a big walk together. Togetherness doesn't end with walking either.
A dog needs to spend time outside for his own psychological health. But humans often find that they need to go on vacations. And what better way to have a vacation than to involve the entire family? That includes the family dog as well. Many forms of travel, including trains, make allowances for dogs. Even planning for a vacation with a family pet can bring the whole family closer. It helps everyone come together and decide on things that everyone wants to do. And it also helps keep people from isolating themselves away with a phone or laptop.
Never forget to include the family pet
And while these are great examples, it's important to remember that they're just the beginning. Parents should always be on the lookout for new ways to involve the pet in family fun. In doing so they'll always end up strengthening the family as a whole.
humanity
Indy Summers is a freelance writer interested in fashion, healthy living, and fitness. She has worked as an esthetician, as a personal trainer, and as a freelance model for several years.