"You will defeat it," she said
My Mom Taught Me to Dream Again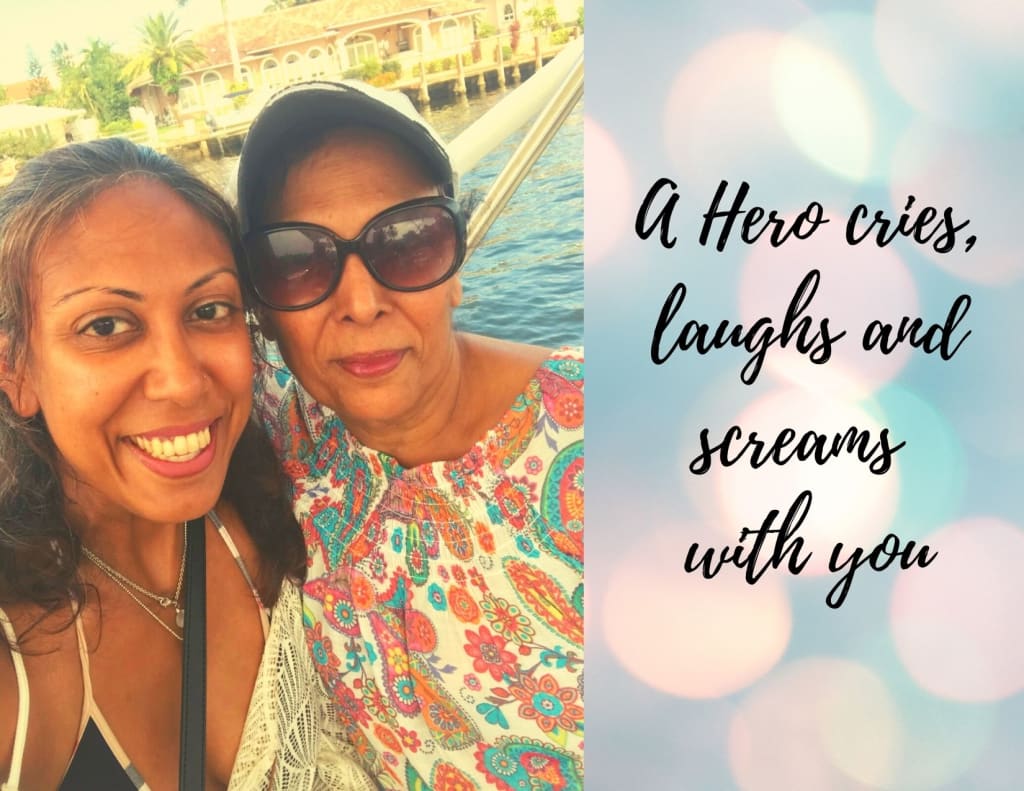 It was the day after Thanksgiving, and I felt the anxiety rising as I sat in the car with my two sisters on the way to the doctor's office. As I stared out at the cloudy dim skies, I knew in my heart today was going to be the day that everything about me was going to change. I felt the deep pain buried in my heart. When people say, you can feel your heart hurt, it's absolutely true. It was a pain like no other.
As we chitchatted, my mind wandered, and it was a heart wrenching wander. I wasn't ready for this, but yet it was ready for me.
After parking and heading up to the office, my stomach was turning, and I felt hot. As I walked, I distinctly designed the pattern in my head, very carefully and thoughtfully. One step, two step, three. This pattern would soon become my way of life.
I remember the words so clearly, "You have Parkinson's Disease." I felt everything around me spinning and yet I was stuck in the middle not able to move. While the doctor went on to say how I could still live a happy and healthy life and that they were looking for a cure and would find one, I couldn't hear any of what she was saying. I was polarized with fear, anger, hate and grief. The tears couldn't fall, it was stuck in a happier moment I needed to focus on. The moment my mom, with tears of joy, led me through the crowd at my wedding. While I thought my wedding day, would be my biggest lifechanging event, I was wrong. This was the day my entire life changed, and I could not fathom life again.
I feel into a deep state of sadness gripping for every ounce of my life. I was completely lost and abandoned within myself. That's when my hero came to my rescue.
My mom became the voice of reason and leap of faith. I called to hear her voice, trying desperately not to let mine crack with grief and pain. I didn't want her to hear it. But she already knew. Heros always know.
Every day since my diagnosis I can hear my mom's voice uplifting me to keep going, to be strong, to be brave. She cried with me, she screamed with me, she got frustrated with me. She hated the world with me yet reminded me how precious it was. She looked into my eyes, and somehow, I just knew I could fight this.
A hero is someone who can truly feel everything you feel in that moment and bare it with an open soul. A hero is filled with sadness and fear and grief, just like you, but sets it aside to empower you. My mom has been and will always be my hometown hero.
Every step of this horrible debilitating disease has taken parts of me and rings my very core into knots. Every step of that agony and torment of thinking of a lifeless future, she is there with a guiding light of hope. Every step of wanting to give up and forget about life, she reminds me of the beautiful miracles and wonders of the world. Every step closer clutching to the remembrance of what I was, she affirms who I am.
Maybe it's just a word, a smile, a phone call or even a homecooked meal. Each time my faith is tested, she is there to strengthen it. Each time I am hopeless and helpless with no sight of recovery, she is there to ignite that flame.
My mom brought me into this world, and she is the only one who has the power to empower me. I find myself lost and distant without her words carrying me through the day. I become fearful of losing my sanity, if she's not there to bring me back to reality.
The hero she is and always will has been the reason I've fought this disease with courage and resilience. It has not been easy, and it will never be a walk in the park. But, with a hero by my side, everything is possible.
There is no number of uncertainties or unexcepted events that can deter us from creating a belief and accepting it. We have the power to not only create these beliefs, but to empower them. Greatness is within us all, but we need to uncover it and let it uncover us. Sometimes, we need a hero to help us find it.
My mom has taught me that I could change and evolve into the dreamer I always was. Without change we may discover just a rock without a shape or form, but with evolution we find gems and jewels and great treasures.
My mom gave me the ability to find myself again, to become a gem. Creating changes and rewriting my story is now my journey as a woman, a wife, a mom, a daughter and a Parkinson's warrior.
I'm no longer the person who left that doctors office feeling that my destiny was no longer attainable, but yet I know now I am limitless. My hero, my mom helped me to create this belief.
She made me realize I had to acknowledge and identify with each of the emotions I was feeling, in order to release then in a healthy way. Because of her, I have uncovered a world of compassion, understanding and believing.
A disease can't stop me. Healing starts within by recognizing your self-worth and value. Once I began accepting myself, the good and the bad, I was able to accept gratitude and forgiveness and embrace the beauty, joy and sadness. My mom showed me everything the universe was giving me was a clear sign that I was on my path to healing.
With a hero by my side, this disease will never defeat me! Create your destiny today, love what you accomplished yesterday, and prepare for success tomorrow.
Dear Mom,
My heart is always content knowing you are on my side. You complete my soul and empty my sadness. Without your touch of love, I wouldn't be able to survive this disease. I hate this disease, I do. But, because of you, I fight every single day. You've taught me that anything is possible. You love me unconditionally and help me to see past what's happening now. You encourage me to be a dreamer, a changemaker and the person I always wanted to be.
The fear of losing myself to this disease truly scares me to my core. The fear of losing you, scares me even more. But you've given me courage and faith to know I can conquer the world despite this challenge ahead of me. This challenge, I will defeat and will win.
Mom, I can't express enough what you have done for me and how you have changed my thinking and way of life. The hope I carry and the torch that was ignited and carried high, is because of your empowering voice and soft touch of a possible miracle.
Parkinson's is no match for you. You are the core of my humanity, the fire inside me and the reason I continue to wake up and look towards positivity.
Thank you, mom, for being mom! Thank you, mom, for being you. Thank you, mom, for your love and support.
I will always fight, and I will always conquer. This I know because of you. I will defeat this disease, mom. This I promise you!
Love always and forever,
Jennifer
About the Creator
The impossible is always possible! I'm a parkinson's warrior and advocate and I will never give up fighting. Published Author, Global Summit Producer/Speaker, Health/Beauty Entrepreneur, Podcast Host, Simply Real
Reader insights
Be the first to share your insights about this piece.
Add your insights