What can you do with 40,000 origami cranes?
Spread peace and friendship worldwide!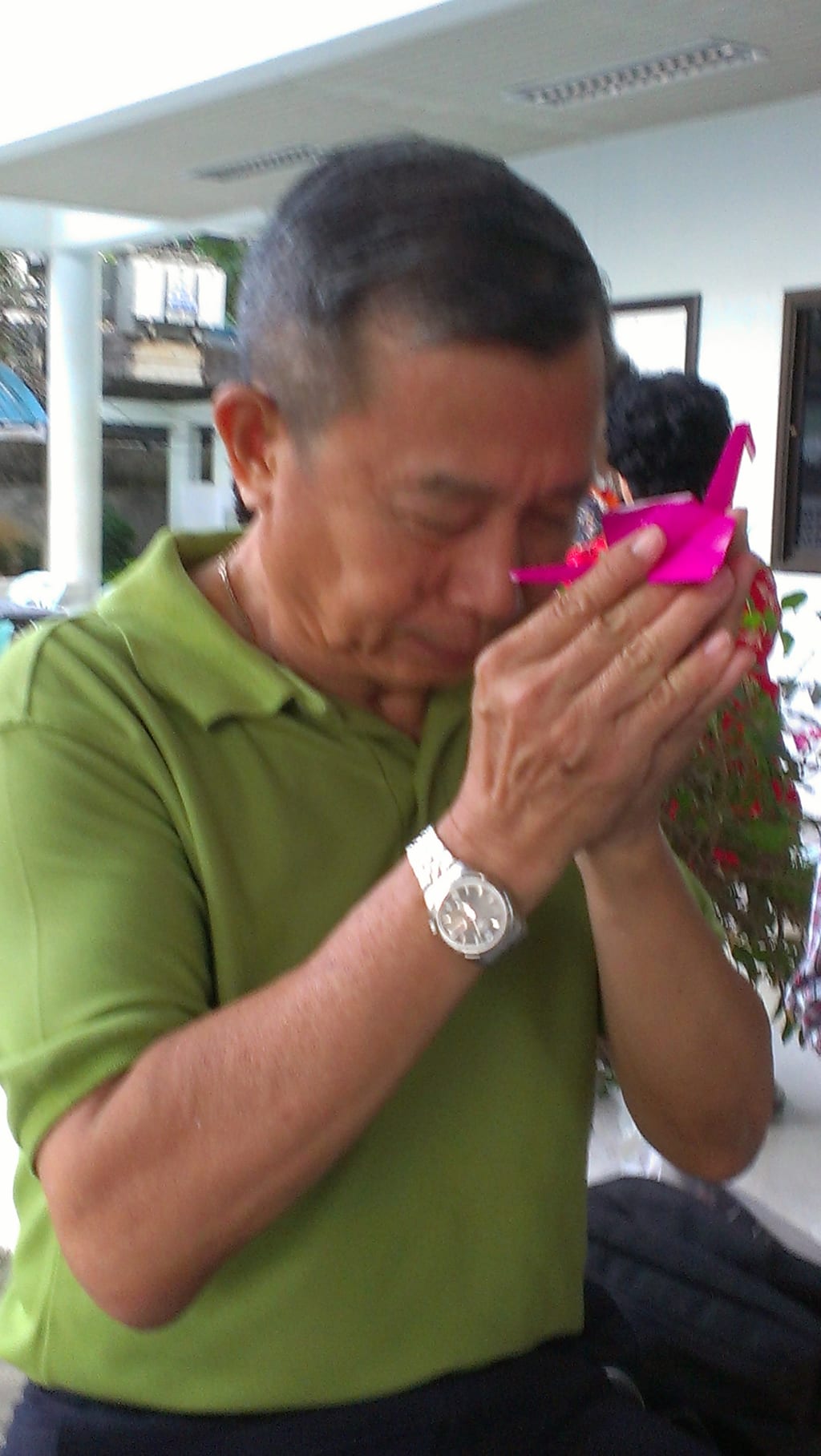 Cape Charles, Virginia
Folklore says if you fold 1000 origami cranes, you get a wish. I have a big wish. I wish for world peace. So, I find paper. I cut it into a square. I write a secret wish on the paper. I fold it into an origami crane. I give it away. This is my simple yet powerful project, 1000 Cranes 4 Peace.
There were many influences since childhood that inspired this project. The love of the feel of paper in my hands. The folding of origami fortune tellers. The story of Sadako, a Japanese young girl who got radiation poisoning after the bombing of Hiroshima who attempted to fold 1000 cranes to cure her illness and inspired children all over the world to fold cranes. As a teenager, I was obsessed with a book documenting a worldwide photo exhibition in 1955 called the "Family of Man" by Edward Steichen. This exhibition was promoting global solidarity with photos of everyday people doing the everyday things of life following World War II.
During a year long sabbatical, I immersed myself in learning origami. Yet, I became fully committed to the cranes during a visit to the World Trade Center site after the bombing in 2001. There were several strands of 1000 cranes hanging on the fence surrounding the site and I was moved by the profound love they represented. Then I found a loose origami crane on the ground right in front of me. Later in the day, I met an emotionally wounded survivor of 9/11 and woke up the next day with the cosmic instruction that I was to fold him 1000 cranes. I did and the project was born.
I have folded 1000 cranes for President George W. Bush, the cast of Hamilton in Puerto Rico, for fundraisers for people with HIV/AIDS, Habitat for Humanity, a local shelter for people who are homeless, a domestic violence program and the Red Cross Tsunami Relief, as well as for baby showers, birthdays, weddings and funerals. I folded cranes for the Chicago Peace Museum and for various events. I hide them all over my family and friend's homes when I visit. I put them in cards and letters. I include them especially during times of sympathy since they seem to encourage healing. If I am there, cranes are there.
I have taught over 1000 people all over the world to fold cranes. I have taught individuals and groups. The youngest was 3 years old and the oldest 98. Many of the people I have taught and I do not speak the same language yet the cranes bridge the gap.
In 2012, I travelled to 14 countries, 35,000 miles circumnavigating the globe in 7 weeks. I gave away 1000 cranes and a card describing my project to strangers. They signed my book and I took a photo of them. Since then, I have given over 3500 cranes and have taken photos of each person with my phone. This has provided me with the greatest joy in my life. When anyone looks at these photos, they are brought to tears by the faces and their gratitude for the manipulated piece of paper. One cannot help to see your face in theirs. Someday, I hope there can be a photo exhibit of these faces like the "Family of Man." Ironically, I went to Luxemburg and looked for things to do and the original exhibition of the "Family of Man" was housed in a castle an hour away. I was blown away by the privilege I had to see it live. Another crane full circle moment.
As a psychotherapist and social worker, I fold while I am meeting with my clients. I transform their challenges and successes into cranes and then I pass the cranes on. This represents the magic of the crane...a small item with much meaning. These cranes are ready to be strung for fundraisers for community and social issues or given out during my travels. I have a backlog of 18,000 waiting for homes.
I have a goal to go to 100 countries and I have been to 92. Covid has disrupted my plan to finish before I turned 65 years old yet I am hopeful that I can complete it in the next few years. I have currently given out cranes in 50 countries and on 5 continents. Covid has also disrupted my goal to go Gander Newfoundland in Canada where a town of 7000 cared for 7000 airline passengers from all over the world who were diverted there on 9/11 when the USA's airspace was closed for a week. This year is the 20th anniversary and many of the "come from aways" come back to visit their lifelong friends that were made during that terrible time. This is the perfect full circle moment for the project that was born on 9/11 and has promoted the best that came out of that tragedy. Another global emergency has caused that to be put on hold yet I look forward to going to Gander for the next time the gathering can be held safely.
I never imagined that this simple craft would bring me and so many so much joy and connection. I look for peace in my own life between the folds. I fold when I am happy. I fold when I am upset. I fold with my eyes closed so if I lose my eyesight when I get older, I can still fold. It is a prayer, a wish, a delight and a privilege to share this with you and with the world.
Thank you for your consideration.
About the Creator
For work, I assist people improving their lives. My life goal is to go to 100 countries. 92 completed! My project 1000 Cranes 4 Peace gives away origami cranes for peace. So far, over 15,000 cranes in over 50 countries have been given.
Reader insights
Be the first to share your insights about this piece.
Add your insights