Wake Up, It's 2020!
A Year of Selflessness, A Year of Change
Somehow, we've already made it halfway through 2020. In six months, it'll be January 2021. Crazy, right? This year has been a pretty wild ride so far, I think we can all agree on that. If you're anything like me, you had a lot of plans for 2020. You went into this new year and this new decade with big hopes and dreams to make amazing things happen for yourself. But, as you know, that was very short lived. A few months in, we were hit with the unexpected.
Here's what I think. 2020 is the beginning of a new, significant period that will forever change the course of human history. It's a time where we stop thinking about ourselves and instead start thinking more about others. With the pandemic, we were told to do things like stay home and flatten the curve so we're not out and about spreading the virus around, especially to someone who is older and/or has underlying conditions. I feel like a lot of people are forgetting to see it that way, and instead only as see it as an inconvenience to them. But these little inconveniences are saving lives.
By taking the necessary precautions such as social distancing, wearing masks, and limiting large gatherings, we're protecting ourselves, and others as well. How many of you forgot about that? It's easy to only think of yourself and say, "If I stay home that means I won't get sick." Yes, that's true. But did you remember that you're also being a life saving hero by choosing not to go out? By taking that small, selfless action, you're not getting anybody else sick.
The same goes for wearing masks. Despite all the negativity and controversy the media loves to showcase, most of the people I've seen are very open and accepting of adding one extra piece to their outfit before entering a public space. As am I. I need to wear a mask in public now? Cool. I've got some really cute ones at home that may even match what I'm wearing! I'm good to go, and I'm keeping myself and others safe! Wearing a mask is selfless.
2o2o has also brought about a rise in activism, and the continuing fight for social justice. It warms my heart and gives me so much hope for the future. It's amazing to see all the work that's being done by ordinary people fighting for a much needed change. Even in the midst of a pandemic, which has had a devastating impact on the Black community, people are still showing up, coming together, protesting, donating, reading, watching, listening, learning, educating, and so more! While there is still a lot of work that needs to be done, there's a lot that's already been accomplished. Real progress is being made.
So why is all this happening to the degree that it is? We've all just had enough. It's not like we're distracted by work or other daily life distractions to just push it aside and forget. We have no choice but to look systemic racism and other social issues right in the face and say, "You are no longer welcome here. We are going to fight you, and bring you down once and for all!" People are really starting to look at the horrible injustices people of color face every single day. We're learning about what privileges we may have if we're white. We're collectively making an effort to keep the movement going strong and not die out completely. We're actively getting involved in our community and giving a voice to those who need to be heard. We're demanding justice. Personally, I'm taking this opportunity to re-educate myself on what I thought I already knew. I used to consider myself an expert on social problems, white privilege, and systemic racism. However, I quickly discovered that there was still so much more for me to learn.
Eyes are being opened. Minds and hearts are being changed. We want to help, and to be allies to the cause. If that's not selfless, I don't know what is.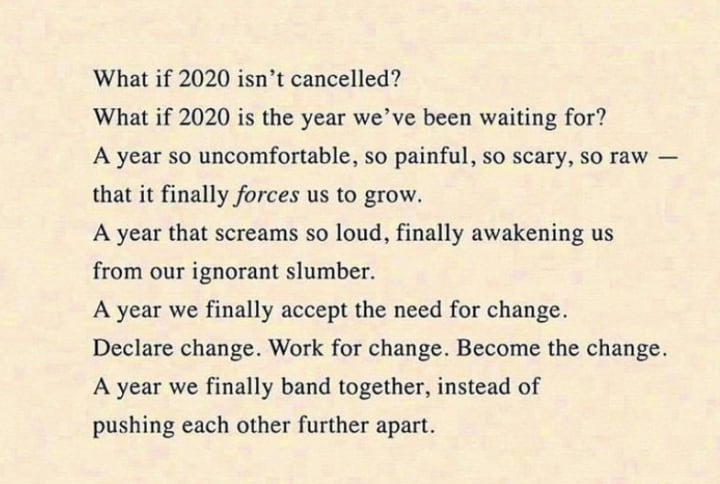 Much like that popular Leslie Dwight poem on Instagram goes, "What if 2020 isn't canceled? What if 2020 is the year we've been waiting for?" I wholeheartedly agree with everything this poem saying. This year, we have no choice but to grow. This is our wake up call to be better, and do better. Not just for ourselves, but also for those around us, whether we know them or not.
So wake up! It's 2020! Life as we know it is never going to be the same after this year. Maybe that's not such a bad thing. 2020 is the year we become more conscious of our health. 2020 is the year we fight for justice. 2020 is the year we learn to come together as one. 2020 is the year we cherish what we have. 2020 is the year we find joy in the little things.
2020 is a year of being selfless. 2020 is a year of change.
**Like what you see? Give my story some love! Share it with your friends! Make sure to follow me on Instagram @monstrous_chittering for more!**