vocal.media Make money
vocal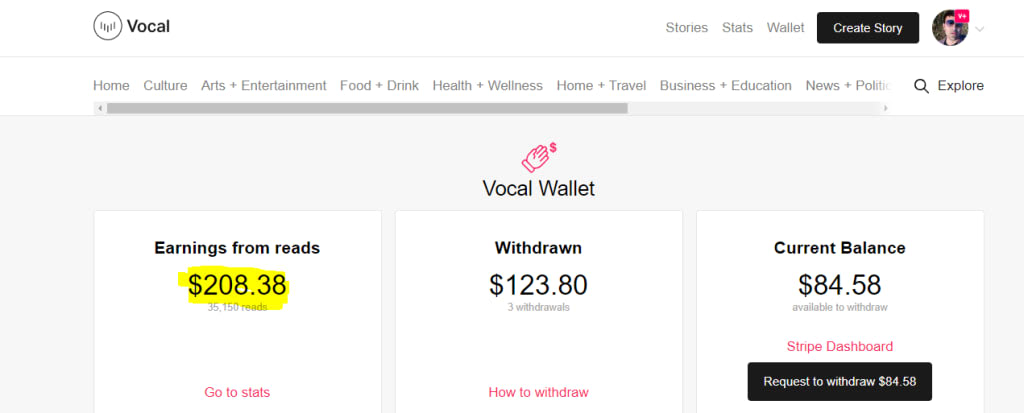 what is vocal media
Vocal.media is a digital publishing platform that offers a space for creators to publish and share their written content. It was founded in 2016 and has since grown to become a platform with over 700,000 registered creators. Vocal is open to creators from all backgrounds and genres, including fiction, non-fiction, poetry, and opinion pieces.
One of the key features of Vocal is that it offers creators the opportunity to earn money from their content. Creators can publish their work on Vocal for free and earn money through the platform's Partner Program, which pays creators based on the engagement their content receives. This includes views, likes, and comments.
Vocal also offers a range of challenges and contests that creators can enter for a chance to win cash prizes. These challenges cover a range of topics and themes, from short stories to photography and even music.
In addition to earning money, Vocal offers creators a range of tools and resources to help them improve their writing and grow their audience. This includes a built-in analytics dashboard that allows creators to track the performance of their content and understand their audience better.
Overall, Vocal offers an excellent platform for writers to showcase their work and potentially earn money from it. However, it's important to note that success on the platform depends on a range of factors, including the quality of your writing, your engagement with the community, and your ability to promote your work. As with any writing platform, success on Vocal takes time, effort, and dedication.
Vocal media
Vocal is a platform that aims to support, discover, and reward creators of all types. It provides a space for individuals to share their experiences in various areas, and it is home to a diverse range of communities that showcase written content produced by people in different industries. When visiting the Vocal website, users can easily explore the various communities and discover the wealth of content available on the platform.
Vocal.media is a unique platform that provides users with a space to explore their interests with prominent figures in their respective communities. It is an online destination that allows creatives of all types to share their experiences, thoughts, and stories with others through the medium of writing. The platform is open to everyone, regardless of their niche or expertise, and offers a supportive community that fosters growth and creativity.
Upon visiting the Vocal website, users will immediately see a collection of communities, each dedicated to a specific topic or industry. These communities act as a hub for users to discover and explore written content produced by other users in the same field. From fashion and beauty to politics and current events, Vocal offers a diverse range of topics to explore.
However, what sets Vocal apart from other blogging platforms is its user-friendly interface that allows users to create and publish their own content. Upon creating an account, users are provided with their own personal page that allows them to post their own written content on any topic they desire. This gives users the opportunity to showcase their writing skills and build their own following within the Vocal community.
At its core, Vocal is a platform that values engaging content across a wide range of topics. The website aims to provide users with a space where they can be vocal about their interests, thoughts, and experiences. Whether someone is looking for new beauty tips, personal development advice, or even terrifying horror stories, Vocal has a place for it.
What makes Vocal even more unique is its commitment to rewarding its users for their content. Vocal offers a variety of monetization options, including direct payments for articles, tips from readers, and even sponsorships. This means that users can earn money while pursuing their passion for writing and creating content.
In addition to the monetary benefits, Vocal offers users the opportunity to grow their online presence and build a community around their content. Users can engage with other creators and readers through comments, direct messages, and even collaborative projects. This creates a supportive community that fosters growth and collaboration.
Moreover, Vocal provides users with a set of tools to help them improve their writing skills and increase their chances of success on the platform. The website offers a detailed analytics dashboard that tracks views, reads, and engagement rates for each article. This helps users identify which topics and formats are resonating with their audience and adjust their content strategy accordingly.
Furthermore, Vocal provides users with a comprehensive set of guidelines and best practices to ensure that their content meets the platform's standards. The guidelines cover a variety of topics, including editorial quality, copyright infringement, and prohibited content. This ensures that the Vocal community remains a safe and supportive space for everyone.
In conclusion, Vocal.media is a blogging platform that offers users a unique opportunity to explore their interests, share their experiences, and earn money through their content. The website provides users with a supportive community, a user-friendly interface, and a variety of monetization options. Additionally, Vocal offers users tools to improve their writing skills and grow their online presence. If you are a creative looking to showcase your skills and build your online presence, Vocal.media is definitely worth checking out.
About the Creator
Cricket Related News And Posts.
Cricket updates of upcoming International, domestic and T20 matches.
Catch all the latest news about cricket on Cricket Only.
Cricket Only
Reader insights
Be the first to share your insights about this piece.
Add your insights