Two sticks and a toy drum
The little drummer boy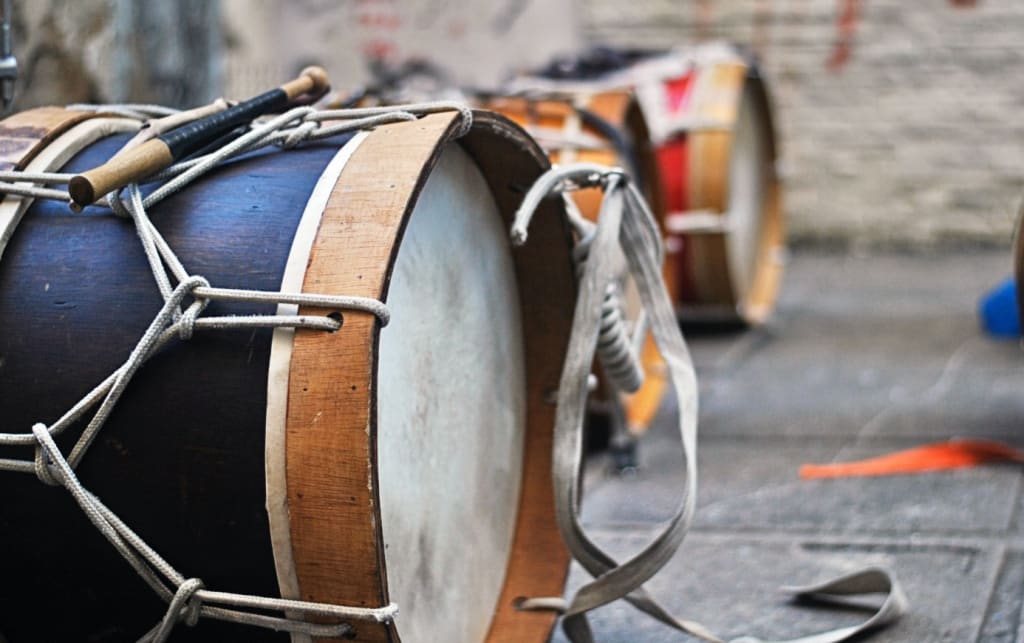 It was 2008, and I had just two years prior abandoned what I thought was my dream profession as a pilot. I'd been back in the United States with our baby for about 6 months and was in the midst of a job crisis. I knew two things: how to fly planes and how to teach. I'd realized that until I put myself in a situation where I could give a specific type of life for our child, I'd be a fairly unhappy person to be around.
For the majority of my life, I had kept a dark secret about how infatuated I was with the world of business.When I was travelling, I used to be envious of the business passengers who walked through the boarding doors with their overhead baggage, computer bags, and a confident demeanor. Most of them were always courteous, and I ended up conversing with several of them while they waited in hotels or at the gates. It was always an odd chat because we both secretly wished we were performing each other's job. I'd tell them about the near-death experiences I'd had, and they'd tell me about the latest conference they were attending. Their tales piqued my interest far more than the day my engine stopped at 6,000 feet.
What is the issue? I could fly planes and teach at the same time.I had no business experience or education...none at all. The reason for this stemmed from a long battle with a dread of having to do math, a fear of failing in front of others, and a lack of self-confidence.
(Trust me, I know the irony in what I just said. The fact that I had no problem being a pilot which is literally all math, where screwing up is going to be about as public an issue that you can have, and not having confidence gets you killed. It makes no sense…the way the human psyche plays out is strange).
So I spent a significant chunk of my life watching people perform what I wanted to do but had told myself I had the necessary skill set to be good at.
I'd been peering in from the outside and had never attempted to open the door to see what was on the other side.
Then came the arrival of "Little Drummer Boy."
It is by far my favorite Christmas song, and it presents a fascinating story regardless of where you are on your spiritual path.
This young man is on the verge of seeing one of history's most significant occurrences, and all he has to do now is wait. Fear, intrigue, confusion, and a strong want to learn more about what is going on are all present. He sees people with gifts entering and going and wants to be a part of it all. Nonetheless, he is a child who has nothing to give. He is also there to meet a youngster, but he is unable to achieve the level that he believes he must in order to be worthy.
He wishes to take part in it. He wishes to be physically present in the room.At the time, he does not want to be a child. It appears that everyone else has found it out. They were well aware of the importance of bringing gifts. They are older, wiser, and have a self-assured demeanor.
He only has a toy drum and a few sticks with him.
Is it easy to identify with that emotion? You're standing on the verge of a fantastic opportunity, and you're completely unprepared for it.
I knew that a profession in business could give a specific type of living for my growing family, but I was standing outside the boardroom with a pilot bag and an education degree.I felt like a 33-year-old kid with nothing to offer, but I was determined to get in.
So, how does the young drummer guy spend his time? He summons all of his bravery and asks if he could do the only thing he knows how to do. He contributes his musical talent by playing his toy drum.
Mary, much to his surprise, nods her head, and he's in.I make the decision to take a chance and begin the application process. After around three weeks, I receive a phone call from a company offering to conduct a phone interview with me. Later, I learn that I was called because the receptionist entrusted with compiling all of the inbound resumes had prioritized mine because it was "interesting" that a pilot was looking for a job there.
Thank you so much, Mary.
When the Little Drummer Boy enters the room, he immediately begins to play, and you can imagine him doing so with the enthusiasm of a tiny child who is completely absorbed in the moment.Hands swaying, head bobbing, feet tapping, and a sound that fills the space. Mary has a simple knowing look on her face, and then the center of attention does the incredible...
He gives a warm smile.
All the Little Drummer Boy had to do was ask. He'd always had the ability. He didn't have to be scared. All he had to do was bring what he knew how to do and let it take care of the rest.How many of us find ourselves in a situation where our dreams are staring us in the face every day? We witness others living a life that we secretly desire and look in the mirror, confident that it will never happen to us. We stand in the doorway, wistfully looking inside at the party, but too terrified to enter. We don't look the part, we don't have the proper education, we don't have enough money, the timing is off...the list goes on and on.
Since the day I walked through the door 14 years ago, I've been hitting my drum every day. I immediately realized that it is not your knowledge that matters, but rather your courage in battle.Most of what this world has to offer may be learnt if you are willing to put up the effort, but success and happiness are determined by intangibles.
The Little Drummer Boy proved to be a courageous boy who did not let the opportunity pass him by. He had a knack, a gift, and he confidently strode in to share it.
You have the same problem. Don't only stand on the threshold of your dreams; walk through and pound your drum with all your might.
I guarantee there will be a grin on someone's face.