The Magic of Kindness
It's a lot more powerful than you may think...

***** Before getting into this article, I want to mention that the opening and some contents may be triggering to those living with a mental illness and may want to take caution in choosing to read this article.*****
You feel heavy. You feel the weight of friends and family's perceived disappointment, the judgement of hate-filled co-workers, the pressure to succeed, the feeling of failure, self-loathing, and so, so much more. Some of us feel all of it all of the time, while others feel bits and pieces here and there; no matter how it hits us, it still does. And it f**king sucks!
We all go through these feelings or states of mind, and yet we can still show cruelty towards others, intentional or not. I can acknowledge that it's a lot more complicated in many cases than just choosing to be nice in a situation. However, no matter how small or few and far between, there are situations where we can be kind to others, and this is what we're talking about today.
I have personally had days where I feel relatively low (more than I'd like to admit), and all it took to turn my whole day around was one small kind gesture or a couple of words of kindness. Sometimes it doesn't even have to be directed to me, sometimes all it takes is to see someone else's mood change for the better.
One specific example I can personally think of is in 2010, while my Mom and I were in Toronto, we were in one of the malls and went into the Mac store. The woman working there (alone) had her back to us, putting items away on a shelf, and subtly dancing to the music. When she heard us walk in, she was quickly embarrassed; I immediately told her not to worry, and that we all need random dance parties every once and a while. Then I decided to dance too, and the light in her eyes radiated as we broke out into our dance party right there in the middle of the Mac store. We rocked out to the rest of the song, singing loudly (she was outstanding, I was not). When the song was over, she said to me, "you know, I was having a really bad day, and that just made it so much better, thank you!" And to this day, that memory brings me so much joy.
I was in a decent mood that day, not overly happy, but not upset by any means. Just neutral. When I found myself in that situation, I was presented with two options: the first was to judge and carry on with getting what I wanted to purchase or make the best of the situation. I chose the latter of the two and made a life-long memory. I think about that day once or twice every few months. I so wish I could remember her name! If you're out there reading this, go to my Instagram (@my.instasam) and message me! I want to know how you're doing!!
Studies have shown that kindness has a profound impact on our mental and physical health. Obviously, right? Well, it's not just when someone is kind to us, it's also when we are kind to others.
It can reduce pain by releasing endorphins into the brain, reducing stress (people who are less stressed age slower than the average person), and increasing serotonin production, which improves mood and anxiety. Your blood pressure can be lowered, your sense of self-worth goes up, and the list keeps going on and on.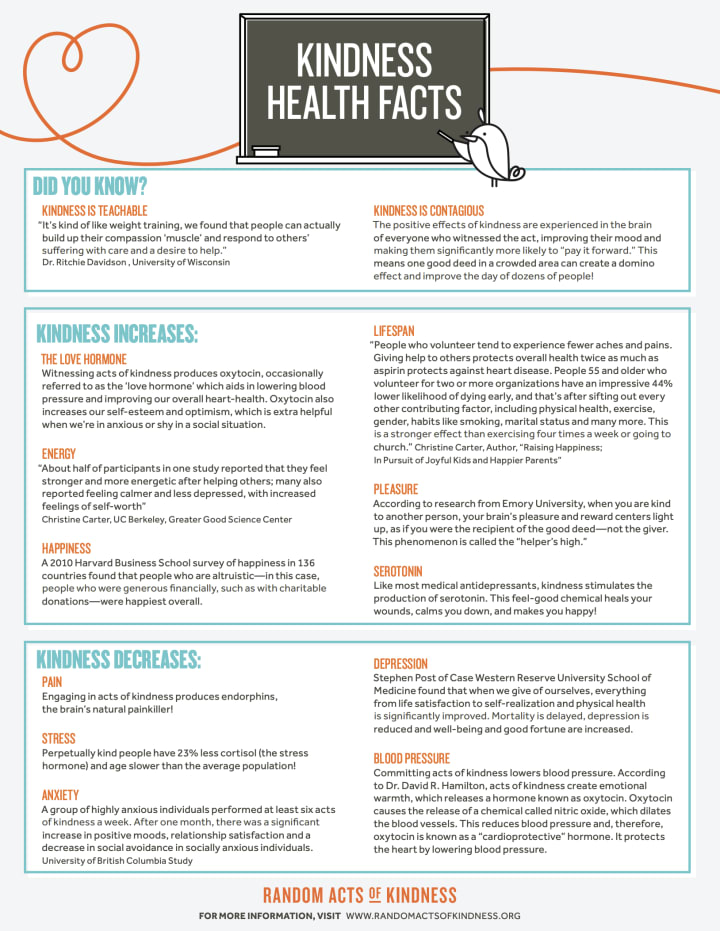 This TikTok is, what I believe to be, a perfect example of when and when not to be kind.
I recently came across a video on TikTok that gave me chills and is the epitome of parenting goals, at least for me. In it, you can here a mother and her children reciting their family mission statement, and it's one that I am happy to set as our family mission statement as well. Check it out!
We all have a mask that we put on at the start of every day. No, I'm not talking about our anti-COVID masks! What I'm talking about is the mask that we put on to protect our hearts and what's going on inside ourselves. It's what you're choosing or allowing people to see. Some of us wear this mask when with strangers, but not with friends; others prefer to wear it all of the time, not allowing anyone to know the real them. No matter how someone wears their mask, you never really know what they are going through, even if it's your very best friend. At one point or another, we are all fighting a secret battle, and words/actions can make or break someone's day.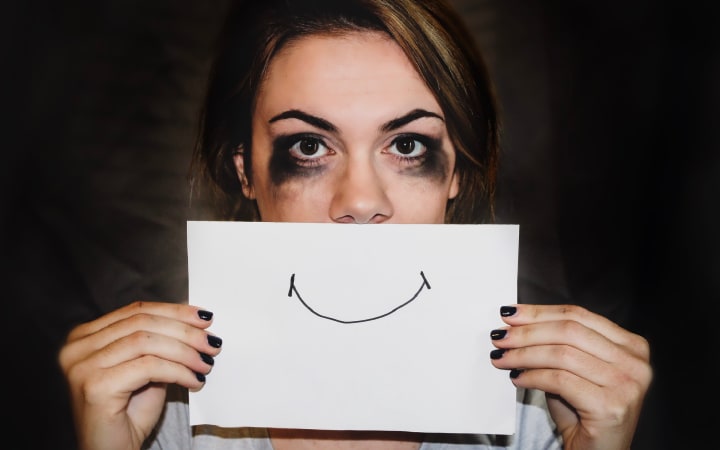 Be the reason someone smiles today. Choose to do one act of kindness every day, for friends or strangers. That way, at the end of the year, you would have made 365 people smile or feel the tiniest bit better.
Be the person your dog (or someone else dog) thinks you are, and whenever possible, choose kindness.
healing
Writer and lover of food, animals, the paranormal, true crime and much, much more.
Instagram: my.instasam
Receive stories by Samantha Weathers in

your feed