The 25 Most Influential People I Wish I Met in This Life
Well-Lived Lives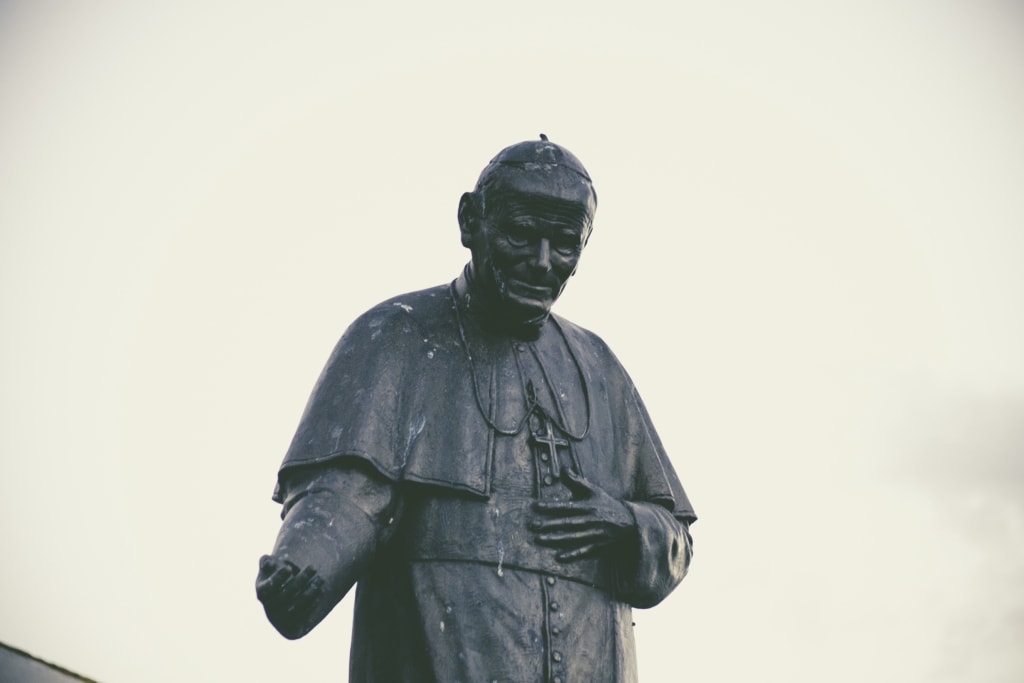 Photo by Jorge Zapata on Unsplash
Have you ever seen a person on the news who passed and made you wish that you met them before they died? Of course! We all have. In this article, I compiled a list of people outside of family, friends and acquaintances who I never met and wish I did.
Originally, I started out wanting to do a top ten, but I could not stop at ten. Then, it grew to fifteen. Finally, I agreed to do twenty-five. There are other people out there who influenced me, but they are still alive at the time of this article. So let me continue to pay homage to those who are already listed here.
1. President John Fitzgerald Kennedy
I remember that I was just a seven-year-old second grader when I heard that the President was assassinated. I did not even know what the word assassinated meant until I heard the rest of the news. When I got home from school on November 22nd, 1963, I ran to my room and cried like a baby. "The President is dead," is all I heard. I watched his funeral and was even sadder knowing that he would no longer be around.
As time went on, I made it my business to learn more about him. I learned about the Cuban Missile Crisis and how he stood up to Russia. I learned how he expressed what others called Conservative values. I learned how he literally suffered a broken back on PT 109 during World War II. He was a very brave man who died way too young in life.He was truly an inspiration and I wish that I met him. It would have been so nice to tell him how much of an influence he was on a seven-year-old student way back in the day.
2. Clifford Brown
My favorite activity that I love to this day is simply playing my trumpet. I studied some music in grade school, but I became more intense about it when I had a trumpet in my hand in high school. I just love the instrument. When my Dad saw my love for the instrument, he kept mentioning somebody named Clifford Brown who, like me, discovered the instrument in high school as well. I listened to a few of his recordings. He was awesome! His phrasing and everything else associated with the horn was simply out of this world. I had to read more about him. It turns out that HE was a huge influence on many trumpeters, both jazz and classical. It was sad to learn that he died in a car crash on June 26, 1956, the same year I was born. My Dad would often hear me play and he would say things like, "You should be playing like Clifford Brown." I could never get my Dad to understand that Clifford Brown was born with an extraordinary amount of talent that brought him to that level. I am just me. From time to time, I like to sit and listen to a recording of "I Remember Clifford." The words are so true.
3. John Birks 'Dizzy' Gillespie
If any single trumpeter had a huge influence on people including Clifford Brown, it is the man who played a horn that was bent so that it pointed to the heavens. He was Dizzy, a man whose cheeks filled up like a bullfrog. As far as his horn is concerned, he was to play at a party. one night He put his horn down for a second. That was all it took for someone to accidentally sit on it. Dizzy could not fix it in time to play it. So, he played it as it was and really liked the sound. From that point on, his horns were never pointed in the standard direction again. Even if his horn was normal like mine, he brought an awesome musical mind to the world. He was the Father of BeBop music. Only the coolest guys out there played bebop. It was superior jazz music. To this day, "A Night in Tunisia" is one of my leading favorites. Whenever I played with my jazz groups, I have always included that chart within the program as my way to salute the greatest trumpeter of all time.
My favorite music teacher, Mr. Richard Williams, told me to go see Dizzy at any of the New York jazz clubs and introduce myself to him. Unfortunately, when I was able to do so, his gigs were over the night before and he wasn't around when I went to see him. I am so sorry that I never had the opportunity to meet him.
Dizzy died on January 6th, 1993.
4. Maynard Ferguson
Walter Maynard Ferguson was the guy who like Cat Anderson in the Duke Ellington Orchestra played notes that were just off the staff. He was known as The Boss. He was a trumpeter who brought as much charisma to jazz music like Dizzy and Clifford. In high school, I wanted to have a range like his. Frequently after I had finished my daily lesson, I would put on a recording of his version of "Macarthur Park" and try to match him note-for-note on the main tune. I wanted to play that C above High C at the end but was never able to hit that last note. Still, in high school, I wanted people to think that I was the black Maynard. I was hoping to graduate with the talents of my teacher, Dizzy, Clifford and Maynard. They were my influences and I wanted to reflect them. Maynard made that kind of influence on me. During high school and college, other trumpeters kept touting the talents of Doc Severinsen. Too bad they never really listened to Maynard. He was clearly the superior of the two.
Unfortunately, he died on August 23rd, 2006.
5. Duke Ellington
There has been no classier bandleader than Edward Kennedy Ellington. This man was style and grace. He was jazz royalty. He wrote and conducted the best music in jazz. His work has become part of the standards. Whenever I test a trumpet (mine included), I always play a few riffs of "Satin Doll." His music is that good. In my studies of him, I learned that he did not just write parts for his instrumentalists, he wrote them for a particular instrumentalist to play. In other words, he wrote parts designed for a particular trumpeter, drummer or sax man. That is why his music had that extra flavor to it. Even my teacher played in his orchestra from time to time. Unfortunately, I was never able to meet him.
He died on May 24th, 1974.
6. Count Basie
William James "Count" Basie was the definition of cool. He had the nicest orchestras ever known to music. He was even featured near the end of the Mel Brooks movie "Blazing Saddles." I could never forget the Count's "April in Paris." He really elevated jazz to unbelievable levels I was so sorry when he died. He was reposed at the same funeral home where my parents and sister were. So, I know that he is still with classy people who were just like him.
He died on April 26th, 1984.
7. Dr. Martin Luther King, Jr.
Here is a man who gave the greatest speeches known to man. The only way I could describe him is to say that he not only talked the talk, but he walked the walk as well. In fact, he had to walk many times because he led marches and sit-ins. And the best part is that he did everything WITHOUT violence, something others seem to overlook. He was a huge advocate of non-violence having drawn his philosophy from Christian scripture. He did so in order to bring about peace to all people. He wanted all to live in concert with each other. He was spit upon, hit, hosed and even stabbed in the chest. If he had sneezed during that stabbing, he would have died for sure.
I remember Bill Cosby telling two stories about Dr. King. The first one concerned an event in which Cosby had to speak. He had to follow a speaker who was so powerful and had worked the audience up to a fever pitch. Cosby said that it was truly tough trying to speak after this man had spoken. It was like trying to get a single in baseball after some guy named Hank Aaron or Babe Ruth just hit a grand slam right before he got to the plate. Who was that, nan? Dr. King, of course. Another story he told was that on one march, Dr. King ordered him and others to leave his group IF they felt the need to respond in any way, shape or form during a march if anyone spits on him or cursed at him or even hit on him. Dr. King wanted his march to be completely non-violent no matter how much the agitators responded.
He was eventually shot to death on April 6th, 1968, but his message is still reverberating out there and even louder than before.
8. President Ronald Reagan
What does the word "malaise" mean? According to Wikipedia,"Malaise (/məˈleɪz/ mə-LAYZ) is a feeling of general discomfort, uneasiness or pain, often the first indication of an infection or other disease. The word has existed in the French language since at least the 12th century. The term is also often used figuratively in other contexts; for example, "economic malaise" refers to an economy that is stagnant or in recession (compare depression). The term is particularly associated with the US 1973–75 recession A speech made by President Jimmy Carter in 1979 is commonly referred to as the "malaise" speech, although the term was not in the speech." Why is this word important?
During most of the President Carter term, 52 Americans were held hostage in Iran for a total of 444 days. What happened on the 445th day? They were released on the same day that Ronald Wilson Reagan was inaugurated as the President of the United States. There was no way that the Iranians wanted to deal with his wrath and he was ready to dish it out.
Mr. Reagan simply brought respect back to the US. He had to do many things to do so including suffering an attempted assassination in 1981. He turned around the economy and took us out of the malaise. Even though a recent chief executive used the mantra "Make America Great Again," it was Mr. Reagan who actually did it. My Mom and Mr. Reagan shared the same February 6th birth date, but he died on June 5th, 2004.
9. Nat King Cole
Speaking of cool, the coolest singer I have ever seen is Nat "King" Cole. He was at first a piano player. As the story stated, he was once playing in a bar when a drunk approached him demanding that Mr. Cole sing as well. Not wanting a physical confrontation, he complied and began to sing. As the old saying goes, the rest is history.
There has been no other singer like Nat King Cole. It is like his voice helps to bring in the Christmas season when you hear the Mel Torme-written tune, "The Christmas Song." My earliest enjoyment of one of his songs was when I went to my Mom's bowling awards dinner dance. I was in the eighth grade at the time and I really enjoyed the dinners at these events. While I was eating my dinner, the band played "Around the World," a song that I heard Mr. Cole sing some weeks earlier on the radio. She pulled me close to her. I guess that I looked like a high school junior because she was a high school sophomore. We danced and she got very friendly. After the song was over, I informed her of my age. I never heard from her again.
I've always-and still do-enjoy his work. I often keep his songs side-by-side with my Frank Sinatra collection. He sings with romance. I once told one of my best friends that when she and her husband is ready to celebrate her 40th anniversary, I would play a whole list of Nat King Cole songs for them to dance to. Mr. Cole was the original romance singer.
Because he was a chain smoker, he left us on February 15th, 1965, just four days before my ninth birthday.
10. Arthur Ashe
I played many sports in my day, but I never followed tennis until I saw Arthur Ashe play on TV one day. He was a man of quiet demeanor. He was quiet but extremely effective on the court. He broke many barriers for African-Americans in the sport. If I did nothing else in life, I wanted to emulate him. He was a gentleman of the highest order. They even named a tennis stadium in Flushing, NY after him.
He left us n February 6th, 1993. That was also my Mom's birthday.
11. Jackie "Moms" Mabley
I remember many a time when I was younger when I would sneak off to the basement at home and listen to a Moms Mabley record. The lady was so funny. I honestly do not remember how young I was, but I remember being able to repeat word for word every comedy bit she did on her record before I graduated from grade school. She was such a great talent. What I did not realize is how old she was when she entered the business. She nearly reminded me of my grandmother because she looked way older than my parents. Loretta Mary Aiken was her birth name. In reading about her, I saw many stories where she had to overcome racism and let it roll off her back as she pursued her dream. She appeared on many shows, most notably the Ed Sullivan Show here in New York where many talents were shown to the world. She was the greatest female comedian of all time in my book. There was none better than she was.
She lived for 81 years when she died on May 23rd, 1975.
12. Frank Sinatra
Here is a person who when you say only his last name—SINATRA—everyone knows who you are talking about. Here is a guy who is usually pictured wearing a suit, tie, a tilted fedora and carrying a raincoat over his shoulder. He is closely associated with MANY love songs such as "My Way," "The Second Time Around," and my favorites, "The Summer Wind," and "There Will Never Be Another You."
What I like about him is not just his longevity, but the fact that he approached his songs like a trombonist. He worked with Tommy Dorsey and closely watched him play the instrument. He was able to hold long notes with such feelings packed in. He worked with all the other huge stars and acted in several movies. For all he did in music, it was said that he was never able to read a note at all. Sure fooled me. The man even formed his Rat Pack, a group of his close friends and his inner circle. Many people tried to form their own Rat Pack, but it was often a poor imitation and never quite as convincing as the original Rat Pack of Mr. Sinatra.
He left us on May 14th, 1998.
13. Muhammad Ali
"Float like a butterfly.
Sting like a bee.
No one could make up poetry
Like the great Muhammad Ali."
Actually, nobody will ever be as charismatic and talented as Ali. Here is a man who rose to prominence in the 1960 Olympics, he has consistently influenced the world of boxing. His boxing talent alone would have made him hard to overlook, but he brought an equal amount of talent with his braggadocio. He was the world boxing champion and was easily recognized the world over. He was never at a loss for words. His words made having an interview so unnecessary. He also told you about his confidence, the fate of his opponent in the ring and his looks. Many of us took it as humor, but he was serious and confident. The other thing that people tend to overlook was his belief. He totally disagreed with the United States being at war in Vietnam. How much did he disagree? Many people fled the US instead of fighting the war. Ali took a page from Dr. Martin Luther King and faced the music like the brave man he was. His title was taken away and he faced jail time. When his time was served and the war was declared over, he was on top of the boxing world once again. He regained his title and continued to fight until he retired.
Cassius Marcellus Clay Jr. died on June 3rd, 2016.
14. Jesse Owens
Only a few people-living or dead-could ever say that they were able to EASILY defeat Adolf Hitler. Yes, THAT Hitler, and Jesse Owens was the person who did it. To understand Mr. Owens' glorious moment in history, one needs to know the brief history of this event.
The Olympic year was 1936 in Germany. Hitler had already expressed his disdain for Jews and actively moved to exterminate them. He even went about setting up concentration camps which would eventually evolve into extermination camps. he strictly believed that the most superior race on Earth was the blonde-haired, blue-eyed Caucasian. They were referred to as Aryans. He felt that they were the superior humans in all ways to every other person on the planet, bar none.
Enter the American known as Jesse Owens. In the span of one hour on Hitler's soil, he won the long jump, the 100-meter dash, the 200-meter dash and the 4 by 100-meter relay. Nobody before (or since) has been able to put in such a performance within one hour in Olympic history. I found it very hard to imagine any American at that time not being proud of his achievements. he so embarrassed Hitler that Adolf refused to shake and congratulate Mr. Owens for his near-superhuman feat. He easily and securely earned his place in history.
He left us on March 31st, 1980.
15. Jackie Robinson
Sometimes racism is present but not easily seen. That was the case of baseball. How segregated was baseball? Well, there was baseball and there was the Negro League. Guess which league Mr. Robinson was in.
In 1947, he crossed over to break the color line in Major League Baseball. it wasn't easy. He played first base for the Brooklyn Dodgers. Many times, white players who actually hated him for his black skin spiked him as they reached base. This is when a runner would slide into the base and try to injure him "accidentally" with the sharpened spikes of their shoes. Mr. Robinson never complained. He just played the game to the best of his ability for ten years. He had an illustrious career and is fondly remembered each year on April 15, the day he broke into MLB in 1947.
He left us on October 24th, 1972.
16. Arthur Fiedler
When it comes to symphony orchestras, there was no finer conductor than Mr. Fiedlee. I remember many a time when I started learning how to play the trumpet that I would sit up and watch him conduct. He made it look so easy. It wasn't when I tried it. Many times, he featured top musicians in order to play some of the toughest pieces out there.
He died on July 10th, 1979.
17. Bishop Fulton Sheen
When I think back to all of the people who appeared as television evangelists, I can think of no one better than Bishop Fulton Sheen. He was a man who had a commanding oratory ability that was never eclipsed by anyone since. Many have tried to imitate him, but none have succeeded. He spoke with determination, enthusiasm and authority. He had me glued to my set as I listened to him. Keep in mind that I was only 8 years old at the time I first saw him on TV. He was proud of his Catholic faith and he made me proud of my Catholic faith as well.
In this age of technology, I found many of his sermons and was fortunate enough to save them. I listen to them over and over again to this very day.
He died on December 9th, 1979.
18. St. Pope John Paul II
I have to admit that the one big regret I have made in my life was a rather selfish one. Back in 1991, I had a chance to fly to the Vatican and actually meet Pope John-Paul II. That's right! I had a chance to meet him and shake his hand. In fact, my transportation to and from the place would have been entirely free. Why didn't I go? I went with another activity which I refuse to name here. Had I gone to Rome and played my trumpet for the Pope, that would have been something I could have talked about for ages. Nope. My brains were truly not functioning properly.
He was born Karol Józef Wojtyła. According to Wikipedia, "John Paul II was the second longest-serving pope in modern history after Pope Pius IX, who served for nearly 32 years from 1846 to 1878. Born in Poland, John Paul II was the first non-Italian pope since the Dutch Pope Adrian VI, who served from 1522 to 1523. John Paul II's cause for canonisation commenced in 2005 one month after his death with the traditional five-year waiting period waived. On 19 December 2009, John Paul II was proclaimed Venerable by his successor Pope Benedict XVI and was beatified on 1 May 2011 (Divine Mercy Sunday) after the Congregation for the Causes of Saints attributed one miracle to his intercession, the healing of a French nun from Parkinson's disease. A second miracle attributed to John Paul II's intercession was approved on 2 July 2013, and confirmed by Pope Francis two days later (two miracles must be attributed to a person's intercession to be declared a saint). John Paul II was canonised on 27 April 2014 (again Divine Mercy Sunday), together with Pope John XXIII. On 11 September 2014, Pope Francis added John Paul II's optional memorial feast day to the worldwide General Roman Calendar of saints, in response to worldwide requests. It is traditional to celebrate saints' feast days on the anniversary of their deaths, but that of John Paul II (22 October) is celebrated on the anniversary of his papal inauguration."
He did some amazing things in his tenure. He drew large crowds, influenced many people and made a few changes in the Church which brought in lots of people. It was like magic when he came to the United States. And I was too stupid to go see this amazing individual.
Now, he's gone and I missed my chance to meet him. He died April 2nd, 2005, at the age of 84.
19. St. Mother Teresa of Calcutta
She is another person who I wanted to meet but was never able to do so. Born as Anjezë Gonxhe Bojaxhiu, she was so warm and tender. She lived a very simple life among the poor. She never bragged, but prayed often and gave herself up to the people she served.
She died on September 5th, 1997 at the age of 87 and declared a saint in 2016.
20. Mahatma Gandhi
One thing I can say is that Gandhi and one other person on this list had died before I was born, whereas the others died at some time during my lifespan. So, although I never saw him in a current events news broadcast, I still learned much from him. He was one of three people (MLK being the other one) was a person who approached life in a non-violent matter. He preached peace and led by example. Although his life was spent in India, his influence was felt all around the world. Mohandas Karamchand Gandhi died on January 30th, 1948.
21. Princess Diana
I really enjoyed seeing Princess Diana. I honestly felt that she was one of the prettiest ladies on the planet. She raised two fine boys and was a dedicated wife. I don't know what happened between her and her husband. I truly felt sorry for her. One of the things I saw her do was to campaign against the use of landmines. She went out of her way to defend children much like she protected her own. She truly deserved far better than whatever she went through before she perished in an auto accident.
Princess Diana (Spencer) of Wales died on August 31st, 1997 at the age of 36.
22. Mary Tyler Moore
I had to include her because she was a Brooklyn, NY girl who truly made it big. From what I saw, she was a very attractive and very talented actress who saw no need to remove her clothes in order to demonstrate her acting talent. I looked at two TV shows she starred in—The Dick Van Dyke Show and The Mary Tyler Moore Show—and saw two programs that could be watched by children as well. There were no cuss words but there were plenty of laughs. Even today, I will flip through the cable TV just to find the reruns of the MTM Show.
Mary Tyler Moore died on January 25th, 2017.
23. Chuck Berry
If you ever saw a musician, mainly guitar players, doing a "duck walk." you must give credit to the man who invented it-Chuck Berry. CB was one of the creators of a music phenomenon called Rock and Roll. He, along with Litte Richard, made America really dance. That started the craze in the 1950s. I grew up listening to this music and to the people who tried to imitate it. Still, Berry enjoyed the title as the father of Rock and Roll.
Charles Edward Anderson Berry died on March 18, 2017.
24. Charlie Parker
Charles Parker Jr. died on March 12th, 1955. As I cited earlier, he is one of two people (Gandhi is the other) who died before I was born. The moment that I played a Charlie Parker record, I fell in love with it right away. Known as Yardbird, he was easy to tell from the other sax players by listening to his sound. His "Yardbird Suite" was, by far, awesome. He simply took a standard tune like "How High the Moon," removed the melody, and replaced it with his own melody on top of the chords. Before you knew it, he created a tune called "Ornithology." Amazing creativity. This was called BeBop and with Dizzy Gillespie, he made the music quite popular.
25. Any Aborted Baby
I don't know what to say. The only thing I can say is that I never met them, but I am sure that they would have somehow made a great contribution to our lives.