Strange Times But I'm Happy Because...
Modern love and coping with quarantine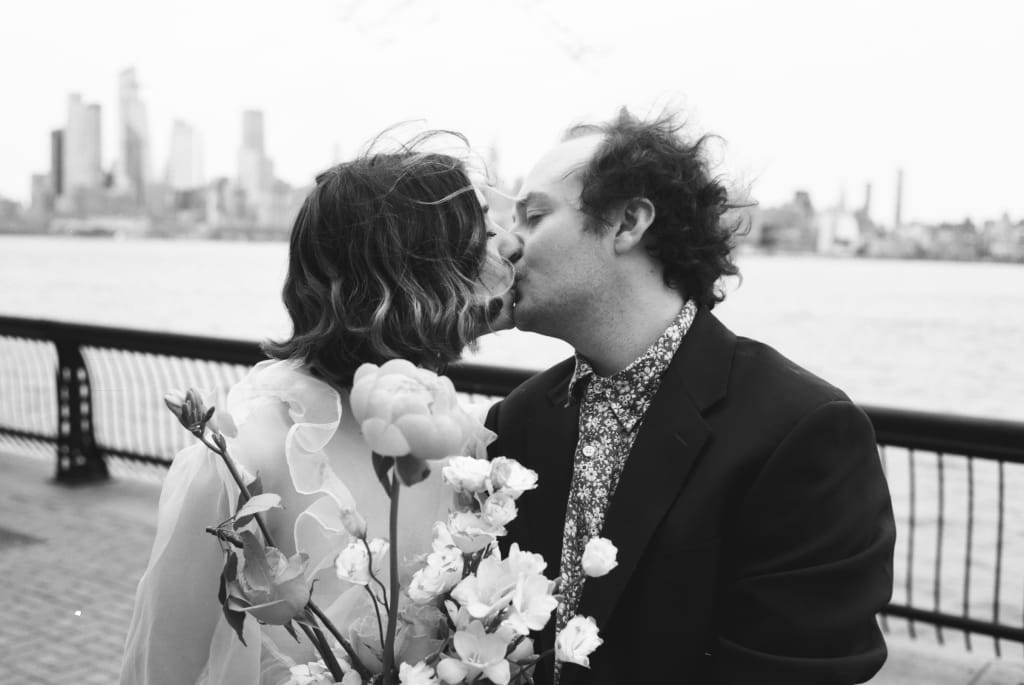 Love Always Wins
Not all hope is lost in New York City. While everyone is quarantined, the earth is healing. It brings me such joy hearing that the water in Venice is running clear, the mountain line around LA is visible and global pollution levels are down significantly. But most of all, good people are keeping me happy these days...
On April 20, 2020 Alex Norling and Sara Schipani got married and had a social distancing wedding. How, you may ask? Instead of explaining, I'll show you the moments I captured as their photographer (from at least six feet away, of course).
Alex and Sara could not obtain a marriage license in New York; their closest option was Hoboken, New Jersey. Since all public parks are closed they were married in a lovely area in between two parks with the NYC skyline as a backdrop. I had my digital camera with me and a roll of black and white film for my Leica M6. With no traffic the drive from Brooklyn was a breeze. I had a tough time deciding if this was ok to do during quarantine, but those feelings were wiped entirely once I arrived.
Alex and Sara's closest family members were there, and an iPad brought about 50 people to attend via Zoom. Everyone respected all rules, wearing masks (unless smooching) and keeping a distance. The ceremony itself was incredibly romantic. The sky was cloudy but provided a beautiful natural light for photos. And if that's not special enough, to everyone's surprise the local news got word and came to cover the wedding! It was such an unforgettable event and I'm so happy for the Norlings. <3
In New York, we're all living in boxes stacked on top of and beside one another. It's easy to get claustrophobic, and quarantine is making us more shack-happy than ever. Jeremy Cohen started an Instagram series capturing beautiful moments of his neighbors on their rooftops exercising, dancing and enjoying the weather in the only safe outdoor space they have. The series is playful and heartwarming; it shows that we're all in this together, trying to find different, creative ways to cope. While working on these videos, Jeremy developed a relationship with a neighbor he saw dancing on the rooftop across the way. He waved to her, she waved back. He taped his phone number to his drone and flew it over to her roof. They started texting and...well, tune in to the other episodes to find out more. Their relationship developed into a modern love story and picked up buzz in the news. Even with this lockdown in effect Jeremy and his "Quarantine Cutie" found love from a social distance.
Besides my weekly dose of Some Good News with John Krasinski, rewatching the office for the 100th time and checking out camera reviews on YouTube, tuning into Yoga with Adriene has brought happiness and structure to my quarantine routine. I started a 30 day yoga video series with Adriene and her dog Benji the Blue Heeler. Yoga has been an incredible activity for both my body and mind. Her videos have been so helpful for my mental, physical and emotional health. This has helped me establish a healthy daily routine and has allowed me to stay positive, productive and happy.
As a bonus here is my favorite subreddit that you have to check out /PeopleFuckingDying The title might sound a bit scary. But I promise you it's not what you think and it will bring a lot of smiles and laughs.
happiness
About the author
My name is Christian Johnson and I am Brooklyn-based freelance photographer, cinematographer and camera collector intrigued by film.
Reader insights
Be the first to share your insights about this piece.
Add your insights