My passion for art is my escape to a better world
Great things can come from being passionate about art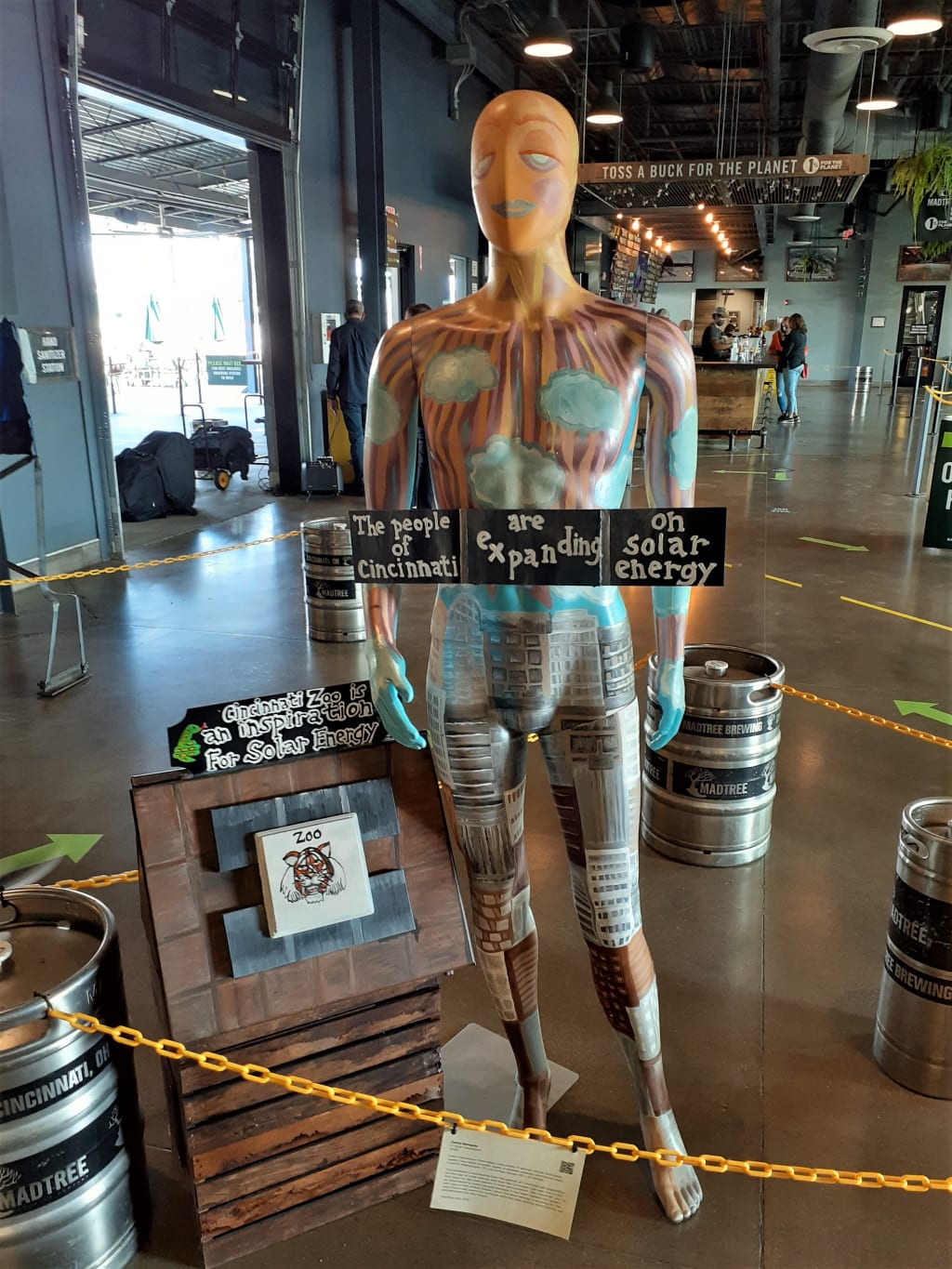 "Solar Inspiration" by Carrie Bertschy- exhibition at Madtree Brewery
My passion for art, has been with me, since I was 7 years old. I loved to draw when I was younger with my brother and sister , in the basement, during the 80s decade. We would play this game called , " Pick to Draw" and practice drawing for fun. It would be a contest to see whose drawing came looking out the best. We would each take scrap pieces of paper, write a person, place, or thing on the paper, fold it, place it in a canvas bag, and vote to whose turned out the best. We would shake it up and each pick a paper out of the bag. I remember I picked a piece that said to draw a "humpback whale". Anything goes, is what the drawings were about and it gave us practice for art class as kids. It was fun at the same time. If we did not feel like playing board games, we felt like playing "Pick to Draw". It was very similar to the game of Pictionary, only it was a contest, instead of a guessing what the picture was on the paper with teams.
Drawing was my starting point as a child and I began to take art, in a more serious manner, when I reached my years in high school. Art class was my favorite one, so I knew I would making artworks for a long time. With my artworks, I would come up with an idea, sketch it on paper, and continue on with adding and changing until I was satisfied with how it turned out. When I would brainstorm ideas, I also could visualize how it would look inside my head. Imagination, creativity, and inspiration go hand-in-hand when it comes to brainstorming ideas. In high school, I grew a love for cartoons and animation. My friend and I would get together and talk about the idea of working for Disney in the animation department. When I left high school, I was taking my art ability with me and never looking back.
My passion, for art, motivated me to teach myself and practice more with acrylic paints. I had to self-teach myself in order to make more progress with acrylic paints. Painting had become my main focus. I only worked with acrylics because I wanted to teach myself one type of paint at a time. The more I practiced with the acrylics, the more techniques I developed for my own style. I used acrylic paints, more than any other media, but as I reached my early 30s, I began to add more media with the painting. I was losing interest with paint , so I would turn to another media and bounce back to painting. I believe having variety in art makes it more exciting and interesting. I started adding media such as: ceramics, metal, prints, wood, slate, and plastic. When I started adding more media, the motivation came more easily.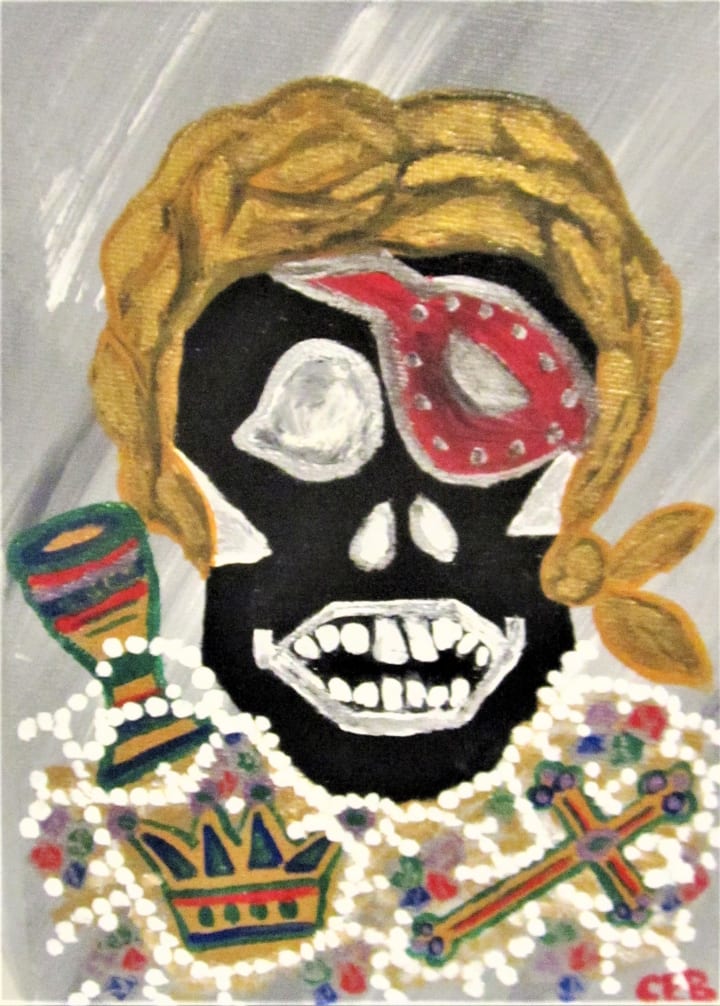 When I was going to college, I took four art electives- Ceramics, Drawing I, Drawing II, and Drawing III. I enjoyed the college art classes because they were able to put me at another level with each media, and that was when I knew, I would be doing more with other medias. I added the skills to my self-taught painting and continued to push myself with more challenging ideas and concepts. I would decide, later on, to earn a Bachelor of Arts in Art History and try to put my artworks out there as a side talent. Art History gave me a look into a wide spectrum of art from Prehistoric to Contemporary. I also visited museums, galleries, art websites, traveled to Ireland and England, and looked over books and magazines. College art classes opened up a new world to understanding more about my passion for art.
After college ended in 2015, I decided it was time to put my art ability to test with finding a way to get noticed. I kept practicing for a few more years and decided to enter an art event called the NKY Bourbon Barrel Project in 2019. I was selected , as one of the 100 artists, to paint a bourbon barrel as public art. It was a temporary public artwork that has made me officially titled myself as a mixed media artist. I thought of it as a temporary public art/landmark and it was placed on Washington Street in Newport, KY until October 4th, 2020. For the NKY Bourbon Barrel Project, I created a barrel with the Purple People Bridge and I was the only artist who portrayed it. There were no other artists who put together a barrel with that theme. It shocked me to find out this outcome. I was very excited to have my first public art and to finally have my name out in an art event. I decided to try some other projects after the barrel was taken down in 2020.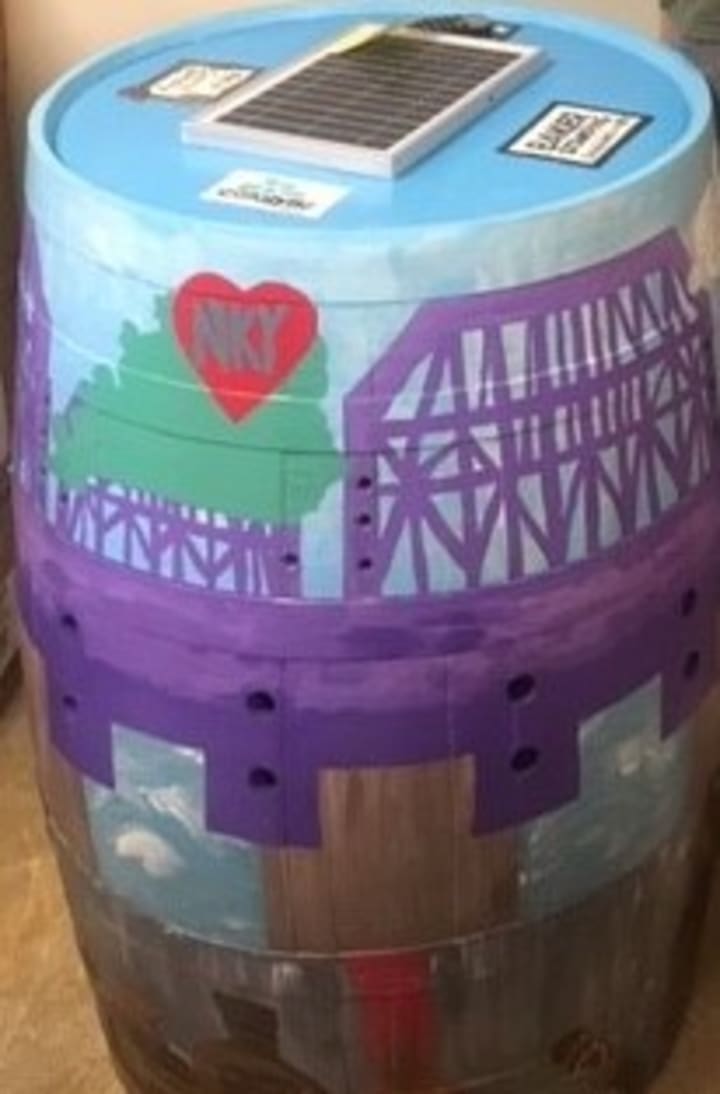 After the NKY Bourbon Barrel Project was over in 2019- 2020, I was selected for the CAC and Cincinnati Zoo Workshop during Covid. At the top of this story, there is a photograph of "Solar Inspiration". I put together a painted mannequin and a zoo house for my project. It was displayed at the Madtree Brewery in Oakley, Ohio for about 4 weeks and there was a silent auction. It was another way for my artwork to be placed out into the open for public view. I have had a few other works at the Cincinnati Museum Center (Children's Museum) and the Las Laguna Art Gallery in California. I plan to continue to enter competitions for exhibitions and public art. It is something new, that I have added to an idea of how to expand on my artworks/art passion across the United States.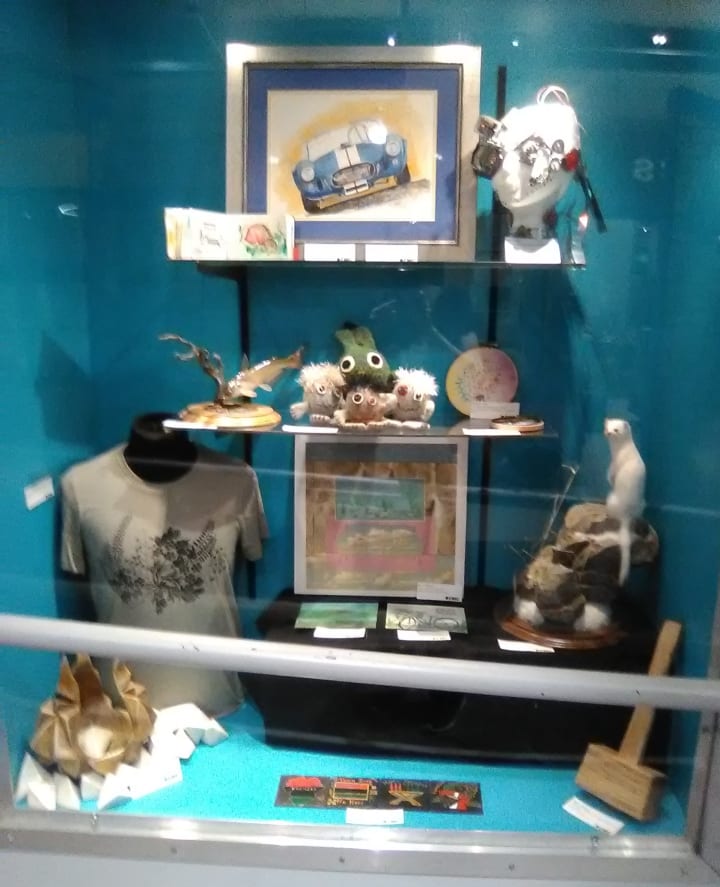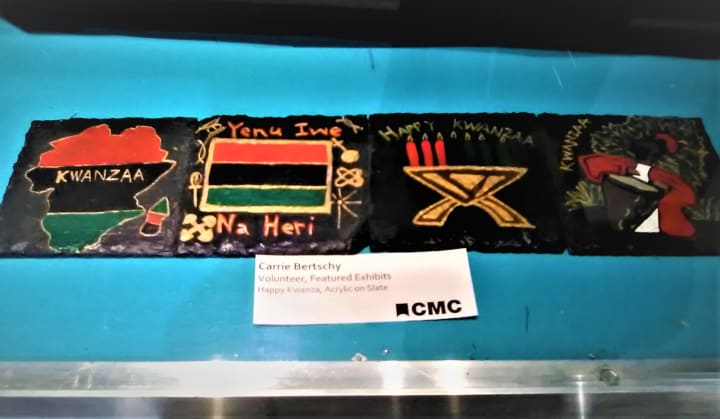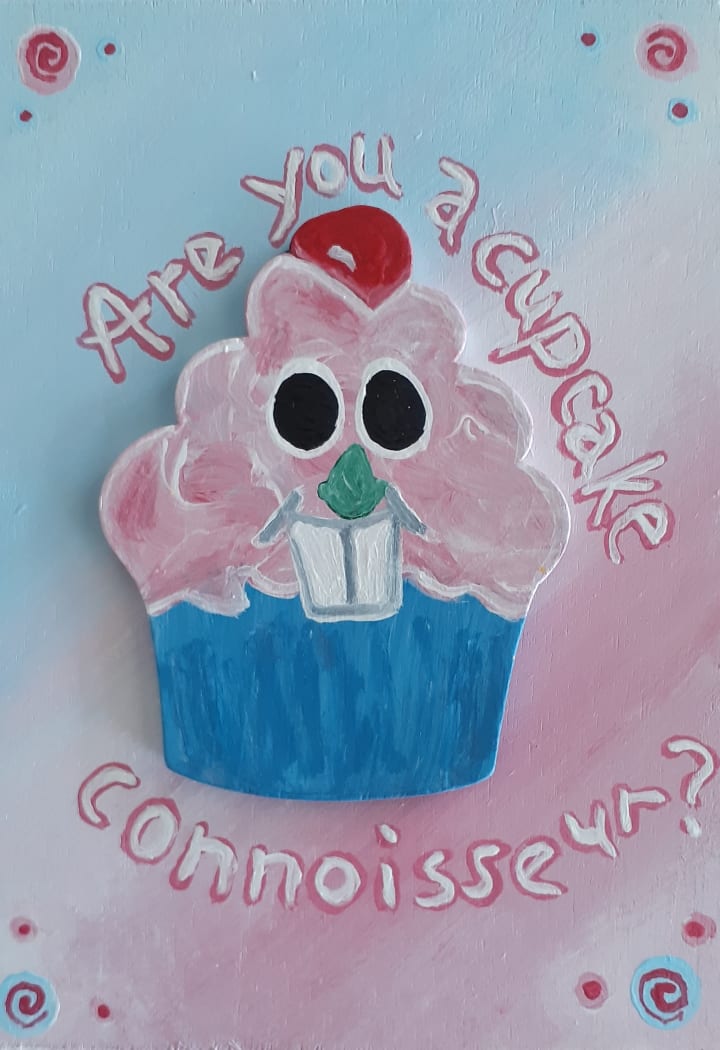 In the past years, I have grown with art as a passion and I hope it lasts for the rest of my life. I have a lot of other passions, such as sports and traveling, but art is my first passion. As a mixed media artist, I have established my own website on FineArtAmerica.com for a way to see my portifolio, and other possible forms, you could see my art for purchase. You can go directly to the website- www.carrie-bertschy.pixels.com and see all the ideas I come up with over the years. I keep adding more art on this website, so feel free to visit online any time. The artworks might inspire you as an artist for other possibilities.
When you have a passion for art, there are so many possibilities. My passion for art began in my childhood and it had made it to middle age. I think my passion for art is here to stay, and will be with me, for the rest of my life. If you have the ability and the passion for art, do not be afraid to try to put yourself out there. It has brought me more excitement and reason to continue with art. Art will always be a passion of mine, because without it, I would be missing a part of who I have become as an adult. What will an art passion bring for you? You will not know , unless you try to push it to the next level. Believe you can do it. You have nothing to lose if you try with your art. Art can bring great things, especially, if it is your passion.