Love More Challenge
What makes me happy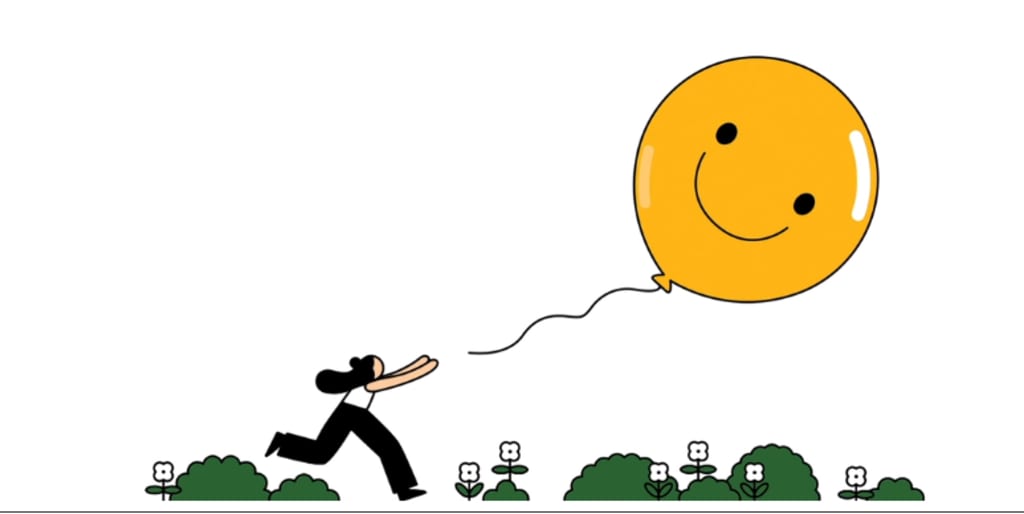 Quarantine has become a time where everything seems uncertain and the future appears bleak. It may be because of the media reporting mostly on daily casualties and also the difficulties doctors have to overcome to maintain the healthcare system as efficient as possible to save the most lives. However, we tend to forget that happiness is neither a physical object nor a person who may be lost or disappear in time and never to return. Happiness is a state of being; a moment where you find true fulfillment in what you do or what you've achieved. Tt can even become that time when a special someone can make you feel completely satisfied and full, because you know that, so long as that person remains with you, you won't need anything else to feel content. Being quarantined may take away the physical connection with some of the people I love the most, especially my friends, whom are miles away from my home country and I have to communicate with via Whatsapp or videocall. Of course, I can't complain too much given that these advances in technology at least give us the chance to stay connected throughout these difficult times, and yet I have started using it to distract myself from the outside world every now and then, when things get particularly heavy.
Instagram has become one of my biggest vices. Although, it always has been because I find the task of flicking through the lives of others somewhat amusing and now more than ever. For that reason, despite it being perhaps the most banal aspect of the app, I have to say that classical memes have kept me alive throughout my quarantine. There's something about reinterpreting history in a way that fits the diatribes of our contemporary society that is beyond creative and fun to look at. The account I decided to choose is the one run by 9gag, Classicalaf, though there are many others with different classical memes. Of course memes have become a staple of the younger generations, including me, a 90s kids, and I love them for helping us come up with inside jokes among friends but also being a great icebreaker for when you want to relate to someone that you may not know that well yet still want to get to know better. Classical memes do make me happy. They make me laugh or put on a tiny smile simply because seeing creativity fulfills me as someone who's creative herself. They make me realise that there are so many ways to appreciate art and heritage and that you don't need to have the most amount of equipment in the world to make somebody laugh. A picture, some words on it, and an account dedicated to compile these can uplift somebody's mood and can make them feel content. During quarantine, while flicking through Instagram I realized that perhaps now is not the best time to see what other people are up to given that Spain (where I'm from) is still on full lockdown and we can't leave the house to exercise or go for a small walk. So instead I resorted to classical memes and... let me tell you– I spent about an hour laughing at old posts, their newest memes and overall their whole feed and forgot for a minute of everything bad that is going on around me.
Next, the picture I decided to pick is an Instagram post by a music artist that I have followed for about a year now. Samm Henshaw has some of the most upbeat music out there and he always makes me want to get up and dance, no matter how tired I am. However, he recently posted this image which I thought could represent my ideal happy place. I have always had those sweet spots where I just go and sit down to write some music or simply listen to it at the loneliest hours so I can be alone, lost in my own thoughts. This picture has everything that fulfills me. A sunset, since dawn is at my favourite time of the day. There is a lake and maybe being Aquarius makes me naturally inclined to loving water. Nature surrounding everything is also a must, since there is nothing that beats the silence or imagery of different shades of green with a tint of pink or yellow here and there coming from a flower that fails at disguising herself from the trees. Everything seems to be giving way to the night, and even the water reflects the tint of the orange sunset slowly coming down to pave way for the moon to shine bright and the stars to accompany it with some of their own light. It seems like the ideal place to stay in for a bunch of hours, in solitude, reflecting on past memories– which brings me my final piece of happiness.
Lastly, the video I decided to pick has much to do with one of my favourite movies, Coco. I have always been a Pixar fan. I find that their films don't only contain lessons for kids but adults can find something to learn from them too. And Coco is no different. The story follows a young Mexican boy called Miguel who unleashes a curse that renders him to the land of the dead on 'El Día de los Muertos' or the Day of the Dead that is commonly celebrated in the Mexican country. As a musician, I found Coco a beautiful story about family, finding happiness in doing what you love and fighting for it, regardless whether others approve of it or not. Of course, the story in itself is a tender portrayal of the power of love and finding fulfilment. Yet the video I chose belongs to the ending scene. Spoilers ahead so I'm sorry in advance for those who haven't watched this masterpiece.
After finding out who his great grandfather is, Miguel tries to maintain the memory of him alive so that he does not disappear and the last person to remember him is Miguel's grandmother Coco, who's an amnesiac. So Miguel decides to play the song that was dedicated to her by Miguel's great grand-father or Coco's progenitor. And let me tell you. I cried. Hard. But it was not because I was sad but because I realized the value of memory. Usually we tend to say things like "I'd rather forget that" or "don't even remind me of that moment" or "remember when…. My god, that was awful". We tend to think more often of past moments that have been unpleasant purely because it seems as though we try hard to keep in mind our mistakes to try not to repeat them in the future. However, memories are happy too. We should strive to remember the moments that we're living for because life, while it's not always 'en rose', it certainly cannot be all dark. Life is full of lessons, people, places… where we found ourselves being extremely content. It could either be you remembering the day you learnt to ride a bike (I can't forget mine since I ended up on the floor because of a basketball), or that day when you met up with a friend a week before quarantine for some coffee to catchup. Or it could be the time you went on your honeymoon to a marvelous place on Earth. Or simply a day where you stayed at home, ate ice-cream while watching a Gossip Girl marathon. Point is, Coco shows us exactly that. That memories can make a person happy, joyful, nostalgic, grateful…
When Miguel sings Recuérdame you realise the incredibly positive impact some people can have on you. They help you be who you are. They make you the most fulfilled. And that too, is happiness: remembering the best moments with the people who make you the better you and who have helped you overcome every difficulty.
Happiness can therefore not be pointed out as one single tangible thing. Happiness can mean many things to different people. Some people spend years seeking for it by trying to earn the most money. Others retire in some cave for thirty years. And others would rather find fulfillment in an activity or a partner. Whatever it is that makes you happy, aim for it. As Abraham Lincoln once said "whatever you do, do it good" and he's right. Whether it is trying to be more sociable, attaining that promotion or finding a new hobby, the possibilites are endless; especially now that Covid has slowed our world down and has given us the time to maybe try and do something new, that was pending or an activity you though useless amidst the chaos of the modern working man. For me, happiness can be those three things. But it could be so much more. Let's aim to be happy, to be positive. There are so many things to be grateful for.
happiness
I love writing fiction stories, especially thrillers and fiction. Hope you guys like my stories!