'Light Is the New Black' by Rebecca Campbell Book Review
For Those Who Seek Some Nonjudgemental, Empowering Guidance in Their Life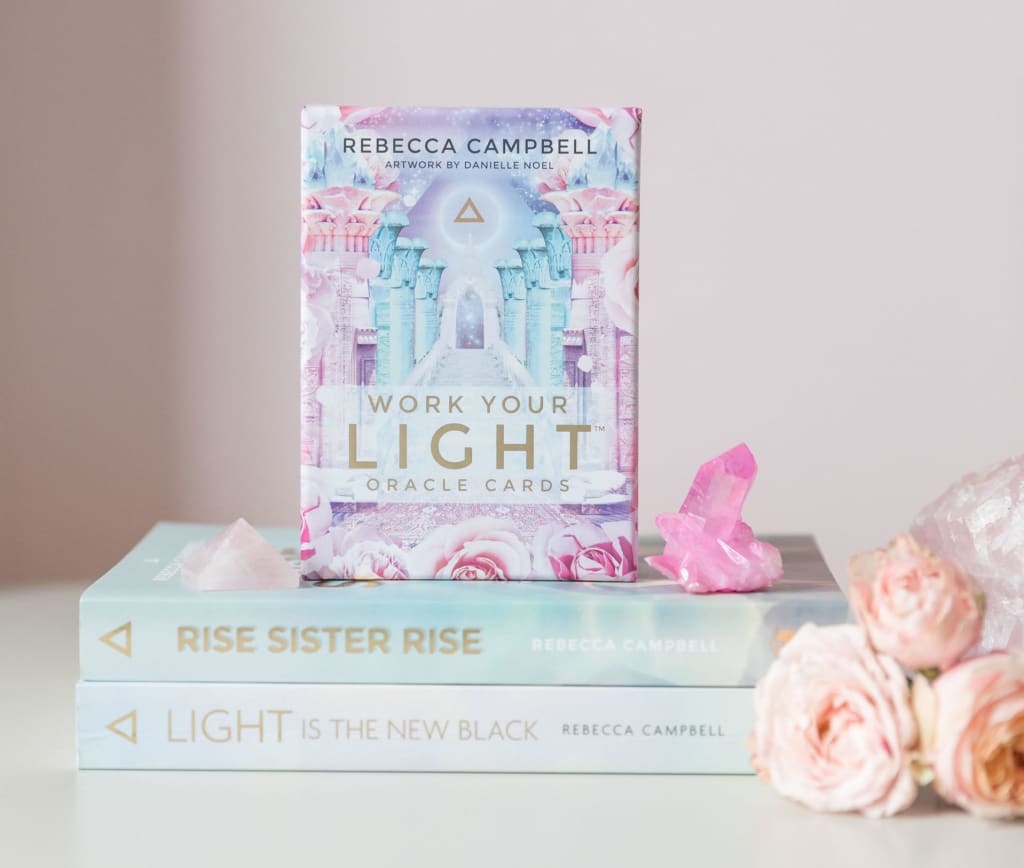 I received this book as a graduation present in June. I had been dreading graduating because I knew that a transition time would follow earning that diploma. What's next? To me, transition times feel like a state of limbo: unknowing, unfamiliar, and uncontrollable. I had been using this limbo time for self-reflection and self-analysis, which was entirely enhanced by Light Is the New Black by Rebecca Campbell. It took me a minute to pick up the book after I graduated, but once I did, I couldn't put it down.
It took me a minute to start this book after I graduated. I was busy hunting for my dream editing and/or writing job, and I didn't leave much time for myself beyond that. Finally, I walked into my bedroom to grab something else and ended up picking up Light Is the New Black instead. I sat down on my bed and ended up reading it for hours. As a picky reader, liking a book instantaneously is a sure sign of a well-written novel in my opinion. I am open minded to all kinds of books, and have read more than one self-help or guidance type of book. Light Is the New Black is my favorite thus far for a few reasons.
First of all, there is no judgment in this book. The chapters are written like a series of lessons, some kept short and some a few pages long. You can follow the lessons day by day, or you can read the entire book in one sitting. Anyone who comes into contact with this book is free to use it however they can implement it into their lives. This encouraged me, because I have a tendency to lose interest when people start instructing me how to use spirituality in my own life. On the cover of the book, it says, "A guide to answering your soul's callings and working your light" which is an honest description of the book. It's a guide to a fulfilling life experience, not a dominating instruction manual. Light Is the New Black promotes individuality and everyone's personal journey is taken seriously.
Secondly, it's supportive and entertaining! Sometimes reading about other people's lives can seem dull and unrelatable, but Rebecca Campbell gets straight to the point and provides interesting details on how she became who she is today. She talks about her high points, her low points, her exes, her friendships, and how everything plays an important role towards becoming a Lightworker. It's easy to recognize these same situations in my own life, and that gives me strength to continue moving forwards through this necessary transition in my life. I appreciate her vulnerability when sharing her life experiences, because I feel empowered to be open with myself and others.
Finally, I feel heard. I feel guided without being forced in a direction. I feel encouraged to discover the best parts of myself and then be myself. And the spiritual guidance doesn't stop there. Rebecca has created an entire website that surrounds Light Is the New Black and her other books. She also has an oracle card deck, and free meditations that go alongside the book. None of the extras are required to enjoy the book, but just knowing that the extras are there shows how much the author supports her readers on their journeys. The book itself is constantly checking in with the reader, asking them to self-reflect along the way. I have learned so much about my path and my abilities through the questions Rebecca asks along the way.
If you also dislike mysterious transitions in life, or you are feeling like you need some gentle guidance, I would recommend Light Is the New Black by Rebecca Campbell to help restore your faith in your own self and motivate you towards the things you enjoy.