In the Eyes of a Little Girl
A girls hope for a brighter future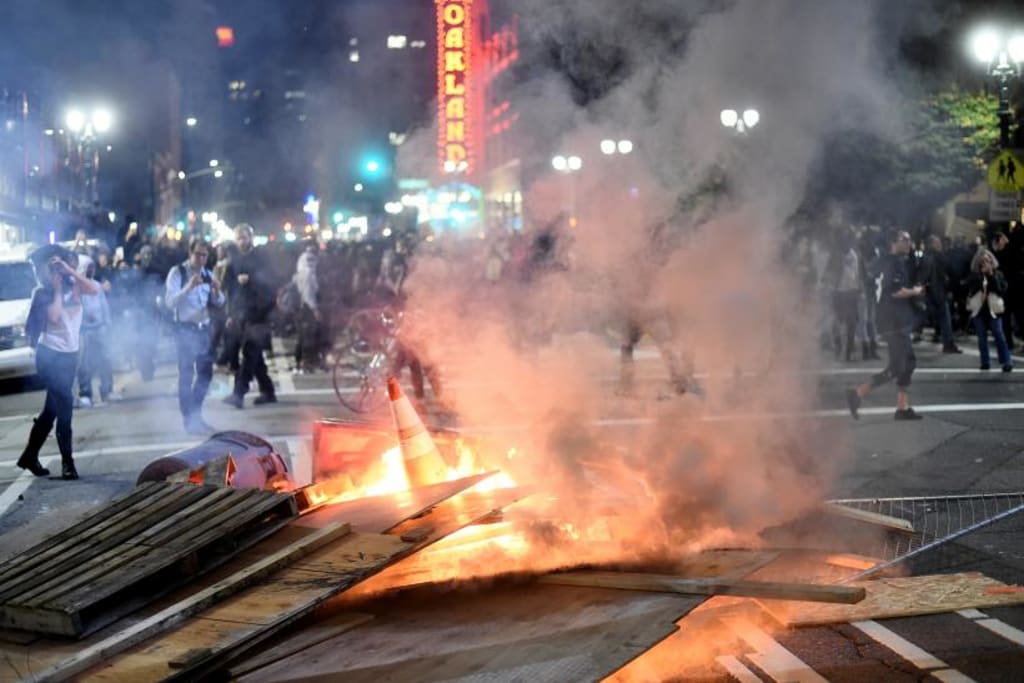 She almost wished that she could think the same way that the rest of the world seemed to, then everything happening wouldn't be so difficult for her to process. She couldn't though, something inside her prevented her from being able to justify what was happening. She couldn't just give up what she knew was right and follow them, because she truly cared about other people. Surely somebody, anybody else had to see it was wrong! She couldn't understand the 'why' to it and that's what bothered her the most. She longed for the time when everything was peaceful and nobody cared about everyone else's ideas or passions. She didn't know what happened to cause it, but everything had changed now. People were now drilling everybody else because thoughts and ideas were no longer private, no longer a privilege. Anything you believed in or stood for was wrong, there were none who were innocent. Why was everybody prying, accusing, and interrogating until you said anything that they could use to make you look like you were a worthless person. Nobody was allowed to think anymore. Everything you thought or said was used to try and destroy you. Everybody's deep, dark secrets exposed. To be an introvert was a sin~ you were hated for speaking, or trying to speak,and hated even more if you remained silent...everything about you was not only judged, it was wrong. What was happening?
Nothing was ever going to be the same. She realized that everything that happens does indeed happen for a reason, this time the reason was so that people would show their true selves. Nobody could hide their true nature anymore or pretend that they were better than they are because now, hatred was the only option for survival, everybody had turned against everybody. She realized that people were not afraid to show who they really are so long as they thought you couldn't see their true identity, and then she wondered: how different would the world have been if everybody always wore masks? People would have always treated you however they wanted to their entire lives because they wouldn't think that you would know it was them. They wouldn't have a status to worry about. Nobody would know who was going to church, who were the town drunks, who were the members of the best social clubs...it never would have mattered and people would have just done what they wanted to without caring about what others thought.
Maybe that's what scared people about introverts and empaths, they knew how to see people for who they were because they were silent and payed attention to actions and not words. It didn't matter if people wore masks or not to them because a persons character gives them away. She had been paying attention to them and their behavior for years. She knew who was doing what, who was taking advantage of others, and who was taking advantage of situations in order to humiliate others, that's what introverts do~they notice people. Did they really think it was ethical or moral to do the things that they were doing? Or did morals and ethics not exist anymore? Had they ever really existed, or were they just another excuse to put people down who you didn't want to be above you in any way, shape, or form? That actually made more sense to her because her entire life she would try to stand up for what she thought was right, but no matter what side she was on, she was always the wrong one. She was wrong for standing up for others, and she was wrong when she stayed silent. God forbid she ever stood up for herself! She was wrong for not judging people, but she was judged by everyone. Now, people thought nobody could see them. This was their chance to go against everything they had ever preached and show their true colors. It was easy for them because they never truly believed what they were preaching, they had only made those standards in order to make it impossible for anyone they didn't like or agree with to live up to. It made them feel better about themselves.
"One day", she thought, "one day things will get better." This is the only thing that gave her hope to keep pushing forward. She knew nothing would ever be the same, but he had hope at least for a brighter tomorrow. For a day to come again where people would go to the beach and just lay in the sun not worrying about anyone or anything else. A day when people would again believe that our children's future was worth fighting for. What kind of future were they setting them up for? They were creating a world that would inevitably ruin them. Nobody was thinking about the children or the freedoms and peace they were taking away from them. Tomorrow's leaders were going to have to fix the mess that they were creating, all because they wanted to win~ because winning had somehow become more important than peace, more important than teaching our children that working together creates peace and accomplishes things. But people no longer cared about this. Their egos had gotten so big, that the only thing they cared about was being "better" than anyone, even if it meant destroying anything or anyone that got in their way. Relationships, family, friends, none of that mattered anymore, it was all about self. In a world full of hate, it was hard for her to keep loving. Hard for her to keep on forgiving, hard to keep hoping.
"Better days are coming" she said, with tears in her eyes as she drifted off to sleep.