How To Survive COVID19
Smile With Or Without A Mask!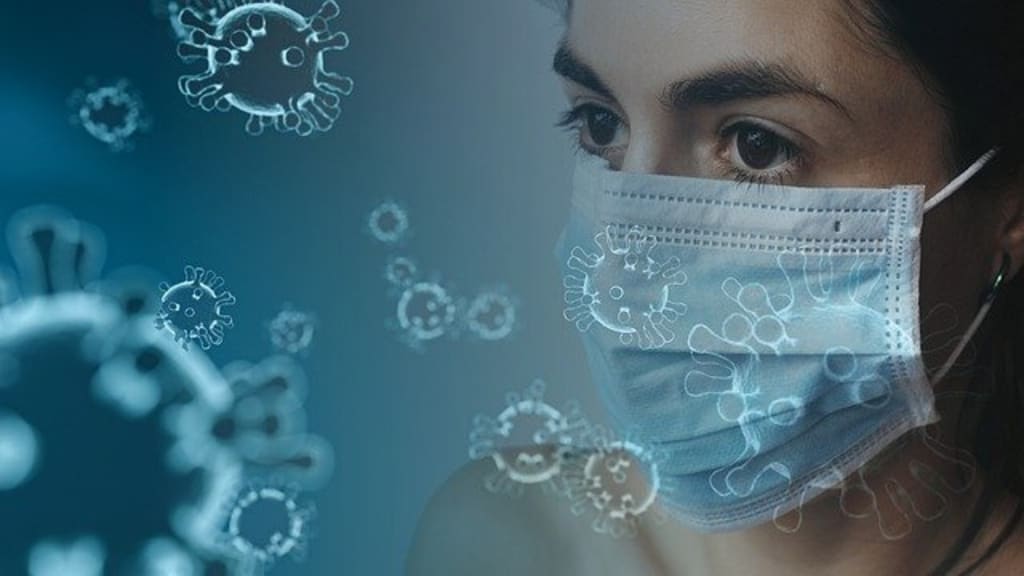 COVID 19 is driving us all nuts!
Driving us into separation, suspicion and fear. We are, many of us, isolated, lonely and living in perpetual fear. We may even feel imprisoned by this thing called COVID.
We try to go about our normal, everyday tasks, but it feels like the good has been taken out of it.
We stand in queues, like good sheep, donning our masks, as instructed. We queue at the shops, whether supermarkets, Pet supply shops, cafes, electrical shops or clothes shops. We queue again at the shopping tills. Sometimes the queues are so long that we become irritated or agitated. Sometimes we might even leave our baskets and walk out.
Parents taking their children to school, can't just drop them off, as they would have done previously. Instead, they may have to wait around, if they have more than one child. This is so that the children can go into school, at staggered times. The same happens in reverse, when the school children leave in the afternoon. It must be very difficult for the parent who has to get to work.
Getting a doctors appointment, even for serious health issues (not COVID), is so difficult now. I don't know about your GP, but mine and many other GP surgeries that I ring at work, means listening to countless messages about COVID. You just survive the long-winded COVID message, only for another message to ensue afterwards. You then find yourself at number 10 in the queue. Whilst waiting for the receptionist to take your call, you are treated to a combination of further messages and dreadful music. Just as you near the number 2 position in the queue, the phone cuts off! Argh!!
In fact, almost any phone call you have to make, bludgeons you, with yet more COVID messages. Is it likely that any one of us doesn't know about COVID? Maybe if you are living in a rainforest somewhere, then you might not know about COVID. However, for most of us, it is a daily occurrence. Reminders of COVID appear to come from every direction; from threats of huge fines for not wearing a face mask at the train stations to the radio and television and COVID banners on the internet.
There must be millions of truly, isolated people across the world. People who sit in doors, day after day, for fear of catching COVID. Old people in particular, are affected and those with mental health and disability issues.
Our children are anxious about it and this new game of masks and hiding away, only serves to exacerbate their anxiety. The continued bombarding of fear, inducing adverts about COVID, may in the future cause catastrophic issues for our children. They may develop depression, anxiety, panic attacks, nightmares and fear of other people.
How are they really coping?
They may be stuck in doors, day in and day out, during lockdown periods. It is bad enough for able-bodied adults, with having to spend long days in doors and not seeing family or friends.
Having conversations on the phone is helpful but it is not the same as seeing our loved ones. Human contact is natural and whilst we might all survive one lock down, this is now becoming a way of life. It is extremely hard for people who have family members that live miles away.
Thankfully, we have technology for face timing, Zoom, Skype and various other programmes, enabling us to both see and speak with family and friends. However, there are many people that simply don't have access to technology or may not be able to afford such expensive equipment.
We may not immediately be aware of the fact that wearing masks, removes our smile. Our expression, which we all need, is limited. Just a pair of eyes staring at you, above a masked face, can be disconcerting and can lead to misinterpretation of intention. It can make people suspicious and fearful of each other. For people who are already paranoid or hyper-vigilant, because of trauma or mental health issues, this can have a devastating effect on them. It is not great for our children either, as this becomes the norm for them. Later on, not wearing a mask may leave them feeling vulnerable or self-conscious.
The effects on self-confidence, normal development and socialisation of our children; growing up with people wearing masks, is as yet unknown. However, if this pandemic continues on for a protracted period, the impact on our children may be greater than COVID itself.
Here are a few ideas that may be helpful for all of us.
Smile:
We may forget to smile when we have a mask on, because it might feel pointless to smile. But……!
Smile often with your mask on. A smile changes the way your eyes look. It brings expression to your face.
Please, especially with a mask on, smile!
Two seconds of chatter with a child and/or their parent can warm your heart and suddenly life doesn't feel quite as bad.
Laugh:
Laugh a lot and if you feel you haven't got anything to laugh about, put something on that makes you laugh. This may be a favourite comedian or film. This might be a silly game over Zoom. This might be having a distanced water fight! Laughter is amazingly good for you.
Human Contact:
Smile!
Make sure, even if you don't have any technology like a smart phone or computer, that you phone people you care about regularly.
Make a point of going out to buy shopping. Yes I know it can be tedious with queues to get in and queues to get through the tills and out. Human contact is imperative for our health, even if we don't know anyone in the shop.
Go to the supermarket even if you only buy milk and a packet of cereal. Take your time going round, make a point of smiling.
In a queue?
Smile!
Talk to the person in front or behind, even moan with them about the state of things. Human contact is extremely important. So don't rush round and out. Look at things, laugh with a child or baby in a pram, talk to the cashier. It doesn't matter if it is mundane, a moan or just a couple of words, it is contact. A meter or two meters is still close enough to have a short conversation.
Go out in nature:
Smile!
Go out in nature, this is critical. Nature is very healing and grounding, even autistic children naturally seek out woodland and areas of countryside. Even if you just go to the local park or even a stretch of grass near your home. If there is a swing park where parents take their children, wander in there as well. Children are good for the soul.
Go to places that are in the open air, so you don't have to wear a mask.
Smile!
Try to go out to places in the open air, to change the monotony. This is important for human contact because we don't need to wear masks, out in the open, if we are socially distancing.
Places like a zoo where the animals miss us and need us. We will enjoy them and they will enjoy us.
Within a short distance from my house, there is a Goat Sanctuary and it is open. It is just a donation to get in but it feels so amazing to walk around in the open air, surrounded by goats and no masks. Find places in your local area like that.
There may be an animal sanctuary near you too. It is lovely and life giving, to do something "normal." There are Zoo's, farms, animal sanctuary's, parks and woodlands that are open to the public. Nature is extremely good for health, mental health and well being.
Within your own community, arrange a distanced picnic with a few people out in a park and have a great natter!
Pets:
Smile!
Animals are good for our health and wellbeing. Take your dog for more frequent walks or longer walks. Play games with your dog, not just fetch but hiding their dog toys and asking them to find them.
Offer to take someone's dog for a walk.
At this time, more than ever, we need each other.
Social distancing fun!
Smile!
If you live in a block of flats that have balconies, why not decorate the balconies with balloons and whatever you can find or make. Do this yourself for yourself or with your children. If you can see other people in the balcony, in the flat opposite; wave or shout hello!
If you have friends in the balcony opposite you and you both have children, maybe your children can put on a little "Britain's children have talent" show for each other. Or, if you have a big area of grass between you and the next block, maybe the children can have a running contest. This can be ran and timed individually over a specific distance. You could even extend these individually timed and ran races, by having the children do the egg and spoon race and the sack race. If they do this at a meter/2 meter distance, they can still have a laugh and have fun. It will also help them socialise.
Mums and Dads with young babies and toddlers. Find other parents with young babies and toddlers and arrange to meet at the park by the swings. Let your children chatter in twos. They can still do this at a social distance.
Currently, as I write this, we can meet 6 people outside. So lets say two mums and one dad, each with a child could meet and have a picnic and their little ones could play. In between of these fun things, if you do have a smart phone, make videos and send them to your friends.
Let your toddlers and children chat to each other over face time or zoom or whatsapp.
If you have older children, try having a socially distanced meet up with their best friends, keeping to the rule of 6 outside. Play some games that allow you to socially distance, like hide and seek.
I hope that some of these ideas will be useful for you and allow you and your family time away from masks and fear.
It is important for children to see your expressions, especially small children. So the more activities you can do without wearing a mask, the better.
In doors, put music on and dance, or play a game of singing silly songs.
Play games like chess or monopoly or even snakes and ladders.
Take time to bake cakes or make little creations with your children.
I hope that these ideas will help inspire your own imaginative ideas, to live a great life, even with the continued onslaught of COVID 19.
Remember to smile, with or without a mask!
happiness
About the author
I am a freelance writer for hire, writing on matters of health, mental health, herbal medicine and wellbeing. I love writing and creativity. I am a Medical Herbalist, Psychiatric Nurse, Writer and artist.
Reader insights
Be the first to share your insights about this piece.
Add your insights