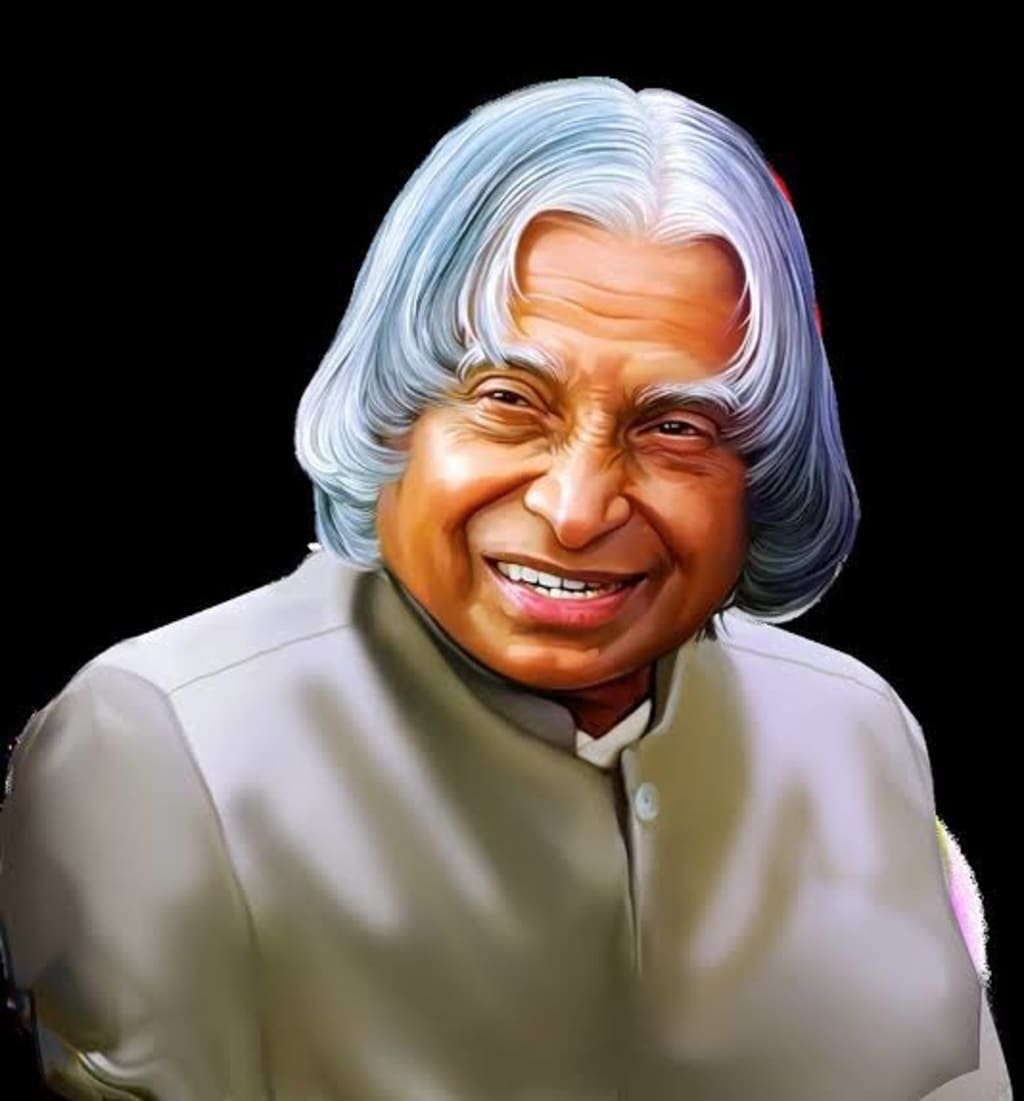 APJ Abdul Kalam, whose full name was Avul Pakir Jainulabdeen Abdul Kalam, was an eminent Indian scientist and the 11th President of India. He was born on October 15, 1931, in Rameswaram, a small town in Tamil Nadu, India. Kalam is widely regarded as the "Missile Man of India" for his contributions to the development of India's missile and nuclear weapons programs.
Abdul Kalam came from a modest background and faced many hardships during his childhood. Despite the financial challenges, he was a bright student with a keen interest in science and mathematics. Kalam graduated in Physics from St. Joseph's College, Tiruchirappalli, and went on to study aerospace engineering at the Madras Institute of Technology (MIT).
After completing his studies, Kalam joined the Defense Research and Development Organization (DRDO) as a scientist in 1958. He played a pivotal role in the development of India's first indigenous satellite launch vehicle and various missile systems, including the Agni and Prithvi missiles. Kalam's leadership and technical expertise earned him widespread recognition and respect in the scientific community.
In 1992, Kalam became the Chief Scientific Advisor to the Prime Minister of India and later served as the Principal Scientific Advisor from 1999 to 2001. During this period, he played a crucial role in India's nuclear weapons tests in 1998, which established India as a nuclear-armed nation.
In 2002, Abdul Kalam was elected as the 11th President of India, succeeding K.R. Narayanan. He was the first scientist and the first bachelor to occupy the Rashtrapati Bhavan (Presidential Residence). During his presidency, Kalam focused on the issues of education, particularly the importance of science and technology in national development. He traveled extensively across the country, interacting with students and inspiring young minds.
After serving as President from 2002 to 2007, Kalam returned to his passion for teaching and writing. He became a visiting professor at various educational institutions and continued to inspire people through his books and speeches.
On July 27, 2015, while delivering a lecture at the Indian Institute of Management, Shillong, Abdul Kalam suffered a cardiac arrest and passed away. His sudden demise was mourned by people across India and the world, as he was widely admired for his humility, vision, and dedication to the welfare of the nation.
Abdul Kalam's contributions to India's missile and nuclear programs, as well as his efforts to promote education and inspire the youth, have left an indelible mark on the country's history. He is remembered as a beloved figure, an inspirational leader, and a true visionary who worked tirelessly for the progress of India.
Here are some popular quotes by Dr. A.P.J. Abdul Kalam, the former President of India and a renowned scientist:
"Dream, dream, dream. Dreams transform into thoughts and thoughts result in action."
"You have to dream before your dreams can come true."
"Don't take rest after your first victory because if you fail in the second, more lips are waiting to say that your first victory was just luck."
"All of us do not have equal talent. But, all of us have an equal opportunity to develop our talents."
"If you want to shine like a sun, first burn like a sun."
"Look at the sky. We are not alone. The whole universe is friendly to us and conspires only to give the best to those who dream and work."
"We should not give up and we should not allow the problem to defeat us."Man needs his difficulties because they are necessary to enjoy success."
"Be more dedicated to making solid achievements than in running after swift but synthetic happiness."
"Failure will never overtake me if my determination to succeed is strong enough."
These quotes reflect Dr. Kalam's inspirational and motivational outlook on life, encouraging individuals to dream big, work hard, persevere through challenges, and make a positive impact on the world.
Reader insights
Be the first to share your insights about this piece.
Add your insights