Goodbye 2020, hello 2021
What a year it has been!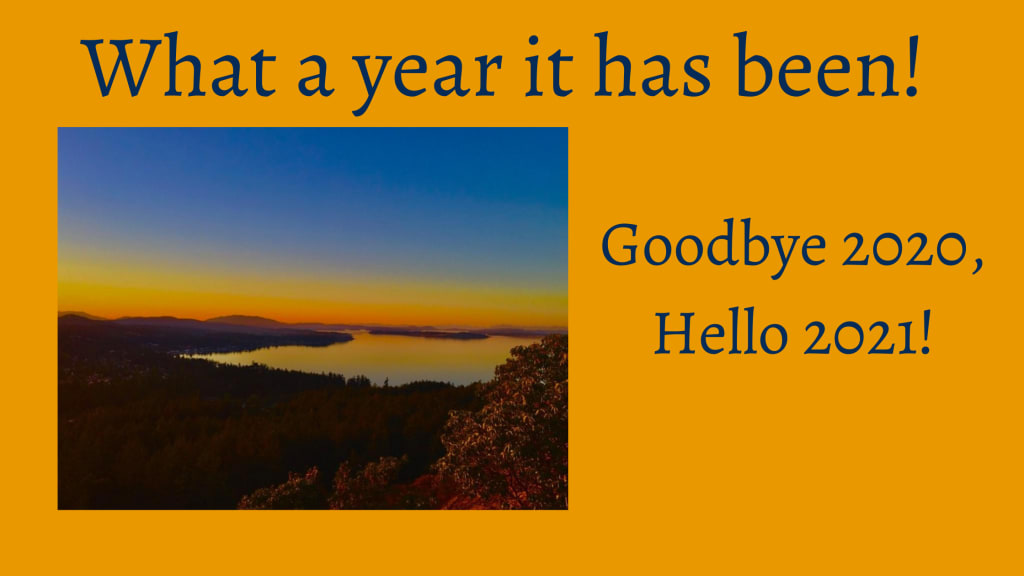 I am writing this post at the end of 2020, in the month of December, and wow what a year it has been!
Truly, what a wild ride, and I know I am not the only one who feels this way, 2020 has brought tremendous changes to the world and it feels to me like this is only the beginning.
No one could have predicted what occurred this year, it was one for the records, and one that humanity will remember for a very long time to come, it will be written about in the history books, that's for sure.
So where do we begin?
Well first off, I want to say that this post is not going to be my opinion on the events that took place this year, this post will be what I experienced during 2020. So please read it as a story, because that is what this is, a story. It's now in the past and for me, I always have enjoyed retelling my experiences for the world to read.
So let's begin.
The year started off very interesting for me, because I started the year off in a vow of silence, which lasted for 10 days. Why on Earth did I not speak for 10 full days? Well, I had done it before in a vipassana meditation course, but this time I wanted to do it on my own, and I wanted to raise awareness for children who were needing help... Children who aren't getting the attention they deserve. Children who have had horrific experiences, that people just don't want to talk about... I wont get into details here.
This is something I care about alot, the children, and this is coming, the information is not fully out at the moment of me writing this, but we will know when it has...
So anyways, 10 days of silence, is profound and calms your mind like crazy. When you can't speak anymore, you stop thinking about what you will say, and so day by day, the mind gets calmer and calmer.
After 10 days, my mind was calm, clear and focused. I decided I would do this vow of silence every new year.
I started to speak again on January 11th which was great because I had just started seeing someone new. This happened to be our first real date, so of course I was going to talk again. We had a lovely evening together, and that ended up turning into a fairly long relationship.
At the end of January I held my very first event, called Dreamerz Gala which would become an annual event. It was at the time pre-covid, and I don't think anyone realized this would probably be their last time in a large group of people before covid arrived about 1 month later.
So yeah, one month later, Covid 19 was just starting to make its appearance, and at this point, we had no idea how big it was going to be.
My partner invited me to come stay with him during the lockdown, to which I agreed, not knowing how long it would be, we were thinking a few weeks maximum...
And of course that's not exactly how it went. On March 14th 2020, schools were closed, which now gave me a new opportunity to homeschool his children, which ended up being one of the best experiences I could ask for, as I always wanted to homeschool my own children one day, and this was pre-covid.
So now we are in April, I live with my partner, homeschool his kids, and we have the motto "Friday everyday" so we enjoyed ourselves most nights of the week. It was fun, and we didn't allow fear to take over.
In the month of May, I committed to taking a course that I'd been eyeing for quite some time, which was QHHT level 1 by Dolores Cannon. This is Quantum Healing Hypnosis Technique and during the course I had moments of profound inspiration, knowing deep inside that this is what I was here to do.
By June I had finished the course and I started doing practice sessions for some friends of mine, which just validated my desire to do this work, even more, because the results of these sessions were utterly life changing.
My very first client was on the day of her session wanting to go to the hospital because she was in such a rough space, and after the session she was like a new person, carefree, happy and was literally bouncing around the room with joy. I knew in that moment that I had my hands on a profound modality!!
Also in the month of June, I bought myself a van from my older brother, and this was the first time I had a vehicle in 18 months, so now I had more freedom again!
At that point, I started to get ready for a trip as I knew I couldn't fly anymore, but I chose instead to go on a road trip to B.C with the same friend I did my first QHHT session with.
So in July, we set out on the open road, with no specific destination in mind, and no time frame.
There were many ups and downs, laughter and tears, but overall it was one of the most life-changing experiences of my life. I look back on that trip with fond memories, and one day I will write more about that experience, but not today.
I was gone for 80 days, my friend left after 30, so I was alone for 50 days living in my van, and it taught me a lot about what I need in life, and what I don't need. I learned to live very minimally on that adventure.
I came back to my hometown of Calgary in October as I wanted to be close to my friends if there was another lockdown...
Which of course there was, and this time I was not with my partner anymore, but I am currently renting a furnished room in a big beautiful house with a group of women who all understand what is going on. It's a great thing I have going for myself right now.
In November I took another course, called Beyond Quantum Healing or BQH, which would now allow me to offer remote hypnosis sessions, and is more flexible. Dolores was very adamant with QHHT that sessions be done in person, but I don't think she foresaw the covid restrictions when she said this. In our world right now, in person is not all that possible, so remote sessions opened my world up tremendously!
So here I am, it's now December, I am alive and well, thriving really, and when I look back on 2020, it was the best year of my life, and I am beyond grateful for all that has happened this year.
So much happened, and I was always taken care of. Trust and surrender have been my motto for the year, and it's been a wild ride! I truly look forward to seeing what 2021 has in store for humanity....
2020 in numerology is the number 4, which is normally a very stable number, and 2020 was anything but stable in the world in general. However, I think this year has brought a deeper sense of inner stability for humanity, we were forced to go within, and take time to reflect and think about our lives and what it is we truly want.
WE will make it through this covid pandemic, and we will be far stronger because of it.
Have no fear, for fear itself, is the only an illusion we have created.
Trust and have faith, it will all be okay!
*If you are interested in a Beyond Quantum Healing session, please check out my website at Lindsaywasut.com and get in touch with me there!
* Here is a video I made if you wish to check it out!
With love and light,
Osana
happiness
About the author
Sharing my stories with the world. Writing has been a great tool for transformation, and I feel like I am only starting to dive deep into the self. Life is a wonderful gift, live to the fullest!
Find me at www.osanawasut.ca
Reader insights
Be the first to share your insights about this piece.
Add your insights