Garden Scissors
Sweat and Happiness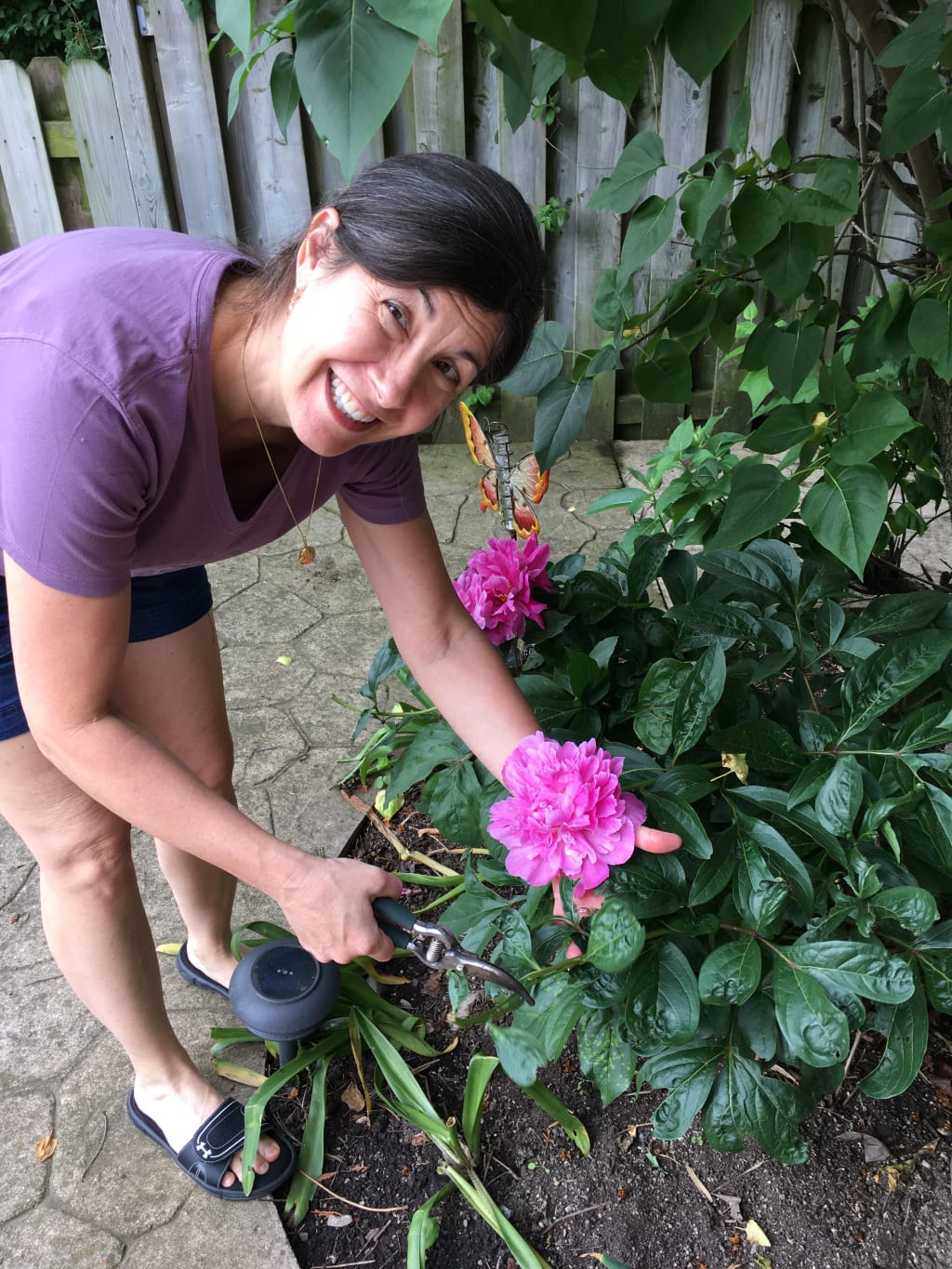 Peonies blooms!
Happiness is relative to the person experiencing the emotion. What is common about happiness is that it is fleeting and can be measure on a scale, such as a Likert scale. Not that I imagine that many of us go around thinking of rating our happiness from one to ten. The confusion with happiness is that it surreptitiously moves in and out of our daily lives. Some people believe that they must feel happy all the time or something is wrong. For me, happiness is what I make of it, meaning that my actions create my happiness. If I sit too long without something to keep my vivid and creative mind growing, I find less happiness. Sometimes that inertia opens the window to sadness or negative thoughts. When I am growing, learning and creating I am happy. The most important thing that I have found about happiness, is that, too much of any of these things, reduces the level of happiness on the Likert scale. Variety is my secret for a happy life and always remembering that happiness is not a constant. Live in the moment and be grateful for the happy times.
The day is wet and raining and brings along a humid stickiness. I choose to stay in and read a book. I love reading and it brings me happiness, but after four hours, the room feels stifling and my level of happiness is decreasing. The rain is now coming down sparsely, and I am driven to put on my rubber work boots and go outside to my gardens. While there are many things that make me happy, my passion for creativity, growth and happiness can be found within my gardens. In the warmth of the mid-afternoon, I grab my garden scissors, the long-handled garden scissors, my bucket, my hoe and throw it all into my big black wagon, that has a convenient dumping mechanism. I have a golf cart that I use for my gardening activities but with the rain, the weight of the golf cart will leave tread marks in the grass.
The feel of the soft rain cools my core temperature, and I begin my art by walking around the gardens that have been create through love and hard physical work. Observing my treasures, that have been planted to bring joy and happiness to myself, I find many things that can be done. I decide to first bring some of the beauty indoors. With my small garden scissors, I cut some of the beautiful blooms from the many flowers within my garden. The grey, blue and purple irises transplanted two years ago, around the sweeping willow tree have taken off, and have exploded with blooms of such deep color.
I move over to my back gardens and take in the incredible vision of the red roses. I carefully draw forth my garden scissors that are sharp enough to cut the flowers without traumatizing the stems of the plant. The precision and sharpness of my every day garden scissors allow me to bring some happiness inside my home. I plan to arranged the flowers in a beautiful vase to brighten my morning room, where I spend equal parts of my time reading and learning. It has been the caring of my plants over the various seasons that have culminated in such beauty. The mystery is displayed in the long-awaited blooms, as I never know what will survive the long winter or what will flourish and combine to make a cacophony of colors over the short months of spring and summer, before changing and dying back to hibernate over the long winter. This spring I needed my gardens to care for me, to heal my soul and bring my mind to a better place, such as before the world pandemic.
While gardening lends to my inner happiness, over the last year and a half, I was not able to tend to my gardens. They had to lay dormant as I spent any free time that I had, focused on completing my master's degree. When I first started the Masters of Business Administration, I never imagined the horrors of the COVID 19 pandemic. I am no longer a front-line nurse, but I have been a Registered Nurse for thirty-five years, and the last twenty of those years I have worked in various levels of leadership. The last fifteen of those years spent at the director level, managing sometimes over 240 people. The horrors of the COVID 19 disease, was unexpected and it created a really tough working environment. Mixing that with a post-graduate program, brought me to a bad place inside. I have many stories about nursing over the years, but this pandemic really showed the ugly side of nursing. The pain and suffering that not only affected the people that were sick and dying but it affected nurses more than I have witnessed in my career. I can only image what it was like to be a nurse during war time, but it seems to me that it must resemble some of what I just experienced. If I can just reach one reader to consider getting vaccinated and joining hands with the millions of others in this world that are vaccinated, then I have done something right for the people of the world.
While I worked in a small community hospital, people were still sick and dying. Due to the pandemic, our nursing team's regular work was mostly placed on pause as my team works in the Operating Room, leaving just the emergency cases that had to be performed for the safety and well-being of the patient. A large number of the nurses were furloughed, essentially losing their livelihood. Communication which has usually been the major cause of health care errors became even poorer, as senior level people stayed hidden behind doors, as directed. It was my responsibility to develop training for nurses to protect themselves while providing surgical care. Working with my direct leadership team, we developed the training and had to learn to communicate over teleconference to a team of seventy-five. Living in a rural area, many didn't have the connectivity at home to get on the call. Next, administration needed nurses to staff the floor areas, including nurses who had not provided bedside care for years, were expected to go work on floors with two days training. The agony of these nurses was very real, they were terrified of losing their license, with the ultimatum given that they were obligated to provide care or lose their job. Yes, I was the lucky individual to deliver the message.
So many nurses experiencing difficulties at home, struggling with sick husbands or parents, suffering from the dreaded disease, and not being able to collect a pay check. Others scared to death they would contract the disease. All of them reaching out to have me solve their problem. To which I wanted to do, but had no answers, and little direction. Administration asking why nurses were not working on floors, and no-one having the time to understand how the home issues complicated the matter. No-one providing any communication of risks they were being exposed too, if they did go on the floor, because it all happened so fast. Essentially no-one but me to listen to their fears.
Eventually all the training rolled out, but still the nurses didn't feel comfortable working in areas that they would have normally received six weeks to six months training. Pleading for the nurse's rights to administration for training, for understanding, for leniency, and listening to the nurses crying, hearing their anger, their rage, about me, about the system, about the lack of education, lack of compassion, and me stuck in the middle of everything, with no-one to help. Not once in that whole experience did anyone ask me how I was or what did I need. I was estranged from my children living in Canada, for ten full months. I got the same option as everyone else. I was non-existent to administration, but a target for my nurses who were on the front lines. I understand, they needed me to hear them! No, I'm not a front-line nurse, but I took continual abuse day in and day out, and I broke. Burned out is what the family physician said, but none the less I had to resign from my position.
Gardening is a journey that when begun can last forever, or can remain dormant while other parts of our lives take over, similar to an evasive weed. Dandelions can easily take over a garden that is left unattended, and while the bees appreciate the nourishment early in the warm season, they are a tough weed to eradicate because of long tap roots. Words can't express how badly I needed my garden when I resigned. I needed to sweat and feel the physical labor of producing something that was beautiful to me. Something that responded to hard work, love, gentleness and caring, with the beauty of flowers. While committed, gardening is a project that is driven by creativity and learning. My gardens reside on our residential property in upstate New York that consists of 1.3 acres. The property surrounds a two-story home that has been the home of at least two other families since it's original build in 1974. We purchased the home with gardens surrounding three sides. They presented as uncared for children similar to urchins squatting on forgotten property. Two old and worn trees hid the front of the house with long branches and thick foliage. My husband and I hired a professional company to remove the trees. Yet, there are many trees that circle the rest of the property that provides, sometimes two much shade in certain areas, creating a carpet of moss under their canopy. Feeling a sense of responsibility, I cannot consider removing any more of the majestic trees.
With much physical effort I have been able to re-establish the front gardens that were unable to flourish, due to the lack of sun exposure caused by the heavy tree coverage. My inspiration is fueled by the raw feelings of my mind's rejection to navigate the continual needs of my responsibility to nursing. My hope is that the hard physical labor of restoring my gardens will heal more than the overall beauty of my gardens, but that it will heal my soul. After some time and some personal self-care, I see only the potential that awaits me, in the longing of the well-established irises, and the tiger lilies that grow wild around a staunch tree that provides character to our home. My imagination is fueled by the potential of beauty, and the nature that I am exposed to each and every day. The deer hide in the growth that surrounds our property, nosing their way through the gardens looking for food. They are said to be habituated and are known for carrying disease ridden ticks, which lends them to be considered uninvited guests. The use of garden Lyme tends to keep them away. The trees are filled with the squirrels that nest high in their broad branches. They frolic and play together, for hours on end, jumping between branches, running up and down the trees. Just like children they have awaken me during the night with their high screeches that once scarred me, but no long do, as nature mimics humans.
I am comforted by the sounds of nature that sooths my troubles. This world of nature grounds me to the reality that we all live together, even as the earth evolves. When I use my long-extended garden scissors to work a shape into the shrubs and small trees that fill my garden, I am aware of the angels with wings that live in my trees, as they fly to and from such trees playing with each other. Their colors varied from dark to bright, from yellow to black, from red to blue, each bird having their own voice that mingles with the healing sounds of nature. This brings me happiness and grounds me to the earth, as I dig and aerate the soil, letting it sift through my fingers, as I plant my flowers. It reminds me that all things have a time and place. All things are worthy of our love and caring. The shapes I form using my large clippers allow me to add design in nature. It is an expression of my idea of beauty. Natural, fragile yet tough to weather all types of storms.
My happiness moves on the Likert scale when I work in my garden. It is not always easy to shovel and mix dirt, and mostly it is plain hard to remove the pesky weeds that continually try to take over. I feel gratification in my gardens, when I break a sweat working hard to create the beauty I know can be found within nature. Anything worth having does not come easily, thus, while I may be sore for the physical effort it takes to create the beauty I find in my gardens, I find happiness in the ache in my back and the soreness in my legs. Why? Because I give this effort for no-one else other than myself and the nature that I am caring for in my own world. These animals know me, these plants know me, these tools such as my small garden scissors and my long extension scissors know me and they are essential for me to fill my gratification for peace in nature. Nature accepts me at my most basic self and for that I am willing to feel the aches and pains, if only briefly, so that I may heal my soul and experience the happiness of the beauty found in my gardens, in the collage of colors, smells and textures found in nature, all the while being serenaded by the songs of the angels with wings!
The End!
healing
About the author
I am Cindy, noting more and nothing less. Dichotomy describes me best. I love to create; and I love the sciences. I have a wild spirit that has calmed. I was born in Canada, but live in the USA and flit between. I am the Yin & the Yang.
Reader insights
Be the first to share your insights about this piece.
Add your insights