Forever Thirteen
Tattoo Tale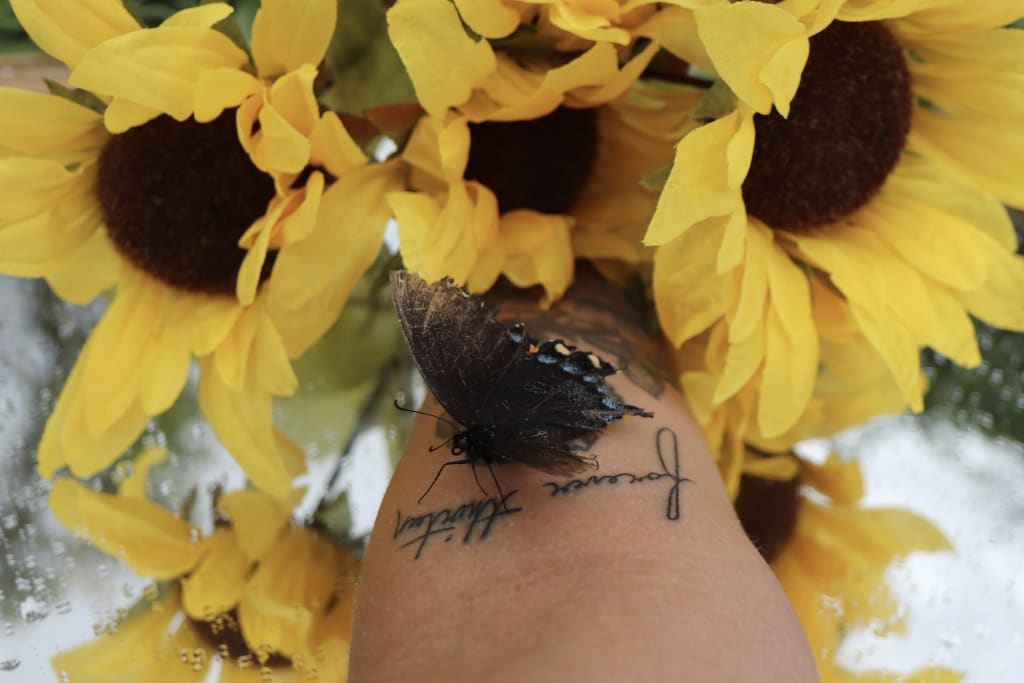 The Butterfly Project
I came across this contest whilst scrolling through tattoo inspiration and with 45 minutes left on the clock. As a person who doesn't believe in coincidence I knew I needed to put my story out there for others. I am someone whom is covered in tattoos so as some of you can probably imagine if you've succumbed to the needles, not all of them have meaning. I have a few that serve as nothing other than mobil canvas and additional scar coverage but these two in particular have great meaning and were amongst my first.
Growing up I always had an infatuation with butterflies, but they have come to have a deeper meaning especially after my early teenage years. If you happen to know what the "Butterfly Project" is, I am both sorry and thankful. For those of you who may not know, the butterfly project is a movement that was created as a coping mechanism for self harm. When one felt the urge to hurt themselves they were supposed to draw a butterfly in the area in which they planned to do so and leave it alone without washing it away until it faded. One could draw as little or as many as they needed but the objective of the project was to keep all of your butterflies alive. If the butterfly could fade without you self harming it meant the butterfly had lived.
One day, I was out taking photos and cleaning up a set I was working on (I'm a photographer) as a storm was rolling in. A battered butterfly came in with a gust of wind and clung to my hair. Not having the heart to leave it out in the weather, I carried with me. Just as the first rain drops started hitting I came across this photo oppertunity. It had crawled onto my arm making its way toward the fake flowers I happened to be carrying. A few years ago, I had my self harm scars covered up on my wrist and and more recently "Forever Thirteen" tattooed above them as that is how old I would have been had I succeeded in killing myself for the first time. Getting the scars tattooed over was a feat in itself, I was turned down time after time until I finally came across an artist that was willing to take on the task. At the moment I was able to capture this shot it all became so surreal. It made me reflect back on all of the butterflies I had "killed" during my long journey of recovery and finding the help I needed. I thought about all of the opportunities I would have missed and all of the lives I wouldn't have been able to touch if I had stayed "forever thirteen". I also never would have had my son or been able to advocate for people whom are in similar situations that I was in at the time. So for those things and much, much more, I am grateful. Looking forward, I am happy to be here and will forever cherish the moments I get to be apart of on this journey called life.
There's not always a rainbow after every storm, but I'm glad that I have been able to find one by creating art that can help others find themselves the same way I did. I plan to finish my sleeve by incorporating this butterfly to signify the number of butterflies I had to break in order to get to where I am today. It will prove that there is beauty in perseverance and that it does in fact get better. Tattoos are forever and that will be one butterfly who can never fade.