For my birthday...
An exercise in celebrating myself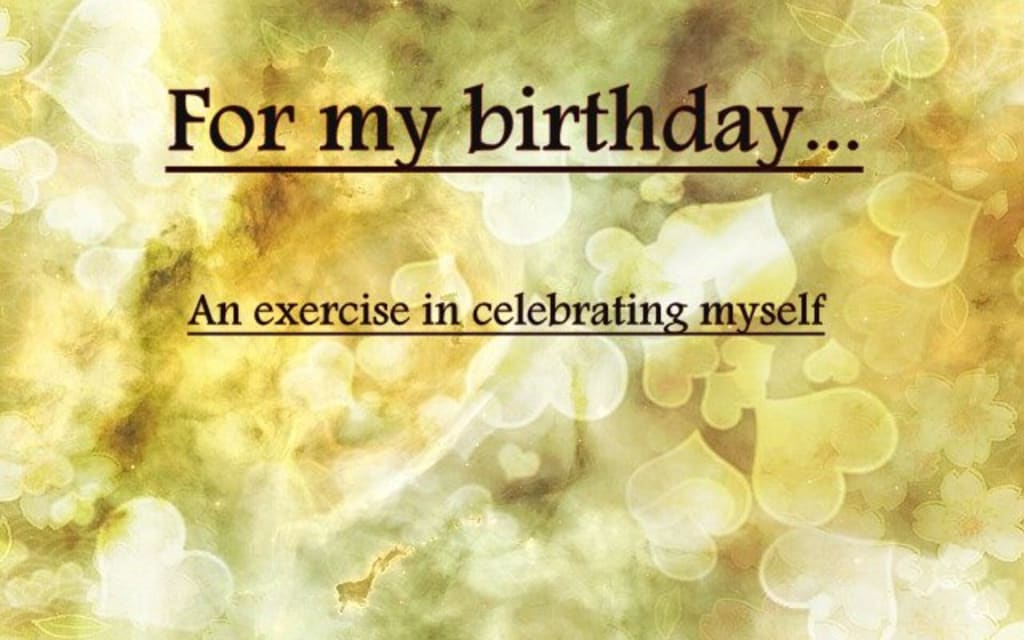 For my birthday theme this year, I chose "Celebrate who you are rather than the things you do." (It's a little exercise in getting to know myself and thinking about how much may have changed since my last birthday.)
I decided to make a quick list of facts about myself; one fact for every year of my life so far; And to share my list with all of you so you can catch a glimpse of the woman behind the books, website, articles, etc.
Here we go! See how many of these you can relate to.
1.) I hate the "blame game". It is an enormous waste of life to worry about whose fault something is. Let's just focus on fixing the problem.
2.) I place expectations on myself rather than other people. For example, I don't expect people to respect my boundaries. I expect the respect I have for myself to walk me away from disrespectful people. (say that 3 times fast)
3.) I have ADHD and sensory perception issues. I don't like things too bright or too dark. I don't like things too loud or too quiet. I don't like people in my personal space. And hugging me/cuddling is a no-no most of the time. (Unless you are one of the exceptions; like a child… or a puppy.)
4.) I dislike when people assume that my boundaries are dictated by my disorders. The truth is it's rude to invite yourself into my personal space, yell at me, or expect me to morph into who you think I should be.
5.) I have no tolerance for rudeness.
6.) I am not just one thing or another. I am complex. I have a variety of characteristics and moods… Just like everyone else. (And I make it a point to change often/work toward self-improvement.)
7.) I like to learn new skills… regularly. There's really only one thing that I stick with and that's writing.
8.) I'd rather be alone than with someone who doesn't care about me. (I am serious about this. Alone time= more time to learn new things… and write, of course.)
9.) I sometimes have trouble finishing what I sta…
10.) I am always late… For everything… All the time.
11.) I don't like time. (You read that right.)
12.) I don't make promises.
13.) I don't apologize unnecessarily. (For example, I am rarely sorry for being late. You know how I feel about time and schedules.)
14.) I believe arguing is a waste of energy.
15.) I try to make informed decisions rather than behave impulsively… most of the time.
16.) I like being short. (5'1")
17.) I like to spend some days just sitting and thinking.
18.) I don't like fast food. But I don't like waiting for food to cook.
19.) I would rather eat meals at a dinner table while enjoying the company of close friends than anywhere else.
20.) I believe that trying is never a waste of effort, even if all your efforts fail. (Just try to be wise enough to recognize when it's time to try a new approach.)
21.) I don't own a single thing in my favorite color. (Red-orange just doesn't look right anywhere except in a sunset or on autumn leaves.)
22.) I dislike social media.
23.) I prefer warm drinks to cold ones.
24.) I love music and I believe everyone should have a soundtrack for their life… and it should change often.
25.) I'm a mess. And I like that about myself.
26.) I almost never respond to situations the way people think I will.
27.) Even I have no idea what I might do next. And that's cool with me.
28.) I am a dog person.
29.) I love chocolate. (Especially hot fudge and warm brownie cake.)
30.) I am able to relax more at night because the world feels quieter and less hectic. (I like to stay awake to enjoy it.)
31.) I prefer the luminescence of the moon to the brightness of the sun.
32.) I love watching the sun rise over nature. (Instead of over cities, towns, roads or houses.)
33.) I am okay with not being able to afford luxuries or "extras" but despise not being able to afford a better home, power, water, necessities…
34.) I break my reading glasses regularly… not on purpose.
35.) My kids are my favorite people in the world.
36.) I like to celebrate people on their birthdays and celebrate accomplishments as they come.
The End. Thank you for reading!
*Your mission, should you choose to accept it, is to make your own list!
P.S. Feel free to wish me a happy birthday by donating either here or on my website! (authorjennifertreece.com)
About the Creator
I'm Jennifer. I am an indie author. I write novels, short stories, and poems. My genres are mixed and include mystery, supernatural, and paranormal.
You can also find me on my website authorjennifertreece.com!
Reader insights
Be the first to share your insights about this piece.
Add your insights